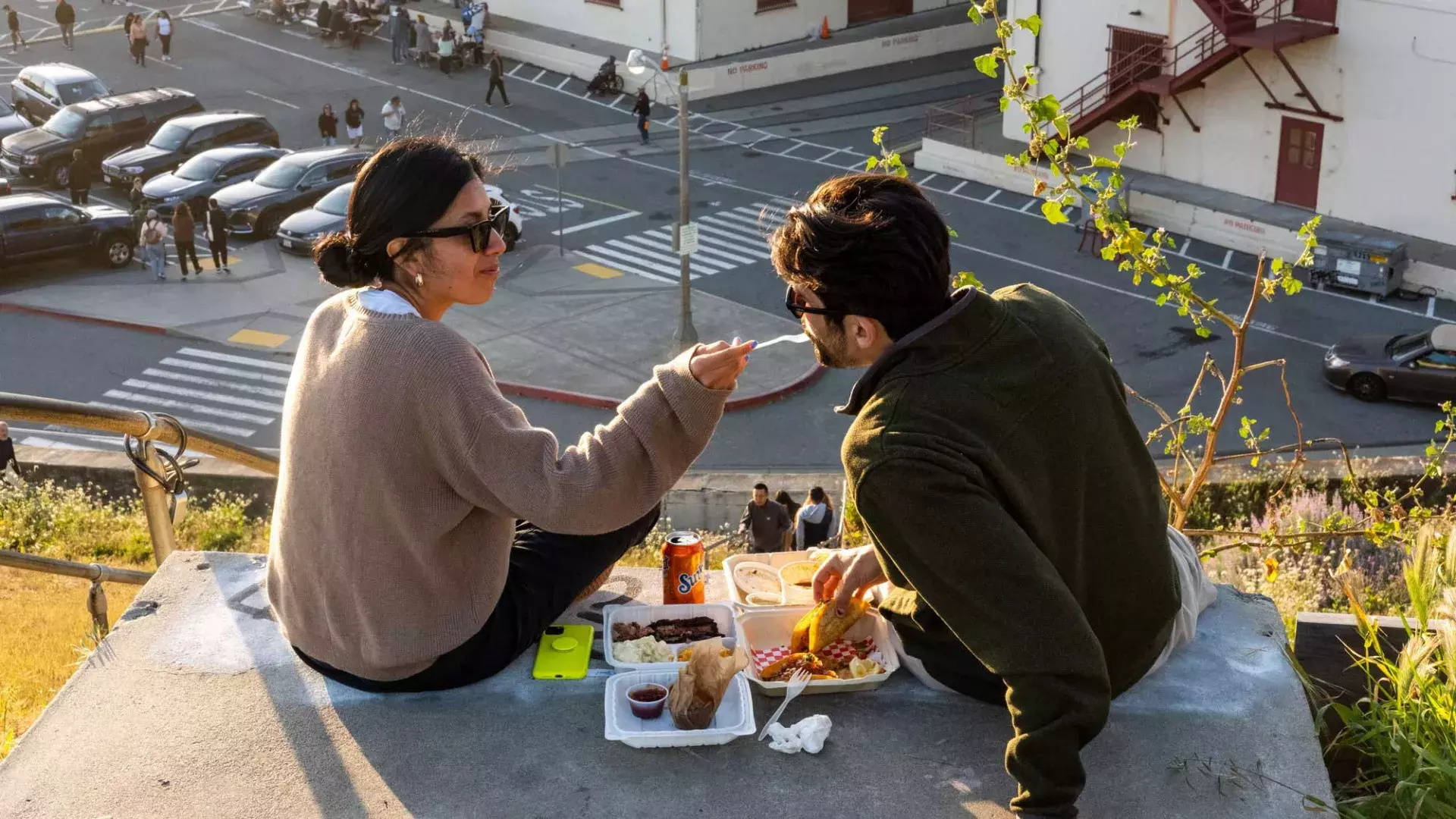 San Francisco Food Firsts
Famous coffee, cocktails and more got their start in San Francisco. Find all the interesting food firsts that happened in the Bay Area.
1849 — San Francisco's oldest restaurant Tadich Grill opens. Isidore Boudin opens his French bakery in San Francisco. Domingo Ghirardelli arrives in U.S., and becomes purveyor of chocolate and other products to Gold Rush pioneers.
1850 — San Francisco's first coffee roasting plant is opened by William Bovee. (J.A. Folger is an early employee.)
1852 — At Kearny and Washington streets in San Francisco, Ghirardelli opens a confectionary shop, Ghirardely & Girard, which eventually becomes the modern-day Ghirardelli Chocolate Company. 
1860 — The Martini is invented in either San Francisco or Martinez; the debate continues.
1865 — J.A. Folger buys out William Bovee, and changes name of the coffee mill to J.A. Folger & Co.
1878 — Brothers Austin and Reuben Hills open a small dairy stall at Bay City Market. Four years later they purchase Arabian Coffee & Spice, which becomes the cornerstone of Hills Brothers Coffee.
1880 -- Duncan Nicol invents "Pisco Punch" at the Bank Exchange Saloon (where the Transamerica Pyramid stands) utilizing Peruvian pisco brandy. Made world famous by Mark Twain, Harold Ross and Rudyard Kipling.
1886 — Fior d'Italia, America's oldest Italian restaurant, owned and operated by the Marianetti family, opens.
1900 — Chef Ernest Arbogast of The Palace Hotel creates Oysters Kirkpatrick (oysters dipped in a sauce of ketchup and butter, covered with bacon, topped with Parmesan cheese and baked) which are named in honor of Hotel Manager Colonel John C. Kirkpatrick. Cioppino is invented at Alioto's San Francisco.
1905 — Oakland's Frank Epperson invents the Popsicle.
1908 — Chicken Tetrazzini is invented in San Francisco for Luisa Tetrazzini, an Italian coloratura.
1910 — Celery Victor (celery stalks immersed in chicken, veal and vegetable stock and served with a topping of salt, black pepper, chervil, tarragon vinegar and olive oil) is invented at The St. Francis by legendary chef Victor Hertler.
1914 — Crab Louis is invented at Solari's Restaurant in San Francisco.
1915 — Green Goddess salad dressing is invented at The Palace Hotel at the request of actor George Arliss when he was starring in William Archer's play, "Green Goddess." The recipe blended anchovy, green onion, parsley, tarragon, vinegar, chives and mayonnaise.
1920 — Hang Ah Tea Room, the oldest Chinese restaurant in San Francisco, opens. Broiling with mesquite charcoal is popularized in San Francisco.
1928 — George Whitney invents It's It Ice Cream Sandwich. New Joe's Restaurant invents Joe's Special using the last ingredients on hand in the restaurant to create the classic special consisting of spinach, onion, mushrooms, ground beef and egg.
1939 — Chinese Kitchen, the first authentic Chinese delivery service in U.S. is opened by Johnny Kan in San Francisco.
1944 — "Trader Vic" Bergeron invents the Mai Tai.
1946 — The oldest Japanese restaurant in the U.S., Yamato Restaurant, started by J.T. Nakahara, opens in San Francisco.
1952 — Irish Coffee, a mixture of whipped cream, coffee and whiskey, is developed at Buena Vista Cafe.
1970 — First fern bar, Henry Africa, opens in San Francisco.
1971 — "California Cuisine" is introduced in Berkeley at Chez Panisse.
---