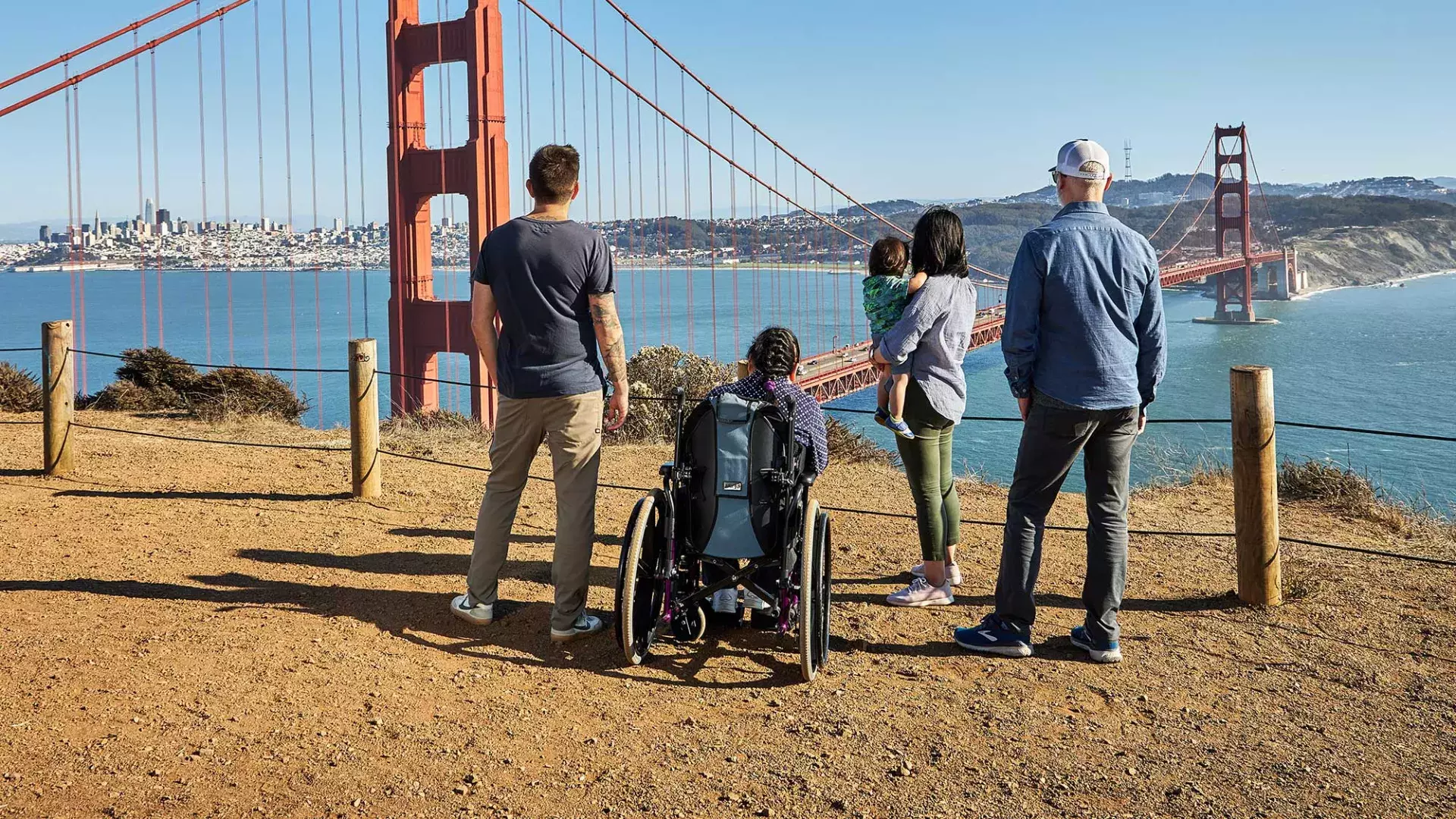 At 110th Annual Meeting, San Francisco Travel Calls Stakeholders to Rebuild Tourism Together
Looking back at a year full of unexpected challenges at its 110th Annual Meeting today, the San Francisco Travel Association honored the spirit of collaboration and resilience which stakeholders of the city's tourism industry have demonstrated in the face of the COVID-19 pandemic during a virtual edition of this yearly event. The organization invited all partners, both local and global, to join the "recovery and rebirth" efforts of San Francisco's tourism and hospitality industry in 2021.
The meeting, traditionally the largest annual gathering of the region's tourism industry, was presented virtually for the first time. More than 400 attendees, among them representatives of the City, members of several diplomatic consulates, Caroline Beteta, President & CEO of Visit California, as well as some of SF Travel's global agency partners, joined the meeting. Guest speaker Jon Kimball, the current board chair of SFTravel, and keynote speaker Arne Sorenson, President & CEO of Marriott International, both provided forward-looking messages of leadership and encouragement.  San Francisco mayor London Breed greeted the audience through an inspirational video message.
In his opening remarks, Joe D'Alessandro, San Francisco Travel president and CEO, thanked the partners for their continued support during an unprecedented year. He expressed the firm belief that, despite the many challenges that still lie ahead, San Francisco will emerge from the COVID-19 crisis stronger than before. "For all of the genuine struggle and significant hardship we've endured as an organization and as an industry this year, I do find myself inspired", he said. "Despite these setbacks, we were still able to rally our community together to work on shared solutions. Some of us, myself included, were even fortunate enough to be asked to join the Mayor's Economic Recovery Task Force. We have been given the opportunity to shape the recovery and rebirth of San Francisco, to work with those in power who understand that tourism is the lifeblood of this city and that its return is imperative to our collective future."
D'Alessandro thanked Visit California for their amazing partnership and support. He also acknowledged the efforts of his team to restart marketing the city as a destination by mentioning the success of the "Our Gate Is Open" campaign, which SFTravel launched as soon as hotels were reopened to leisure travel. Since its inception, the campaign generated more than 117,000 video views, drove more than 31,000 users to the company's website, and led to more than 14,000 room night bookings, almost three times the original goal.  
"While the road to recovery is indeed going to be a long one, I believe that at its end lies a new age of success for all of us," he continued. "The world of tourism will never be the same. We're already adapting how we curate the visitor experience—with virtual tours, interactive content, and more. But that doesn't mean it will be any less enjoyable, any less memorable, or any less enviable for leisure and business travelers all over the world. San Francisco is, was, and always will be one of the greatest visitor destinations on Earth. I look forward to doing the hard work ahead with dedicated partners like you."
"San Francisco has always been proud of our tourism industry, which welcomes travelers from all around the world and serves as a backbone of our local economy," said San Francisco Mayor London N. Breed, addressing the attendees in a recorded video message. "Sadly, our travel industry has been hit very hard by this global pandemic. Through the Office of Economic Development, we are working every day to get our local businesses and workers through this crisis." 
"We know that's not enough, and there are even tougher times ahead," she added. "But let me say this: I believe in San Francisco. We have seen challenges before, and people have counted us out before. But we are a resilient city, and there is hope!" Breed mentioned the success of the Shared Spaces program as an example of something new that was born out of necessity but will outlast the pandemic and draw future visitors to the magic of our neighborhoods.
"In the middle of these challenges, that's what gives me hope," Breed continued. "I want to thank you for your partnership, and I look forward to working with all of you as we continue our recovery."        
Jon Kimball, Area General Manager, Marriott International, who was installed as Chair of the Board of Directors for 2019-2020 and will be continuing his duties into 2021, opened his address by pointing out that bringing meetings and conventions back to the city as soon and as safely as possible must be a paramount part of a collaborative "recovery and rebirth" effort. "Many members of San Francisco Travel's leadership have been working with our partners at the Moscone Center and in City Hall, as well as at the state level with the California Convention Committee, to position San Francisco as a leading destination in the future of conventions business. The best thing we can do now is get ourselves prepared", he said. "We also must remain in regular contact with our partners at various city agencies to continue vital efforts at cleaning and safeguarding our most-visited neighborhoods. Our guests must feel protected and cared for during their stay", he added. 
Kimball pledged the support of the board to ensure the financial stability and long-term strength of the San Francisco Travel Association in 2021 and beyond.  He announced that more information about the renewal of the Tourism Improvement District and changes to the TID and the long process required to gain its renewal would be provided beginning next year, and invited all attendees to support this important process. Furthermore, he announced that, in 2021, the board will convene its first Equity Council. This recently established group will study every aspect of the organization, looking for ways to build a more inclusive company, and reach new visitor audiences.
"These are big undertakings, but that's nothing new for San Francisco," Jon Kimball said. "We can do this work, but we can only do it together. I urge you to continue your partnership with San Francisco Travel, stay engaged, and help us build the future of our city." 
In a Q&A session with Joe D'Alessandro, keynote speaker Arne Sorenson, President & CEO of Marriott International, provided valuable insight into how Marriott as a global brand has adapted to the unprecedented circumstances in 2020, and into the group's recovery strategy. He also spoke about the changes that he anticipates for the industry as a result of the pandemic, and about ways to get prepared for those changes.
Arne Sorenson said that, while he expects a few more "choppy" months for the industry ahead, he is optimistic that with a vaccine becoming widely available soon, 2021 will be better than 2020. Arne Sorenson said that he expects pent up demand for travel starting again in the second half of 2021, after a vaccine has been broadly rolled out.
The COVID-19 crisis has had a profound impact on Marriott's businesses around the world. It will take several years to get back to pre-pandemic levels, the biggest concern being the impact on workers and jobs. Navigating them safely through this crisis must be one of the first and foremost goals. In the coming months, the tourism industry will need stronger support from the federal government in order to recover.  
Asked about lessons anybody can learn from 2020, Sorenson said that he has been impressed to see how resilient people can be, even in an unprecedented crisis. For him, a structured management, as well as good and transparent communication, will remain key assets in any crisis management portfolio.
Discussing how the pandemic will shape future trends in travel, Sorenson said he strongly believed that the current trend of remote work will switch back to some form of in person office environment, where innovation and creativity can happen. He also believes that people will gradually start to travel for business again. Sorenson expects leisure travel, namely by car, to come back first. Marriott has adapted its marketing strategy accordingly. Currently, the group's most important message to customers is that they can travel safely, and to reassure them that they are welcome. "We have to earn the confidence of the most conservative early travelers", said Sorenson.  "This is why we have rolled out companywide cleaning and safety protocols implemented in all our properties worldwide." While local flavors like wine country are likely to attract most visitors in the near future, Sorenson is convinced that, once the virus gets behind us, the advantages of cities like diversity, culture, and vibrancy, will become strong assets again. "The experience that you can get in a city like San Francisco is unique, it's something that you can't get anywhere else," he said. 
"The Bay Area is one of the most vibrant parts of the world", he continued. "We are bound to see growth here. In the near term, we have to work through some of the operating challenges in San Francisco, and we need to ensure that the hotels are able to operate sustainably. We have to work with the City, with the Board of Supervisors, to figure out what we need to do collectively in order to get people back. Because when people start to travel again, that is going to create jobs again," he added. "I am convinced that San Francisco and the Bay Area will get back to its rightful place, which is the place of one the greatest destinations in the world." 
The Silver Cable Car Award, recognizing an individual or organization that has made a significant contribution to San Francisco's visitor industry, was presented to Kevin Carroll, President & CEO of the Hotel Council of San Francisco. Previous honorees include United Airlines, the California Academy of Sciences, and author Armistead Maupin. "This year, the Silver Cable Car Award takes on extra meaning, because the person we are honoring hasn't just improved San Francisco as a place to visit; he has also improved it as a place to work and live", said Joe D'Alessandro. "From his work with the Levi Strauss Foundation to the Fisherman's Wharf Community Benefit District to the Hotel Council of San Francisco, Kevin Carroll has been a strong and reliable advocate for our industry, our city, and the people who make them run.….He's been at the forefront of our recovery efforts, helping to unite the Hotel Council, the Chamber of Commerce, and San Francisco Travel in our work with City leaders.  As we travel our road to recovery, it's having people like Kevin at our side that gives me great hope for the future." 
"I am honored and humbled to receive the 2020 Silver Cable Car Award," said Carroll.  "I am so fortunate to work on behalf of the Hotel Council members.  Thank you, SF Travel, for this award and for your continued partnership as we work together to bring tourism back to San Francisco and our employees back to work!"
San Francisco Travel board chair Jon Kimball presented the 2020 Crystal Bridge Award, which honors major convention customers that bring outstanding events with significant impact for San Francisco, to the Cardiovascular Research Foundation. The group's annual conference has come to The Moscone Center every two years since 2009 and is committed to returning to San Francisco on that rotation through 2031. CRF brings 11,000 attendees to San Francisco with each meeting, totaling more than 30,000 room nights.    
The John A. Marks Scholarship was presented by Jon Kimball to City College student Caio Cézar Viviani. The scholarship, named after San Francisco Travel's former President & CEO and awarded by the San Francisco Travel Foundation, honors an outstanding student in a local college or university hospitality program.  
Four City employees were also recognized for their service:  Dr. Tomás Aragón, from the Department of Public Health; Laurel Arvanitidis, from the Office of Economic and Workforce Development; Nubia Mendoza, from the Department of Emergency Management; and Dr. Rita Nguyen, from the Department of Public Health.
Musical entertainment was donated by award-winning recording artist and Bay Area native Molly Tuttle, who performed a song from Bay Area band Rancid. 
The 110th Annual Meeting concluded with video messages from some of SF Travel's global agency partners, who shared what they love most about San Francisco, and what they are looking forward to in the future.
The San Francisco Travel Association is the official destination marketing organization for the City and County of San Francisco. Tourism is San Francisco's largest industry.  More than 25.8 million people visited the destination in 2019, spending in excess of $10 billion. More than 82,500 jobs are supported by tourism in San Francisco. 
San Francisco is one of the metropolitan areas in the U.S. that has consistently kept Covid-19 largely under control. The  COVID-19 Prevention & Enhanced Cleaning Guidelines put forth by the Hotel Council of San Francisco, ensure that our hospitality businesses are adhering to the most elaborate cleaning and safety protocols. San Francisco Travel invites all visitors who are planning to come in 2020 to contribute their part to a safe and enjoyable experience by taking our Safe Travel Pledge. 
For information on reservations, activities and more, visit www.sftravel.com.   
For more about San Francisco, follow on Facebook, Instagram and Twitter. Please use hashtags #sftravel and #AlwaysSF. 
About San Francisco International Airport  
San Francisco International Airport (SFO) wants you to Travel Well. SFO works with local, state and federal health officials to protect against COVID-19.  Measures include enhanced cleaning protocols, hundreds of hand sanitizer stations, physical barriers, face coverings for everyone and physical distancing. To learn more visit flysfo.com/travel-well.
SFO offers nonstop service to Asia, South Pacific, Europe, Canada, Mexico and across the United States. For up-to-the-minute departure and arrival information, airport maps and details on shopping, dining, cultural exhibitions, ground transportation and more, visit www.flysfo.com. Follow us on www.twitter.com/flysfo and www.facebook.com/flysfo. 
United Airlines is the preferred airline of the San Francisco Travel Association.
#  #  #
Note to editors: