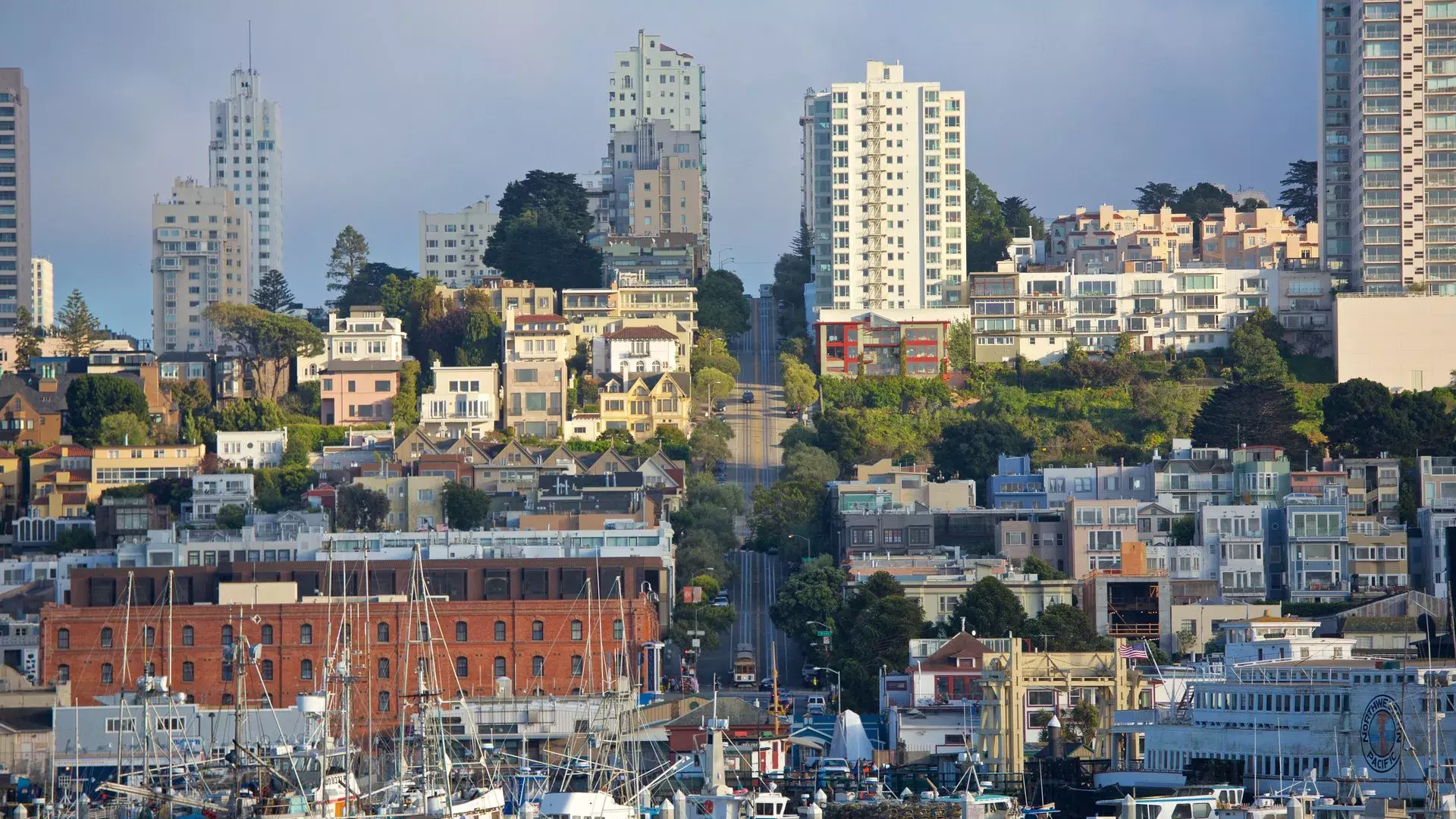 Anniversaries Everywhere All at Once in San Francisco
21 People, Places, and Iconic Attractions Celebrating Major Milestones in 2023
(San Francisco) Feb. 7, 2023 – For a city that's a progressive bastion of innovation, San Francisco holds fast to its past and colorful history. It's always evolving, yet always San Francisco. Forward-looking San Franciscans ensured the city's unique character, architecture and natural beauty were preserved while creating a welcoming environment where creativity and invention continue to thrive today.
Several of the city's most iconic attractions are commemorating major milestones in 2023, including Alcatraz, the Ferry Building, the Golden Gate Bridge and San Francisco's cable cars. Many more cherished arts institutions, restaurants and shops also will celebrate significant anniversaries. Together, they are emblematic of what makes San Francisco a compelling destination.
21 Noteworthy Anniversaries in 2023
"DING DING"
San Francisco may be one of the world's most walkable cities, but it's been innovating locomotion for well over a century. The city's public transit fleet is one of the greenest in the nation. Both Uber and Lyft were founded and are headquartered in San Francisco. And Cruise, the self-driving company with an all-electric fleet, became the first to offer commercial "robotaxi" service in a major U.S. city in San Francisco last June.
But it is Scottish immigrant Andrew Smith Hallidie who forever changed the face of the city with the invention of the first cable car in 1873. Now synonymous with San Francisco, the city's cable cars will celebrate 150 years of traversing San Francisco's famed hills in September. They are the only moving national historic landmark in the U.S. First tested on Aug. 2, 1873, cable cars began public service on Sept. 1 of that year. Today, there are three manually operated cable car lines: the Powell-Mason, Powell-Hyde and California Street Cable Cars. Single cable car rides cost $8. Visitors can ride as much as they want with a Visitor Passport, which provides unlimited rides on San Francisco's cable cars, historic streetcars, light rail and buses for one, three or seven days.
Those wanting to learn more about the history of cable cars can visit the free Cable Car Museum in the Washington-Mason Streets Powerhouse. The museum is home to artifacts such as little car #8 – one of the first cable cars to operate in the city.
Riveting Design
Levi Strauss, an immigrant from Bavaria, opened a dry goods company at the height of the California Gold Rush in 1853. Catering to miners and other workers, he recognized the need for clothes built to endure anything. He and tailor Jacob Davis combined copper rivet reinforcements with tough denim, leading to the first manufactured waist overalls 150 years ago. Levi's iconic "blue jeans" would go on to become "the uniform of progress" coveted worldwide. Levi's San Francisco flagship store, located at 815 Market Street, sells new and vintage Levi's clothing.
On the Waterfront
Transformation of San Francisco's downtown waterfront has been continuous since the Gold Rush, but the iconic Beaux-Arts style Ferry Building, which opened in July 1898, has withstood the test of time. It's become a celebrated "culinary cathedral" home to some of San Francisco's most beloved local, farm-driven, and ethnically diverse merchants.
A nexus during the city's heyday as a bustling port city, the Ferry Building has weathered booms and busts. It is one of the few buildings to survive the 1906 earthquake and subsequent fires; by the late 1930s, around 50 million people a year were ferried across the bay. But the debut of the Bay Bridge and Golden Gate Bridge in the mid-1930s dramatically reduced the number of ferry riders, and the building fell into disuse. Then, left in the shadow of the elevated Embarcadero Freeway built in the late 1950s, the Ferry Building was cleaved from the city for over three decades. The freeway was finally removed in 1991 after it was damaged by the 1989 Loma Prieta quake and replaced with a magnificent palm-lined boulevard. Following an extensive four-year restoration and renovation of the Ferry Building, the historic landmark reopened to the public in March 2003 with a new public food market along its interior Nave. The food market complements the renowned, thrice weekly Ferry Plaza Farmers Market, which was established 30 years ago in 1993.
Ahead of the Ferry Building's 125th anniversary this July, new merchants have set up shop in the Ferry Building, joining stalwarts such as Hog Island Oyster Company, Gott's Roadside and Dandelion Chocolate. New merchants in 2022 included artisanal crêpe destination Grande Creperie; Filipino-fusion hotspot Señor Sisig; Arab bakery Reem's; Turkish bakery Simurgh Bakery; puppy favorite Mishka Dog Boutique; artisan dessert company Yes Pudding, and butchery Fatted Calf. Others that opened there include Fog City Flea Trading Post, which features makers and merchants from the Bay Area, home-town brewer Fort Point Beer Company's beer garden along the Embarcadero, Peaches Patties, a Jamaican catering company that debuted its first outlet in January, and raw, organic juice bar Juice House Co.
The Ferry Building anchors a revitalized waterfront and the Embarcadero promenade. The Embarcadero spans two miles between Oracle Park, where year-round tours of the San Francisco Giants' home are available, and the famous PIER 39 in Fisherman's Wharf, which is celebrating its 45th anniversary this year. The Embarcadero has become home to attractions such as The Exploratorium, which moved there in April 2013, and acclaimed restaurants such as One Market, which opened 30 years ago this February. In late 2023, the Ferry Building will begin undergoing more enhancements, with work extending the facility both toward the bay and into the Embarcadero.
The Rock
Before the 22-acre island of Alcatraz opened as a national park site in 1973, it was a fort, a military prison and, for 29 years, a maximum-security federal penitentiary holding notorious inmates such as Al Capone and George "Machine Gun" Kelly. March 21 marks the 60th anniversary of the closing of the infamous prison, while October ushers in Alcatraz's 50th anniversary as a national park site. Located just 1.5 miles off the city's coast, Alcatraz is a place of contradictions, with a grim past and an enduring future as one of San Francisco's most prominent landmarks and tourist attractions. Alcatraz tours tend to sell out during peak periods, but tours, operated by Alcatraz City Cruises, can be booked in advance.
All the Right Notes
The Centennial Season of San Francisco Opera culminates June 16 in a special concert honoring the Company's illustrious 100-year history. Caroline H. Hume Music Director Eun Sun Kim, former Music Director Sir Donald Runnicles and former Principal Guest Conductor Patrick Summers will lead the San Francisco Opera Orchestra and Chorus along with an exciting roster of vocal soloists in the 100th Anniversary Concert. Tracing the history of San Francisco Opera through musical milestones and landmark productions, the concert will include selections spanning seventeenth-century Italian composer Claudio Monteverdi through the music of Bay Area composer John Adams. San Francisco Opera is one of only three American opera companies to celebrate 100 years (the Metropolitan Opera will launch its 137th season this year, and Cincinnati Opera marked its centenary in 2020).
"The...Stuff that Dreams are Made Of."
John's Grill was on the map long before Sam Spade, the main character in Dashiell Hammett's The Maltese Falcon, dined there in 1928. (Diners can still order the delicious lamb chops and potatoes Sam did.) The restaurant, which turns 115 this year, was the first downtown dining establishment to open after San Francisco's devastating 1906 earthquake. Located just two blocks from Union Square and spanning three floors, it quickly became a bustling anchor in the city's multi-faceted life – hosting a beguiling and lively mix of politicians, police officers, journalists, entertainers, lawyers and business leaders. From the time when San Francisco was rebuilding itself and becoming the financial capital of the western U.S. on through World War II (the city was the major embarkation point for troops heading to war in the Pacific) and into the heady hippie days of the Sixties and beyond, John's Grill was – and still is – the downtown gathering place for the who's who of San Francisco.
Golden Engineering
Ninety years ago, construction began on what would become San Francisco's most iconic attraction: the Golden Gate Bridge. With more than 10 million visitors a year, it's one of the most photographed bridges in the world. When it opened in May 1937, it was a feat of world-class engineering and beautiful Art Deco styling. Painted a signature "international orange," it has two 746-foot-tall bridge towers, sweeping main cables and spans a total length of 1.7 miles. Visitors can walk, bike or drive across the bridge and find stunning vantage points on either side.
The Next Dance
San Francisco Ballet, the oldest professional ballet company in the U.S., kicked off its 90th season in January with the Next @90 Festival and a new artistic director, Tamara Rojo, at the helm. Running through April 30, Next@90 features world premieres by nine outstanding choreographers from around the world, including Nicolas Blanc (Joffrey Ballet), Bridget Breiner (Badisches Staatsballett Karlsruhe), Robert Garland (Dance Theatre of Harlem), Benjamin Millepied (L.A. Dance Project), Yuka Oishi, Yuri Possokhov (SF Ballet), Jamar Roberts (Alvin Ailey American Dance Theater), Danielle Rowe, and Claudia Schreier (Atlanta Ballet). It also features beloved story ballets such as Christopher Wheeldon's Cinderella and outgoing SF Ballet Artistic Director Helgi Tomasson's Giselle and Romeo & Juliet, complemented by a mixed repertory program featuring elegant and dynamic works from Tomasson, William Forsythe, and the live stage premiere of Myles Thatcher's COLORFORMS. For details, visit https://www.sfballet.org/.
A Beckoning Beacon
Coit Tower, a slender white concrete column rising from the top of Telegraph Hill, has been an emblem of San Francisco's skyline since its completion 90 years ago in 1933. Its observation deck provides 360-degree views of the city and bay. The simple fluted tower is named for Lillie Hitchcock Coit, a wealthy eccentric patron of the city's firefighters. Coit died in 1929, leaving a substantial bequest "for the purpose of adding to the beauty of the city." The funds were used to build both the Coit Tower and a monument to volunteer firefighters in Washington Square. Pioneer Park surrounds the tower and is home to the wild parrots of Telegraph Hill. It's free to see the murals inside the tower; tickets ($10 for non-resident adults) must be purchased to visit the observation deck.
They've Still Got the Beat
Founded 70 years ago by poet Lawrence Ferlinghetti and Peter D. Martin, City Lights is one of the few great independent bookstores in the U.S, a place where book lovers from across the country and around the world come to browse and soak in the ambiance of alternative culture's only "Literary Landmark." Although it has been more than sixty years since tour buses with passengers eager to sight "beatniks" began pulling up in front of City Lights, the Beats' legacy of anti-authoritarian politics and unconstrained intellectual curiosity continues to be a strong influence in the store. (One can only imagine the conversations between the likes of Allen Ginsberg and Jack Kerouac.) The first all-paperback bookstore in the U.S., City Lights has expanded several times over the years. It now offers three floors of new-release hardcovers, quality paperbacks, and an impressive range of titles from smaller, harder-to-find specialty publishers.
All That Jazz
This year SFJAZZ celebrates its 40th anniversary and the 10th birthday of the SFJAZZ Center—the first stand-alone structure in the country built specifically for jazz. Located in San Francisco's cultural corridor, SFJAZZ is presenting hundreds of concerts from artists and musicians that have inspired and guided the organization for decades. Founded in 1983 (as Jazz in the City) by Randall Kline, SFJAZZ's goal was simple: to produce a two-day festival that featured Bay Area musicians representing the full scope of music that jazz encompasses. By the mid-1990s, the organization became SFJAZZ, and its San Francisco Jazz Festival was widely recognized as one of the top jazz festivals in the world.
Changing Lives Through Art
This year Creativity Explored celebrates 40 years of supporting artists with developmental disabilities in San Francisco. Founded in a Mission District garage in 1983 by Florence and Elias Katz, an artist and a psychologist duo who believed that art is essential to life, it was one of the first art centers of its kind in the world. The non-profit has facilitated the art careers of hundreds of disabled artists. Creativity Explored artists have seen their work exhibited in museums, galleries, and art fairs in over 14 countries and have earned over $2.2 million from their art. Dozens of exciting events and exhibitions are planned to celebrate its legacy of community, empowerment and dignity.
Chef's Choice
Thirty-five years ago, Peter and Lily Fang opened House of Nanking at 919 Kearny Street in San Francisco, where Chinatown, the Financial District and Little Italy collide. Although the restaurant is called House of Nanking, the cuisine served is authentic Shanghainese home cooking with a creative spin. Chef Peter Fang became famous for ordering for customers himself when they arrived – which turned into a signature trademark. House of Nanking continues to draw top chefs, actors, athletes, politicians, artists and other notable celebrities. Chef Fang's daughter, Kathy Fang, joined the family enterprise, and she and her father star in the Food Network's Chef Dynasty: House of Fang.
The San Francisco Sound
Celebrating its 30th anniversary, the Noise Pop Music and Arts Festival kicks off the Bay Area's stellar lineup of annual music festivals. From Feb. 20 to 26, the indie festival will feature non-stop music from electronic to jazz to rock n' roll. Over the years, Noise Pop has grown from one night, five bands at The Kennel Club (now the Independent), to a week-long affair with over 160 bands and 80 events at more than 25 venues. Visit https://noisepopfest.com/ to explore the lineup of music, films and more.
A Cultural Anchor
Yerba Buena Center for the Arts (YBCA) opened to the public 30 years ago. Founded as the cultural anchor of San Francisco's Yerba Buena Gardens neighborhood, YBCA's work spans contemporary art, performance, film, civic engagement and public life. Centering artists as essential to a social and cultural movement, the center is reimagining the role an arts institution can play in the community it serves. YBCA sits in good company. The Yerba Buena neighborhood boasts the highest concentration of cultural institutions west of the Hudson, including the San Francisco Museum of Modern Art (SFMOMA), The Museum of the African Diaspora (MoAD), the Contemporary Jewish Museum, the California Historical Society and the Children's Creativity Museum.
ABOUT SAN FRANCISCO TRAVEL
The San Francisco Travel Association is the official destination marketing organization for the City and County of San Francisco. Tourism is San Francisco's largest industry. More than 25.8 million people visited the destination in 2019, spending nearly $10 billion, and over 86,000 jobs are supported by tourism in San Francisco.
For information on reservations, activities and more in San Francisco, visit www.sftravel.com. 
Follow San Francisco Travel on Facebook (www.facebook.com/onlyinSF/), Instagram (www.instagram.com/onlyinsf/), and Twitter (www.twitter.com/onlyinsf). Hashtags are #sftravel and #AlwaysSF.
SAN FRANCISCO INTERNATIONAL AIRPORT 
SFO is excited to welcome travelers back to the skies with an airport experience featuring seamless access, thoughtful amenities, sustainable design and inspiring artwork and exhibits.
For up-to-the-minute departure and arrival information, airport maps and details on shopping, dining, cultural exhibitions, ground transportation, masks and COVID-related protocols and more, visit https://www.flysfo.com/. Follow us on twitter.com/flysfo and facebook.com/flysfo.
United Airlines is the preferred airline of the San Francisco Travel Association.
# # #
Image Links and Information: 
The San Francisco Travel Photo Video Library is available at photos.sftravel.com

To receive news and updates regularly in San Francisco Travel's e-newsletters, visit www.sftravel.com and scroll down to "Newsletter Sign-up."