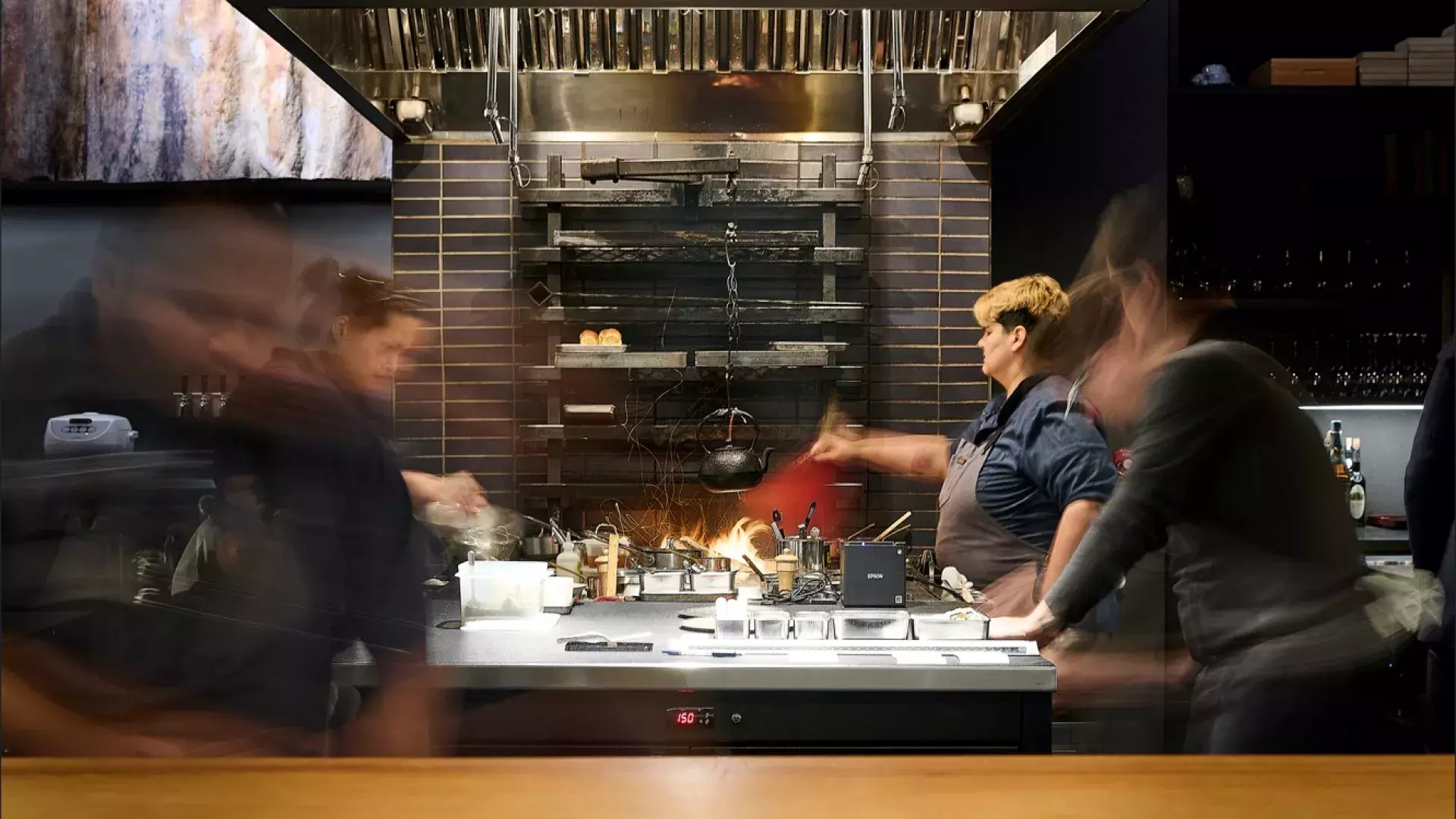 Epicurean Delights: Tasting Menus Showcase San Francisco Chefs' Passion and Artistry
The city's diverse array of culinary journeys is a boon for food-driven travelers
(San Francisco) April 4, 2023 – More travelers are planning their trips around dining, according to American Express Travel's 2023 Global Travel Trends Report, which highlighted "Delicious Destinations" as one of four key trends. According to the report, 81% of the respondents said trying local food and cuisine is what they most look forward to during their travels. And food-driven travel is growing in popularity among younger travelers, with 47% of Gen-Z and Millennials saying they have planned an entire trip around visiting a specific restaurant compared to 37% of all survey respondents.
Food-driven travelers may want to look to San Francisco, California's reigning culinary capital. The city has the most Michelin-starred restaurants in the state, and San Francisco chefs continue to craft a diverse array of tantalizing tasting menus that showcase their culinary artistry and passion. From newly starred restaurants born during the pandemic like Nisei and Osito to legendary three Michelin-starred dining destinations like Atelier Crenn and Benu, the wide range of culinary journeys in San Francisco is hard to match and worthy of multiple visits.
On the Tasting Menu
Chef David Yoshimura's Nisei began as a Bay Area pop-up restaurant in 2019 before he debuted his brick-and-mortar location in August 2021. A testament to his Japanese American heritage, Nisei's tasting menu ($239 per person) is based on California Washoku cuisine, Washoku meaning "harmony of food," also referred to as the "home cooking" of Japan. The philosophy of Washoku focuses on principles emphasizing balance of color, taste preparations, sense, and respect for food. His approach earned a Michelin star in December 2022. He was also named Michelin Guide of California's 2022 Young Chef of the Year and nominated for a James Beard Award for Emerging Chef. His eclectic experience includes cooking at Californios and wd~50 and abroad at Kagurazaka Ishikawa, Nihonryori Ryugin, and Asador Etxebarri. (Location: 2316 Polk St. | Russian Hill)
A year after opening, Osito landed its first Michelin star in December 2022. The high-energy communal experience from Owner/Executive Chef Seth Stowaway features a tasting menu ($250 per person) that changes every four to six weeks based around one culinary focus. Every item is cooked over a live fire, and ingredients are sourced thoughtfully and meticulously from local purveyors and farmers in Northern California. Each night, guests are greeted with a specialty cocktail or unique wine the team has chosen. The evening begins with produce from farmers: fresh, pickled, and fermented vegetables straight from the farm or preserved in Osito's larder from the previous year. Organic, regeneratively farmed proteins are presented and served with bonchon and other accouterments. A dessert and cheese course with coffee, tea, brandy, and schnapps concludes the meal, and guests are sent home with housemade candies. (Location: 2875 18th St. | Mission District)
Korean restaurant Ssal also received its first Michelin star in 2022. Co-owners and life partners Hyunyoung Bae and Junsoo Bae's modern Korean restaurant serves a single tasting menu nightly ($210 per person) that changes constantly and spontaneously but is always highlighted by raw and softly-cooked seafood, charcoal grilling, and seasonal offerings of the Pacific Northwest. Chef Junsoo combines his Korean upbringing and sensibilities with his experience cooking in the French tradition of degustation, incorporating Korean aesthetics, flavors, and techniques into modern cuisine. (Location: 2226 Polk St.| Russian Hill)
Noodle in a Haystack opened in 2021 as the cult ramen pop-up's first restaurant. Owners and chefs Clint and Toko Tan offer a hyper-intimate Japanese tasting menu at their 10-seat counter space that culminates in a main ramen course ($130 per person for a six-to-eight-course menu or $180 for an extended menu). The self-taught chefs are dedicated to modern ramen "made without compromise." In 2017, they landed a finalist spot at Japan's World Ramen Grand Prix in Osaka. Clint hails from San Francisco, and his wife, Yoko, from Tokyo, where they met. (Location: 4601 Geary Blvd.| Inner Richmond)
GOZU focuses on the craft of robatayaki, a Japanese style of open-fire cooking. The restaurant, which opened in November 2019, offers kappo-style tasting menus that highlight wagyu beef in new and approachable preparations, shifting the perspective of whole cow use specifically in the wagyu breed. Guests are currently being offered two nightly menus, a Fireside Tasting menu ($225) and a four-course Gozu-Chan Tasting Menu ($125). Dishes are executed by the chefs around an open fire hearth where wagyu is complemented with local as well as Japanese sea life, farm produce and wild foods. Every part of the animal is carefully utilized. Lesser-known cuts are highlighted in their skewer offerings; bones and trim are used in various seasonings and preservation techniques, including the making of their garum, beef salts (shichimi mix) or in their wagyu shoyu; and tallow is creatively incorporated into desserts. The beef is sourced by Zimmerman and the team from small and private Japanese farms. Wine, sake, and whiskey pairings are available, as is a non-alcoholic tea pairing program featuring carefully sourced teas matched to heighten flavors. (Location: 201 Spear St. | SOMA)
A semifinalist for the 2023 James Beard Award for "Best New Restaurant," Birch & Rye reimagines Russian dishes through a contemporary California lens, drawing upon traditions of foraging and fermenting shared across the two food cultures. Helmed by Russian-born émigré and a decades-long San Francisco resident, Chef Anya El-Wattar, the restaurant offers a five-course chef's menu and a five-course vegan menu (both $125 per person), an a la carte menu, and caviar service. A standout beverage program features handcrafted infused vodkas and a curated wine program. (Location: 1320 Castro St. | Castro District)
Merchant Roots transitioned from a café and artisanal market to a full-fledged intimate fine dining destination in 2020. With just eight seats, Merchant Roots is a highly immersive, unique dining experience. The restaurant's tasting menu—premised on a specific and often eccentric theme—changes four times a year, as does the décor, plateware, and accessories to match. The heart of the space is a unique monkeypod wood slab table that transforms at night into a stage to feature the team's dedication to culinary wonders. Led by Chef Proprietor Ryan Shelton, a talented team of five people collaborates to cook, select wine pairings, and serve guests. Merchant Roots' current menu theme is The Great Trees, a love letter to the natural beauty of trees in their various stages of evolution. The meal ($168 per person) is simultaneously cerebral and delicious, served with theatrics such as cedar smoke, redwood distillate fog, and a tableside dusting of pine pollen. Previous themes include a Feast for Mermaids, Merchant Roots & The Chocolate Factory, Mad Tea, Color Theory, and A Tale of Stone Soup. (Location: 1365 Fillmore St. | Fillmore District)
In September 2021, Lord Stanley, the Michelin-starred Modern European restaurant, pivoted to Turntable, a hub for rotating chefs. Every month a new chef comes in to showcase their cuisine and specialties with three- and four-course prix fixe menus. This year, Turntable at Lord Stanley has a robust lineup. Chefs include top Aussie Chef Aaron Turner of IGNI; José Olmedo Carles Rojas of Fonda Lo Que Hay; Argentinian Chef Javier Rodriguez of El Papagayo; and Nick Balla, previous chef and owner of San Francisco's Bar Tartine. The 2023 chef lineup can be found at https://www.turntablechefs.com. (Location: 2065 Polk St. | Russian Hill)
Since opening in 2010, Korean American Chef Corey Lee's Benu has become a San Francisco destination. Widely recognized as a leading restaurant, Benu was the first in the city to receive three Michelin stars in 2014. The contemporary Asian tasting menu ($375 per person) features a wide variety of seafood and vegetables, meat courses, and sweets. (Location: 22 Hawthorne St. | SOMA)
Award-winning Chef Dominique Crenn unveiled a reimaged Atelier Crenn in February. The reborn Atelier Crenn focuses on California—the place the French-born chef now considers home—and celebrates the state's rich bounty, highlighting plants, fish, and seafood local to the place. The completely renovated dining room features a new pescatarian tasting menu ($475 per person). Guests can also expect to see local produce from Crenn's own Bleu Belle Farm on the new menu. (Location: 3127 Fillmore St. | Pacific Heights)
Brandon Jew, the 2022 James Beard award winner for Best Chef: California, has updated Mister Jiu's, his one-Michelin-starred contemporary Chinese American restaurant. Reopened in March, Mister Jiu's now features a tasting menu ($125 per person), forgoing the previous a la carte menu. The five-course menu explores delicacies in Chinese cuisine along with peak-season, local ingredients. (Location: 28 Waverly Place | Chinatown)
Opened in December 2022 by Chef Jongmoon Choi, SuraGan serves a 12-course chef's tasting menu ($135 per person) that features dishes inspired by ancient texts from the 1400s during the Joseon dynasty of Korea. Choi learned about Korean royal cuisine at Kyung Hee University in Seoul before attending the Culinary Institute of America in New York. Before launching his venture, he most recently worked as a sous chef at San Francisco's Marlena. SuraGan's menu shifts every three months to cover different historical cooking texts through the 1700s. International wines, specialty Korean teas and sool, and craft alcoholic beverages from Korea complement the cuisine. (Location: 250 Hyde St.| Tenderloin)  
Opened in late March, Chef Peter Hemsley's Aphotic, from the Greek word "without light," references the ocean layer that receives less than 1% of sunlight. The restaurant's 10-course tasting menu ($230 per person) focuses on seasonality and traceable seafood sourced from mostly local fishermen and women. Aphotic's 15-seat bar offers an abridged menu and an "Eight Course Cocktail Tasting," comprised of unique house-distilled spirits based on the wild flora of the Bay Area and surrounding coast. (Location: 816 Folsom St. | SOMA)
Cassava kept its affordable $48 three-course prix fixe menu featuring California cuisine when it moved to a colorful new space in North Beach last fall. Married co-owers Yuka Ioroi and chef Kris Toliao were semifinalists in the 2023 James Beach Awards nominations for outstanding restaurateur. Trained classically French, Toliao learned modern cooking techniques from his time with Dominique Crenn, was inspired by the creative spice use of Sumant Pardal, and gained a love for pasta making and Italian cooking from Julian Baker. (Location: 401 Columbus Ave. | North Beach)
Also opened in January, Anomaly SF is a "post-modern restaurant from humble beginnings." Previously running a fine dining pop-up, Chef Mike Lanham now presents an 11-course tasting menu ($121 per person) in a permanent location. The dining experience, called "Home for the First Time," offers modern American cuisine in an unfamiliar way (for example, sweet potato in the style of "creme brûlée). (Location: 2600 Sutter St. | Laurel Heights)
Husband-and-wife team David Fisher and Serena Chow Fisher reopened their hyper-seasonal restaurant, Marlena, in September 2022. The restaurant, which earned its first Michelin star in 2021, features a $75 per person four-course prix-fixe menu. (Location: 300 Precita Ave. | Bernal Heights)
Chef-Owner Ray Lee opened Akikos Avery Lane in January. The 46-seat dining room is centered around a 24-seat Chef's Stage, where guests have a 360-degree view of Lee, Head Sushi Chef Shinsuke Hayashi, and the team of chefs. Akikos' nine-course tasting menu ($250 per person) is centered around its omakase experience, emphasizing sustainably sourced, single-line caught fish from Tokyo's acclaimed Toyosu Fish Market and whimsical approaches to Japanese cuisine reimagined with local, seasonal ingredients. The team dry ages fish in-house to serve at its optimal time, be it after a two-to-four-day or two-to-three-week rest period. An abbreviated version of the omakase menu is available for lunch ($150 per person). (Location: Avery Lane at 430 Folsom St. | Downtown/East Cut)
After chef and owner Teague Moriarty handed the reins to Executive Chef Harrison Cheney in January, the intimate 16-seat Michelin-starred restaurant Sons & Daughters introduced a 14-course tasting menu inspired by Nordic flavors ($225 per person). Anchored in classic techniques and the seasonality of Northern California, Cheney's new menu reflects the restaurant's ethos and his culinary background. The London-born chef previously worked at The Square, the Ledbury, and Quince. Before moving to San Francisco, Cheney was Chef de Cuisine at Gastrologik in Stockholm. His practices are centered on sustainability and showcasing local producers. (Location: 708 Bush St. | Union Square)
AFICI is debuting a full tasting menu ($185) and a vegetarian tasting menu ($165) in April, giving guests another way to experience the restaurant. Guests can also enjoy wine pairings by Wine Director Nicholas Keegan, carefully curated to pair with the 10-course menu. A French Laundry alum, Nicholas offers extensive knowledge and experience in crafting a perfect pairing and introducing guests to unique and surprising varieties. Conceptualized and opened in September 2022 by Chef Eric Upper, AFICI features contemporary American cuisine in an elegant, fine dining environment. AFICI showcases Italian and French flavors and techniques while highlighting local, seasonal ingredients alongside some of the best products from around the globe. A New York City native, Upper brings a resume of fine dining experience, including roles at Alexander's Steakhouse, Morimoto, Aureole and Joël Robuchon. He was inspired to open AFICI after running The Patio pop-up by Alexander's Steakhouse during the pandemic. (Location: 680 Folsom St. | SOMA)
SAN FRANCISCO TRAVEL
The San Francisco Travel Association is the official destination marketing organization for the City and County of San Francisco. The city is one of the top tourism and meetings destinations in the U.S. and received 21.9 million visitors in 2022. Total tourism spending in 2022 exceeded $7.7 billion. The tourism industry is the largest generator of outside revenue into San Francisco's economy and supports over 53,000 jobs.
For information on reservations, activities and more in San Francisco, visit www.sftravel.com. 
Follow San Francisco Travel on Facebook (www.facebook.com/onlyinSF/), Instagram (www.instagram.com/onlyinsf/), and Twitter (www.twitter.com/onlyinsf). Hashtags are #sftravel and #AlwaysSF.
SAN FRANCISCO INTERNATIONAL AIRPORT 
SFO is excited to welcome travelers back to the skies with an airport experience featuring seamless access, thoughtful amenities, sustainable design and inspiring artwork and exhibits.
For up-to-the-minute departure and arrival information, airport maps and details on shopping, dining, cultural exhibitions, ground transportation, masks and COVID-related protocols and more, visit https://www.flysfo.com/. Follow us on twitter.com/flysfo and facebook.com/flysfo.
United Airlines is the preferred airline of the San Francisco Travel Association.
# # #
Image Links and Information: 
Press releases and other media resources are available at

www.sftravel.com/media

The San Francisco Travel Photo Video Library is available at

photos.sftravel.com

 

To receive news and updates regularly in San Francisco Travel's e-newsletters, visit

www.sftravel.com

and scroll down to "Newsletter Sign-up."