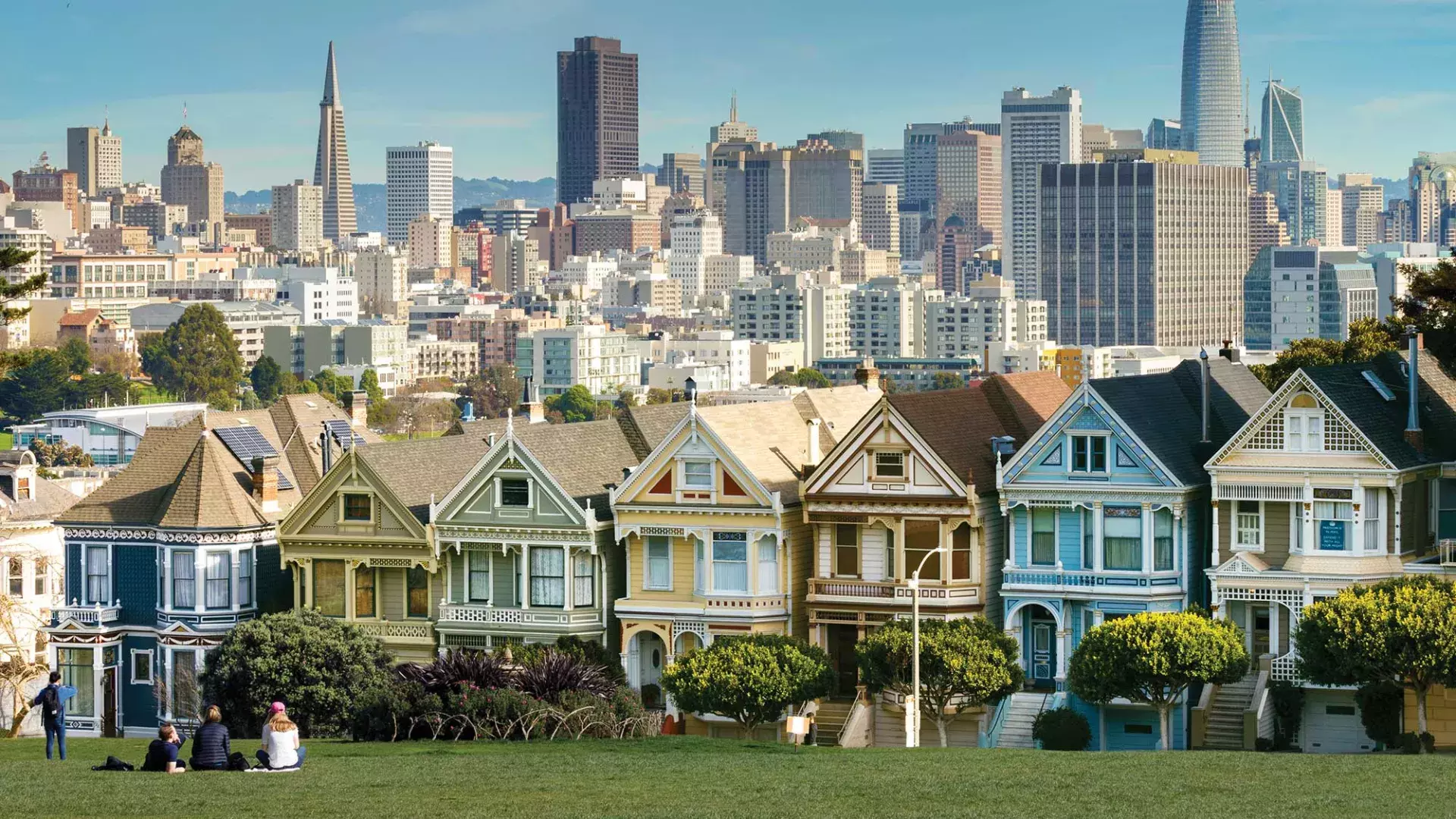 San Francisco Travel Association Announces 2022 Results and 2023 Forecast
Visitor spending more than doubled YOY to $7.4 billion, delivering $522 million in tourism-generated fees and tax revenues to the City.
2022 visitor arrivals grew by 29% to 21.9 million, including a 211% increase in international visitation.
2022 meetings and convention business recovered with 347,788 hotel rooms consumed by attendees of 33 Moscone Center events, a 1,933% increase YOY.
2023 visitor arrivals are expected to reach 23.9 million, and 2023 visitor spending is expected to grow to $8.7 billion.
March 21, 2023 (San Francisco) - The San Francisco Travel Association, the official destination marketing organization for the City and County of San Francisco, released 2022 tourism figures and an updated 2023 tourism forecast at its annual Marketing Conference held today at The Warfield.
San Francisco Travel reported a significant increase in visitors in 2022 – with 21.9 million visitors to the city, up 29% from 2021's 17 million. Visitor spending was $7.4 billion in 2022, more than double the 2021 visitor spend of $3.56 billion. Total tourism spending, including exhibitor and meeting planner direct spend, was $7.7 billion.
"The incredible growth in 2022 was fueled largely by international leisure travelers and our convention business, with the 33 events booked at Moscone Center driving $587 million in convention and meetings spending," said Joe D'Alessandro, San Francisco Travel's President and CEO. "We made significant headway in 2022 through targeted efforts to attract overseas travelers and secure events for Moscone Center."
San Francisco had a record 26.2 million visitors and $9.6 billion in visitor spending in 2019. Visitor spending is expected to reach 2019's level in 2024 and visitor volume is anticipated to exceed 2019's in 2025. San Francisco's tourism industry is forecasted to fully recover Lodging RevPAR (revenue per available room) by 2026.
International Visitor Volume and Spending
In 2022, San Francisco welcomed 1.7 million international visitors, a 211% increase year-over year driven largely by returning European travelers. The international market continues to drive visitor spending. International visitors comprised just 24% of overnight visitor volume but over 60% of all overnight visitor spending in 2022. They spent $3.7 billion, up from $1 billion in 2021. Covid restrictions in place in 2022 in key Asia markets for San Francisco affected the pace of tourism recovery, and international arrivals and spending remained below 2019's record 2.9
million international visitors and $5.1 billion in spend.
Based on the most recent 2022 data available from Oxford Economics, the top five international markets for visitor volume in 2022 were Mexico, the U.K., Canada, India, and Germany. The top five international markets for spend in 2022 were India, the U.K., Mexico, Canada, and Germany.
"San Francisco is not yet reaching pre-pandemic numbers as anticipated, but we expect to see further growth this year, especially as we begin to welcome back more travelers from Asia. With the return of flight routes to SFO from cities across Asia and an ease on testing requirements, we should see increases in international visitation and spending," said D'Alessandro.
San Francisco Hotel Performance
Average hotel occupancy was 62.1%, up 43.7% from 2021's occupancy rate. The average daily rate (ADR) was $231.12, up 41% YOY. Revenue per available room rose more than 100% to $143.47.
Meetings and Conventions
Room nights consumed by delegates attending Moscone Center conventions totaled 347,788 – a 1,933% increase from 2021. Meetings rebounded following the slowdown in Q1 due to the delta and omicron Covid-19 variants, with Moscone Center hosting 33 events in 2022 compared to five following its reopening in September 2021.
Tourism's Far-Reaching Economic Impact
The tourism industry generated $522 million in taxes and fees for the City and County of San Francisco in 2022, up 103% from $257 million in 2021.
Tourism is one of the largest sectors for job creation in the city. In 2023, jobs supported by tourism grew 95% to 53,156, up from 27,318 last year but still below the more than 86,000 jobs supported in 2019.
San Francisco International Airport
San Francisco International Airport (SFO) served over 42.3 million passengers, up 74% from 2020's 16.4 million passengers but down 26% from 2019's 57.8 million.
Outlook for 2023
Leisure travel is expected to continue its steady recovery and overall visitation to the city is forecast to reach 23.9 million in 2023. Total visitor spending is expected to grow from $7.4 billion in 2022 to $8.7 billion in 2023. International arrivals are projected to grow to two million in 2023, with an anticipated contribution of $4.3 billion in spending.
Hotel room nights associated with Moscone Center events will almost double in 2023 to over 673,000. There are 35 events confirmed at Moscone Center in 2023, and higher attendance is expected at events this year in line with national industry trends and definite hotel room nights on the books.
Hotel occupancy in 2023 is forecast to reach 70%, up 12.7% from 2022. ADR in 2023 is projected to grow 11% to a forecast of $257.22. Hotel RevPAR is anticipated to grow 25.4% to $179.95. San Francisco currently has 253 hotels with a rooms inventory of 36,165. Seven hotels closed permanently during the pandemic and a further 10 remain temporarily closed.
SFO projects it will see over 50 million passengers in 2023, up ~8 million from 2022. The airport forecasts it will return to 2019's 58-million-annual-passenger-levels of traffic between 2025 and 2026.
San Francisco Travel Initiatives in 2023
San Francisco Travel's first major global brand campaign is expected to launch this May. The $6+ million campaign is funded by a sub-grant from Visit California, a grant from San Francisco's Office of Economic and Workforce Development, and industry stakeholders. The "Always San Francisco" brand campaign will target key visitor and meetings markets including New York, Chicago, Washington D.C., Boston and Houston and select international markets. The high-reach campaign will be delivered primarily through TV, out of home and high impact digital advertising.
The brand campaign will be complemented by other marketing programs, including a global Expedia campaign running from April through December, a domestic arts and culture campaign, and campaigns in Asia Pacific, India, Australia, the U.K, and Europe.
The association also will lead a Tourism and PR Mission in Japan and Korea in April aimed at promoting San Francisco and boosting visitation from those markets. Both markets are expected to show robust growth in visitation in 2023 and lead the ongoing recovery from Asia. Therefore, a focus on these markets is of particular importance given that China continues to lag. While visitation from China, San Francisco's top overseas market prior to the pandemic, is
expected to increase in 2023, it will not fully return. This is mainly due to geopolitical reasons and prevailing bilateral government restrictions that hamper the resumption of air service.
San Francisco Travel also is introducing new initiatives to drive meetings and convention business. Key among them is a new room block program for Moscone Center bookings in partnership with hotels catering to meetings business to ensure San Francisco remains competitive.
"Securing events for Moscone Center in future years is where key opportunities lie and is vitally important to the city's economic recovery. We will capitalize on the Moscone Recovery Fund and the 0.25% TID increase effective in 2024 to secure future convention bookings. The TID increase will build an $8 to $10 million incentive fund to attract and retain business at Moscone Center through 2038. We're also leveraging the Welcome Ambassador program, which has been tremendously successful in improving customer satisfaction and attendees' experience," said Nicole Rogers, San Francisco Travel's Executive Vice President and Chief Sales Officer.
San Francisco Travel has grown its Convention Sales and Event Services department from 12 people in 2021 to 23 this year. New team deployment will enable the association to aggressively target business in new markets and attract and retain annual and rotational events. Along with developing strategic partnerships with major third-party partners to capture more leads and group bookings, a robust schedule of sales missions, client events and attendance at tradeshow and conferences is planned this year to promote the city.
Expanded sales deployment will tackle the anticipated decrease in hotel rooms attributed to Moscone Center events in 2024. Currently, the number of definite hotel rooms nights in 2024 is 456,181, with 21 events booked at the convention center.
"Given that associations book conferences several years out, our strategy for 2024 is to secure more corporate events, likely taking place in hotels because of their smaller size, to support the hospitality, event, and tourism businesses in the city," said Rogers. "In 2022, 75% of group rooms nights were for events outside of Moscone Center, so we are targeting these types of smaller group events with shorter booking windows and expanding our efforts to attract luxury and international group business."
Marketing Conference Sponsors
San Francisco Travel's Marketing Conference was sponsored by Bright Event Rentals, Expedia Group, Free Spirits, JPMorgan Chase & Co., Last Wave Productions, Levy, The Line San Francisco, Miles Partnership, The Plant Library, Steven Gregory Photography, and The Warfield.
SAN FRANCISCO TRAVEL
The San Francisco Travel Association is the official destination marketing organization for the City and County of San Francisco. The city is one of the top tourism and meetings destinations in the U.S. and received 21.9 million visitors in 2022. Total tourism spending in 2022 exceeded $7.7 billion. The tourism industry is the largest generator of outside revenue into San Francisco's economy and supports over 53,000 jobs.
For information on reservations, activities and more in San Francisco, visit www.sftravel.com. Follow San Francisco Travel on Facebook (www.facebook.com/onlyinSF/), Instagram (www.instagram.com/onlyinsf/), and Twitter (www.twitter.com/onlyinsf). Hashtags are #sftravel and #AlwaysSF.
SAN FRANCISCO INTERNATIONAL AIRPORT
SFO is excited to welcome travelers back to the skies with an airport experience featuring seamless access, thoughtful amenities, sustainable design and inspiring artwork and exhibits. For up-to-the-minute departure and arrival information, airport maps and details on shopping, dining, cultural exhibitions, ground transportation, masks and COVID-related protocols and more, visit https://www.flysfo.com/. Follow us on twitter.com/flysfo and facebook.com/flysfo.
United Airlines is the preferred airline of the San Francisco Travel Association.
# # #
Image Links and Information:
Press releases and other media resources are available at www.sftravel.com/media
The San Francisco Travel Photo Video Library is available at photos.sftravel.com
To receive news and updates regularly in San Francisco Travel's e-newsletters, visit www.sftravel.com and scroll down to "Newsletter Sign-up."