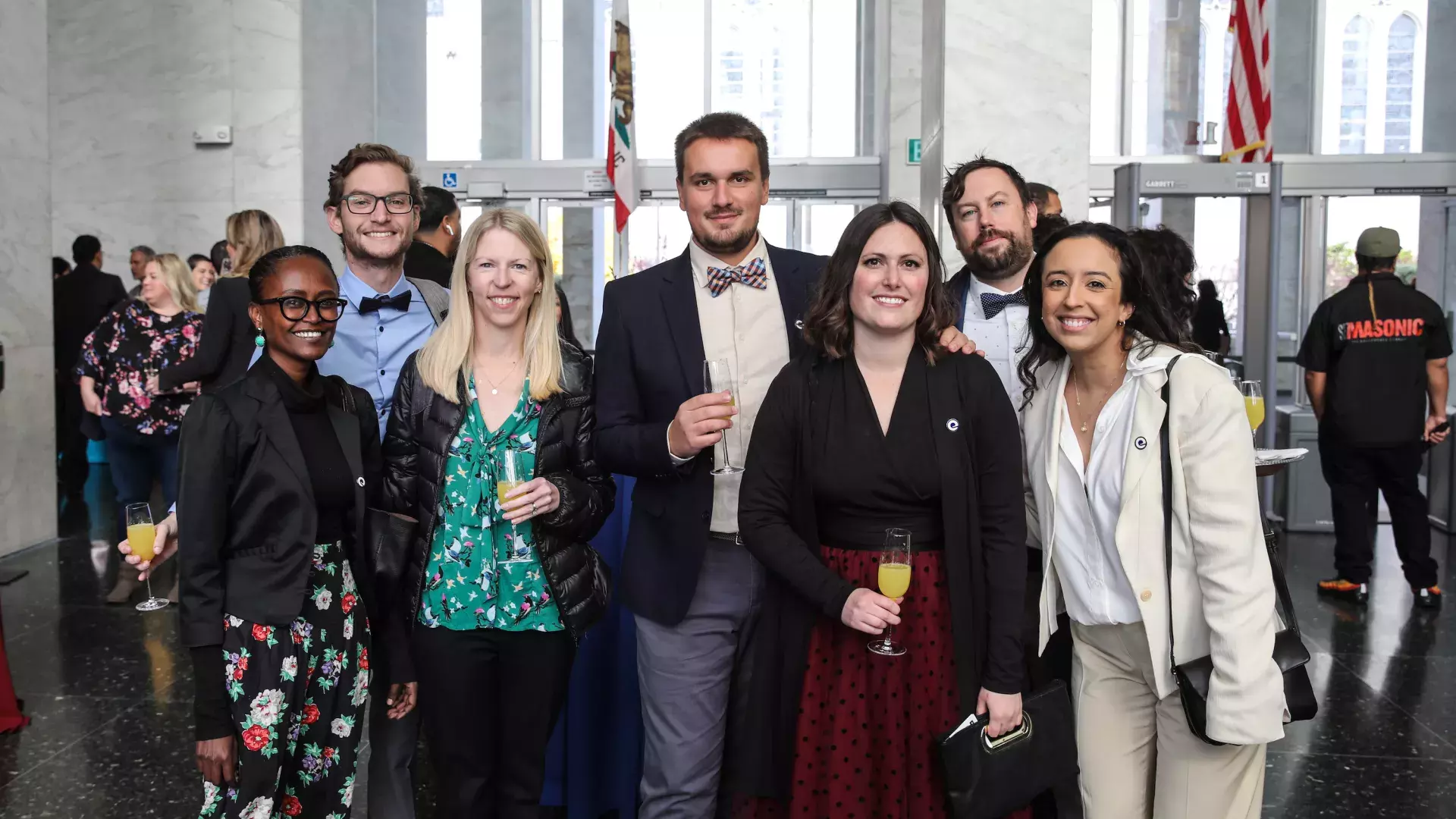 San Francisco Travel Holds 112th Annual Meeting
Speakers Highlight Successes of 2022 and Plans to Further Drive Tourism Recovery in 2023; Association President & CEO Joe D'Alessandro Announces Retirement at the End of 2023.
2022 visitor spending is forecast to be up 89.3% in 2022 to $6.7 billion and visitation up 26.5% to 21.5 million visitors compared to $3.6 billion in spending and 17 million visitors in 2021.
First global brand campaign and redesigned San Francisco Travel website to launch in Q1 2023.
2022 San Francisco Travel award and scholarship winners announced.
(San Francisco) Dec. 6, 2022 – Over 600 travel and tourism leaders from across the Bay Area attended the 112th San Francisco Travel Association Annual Meeting today at The Masonic, joined by San Francisco Mayor London N. Breed, former San Francisco Mayor Willie Brown, Supervisors Connie Chan, Rafael Mandelman and Myrna Melgar, and representatives from Governor Gavin Newsom's office, Senator Dianne Feinstein's office, and San Francisco City departments.
Ike Kwon, San Francisco Travel's board chair and the chief operating officer and head of government affairs at the California Academy of Sciences, recapped San Francisco Travel's accomplishments this year, which included securing the 33 events held at Moscone Center in 2022 and upcoming events such as the Asia-Pacific Economic Cooperation (APEC) Leaders Meeting in 2023.
San Francisco Travel also attracted global sporting events such as the SailGP Grand Final and the League of Legends World Championship in 2022, drove record direct leisure room night bookings through its marketing campaigns and www.sftravel.com, and boosted the return of international visitation led by visitors from Mexico, the U.K., Canada, India, Germany, France, and Australia. The association forecasts 2022 visitor spending will be up 89.3% in 2022 to $6.7 billion, and visitation will be up 26.5% to 21.5 million visitors compared to $3.6 billion in spending and 17 million visitors in 2021.
"Perhaps most importantly, we changed the narrative about San Francisco in 2022. This wasn't just about optics. We made real change in this city, and people took notice," said Kwon, highlighting San Francisco being named to Time's "World's Greatest Places" list this year and National Geographic's "Best of the World" and Travel + Leisure's "50 Best Places to Travel" 2023 lists. 
For its efforts this year, San Francisco Travel earned several industry awards, including a U.S. Travel Destiny Award and Visit California Poppy Award for arts marketing, two Adrian Gold Awards for marketing and public relations efforts, and a CalTravel Visitor Experience Award for San Francisco's Welcome Ambassador Program. 
Additionally, The Wall Street Journal named San Francisco International Airport (SFO) the best airport in the U.S. Working in partnership with SFO, San Francisco Travel helped bring new airlift to the city this year, with recent new and increased service to Italy, India and other countries strengthening SFO's status as the West Coast's premier gateway to North America. 
"We have so much to celebrate in our City and the world is taking notice of what's happening in San Francisco. I am so proud of what has been accomplished and remain committed to the work we still have to do," said Mayor London Breed. "Of course, there are challenges, like any major city grappling with economic hardships brought on by the pandemic, but the City and our partners like SF Travel and the hospitality industry are doing the work to show people who we are, not what others say we are."
Driving Tourism Recovery in 2023
San Francisco Travel President and CEO Joe D'Alessandro provided attendees a sneak peek at the association's first global brand campaign and redesigned, mobile-first website — both of which will launch in Q1 2023. The "Always San Francisco" brand campaign will showcase the beauty and diversity of San Francisco. In a first for San Francisco Travel, the campaign will be featured on television and out-of-home advertising platforms in addition to digital channels.
"The task of continuing to change the narrative about San Francisco is too important. We conducted extensive research and focus groups in key markets to learn what would inspire customers and potential customers to visit and think differently about San Francisco. Our new campaign aims to show the beauty we're so fortunate to be surrounded by every day and the truth that San Francisco is a safe and welcoming place for all," he said. 
D'Alessandro, who had led San Francisco Travel since July 2006, also announced he will retire at the end of 2023.
"It has been an honor to lead San Francisco Travel's dedicated and talented team and a privilege to serve with incredible board leadership and community partners. Certainly, the past few years have been difficult, and we still have quite a journey ahead of us. The pandemic abruptly halted San Francisco's record-breaking 10 years of tourism growth, but we are on the path to recovery. I believe the programs we've prepared for 2023 will continue to set us apart as a premier global destination. That's why I have no reservations about next year being my last as the president & CEO of San Francisco Travel," said D'Alessandro.   
The search for D'Alessandro's successor will begin in 2023. It will be led by San Francisco Travel Board Chair Ike Kwon and Chair-elect Terry Lewis, who will assemble and lead a search committee that will engage in a deliberative, thorough process to find the next executive to lead the destination marketing organization.
2022 Award and Scholarship Winners
Since its inception in 1965, the prestigious Silver Cable Car Award has been awarded to the person or organization whose contributions have impacted San Francisco as a global destination. This year's Silver Cable Car Award was presented to siblings Mike and Pat Gallagher, who were honored for their decades of contributions and service to San Francisco's tourism industry. Mike Gallagher is the co-founder of CityPASS and has been widely recognized for positively impacting the travel industry and raising industry-wide standards. Pat Gallagher spent over three decades with Giants Enterprises and was Major League Baseball's first marketing executive with the San Francisco Giants.
In presenting the award, D'Alessandro said, "Mike and Pat's fingerprints can be found all over our most popular attractions, from PIER 39 to Oracle Park, and their influence has stretched beyond the Bay Area. Mike's involvement with Visit California in its earliest years was crucial for the state's tourism industry. And Pat was instrumental in helping San Francisco secure the hosting bid for Super Bowl 50, providing a template that we're still using to bring world-class events to the city." 
The American Thoracic Society (ATS) received the Crystal Bridge Award, which recognizes a convention client that has demonstrated a commitment to San Francisco. ATS has held its annual meeting regularly in San Francisco since 1947, contributing tens of millions of dollars in direct spending and making a positive impact locally through CSR initiatives. ATS's annual meeting will return to San Francisco in 2025 and 2028. 
The San Francisco Travel Foundation's John A. Marks Scholarship honors a local student pursuing a career in hospitality and was presented to Akio Goto in recognition of his solid work ethic, commitment to the tourism industry and love of San Francisco. Goto will graduate this month from the University of San Francisco. 
The San Francisco Travel Foundation introduced a new scholarship made possible by Dale Hess, who held executive roles in marketing and public affairs at San Francisco Travel for more than 30 years before retiring. Hess passed away this spring. The Dale Hess Excellence in Hospitality Scholarship was awarded to University of San Francisco student Andy Zhuang.
San Francisco Travel's 112th Annual Meeting Sponsors
Presenting Sponsor: United Airlines
Platinum Sponsors: Live Nation and Bright Event Rentals
Gold Sponsors: Airbnb, Expedia, Hartmann Studios and Miles Partnership
Silver Sponsors: JPMorgan Chase and Giants Enterprises
Bronze Sponsors: Big Bus, Hopper, John's Grill, Local 16, The Presidio Trust, SIMCO Restaurants, Scoma's, Visit Oakland and The Walt Disney Family Museum.
Event Sponsors: BroadwaySF, Global Gourmet, Livermore Valley Winegrowers Association, Berber SF, Entire Productions, Glow Events, Misti Layne Photography, Chris Evans Events + Catering, Betty Zlatchin Catering, Culinary Eye, Off The Grid Catering, Republic National Distributing Company and Snap Fiesta.
All photos included in this release courtesy of Misti Layne Photography.
ABOUT SAN FRANCISCO TRAVEL
The San Francisco Travel Association is the official destination marketing organization for the City and County of San Francisco. Tourism is San Francisco's largest industry. More than 25.8 million people visited the destination in 2019, spending nearly $10 billion. More than 86,000 jobs are supported by tourism in San Francisco. 
For information on reservations, activities and more, visit www.sftravel.com.  
For more about San Francisco, follow us on Facebook (www.facebook.com/onlyinSF/), Instagram (www.instagram.com/onlyinsf/), and Twitter (www.twitter.com/onlyinsf). Please use hashtags #sftravel and #AlwaysSF.
ABOUT SAN FRANCISCO INTERNATIONAL AIRPORT 
SFO is excited to welcome travelers back to the skies with an airport experience featuring seamless access, thoughtful amenities, sustainable design and inspiring artwork and exhibits. 
For up-to-the-minute departure and arrival information, airport maps and details on shopping, dining, cultural exhibitions, ground transportation, masks and COVID-related protocols and more, visit https://www.flysfo.com/. Follow us on twitter.com/flysfo and facebook.com/flysfo. 
United Airlines is the preferred airline of the San Francisco Travel Association. 
# # #
Image Links and Information: