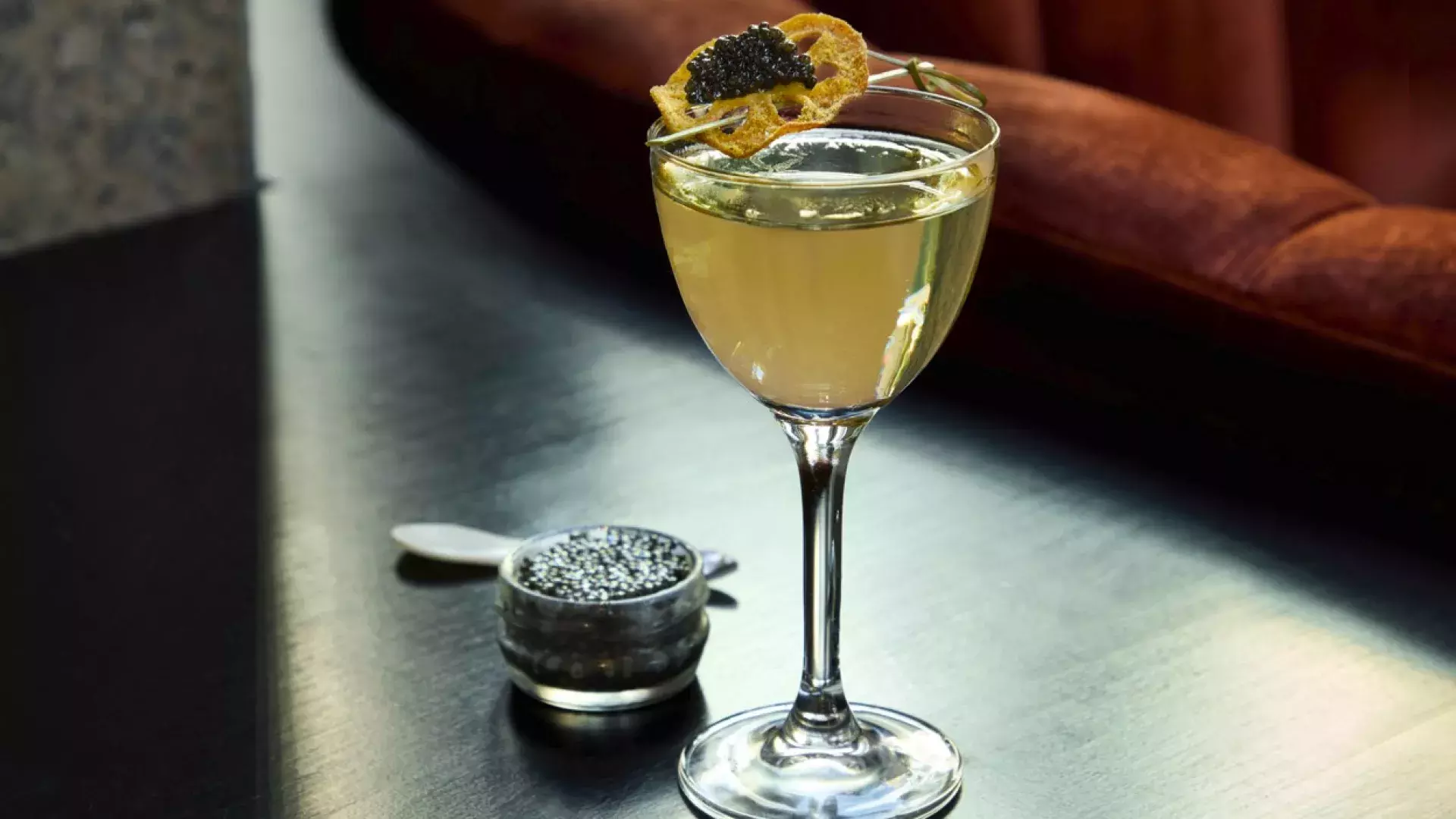 What's New: Creative Libations and New Venues Fuel San Francisco's Legendary Drinks Scene
(San Francisco) April 3, 2023 – As a pioneer in the craft cocktail movement and the birthplace of America's craft beer scene—not to mention San Francisco's proximity to Wine Country, the city's drinks scene is as storied as its history. Here are some of the city's latest bars, taprooms, and craft cocktail innovations keeping San Francisco always exciting.
Ballast Point Brewing Co. opened its first taproom in San Francisco in February. Within walking distance of the Chase Center, the approximately 12,000-square-foot venue offers 46 taps encompassing a mix of Ballast Point beers on draft, R&D releases exclusive to the San Francisco market, and local guest brewery taps, plus a wine list. The food menu features an eclectic mix of globally inspired dishes and New American pub favorites that are inventive yet approachable, with ingredients complementing the flavor profiles of the brand's core beers. (Location: 705 16th St.| Mission Bay)
Single-origin spirit champion Bar Agricole reopened in a new location in August 2022 after closing in 2020. The James Beard Award-winning serves single-origin spirits in crafted cocktails alongside California cuisine. A retail space adjacent to the dining room also sells Bar Agricole's new proprietary line of single-origin spirits. (Location: 1540 Mission St. | SOMA)
In March, Bar Crenn added cocktails and spirits to its drinks list following a renovation of the space. The list highlights ingredients from its own Bleu Belle Farm, expressed in house made juices, teas, fermentations, and distillations. In the dining room, Bar Crenn introduced the Bar Crenn Snack Menu, a small bites menu that lends itself to unique pairings with its curated cocktails, high-end spirits, wines, and non-alcoholic libations. Also available is "Le Comptoir Crenn," a six-course selection of spontaneously curated dishes at the counter of Bar Crenn exclusively for six guests. (Location: 3131 Filmore St. | Pacific Heights)
Bar Sprezzatura is convivial, elegant aperitivo and cicchetti bar. Opened in November 2022 in the Financial District, the venue is inspired by the casual elegance of coastal Italy and features a stunning design inspired by mid-century Venice with a collection of Italy-inspired drinks and bites to match. Its signature Cicchetti Martini features a snack-sized garnish of anchovy-stuffed olives, pepperoncini gran ripieno, and freshly shaved truffle. An entire section of the menu is dedicated to Negroni, and there are more than 30 varieties of amaro, vermouth, and bitters. The food is inspired by Venice's cicchetti bars and features lighter dishes and heartier fare. (Location: One Maritime Plaza, 300 Clay St #100 | Financial District)
Barebottle Salesforce Park opened in late December, bringing its brews to San Francisco's newest urban park. This 5.4-acre green oasis spans nearly four blocks and sits 70 feet above street level on the roof of the Salesforce Transit Center. The open-air beer garden is located on the main plaza. It serves Argentinian empanadas, beer, and wine daily from noon to 7.15 p.m. Barebottle brews innovative beers inspired by the San Francisco Bay Area using local ingredients wherever possible and partners with local homebrewing groups to develop new beers using a competitive method. (Location: Salesforce Park, 425 Mission St. | East Cut/Downtown)
Latin American cocktail bar Cavaña opened in January atop the LUMA Hotel San Francisco in Mission Bay. The rooftop bar celebrates the spirit of Central and South America with a menu featuring an expansive collection of sugarcane and agave distillates alongside artisanal cocktails, minimal intervention wines, and shareable plates inspired by flavors across Latin America. Guests can view San Francisco's skyline and the surrounding bay amid lush greenery and live foliage. With retractable glass doors, heated banisters, hand heaters and a weatherized patio, Cavaña is a year-round drinking destination. Regular live performances spotlighting local Latin artists are planned. (Location: 100 Channel St., 17th Floor | Mission Bay)
Dragon Horse Bar & Sushi opened in March as a cozy south of Market Street gathering space and late-night scene. On the menu are Japanese ingredient-focused craft cocktails, sushi, ramen, and izakaya – all served until 1 a.m. six days a week. Cocktails include Heaven and Earth (Hirsch Bourbon, Campari infused Key Lime Leaves, Spiced Pear, Dry Sherry, Japanese Curry) and small batch beer brewed in San Francisco by owner-operator Mins Group at its Sato Brewery. (Location: 917 Folsom St. | SOMA)
Eco Terreno Wines & Vineyard debuted its Urban Wine Tasting Room in November 2022. The industry's first biodynamic urban tasting room, its tastings highlight biodynamic and organic wines from Eco Terreno's Alexander Valley vineyard's old vines, thoughtfully paired with small bites featuring organic produce and herbs grown from its farm. Wine tastings start at $50 and range from $90 to $130 per person with food pairings. (Location: 140 and 124 Columbus Ave.| North Beach)
La Mar Cocina Peruana relaunched La Mar Bar in March with a sleek new look. Guests can enjoy cocktails, live music, and Peruvian-influenced shareable plates. La Mar's cocktail menu is built around Pisco, the national drink of Peru, and goes beyond the classics like the Pisco Sour to feature a dozen specialized cocktails. (Location: Pier 1 ½ | The Embarcadero)
La Cocina's Municipal Marketplace has reimagined its bar, La Paloma, with new cocktails, partners, and events. La Paloma furthers La Cocina's mission of working with women and BIPOC communities to create a more inclusive and equitable food economy by highlighting women-owned or operated distillers that respect the land and traditions of making agave-based spirits. As an extension of La Cocina's work in cultivating new leaders in the food industry, La Paloma will offer various educational opportunities for the next generation of bartenders to learn a new skill set and build an understanding of the relationship between equity and spirit production. (Location: 101 Hyde St.| The Tenderloin)
Mili Wine Bar opened steps away from the Embarcadero in San Francisco's East Cut neighborhood. Located on the ground floor of the Mira luxury apartment building, the neighborhood bar features wines from around the globe and high-quality small plates sourced from some of the Bay Area's best purveyors and producers. (Location: 110 Folsom St. | East Cut/The Embarcadero)
Olfactory Brewing Co. opened in November in Dogpatch. Born out of a passion for creating the best quality brews inspired by traditional and new age techniques, the intimate venue is outfitted in steel beams, exposed redwood tables and psychedelic murals and serves its own lagers, IPAs, and Pale Ales. (Location: 2245 Third St. | Dogpatch)
PABU Izakaya, Michael Mina and Keita Tominaga's modern izakaya and sushi bar, debuted a new themed cocktail menu six months in the making. "The Cocktail Book of Yokai" is inspired by creatures and the phenomenon of centuries-old Japanese folklore. Developed by new lead bartender Natalie Lichtman, the menu showcases 10 distinctive cocktails named for and inspired by the various Yokai. Guests are invited to learn about the Yokai as each cocktail description defines the characteristics of the mythical creature and includes an accompanying illustration. Organized into chapters, the Cocktail Book of Yokai begins with "starters" including a traditional Toki Highball, the alcohol-free Lowball, and vegan Jelly cubes in Lychee Martini and Yuzu Paloma flavors. Subsequent chapters are organized by characteristics of the Yokai and the cocktail for which they are named. The cocktails are spirit-forward, bright and vibrant, and tart and complex, complementing the restaurant's cuisine. PABU Izakaya brings a modern take on traditional Izakaya-style dining, offering the finest locally and globally sourced jet-fresh seafood from Japan's famed Toyosu Market and a signature selection of A5 Japanese Wagyu. (Location: 101 California St. | SOMA)
The iconic Redwood Room at the Clift Hotel Royal Sonesta is celebrating its 90th anniversary this year. Opened in 1933, the day after the end of prohibition, the historic space has been restored and reinvented as an exceptionally modern San Francisco bar. Suffused with glamour and Art Deco style, the interior features the original redwood paneling, which, legend has it, was carved from a single redwood tree, as well as an enormous bar made from an 800-year-old redwood tree. (Location: 495 Geary St.| Union Square)
Rise Over Run, the full-service rooftop bar and restaurant solarium on the 13th floor of the new LINE San Francisco hotel, opened in November 2022. The concept features a playful reverie of southeast Asian-inspired street fare, encouraging convivial dining and imbibing amongst a festively lush forest of local flora and fauna, cozy firepits, and sweeping views of San Francisco. Beverages by local bar star and San Francisco native Danny Louie are designed for a "transportive experience." (Location: 33 Turk St. | Mid-Market)
The team at The Ritz-Carlton, San Francisco debuted a new cocktail program called "Neighborhood Cocktails of San Francisco" as a nod to the city they love most. Inspired by the Louis Vuitton Guide of cities around the world, the hotel's food & beverage team meticulously curated a hand-sketched menu of cocktails featuring new creative libations that represent a selection of iconic neighborhoods in the city. From Japantown to the Castro, the application of the neighborhoods is found in every aspect of the cocktail, from glassware and garnishes to ingredients and overall presentation. Guests can imbibe cocktails like "Karl the Fog"' and the Golden Gate Bridge, which features Belvedere Vodka, Red Grape and Hibiscus Syrup, Elderflower Liquor, Aquafaba, and a Mystique Bubble in a Riedel Coupe glass. (Location: 600 Stockton St.| Nob Hill)
James Bear award-nominated cocktail bar Trick Dog debuted its 10th-anniversary menu titled "Museum of Trick Dog" in January. The bar changes menus twice yearly with a theme defining the drinks. Available through early July, this menu celebrates the past with 17 drinks, each named after a former menu. The list also includes non-alcoholic drinks such as TATTOO, a concoction of Seedlip Garden 108, Lyre's dark cane, Spiritless Kentucky 74, wasabi, honey, lime, and grapefruit. (Location: 3010 20th St.| Mission District)
The Vault Piano Bar debuted at The Vault Steakhouse in October 2022. An ode to the classics, The Vault Piano Bar is an extension of the swanky, below-street-level, high-end steakhouse. It features a moody interior, sapphire velvet chairs and leather banquettes. Bites and plates designed to pair well with cocktails are available, as is a Happy Hour menu with drinks priced at $10 from 4 to 6 p.m. Guests can also order from the full Vault Steakhouse menu. Live music is featured five days a week. (Location: 55 California St. | Downtown)
SAN FRANCISCO TRAVEL
The San Francisco Travel Association is the official destination marketing organization for the City and County of San Francisco. The city is one of the top tourism and meetings destinations in the U.S. and received 21.9 million visitors in 2022. Total tourism spending in 2022 exceeded $7.7 billion. The tourism industry is the largest generator of outside revenue into San Francisco's economy and supports over 53,000 jobs.
For information on reservations, activities and more in San Francisco, visit www.sftravel.com. 
Follow San Francisco Travel on Facebook (www.facebook.com/onlyinSF/), Instagram (www.instagram.com/onlyinsf/), and Twitter (www.twitter.com/onlyinsf). Hashtags are #sftravel and #AlwaysSF.
SAN FRANCISCO INTERNATIONAL AIRPORT
SFO is excited to welcome travelers back to the skies with an airport experience featuring seamless access, thoughtful amenities, sustainable design and inspiring artwork and exhibits.
For up-to-the-minute departure and arrival information, airport maps and details on shopping, dining, cultural exhibitions, ground transportation and more, visit www.flysfo.com. Follow us on twitter.com/flysfo and facebook.com/flysfo.
United Airlines is the preferred airline of the San Francisco Travel Association.
# # #
Image Links and Information: 
Press releases and other media resources are available at

www.sftravel.com/media

The San Francisco Travel Photo Video Library is available at

photos.sftravel.com

To receive news and updates regularly in San Francisco Travel's e-newsletters, visit

www.sftravel.com

and scroll down to "Newsletter Sign-up."