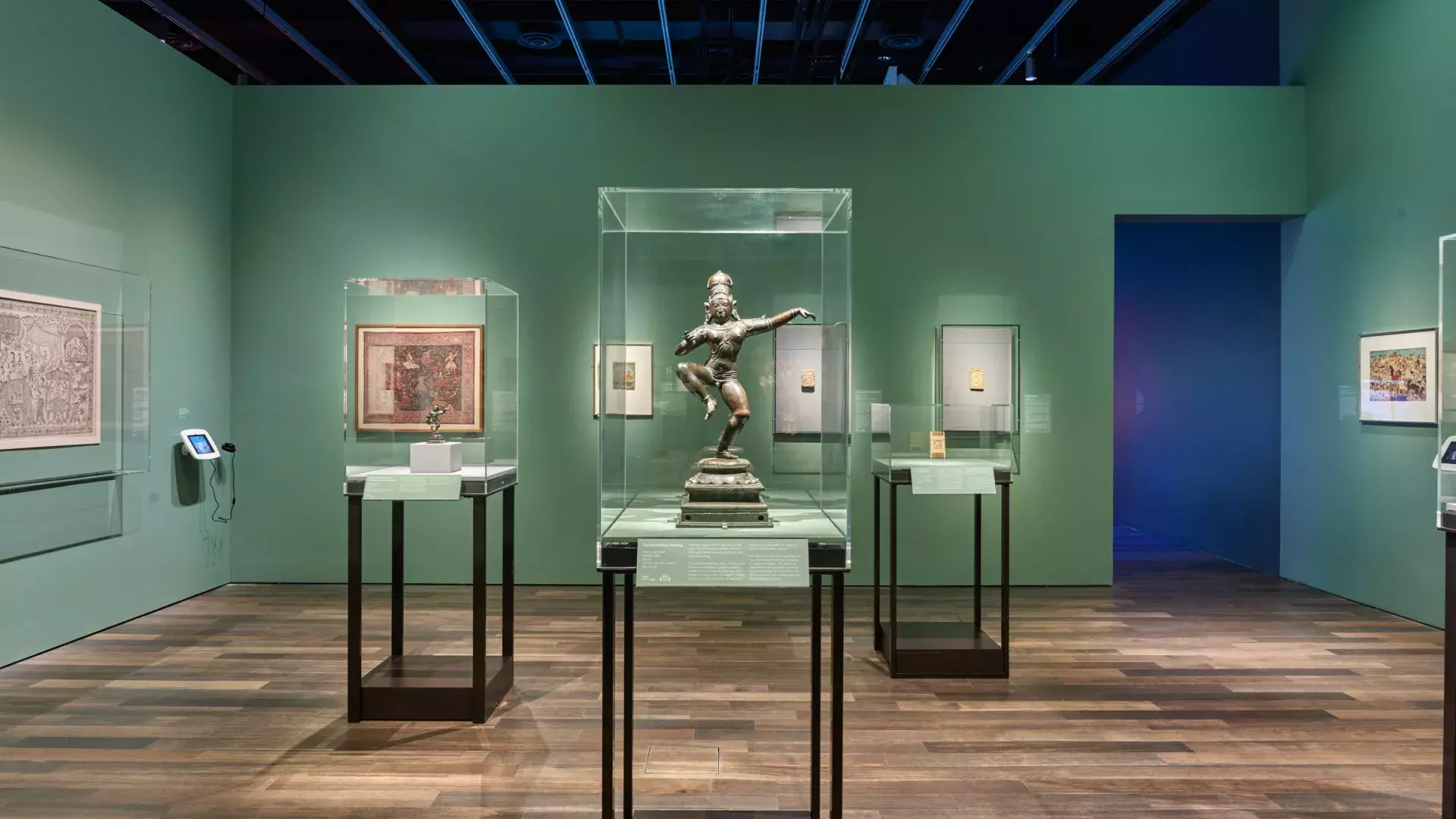 What's New in San Francisco's Art Scene
Compelling Exhibitions, New Galleries, and Expanding Voices Advance San Francisco's Legacy of Inclusivity and Incredible Art
April 4, 2023 – As an international arts destination, San Francisco offers an unmatched concentration of arts and culture within its compact 49 square miles. The city's art museums and galleries are at the leading edge of expanding voices and narratives on view. This season's lineup of powerful exhibitions features a wide array of acclaimed international and Bay Area artists, many of them addressing critical issues through their work.
ART EXHIBITIONS
GOLDEN GATE PARK & LINCOLN PARK
An Archaeology of Silence: Kehinde Wiley | On view through Oct. 15
The de Young Museum (Location: 50 Hagiwara Tea Garden Dr. | Golden Gate Park)
The Fine Arts Museums of San Francisco debuted An Archaeology of Silence in March. It is the U.S. premiere of Kehinde Wiley's monumental new body of work, which premiered at the 2022 Venice Biennale. Created against the backdrop of the COVID-19 pandemic, the murder of George Floyd, and the worldwide rise of the Black Lives Matter movement, An Archaeology of Silence expands upon the American artist's Down series from 2008. The body of work meditates on the deaths of young Black people slain all over the world, with the 25 works standing as elegies and monuments, underscoring the fraught terms in which Black people are rendered visible, especially when at the hands of systemic violence. The resulting paintings of Black people struck down, wounded, resting, or dead—all referencing historical paintings of heroes, martyrs, or saints—offer a haunting meditation on the violence against Black and Brown people through European art historical references. The exhibition contains some of the largest works Wiley has created to date. The museum is offering free admission to the exhibition for eight weekends through September.
Ansel Adams in Our Time: Ansel Adams | On view April 8 through July 23
The de Young Museum (Location: 50 Hagiwara Tea Garden Dr. | Golden Gate Park)
Beloved for his lush gelatin silver photographs of national parks, Ansel Adams is a giant of 20th-century photography whose images have become icons of the American wilderness. Ansel Adams in Our Time brings more than 100 works from this self-described "California photographer" to the site of his first museum exhibition in 1932, placing him in dialogue with 23 contemporary artists who are engaging anew with the landscapes and environmental issues that inspired Adams. The exhibition features additional works from the Fine Arts Museum's permanent collection and new interpretive framing exploring Adams' close connection to his hometown of San Francisco. The works of 23 contemporary artists provide a new lens for Adams, drawing on his legacy of art as environmental activism to confront issues such as drought and fire, mining and energy, economic booms and busts, protected places and urban sprawl.
Facing the Future: Lhola Amira | On view through Dec. 3
The de Young Museum (Location: 50 Hagiwara Tea Garden Dr. | Golden Gate Park)
Facing the Future launched the Fine Arts Museums of San Francisco's new African art program, foregrounding the permanent collection as a site of exploration for the evolving nature of African arts and their meaning today. The program's first presenter, South African artist Lhola Amira, embodies South African Nguni spiritual practices in THEIR life and work, emphasizing the power of remembering ancestors. This is the artist's first solo exhibition in the U.S. and brings together Amira's new Philisa: Zinza Mphefumlo Wami—or portal for spiritual reflection and connection—and THEIR single-channel video projection exploring indigenous forms of healing within the African diaspora, IRMANDADE: The Shape of Water in Pindorama (2018–2020). The new African art program is the latest initiative by the Fine Arts Museums to present the work of living contemporary artists in dialogue with the permanent collections and is helmed by Natasha Becker, the inaugural curator of African art.
Sargent and Spain: John Singer Sargent | On view until May 14
The Legion of Honor (Location: 100 34th Ave. | Lincoln Park)
Sargent and Spain delves into the impact of Spanish culture on the vibrant artistic practice of American expatriate John Singer Sargent. Sargent's intrigue with Spain, which grew throughout seven trips taken between 1879 and 1912, yielded a striking collection of work. The exhibition showcases a stunning array of Sargent's oils, watercolors, drawings, and previously unseen photographs from his personal archive that explore Spain's rich heritage, both past and present, its people, and its stunning urban and rural landscapes. Sargent and Spain is the only exhibition of its kind on the West Coast.
The Tudors: Art and Majesty in Renaissance England | On View from June 24 to Sept. 24
The Legion of Honor (Location: 100 34th Ave. | Lincoln Park)
From King Henry VII's usurpation of the English throne in 1485 to the death of his granddaughter Queen Elizabeth I in 1603, the Tudor monarchs used art to legitimize their reigns. The Tudors: Art and Majesty in Renaissance England is the first major exhibition in the U.S. of portraiture and decorative arts of the Tudor courts. The Legion of Honor is the exclusive West Coast venue of the exhibition, presenting paintings, tapestries, sculpture, metalwork, and manuscripts drawn from numerous collections in Europe and North America, including the Fine Arts Museums of San Francisco. The exhibition will examine the Tudors' use of art to project an image of regal splendor and authority and reunites scores of sumptuous paintings, precious jewels, gilded tapestries and rare artifacts from collections around the world to bring the Tudor dynasty vividly to life.
YERBA BUENA CULTURAL DISTRICT
Black Venus: Curated by Aindrea Emelife | On view from April 5 to Aug. 20
Museum of the African Diaspora (MoAD) (Location: 685 Mission St.)
Over 20 contemporary artists reclaiming the rich complexity of Black womanhood are featured in Black Venus, which is curated by Nigerian-British curator and art historian Aindrea Emelife. The exhibition surveys the legacy of Black women in visual culture—from fetishized, colonial-era caricatures dating back to 1793 to contemporary photographic works, plus sculpture, mixed media, and film. The more than 45 contemporary works collectively create a global, cross-generational investigation into Black women's agency amid the historical fetishization of the Black female body. Participating artists include Sadie Barnette, Deana Lawson, Zanele Muholi, Kara Walker, and Carrie Mae Weems. Originally created for Fotografiska in New York, where it debuted in 2022, the exhibition has been expanded and updated for Bay Area audiences with the addition of several local artists and pieces from local collections. This is its only West Coast stop before Black Venus heads to London.
The New York Years 1966-1975: Frank Bowling | On view from May 20 to Sept. 10
San Francisco Museum of Modern Art (SFMOMA) (Location: 151 Third St.)
The first major U.S. survey of the abstract painter's work in more than four decades, this exhibition captures the significance of the formative decade when Bowling, who was born in British Guiana (now Guyana), moved from London to New York. Featuring over 40 color-soaked paintings, it uncovers the explosive development of his vision and practice during a period that continues to inflect his deeply experimental works today. The San Francisco presentation also features a wide selection of archival materials that emphasize Bowling's evolution as an artist as well as a selection of his little-known "map" sketches and a companion gallery that highlights artists from Bowling's international circle.
New Work: Anna Sew Hoy | On view through July 16
SFMOMA (Location: 151 Third St.)
In the latest installment of SFMOMA's storied New Work exhibition series, Los Angeles–based artist Anna Sew Hoy enlists a unique approach to material and space in her imaginative sculptural installations. In mesmerizing tangles of hand-built clay arches, found metal cages and detritus ranging from charging cords to denim scraps, Sew Hoy's work resembles the ruins of a lost city, or places of refuge assembled from the shiny, tech-laden remains of a land destroyed. Taken together, the sculptures embody Sew Hoy's interest in turning things inside out to explore the relationship between the exterior world (of bodies, buildings and objects) and interior space (of psyches, emotions and souls).
Kinship: Photography and Connection | On view from May 20 to Nov. 12
SFMOMA (Location: 151 Third St.)
Kinship: Photography and Connection considers the ways that humans find a sense of connection or belonging―through friendship, ties to place, to family and beyond. It features moving works by six contemporary photographers who share a special affinity with their subjects: Farah Al Qasimi, Mercedes Dorame, Jarod Lew, Paul Mpagi Sepuya, Alessandra Sanguinetti, and Deanna Templeton. Relationships are fundamental to each artist's practice, whether the connections explored in the photographs are familial, platonic, romantic, cultural or geographic. Four of the six—Dorame, Sanguinetti, Sepuya, and Templeton—live in California.
What Matters: A Proposition in Eight Rooms | Opening July 22
SFMOMA (Location: 151 Third St.)
What Matters: A Proposition in Eight Rooms features thought-provoking contemporary works from the museum's collection that offer individual artistic responses to questions about life and art. Presented as a series of episodes with rotating artworks, the first episode includes works by Matthew Barney, Rosa Barba, João Maria Gusmão + Pedro Paiva, Walter Hood, Byron Kim, Tatsuo Miyajima, Yoko Ono, Ebony G. Patterson, Lorna Simpson, and Naama Tsabar. Presented across eight rooms, What Matters addresses materials, conditions of space and architecture and, most importantly, human relationships. The first episode's spiritual center is Yoko Ono's MEND PIECE, SFMOMA's version (1966/2021), where visitors will be invited to sit together at a table and discover their own means of repairing broken ceramic cups and saucers. In this participatory work, the communal act of mending furthers efforts to, in Ono's words, "mend the earth."
To Survive I Need You to Survive: Cara Levine | On view through July 30
Contemporary Jewish Museum (Location: 736 Mission St.)
This exhibit grapples with some of the most pressing issues of our time, including police brutality, climate change, and the COVID-19 pandemic. Through video, sculpture, and installation, California-based artist Cara Levine uses her artistic practice as a means to explore and process grief around personal and collective traumas, highlighting how creative endeavors can facilitate healing and help mourners find meaning in community with one another. Visitors will have the opportunity to reflect on the works on view as well as participate in creating works in real-time with the artist, both in the gallery and through public programs. Drawing on Jewish traditions, community practice, and interconnectedness, the exhibition invites visitors to explore installations and sculptural works that plumb the depths of the intimate and universal experiences of grief and regeneration.
Spaghetti Blockchain: Mika Rottenberg | On view from May 18 to Oct 22
Contemporary Jewish Museum (Location: 736 Mission St.)
One of the most innovative contemporary artists working today, New York-based Mika Rottenberg uses a playful and absurdist sense of humor to confront some of society's most urgent social issues. In the first large-scale solo exhibition of Rottenberg's work ever to be presented in Northern California, the works on view in Spaghetti Blockchain expose, delight in, and criticize the interactions between labor, economics, and the ways in which our emotional relationships are increasingly monetized in today's hyper-capitalist world. Explore immersive video installations, interact with kinetic sculptures, and dive into highly stylized, compelling works that explore the cultural collisions that play out against the backdrop of globalization, revealing the absurd and surprising ways we are all tied together.
CIVIC CENTER
Beyond Bollywood: 2000 Years of Dance in Art | On view through July 10
Asian Art Museum (Location: 200 Larkin St.)
Experience the ecstasy, the joy, and the power of millennia of movement in this new exhibition featuring more than 120 artworks from across South and Southeast Asia and the Himalaya. Borrowed from 25 of the finest museums and private collections, Beyond Bollywood immerses museumgoers in a multimedia showcase of dance, bringing a diverse array of historic and contemporary sculpture, painting, textiles, jewelry, photographs, and more to vivid, passionate life. Visitors will gain a deeper understanding of the enduring power of dance to inspire artists and audiences alike. From subtle musical backdrops to gallery-spanning video installations, experiential aspects of the exhibition take full advantage of the theatrical and technical capabilities of the museum's new 8,500-square-foot Akiko Yamazaki and Jerry Yang Pavilion.
Past Continuous Tense: Lam Tung Pang | On view through Sept. 18
Asian Art Museum (200 Larkin St.)
Step into some of East Asia's most unforgettable forests through Past Continuous Tense. Hong Kong-born and Vancouver-based artist Lam Tung Pang's gallery-spanning installation unites a millennium of Chinese, Korean, and Japanese nature scenes scaled up from the picture page to near life size. Instead of ink and brush, Lam used a blowtorch and charcoal to score the intricate drawings onto plywood, inviting us to grapple with political and climate anxiety by layering history and memory into these ghostly masterpieces.
Hell: Arts of Asian Underworlds | On view from June 16 to Sept. 18
Asian Art Museum (200 Larkin St.)
Descend into the absurd, lurid, grotesque—and often gorgeous—geographies of the afterworld as conceived by Asian religious artists. Hell: Arts of Asian Underworlds presents fascinating figures, face challenging phantoms, and explores how the karmic connection between action and experience can go all wrong. The world-class ancient and contemporary art begs the question: is hell for real, or are our hells taking us for a ride?
DOGPATCH
Resting Our Eyes: Curated by Tahirah Rasheed and Autumn Breon | On view through June 25
Institute of Contemporary Art San Francisco (Location: 901 Minnesota St.)
Focusing on the liberation and celebration of Black women through the lens of leisure and physical adornment, Resting Our Eyes features new and existing works from 20 multi-generational Black artists working across sculpture, photography, video, mixed media, painting, and textiles. The exhibit joins Jeffrey Gibson's THIS BURNING WORLD and Liz Hernández and Ryan Whelan's A Weed By Any Other Name as the new museum's first exhibitions.
Fight and Flight: Crafting a Bay Area Life | On view from April 15 to Sept. 3
The Museum of Craft and Design (Location: 2569 Third St.)
Curated by Jacqueline Francis and Ariel Zaccheo, this timely examination of the Bay Area arts ecosystem features 23 Bay Area artists who have persevered through crises such as pandemics, gentrification, limited resources, insurrection, and violence, with their artworks showcasing their responses. The exhibition explores the struggles of living and working in the Bay Area, the significance of "home" and "place" in the artists' work, and the conflicting emotions they feel. The display features primarily African American, Latinx, LGBTQIA+, and AAPI artists, consciously uplifting underrepresented communities.
Concrete Journals: Anne Hicks Siberell | On view from April 15 to Sept. 10
The Museum of Craft and Design (Location: 2569 Third St.)
Concrete Journals showcases the artwork of Bay Area artist Anne Hicks Siberell. Among many other projects parallel to bookmaking and writing, Siberell has been a visual diarist since the 1970s. Her Concrete Journals series exists as a record of time, collaging elements of the artist's life and encasing them in concrete. The exhibition features a collection of approximately 100 of Siberell's concrete journals. Her use of concrete allows materials and objects to be embedded within it as it hardens, painting and carving the concrete "pages" after they have dried.
Rituals of Devotion | On view through May 27
McEvoy Foundation for the Arts (Location: 1150 25th St., Building B)
Rituals of Devotion celebrates the spiritual and cultural practices that spark the human imagination in a new exhibition of painting, photography, and sculpture. Examining the power of ritual to connect us to earthly and otherworldly realms, the artworks on view explore bonds of love, alternative spiritual beliefs, and traditional organized religion.
What are words worth? | On view June 16 to Sept. 2
McEvoy Foundation for the Arts (Location: 1150 25th St., Building B)
The final exhibition before the McEvoy Foundation of the Arts closes will bring into view the McEvoy Family Collection's expansive holdings of artworks about text, language, journalism, literature, and poetry.
CHINATOWN
Present Tense 2023: Perilous Playground | On view April 20 to Dec. 16
Chinese Cultural Center of San Francisco (CCC) (Location: 750 Kearny Street, 3rd Fl.)
This multidisciplinary group exhibition curated by C&G Artpartment explores contested urban spaces to reflect on systemic power, exclusionary tactics and policies, and artists' unruly interventions. This is the fifth edition of CCC's Present Tense Series—a group exhibition platform that fosters dialogue with diasporic communities and provides a survey on current issues.
Learning to Land: A Story of Crossing Paths and Intergenerational Histories | On view until May 31
Edge on the Square (Location: 800 Grant Ave.)
The inaugural exhibition at Edge on the Square examines the relationships, networks, and stories that emerge by way of daily experiences and interactions within San Francisco's Chinatown. Organized by curator Candace Huey, artworks in the form of a conceptual shop, site-specific installations, sound and video projection, sculpture, and photography by artists Benjamen Chinn, Gao Ling, Lenore Chinn, Sasinun Kladpetch, and Sherwin Rio contemplate these moments of engagement and interconnectivity.
MISSION DISTRICT
Figuratively Speaking: Art in Advertising, Writing in Arts | On view from April 13 to July 8
Creativity Explored  (Location: 3245 16th St.)
Curated by arts writer, theater critic, and professor Hilton Als, this exhibition features the striking and multilayered work of Douglas Sheran, whose portraits capture the strength and essence of his subject. Sheran worked at Creativity Explored from 1993 to 2008. Playing with the human form, Sheran created a series of works in which he painted over female figures found in the pages of magazines. Accenting Sheran's portraits are a work by Creativity Explored artists Bertha Otoya, a Peruvian printmaker with a fondness for scrolls, and Roland Record, a seasoned artist whose gridded drawings call to mind maps or architectural blueprints.
TECHS-MECHS: Rafael Lozano-Hemmer | On view through May 31
Gray Area (Location: 2665 Mission St.)
Gray Area, a San Francisco-based nonprofit cultural incubator, presents TECHS-MECHS: a new survey of 10 works by renowned media artist Rafael Lozano-Hemmer in its new dedicated gallery space in the Mission District's historic Grand Theater. Spanning immersive installations, kinetic sculptures, generative animations, and large-scale shadow theaters, TECHS-MECHS presents canonical works from the artist's oeuvre alongside a rich chronology of technological cultural history in the artist's native Mexico. The exhibition features the West Coast premiere of Pulse Topology (2021), a monumental participatory installation that represents the culmination of Lozano-Hemmer's most celebrated series of works activated by the human pulse. Composed of three thousand suspended light bulbs, each glimmering to the heartbeat of a different participant, the installation creates an immersive chorus of light and sound inspired by the classic Mexican film "Macario." Throughout his works, technology is used as a means of reflexive intervention that encourages a questioning of identity both culturally and individually.
ART NEWS
Bay Area's Vibrant Arts Community on Display at Art Market San Francisco
Art Market San Francisco returns to Fort Mason's Festival Pavilion from April 20 to 23, with 85 top local, national, and international galleries. The 11th edition of the Bay Area's longest-running modern and contemporary art fair will feature a robust array of compelling installations and programming curated by the fair's new Creative Director, Nato Thompson. A powerful platform for the dynamic, experimental, and inclusive strength that reflects San Francisco's thriving art market, the fair attracts and engages collectors and the art curious at all levels. (Location: 2 Marina Blvd. | Fort Mason)
Edge on the Square Opens
The Chinatown Media & Arts Collaborative (CMAC) opened Edge on the Square, the Bay Area's first Asian American Pacific Islander contemporary arts and media hub, in January. Located in the heart of Chinatown, Edge on the Square will cultivate a space for creativity, education, art, and culture. Housed in an 1800s-era building spanning half a block, the rest of the property will be rehabilitated by CMAC and is poised to become a year-round venue for activists, artists, designers, educators, entrepreneurs, scholars, and technologists when it opens in 2025. CMAC is a coalition of six Chinatown nonprofits: Chinese for Affirmative Action, the Center for Asian American Media, the Chinese Culture Center and Foundation of San Francisco, the Chinatown Community Development Center, the Angel Island Immigration Foundation, and the Chinese Historical Society of America. (Location: 800 Grant Ave. | Chinatown)
Free Admission to SFMOMA's Floor 2 Galleries Through May 29
SFMOMA is offering free admission to its Floor 2 galleries through May 29. Audiences can engage with the work of the five 2022 SECA Art Award winners—Bay Area artists Binta Ayofemi, Maria Guzmán Capron, Cathy Lu, Marcel Pardo Ariza, and Gregory Rick—as well as view a wide selection of major works from the museum's collection, including ones by acclaimed artists Ruth Asawa, David Huffman, Henri Matisse, Ana Mendieta, Robert Rauschenberg, Mark Rothko, Wayne Thiebaud, and Mickalene Thomas.
SFMOMA permanently offers free access to nearly 45,000 square feet of art-filled public space. This currently includes access to Diego Rivera's Pan American Unity mural and Julie Mehretu's diptych HOWL, eon (I, II). Other works free to view include artist Wu Tsang's immersive video and sound installation Of Whales (2022), which was included in the 59th Venice Biennale and is one of 63 works recently acquired by SFMOMA. (Location: 151 Third St. | Yerba Buena)
FOR-SITE Launches The Guardhouse Program
Launched this year, FOR-SITE's new The Guardhouse Program invites three artists annually to activate a former military guard station at the main entrance to Fort Mason Center for Arts & Culture, presenting new work that responds to the natural and cultural significance of the site and its surroundings. Located within the 100-square-foot station at the main entrance, the temporary art installations are open to the public, viewable from windows 24 hours a day, free of charge. The inaugural installation by Kija Lucas is on view until April 29. (2 Marina Blvd. | Fort Mason)
Johnathan Carver Moore Gallery Opens
Opened in March, Jonathan Carver Moore will feature ongoing works by emerging and established BIPOC, LGBTQ+ and women artists, especially those from the Bay Area. The gallery, located on the ground floor of the building housing the newly opened The LINE San Francisco, brings a fresh, new voice to the art world and ongoing growth to the city's Mid-Market and Tenderloin neighborhoods. Located within the world's only legally recognized Transgender Cultural District, Jonathan Carver Moore will amplify diverse, disruptive voices in contemporary art. The gallery also aims to build community positivity through a Black, queer lens for art lovers. (966 Market St. | Mid-Market)
Expansion Planned for Minnesota Street Project and Minnesota Street Project Foundation
In its eighth year of operation, the Minnesota Street Project is continuing to grow its contemporary arts campus, acquiring an adjacent building at 1201 Minnesota, which will create new space for community programming. In addition to providing support for infrastructure, exhibitions, and collaborative capacity building grants, this expansion project will bring more accessible artist facilities, experimental exhibition spaces, and unique collaborations to the Project's campus. In 2023, the Minnesota Street Project is presenting exciting shows and events, including the summer return of the acclaimed San Francisco Art Book Fair (July 14 to 16), rotating exhibitions on view at over a dozen art galleries and non-profit arts organizations, and special pop-up shows including a mail art exhibition by Creativity Explored. (Location:  1275 Minnesota St. and 1150 25th St. | Dogpatch)
Elevating Artistic and Curatorial Talents
The Museum of the African Diaspora (MoAD) and SFMOMA have created a joint curatorial position as part of a broader partnership that will support scholarship and public engagement with African Diasporic art and culture. The new Assistant Curator of the Art of the African Diaspora solidifies the institutions' partnership in support of a shared ambition to elevate artistic and curatorial talents and will result in the creation of a robust range of co-created exhibitions, artist projects, and public programs. In addition to expanding each museum's work to present and study art of the African Diaspora, the role is envisioned as a platform to cultivate new curatorial talent and advance the pipeline of BIPOC curators within the museum field. The full-time position has a rotating three-year term, consistently ensuring new and distinct voices, perspectives, and approaches are brought to the development of subject programming and to the work of both Bay Area institutions more broadly. The inaugural curator is expected to be announced in late summer 2023.
In January, MoAD also announced Jocelyn Jackson as its new chef-in-residence and Dr. Artel Great, an acclaimed San Francisco filmmaker, author, and scholar, as cultural-critic-in-residence, a newly established position and the first of its kind at a contemporary art museum. MoAD's growing team elevates the Museum's presence as a global leader in presenting and celebrating art from a uniquely African Diasporic perspective.
SAN FRANCISCO TRAVEL
The San Francisco Travel Association is the official destination marketing organization for the City and County of San Francisco. The city is one of the top tourism and meetings destinations in the U.S. and received 21.9 million visitors in 2022. Total tourism spending in 2022 exceeded $7.7 billion. The tourism industry is the largest generator of outside revenue into San Francisco's economy and supports over 53,000 jobs.
For information on reservations, activities and more in San Francisco, visit www.sftravel.com. 
Follow San Francisco Travel on Facebook (www.facebook.com/onlyinSF/), Instagram (www.instagram.com/onlyinsf/), and Twitter (www.twitter.com/onlyinsf). Hashtags are #sftravel and #AlwaysSF.
SAN FRANCISCO INTERNATIONAL AIRPORT 
SFO is excited to welcome travelers back to the skies with an airport experience featuring seamless access, thoughtful amenities, sustainable design and inspiring artwork and exhibits.
For up-to-the-minute departure and arrival information, airport maps and details on shopping, dining, cultural exhibitions, ground transportation, masks and COVID-related protocols and more, visit https://www.flysfo.com/. Follow us on twitter.com/flysfo and facebook.com/flysfo.
United Airlines is the preferred airline of the San Francisco Travel Association.
# # #
Image Links and Information: 
Press releases and other media resources are available at

www.sftravel.com/media

 

The San Francisco Travel Photo Video Library is available at

photos.sftravel.com

To receive news and updates regularly in San Francisco Travel's e-newsletters, visit

www.sftravel.com

and scroll down to "Newsletter Sign-up."