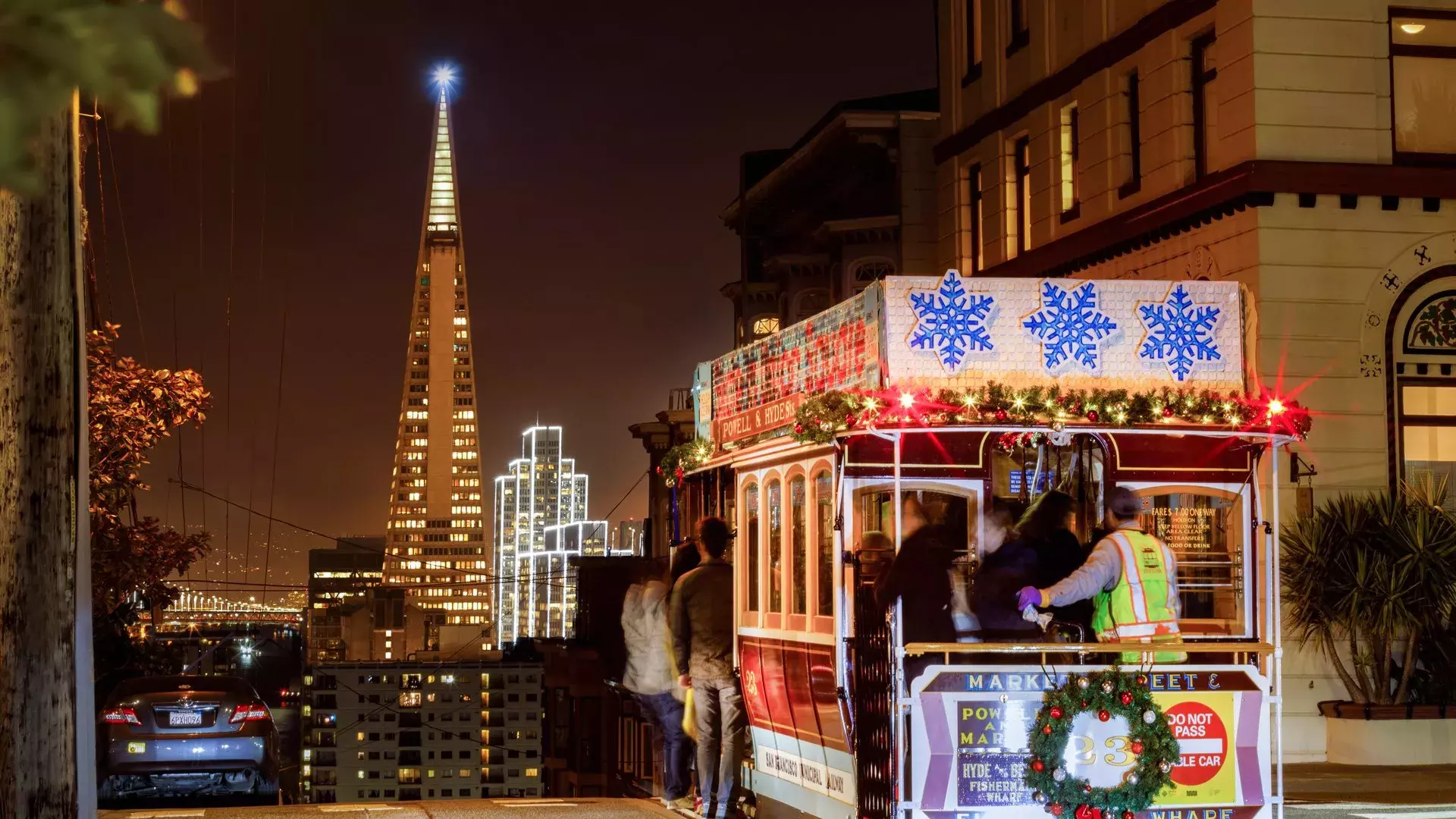 San Francisco Travel Eyes Europe and the U.K. Markets for Rebound in International Tourism Arrivals
The long-awaited lifting of restrictions on international travel to the U.S. on Nov. 8 marks the true beginning of tourism recovery for San Francisco.
San Francisco is gearing up for the return of international travelers following the Nov. 8 reopening of U.S. borders to all international visitors who meet requirements with a full slate of festive programming and a new Welcome Ambassador Program.
San Francisco's gate has been open since June 15, when California and the City lifted most pandemic restrictions, but the U.S. ban on travel from many of the city's top international markets along with the delta variant put a dent in international visitor arrivals this summer. "November 8th marks the true beginning of our tourism recovery," said Joe D'Alessandro, president and CEO of San Francisco Travel Association (SF Travel), the official destination marketing organization for San Francisco. "The return of international tourists is vital to San Francisco's economic recovery. They tend to stay longer and spend more."
San Francisco is one of the top cities in the U.S. for international visitors and in 2019 enjoyed a record 2.9 million international visitor arrivals. International tourists comprised about 25% of overnight visitors that year, but they generated more than 60% of all overnight visitor spending.
Before the pandemic, the U.K. and Germany were among the top five international markets for visitor volume. France, the U.K. and Italy were three of the fastest-growing markets.
"With the reopening of the U.S border and the increase in transatlantic flights to SFO, we expect to see European and U.K. tourist arrivals rebounding," said D'Alessandro. SF Travel ramped up sales and marketing efforts in Europe immediately following the White House's reopening announcement in early October to capitalize on pent-up demand and the surge of interest in travel to the U.S. 
In partnership with San Francisco International Airport (SFO), SF Travel launched aggressive marketing campaigns with the theme "Our Gate is Open," targeting consumers and travel trade in the U.K., Germany and France. The multi-channel campaigns encompass digital advertising, an nteractive microsite, social media and partnerships with online travel agencies (OTAs), airlines and the travel trade. The campaign is running concurrently with marketing campaigns in Canada and Mexico, which are also leading international visitor markets for the Bay Area.
"We are excited to welcome international travelers back to SFO," said Airport Director Ivar C. Satero. "We have truly transformed our airport to ensure a safe and healthy experience for all. At the same time, we look forward to showcasing new facility enhancements alongside the favorite airport amenities that make SFO a welcoming, world-class airport experience." SFO has seen a steady return of service. In the last quarter of 2021, SFO is expected to increase from 28 international carriers to 33 international carriers (75% of pre-pandemic international airlines at SFO).
An "Only in SF" Welcome
Visitors to San Francisco will find the city rolling out the welcome mat. A two-year, $12.5 million  Welcome Ambassador Program has launched in the city's downtown and tourist areas to make them feel welcoming and attractive for visitors, as well as commuters and residents. The program was officially launched on Nov. 2 by San Francisco Mayor London N. Breed. Dressed in branded, bright orange hats and jackets, Welcome Ambassadors greet visitors, assist with wayfinding and answer general questions about transit options, tourist attractions, restaurants and shopping.
Once fully operating, 50 Welcome Ambassadors will be deployed to locations throughout the city, including downtown BART stations, Market Street, Moscone Center, East Cut, the Ferry Building, Pier 39, Fisherman's Wharf, the Embarcadero, Chinatown, North Beach, Union Square, and the Cable Car turnarounds. 
Visitors arriving this winter will find San Francisco dressed for the holidays and a vibrant schedule of shows and events on offer, including the annual "Illuminate SF Festival of Lights." The festival, which starts Nov. 25 and runs until Jan. 31, 2022, celebrates over 40 dramatic, eco-friendly light installations in 17 of the city's neighborhoods. For information on festive activities in San Francisco, https://www.sftravel.com/media.
About San Francisco Travel
The San Francisco Travel Association is the official destination marketing organization for the City and County of San Francisco. Tourism is San Francisco's largest industry. More than 25.8 million people visited the destination in 2019, spending in excess of $10 billion. More than 86,000 jobs are supported by tourism in San Francisco. 
San Francisco is one of the metropolitan areas in the U.S. that has consistently kept Covid-19 largely under control. The COVID-19 Prevention & Enhanced Cleaning Guidelines put forth by the Hotel Council of San Francisco, ensure that our hospitality businesses are adhering to the most elaborate cleaning and safety protocols. San Francisco Travel invites all visitors who are planning to come in 2021 to contribute their part to a safe and enjoyable experience by taking our Safe Travel Pledge.
For information on reservations, activities and more, visit www.sftravel.com.
For more about San Francisco, follow on Facebook, Instagram and Twitter. Please use hashtags #sftravel and #AlwaysSF.
About San Francisco International Airport
San Francisco International Airport (SFO) wants you to Travel Well. SFO works with local, state and federal health officials to protect against COVID-19. Measures include enhanced cleaning protocols, hundreds of hand sanitizer stations, physical barriers, face coverings for everyone and physical distancing. To learn more visit flysfo.com/travel-well. SFO offers nonstop service to Asia, South Pacific, Europe, Canada, Mexico and across the United States. For up-to-the-minute departure and arrival information, airport maps and details on shopping, dining, cultural exhibitions, ground transportation and more, visit www.flysfo.com. Follow us on www.twitter.com/flysfo and www.facebook.com/flysfo.
United Airlines is the preferred airline of the San Francisco Travel Association.
# # #
Note to editors: