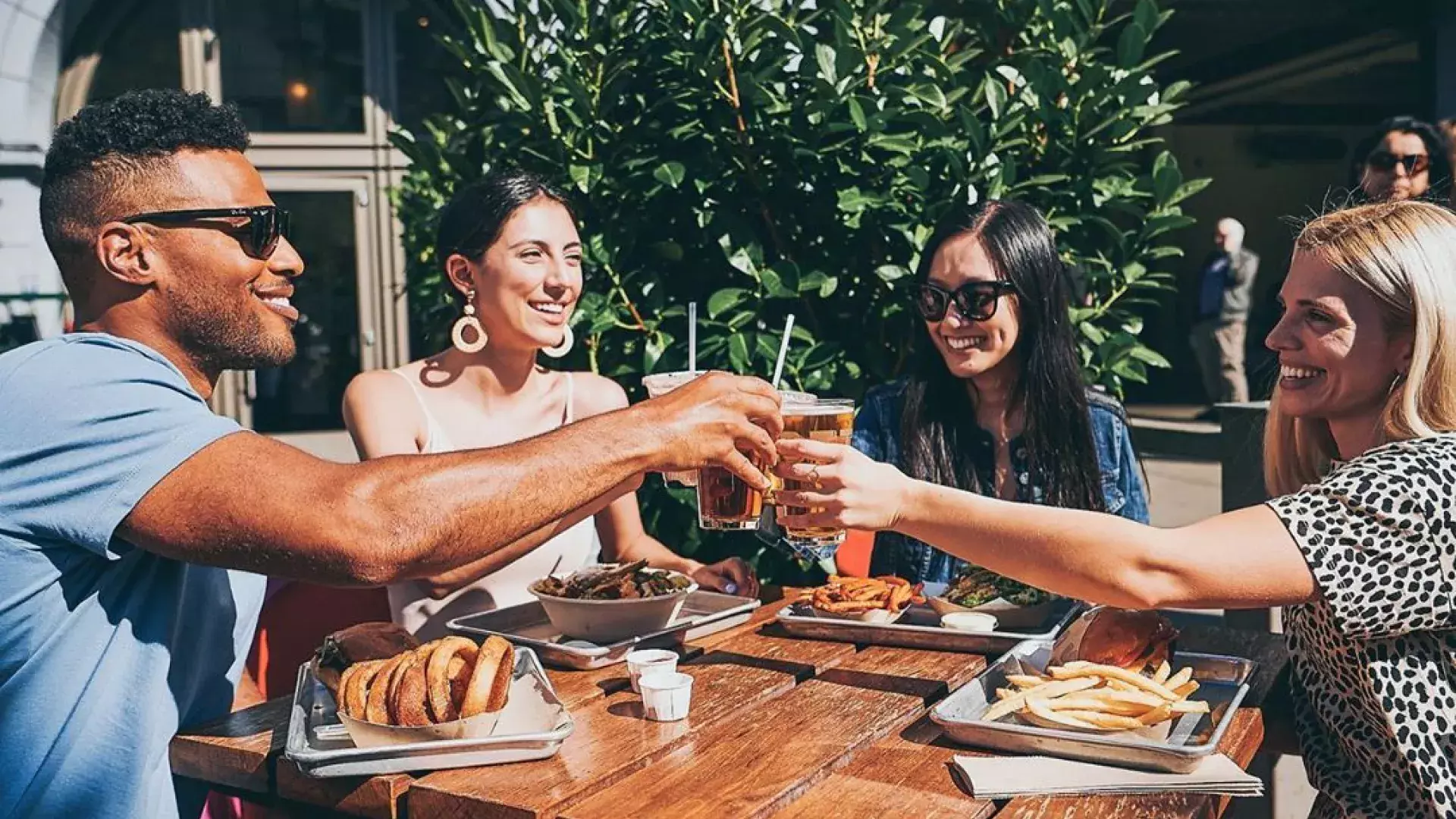 Star-Studded San Francisco Bay Area Culinary Scene Shines Bright
2021 Michelin Guide to California recognizes 114 Bay Area restaurants.
The San Francisco Bay Area has the most Michelin three-star restaurants in the U.S.
Fifty of California's 90 Michelin-starred restaurants are in the San Francisco Bay Area
Michelin awards Bib Gourmands to 64 Bay Area restaurants for "great food and value"
Three Bay Area restaurants land on "The World's 50 Best Restaurants" list 
San Francisco sees more restaurant openings
The city's flourishing outdoor dining scene is here to stay
Eat Drink SF and SF Restaurant Week return for 2021
The San Francisco Bay Area retained its distinction as the top destination in the U.S. for fine dining following the long-awaited unveiling of the 2021 MICHELIN Guide to California this month. The Bay Area enjoys the greatest concentration of Michelin three-star restaurants in the U.S. and the most Michelin-starred restaurants in California.
Six Bay Area restaurants received the coveted three Michelin stars in the 2021 MICHELIN Guide: Atelier Crenn, Benu, Quince, The French Laundry, SingleThread and Manresa. Eight restaurants were awarded two Michelin stars, including Birdsong, which added a second star. 
Altogether, 50 Bay Area restaurants were awarded one or more Michelin stars in 2021, accounting for 56% of California's 90 Michelin-starred restaurants. 
Sublime Doesn't Always Mean Expensive
While the Bay Area's fine dining options stand out, visitors can experience plenty of mouthwatering cuisine at easily digestible price points. Michelin bestowed 64 Bay Area restaurants with its Bib Gourmand designation. This category celebrates restaurants offering "great food and value," where a three-course meal can be enjoyed for around $40 or less, excluding tax and gratuity.
Out of the 147 restaurants in California receiving a Bib Gourmand, nearly 44% are in the San Francisco Bay Area, including 18 newcomers to the list such as Routier, Um.Ma and Dumpling Home.  
The World's 50 Best Restaurants 
Only six U.S. restaurants landed on "The World's 50 Best Restaurants" list in 2021 and three of them are in the San Francisco Bay Area.  Benu and Atelier Crenn in San Francisco and SingleThread in Healdsburg ranked 28th, 48th and 37th, respectively.
San Francisco-based chef Dominique Crenn, owner of Atelier Crenn, Petit Crenn and Bar Crenn, also received this year's Icon Award as "a true culinary leader giving a voice to the under-represented."
New and Notable in San Francisco
The City by the Bay is a leader in culinary creativity, with chefs such as Dominique Crenn, Corey Lee, Brandon Jew, Ho Chee Boon, Stuart Brioza and Nicole Krasinski leading the way. San Francisco's innovative and diverse food scene is why the city is hailed as the "best foodie city" in the country by U.S. News & World Report. And even with the challenges of the pandemic, the city's seen a slew of exciting restaurant openings in the last 18 months and many more are debuting soon.
A selection of restaurants that have opened or will launch soon include: 
Mamahuhu, the casual eatery by chef Brandon Jew, opened in the Richmond in January 2020. His upscale Mister Jiu's in Chinatown was San Francisco's first Chinese restaurant to earn a Michelin star. Mamahuhu takes a modern spin on Chinese-American classics like kung pao chicken, mapo tofu and egg rolls, all with responsibly sourced ingredients.
The Anchovy Bar from Stuart Brioza and Nicole Krasinski, the James Beard award-winning chef/owners of State Bird Provision, debuted in October 2020. Located in the Fillmore, the wine and seafood bar specializes in West Coast oysters, small fish and sustainably raised shellfish.
Showcasing the vibrant spirit of Peru, Jaranita in the Marina highlights popular Nikkei, Chifa, and Creole dishes. The Peruvian restaurant opened in January 2021.
Ernest, a new restaurant from chef Brandon Rice, opened in March 2021 in San Francisco's Mission District. The market-driven menu features intense global flavors that reflect the way the chef loves to eat — fun and approachable yet refined "with elegant layers of familiar flavors done in a new way."
The Tailor's Son opened in March 2021. Located in the Fillmore, the cozy venue serves a savory menu of Northern Italian classics like risotto, fresh pastas, crostini, antipasti, and verdure and an extensive wine list highlighting the best biodynamic and organic wines from Italy.
Empress by Boon, the first solo project for Michelin-star chef Ho Chee Boon, the former international executive chef of Hakkasan, opened in Chinatown in June 2021. Housed in a former storied Chinese banquet hall that's been exquisitely revamped, the restaurant features modern Cantonese dishes focusing on California ingredients.
Estiatorio Ornos, a Michael Mina Restaurant, opened in September in Mina's former California Street flagship location in the Financial District. The restaurant brings to life the celebratory spirit of the Greek Isles, with flavorful Greek seafood dishes and relaxed Mediterranean-style hospitality.
Chef Tyler Florence's first new restaurant in San Francisco in 11 years, Miller & Lux, opened in late September. Part of Thrive City, the development surrounding the Chase Center in Mission Bay, the 7,000-square-foot waterfront steakhouse was designed by global stylemaker Ken Fulk.   
Boulevard, the 28-year-old San Francisco classic, reopened in September in the Embarcadero/Financial District with a new menu experience and a new look care of designer Ken Fulk. Serving quintessentially California cuisine, it now offers two dining experiences: an adaptable set price menu and an a la carte menu available at both the chef's counter and the recently expanded bar and lounge.
Chef Corey Lee's first Korean restaurant, San Ho Won, is slated to open in October in the Mission. Lee's Benu was the first restaurant in San Francisco to receive three Michelin stars.
The Flour + Water Hospitality Group is targeting an October 2021 opening for its newest restaurant in the Mission, Penny Roma. The rustic Italian restaurant will feature an indoor-outdoor, open-kitchen space.
Friends Only from chef Ray Lee is slated to open in November 2021 in Lower Nob Hill. "Part R+D kitchen and part sushi speakeasy," the 10-seat omakase bar will spotlight high-quality and highly seasonal ingredients on an ever-changing tasting menu.
Chef Erik Sun's Pursuit, a 15-seat ramen bar, is scheduled to open this fall in SoMa. Diners will be able to nosh on noodles late into the night. There will also be a 45-seat section with a dedicated yakiniku menu featuring rarer cuts and dishes like kimchi fried rice with beef tongue. 
The Most European of American Cities Embraces Al Fresco Dining
San Francisco's outdoor dining scene blossomed with the creation of "parklets" over the last 18 months. Over 2,100 permits for in-street dining, sidewalk tables and other outdoor setups have been issued since early 2020 as part of a larger Pavement to Parks Program, which repurposes underutilized street space into neighborhood amenities. A vibrant success, the parklets will now become permanent fixtures. Given the city's year-round temperate climate, it's a boon for diners. 
Eat Drink SF and SF Restaurant Week Run Concurrently This October
The Golden Gate Restaurant Association announced 2021 Eat Drink SF (EDSF) and SF Restaurant Week. Running from Oct.15 through Oct. 24, the concurrent programs will explore San Francisco through both indoor and outdoor dining and imbibing featuring prix fixe menus, chef collaborations, cocktail events and ticketed experiences. More than 150 restaurants are participating in SF Restaurant Week. Prix fixe menus range from $10 to $25 for lunch and from $25 to $65 for dinner. Find an updated list of participating restaurants here. A full list of EDSF events is available here. 
#  #  #
About San Francisco Travel
The San Francisco Travel Association is the official destination marketing organization for the City and County of San Francisco. Tourism is San Francisco's largest industry.  More than 25.8 million people visited the destination in 2019, spending in excess of $10 billion. More than 82,500 jobs are supported by tourism in San Francisco.
San Francisco is one of the metropolitan areas in the U.S. that has consistently kept Covid-19 largely under control. The  COVID-19 Prevention & Enhanced Cleaning Guidelines put forth by the Hotel Council of San Francisco ensure that our hospitality businesses are adhering to the most elaborate cleaning and safety protocols. San Francisco Travel invites all visitors who are planning to come in 2021 to contribute their part to a safe and enjoyable experience by taking our Safe Travel Pledge. 
For information on reservations, activities and more, visit www.sftravel.com.  
For more about San Francisco, follow onlyinSF on Facebook, Instagram and Twitter. Please use hashtags #sftravel and #AlwaysSF. 
About San Francisco International Airport 
San Francisco International Airport (SFO) wants you to Travel Well. SFO works with local, state and federal health officials to protect against COVID-19.  Measures include enhanced cleaning protocols, hundreds of hand sanitizer stations, physical barriers, face coverings for everyone and physical distancing. To learn more visit flysfo.com/travel-well.
SFO offers nonstop service to Asia, South Pacific, Europe, Canada, Mexico and across the United States. For up-to-the-minute departure and arrival information, airport maps and details on shopping, dining, cultural exhibitions, ground transportation and more, visit www.flysfo.com. Follow us on www.twitter.com/flysfo and www.facebook.com/flysfo.
United Airlines is the preferred airline of the San Francisco Travel Association.
# # #
 Note to editors: 
Press releases and other media resources are available at www.sftravel.com/media.  
The San Francisco Travel Photo Video Library is available at photos.sftravel.com
To receive news and updates regularly in San Francisco Travel's e-newsletters, visit www.sftravel.com and scroll down to "Newsletter Sign-up."