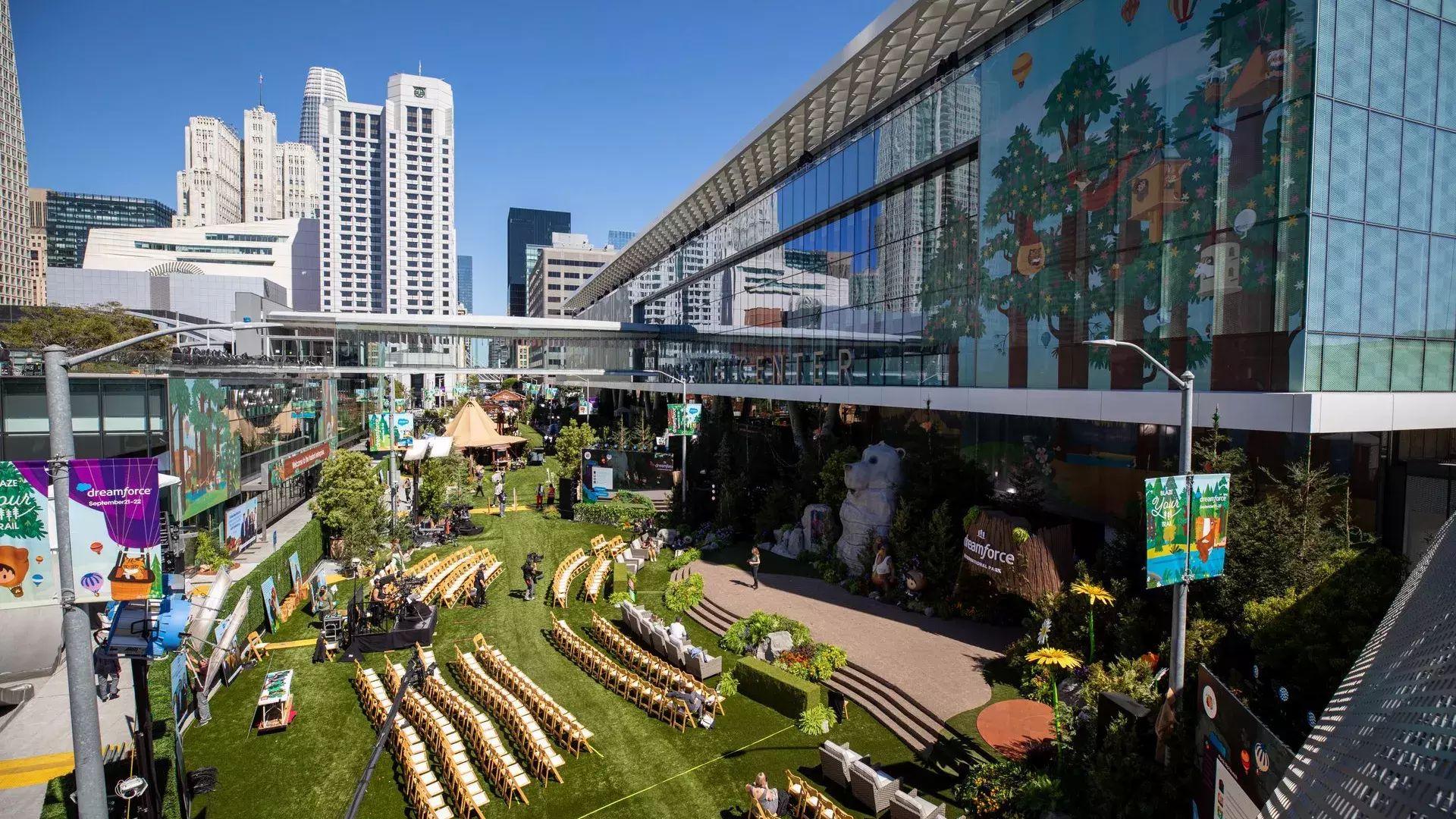 Meetings Return to San Francisco's Moscone Center for the First Time in 18 Months
San Francisco Travel Association reports the successful relaunch of live conferences in the second half of 2021 and the return of large-scale meetings.
San Francisco welcomed three conventions to Moscone Center in September, marking the first conferences to be held at the city's premier meetings and exhibition facility since it closed to events in March 2020.
The city embraced the resumption of citywide conventions, with volunteers taking to the streets to welcome attendees in true San Francisco style.
San Francisco Mayor London N. Breed greeted the first group to hold an event at Moscone Center with a ceremonial ribbon cutting for the Exhibit Hall at California Dental Association's "CDA Presents The Art and Science of Dentistry." The event took place Sept. 9 to 11 and hosted 3,000 attendees and 600 exhibitors. 
Dreamforce 2021 kicked off on Sept. 21. Its iconic "Dreampark" transformed one block of Howard Street, between Moscone North and South, and the three-day conference's exuberant return to Moscone Center featured entertainment by the Foo Fighters and inspiring luminary speakers, including Will Smith, Jane Fonda, Nice Nailantei Leng'ete and Salesforce Chair and CEO Marc Benioff. 
The American Society for Surgery of the Hand (ASSH)—the first group to confirm at Moscone Center in 2021— held its 76th Annual Meeting from Sept. 30 to Oct. 2 with over 1,200 surgeons in attendance.
A Safety-first Approach to Kickstarting San Francisco's Meetings Business 
San Francisco has led the U.S. in preventing the spread of COVID-19 through effective safety protocols, and over 80% of eligible residents have been fully vaccinated. In keeping with ensuring the city is one of the safest places to meet, attendees of indoor meetings of 1,000 or more people are required to show proof of vaccination and follow masking guidelines. 
"The city of San Francisco and Moscone Center have rational and strong safety measures, which are designed to protect visitors, convention attendees, residents, and staff," said Mark C. Anderson, the CEO of ASSH. "I felt completely safe running a medical meeting in Moscone. From a post-meeting survey, I know that 97% of my attendees felt totally safe coming to San Francisco and meeting in Moscone Center. In addition, the safety measures put in place by restaurants and other public places just validated my comfort in being in San Francisco. I can't wait to come back." 
Debbie Brewer, Salesforce vice president of strategic events, said, "San Francisco's vibrant spirit lends itself so well to the sort of magic we love to create in our events, and this year was no different. Events are a team effort, and we're grateful for the partnership and unbounded creativity that resulted in a truly safe and extraordinary Dreamforce."
The Moscone Center will close out the year with SEMICON West 2021, which takes place from Dec. 7 to 9, and the Cannabis Business Summit & Expo, which will be held from Dec. 15 to 17. 
"San Francisco is committed to being the safest destination to meet. The successful collaboration between our customers, the City, Moscone Center and SF Travel to ensure the best possible experience for meeting attendees has been incredible," said Nicole Rogers, executive vice president and chief sales officer of San Francisco Travel Association. "We've received extremely positive feedback from meeting organizers and attendees and are looking forward to next year's strong slate of events."
2022 Outlook
The San Francisco Travel Association has booked over 30 events at the Moscone Center for 2022. In addition, other large-scale meetings and events are scheduled to take place in the city. The event schedule will kick off with J.P. Morgan 2022. The annual healthcare conference will take place Jan. 10 to 13 at The Westin St. Francis San Francisco on Union Square.
In June, Moscone Center will host Meeting Planners International's annual WEC, the premier industry gathering for meeting and event planning professionals. Moscone Center previously hosted WEC in 2015, and the 2022 gathering celebrating MPI's 50th anniversary will showcase the convention center's expanded facilities to approximately 2,000 attendees. 
In January 2019, the Moscone Center celebrated the completion of a $551 million expansion program that added 157,000 sq. ft. of space to create 504,914 sq. ft. of contiguous space, including a new 49,776 sq. ft. column-free ballroom. In addition, there are 25,000 sq. ft. of secure outdoor terraces with spectacular views of Yerba Buena Gardens and the South of Market neighborhood. 
Meetings fuel San Francisco's $10.3 billion tourism industry. In 2019, Moscone Center hosted 49 conventions and spending by the convention and meetings industry accounted for $1.9 billion, more than 18% of the total tourism spending in San Francisco. 
About San Francisco Travel
The San Francisco Travel Association is the official destination marketing organization for the City and County of San Francisco. Tourism is San Francisco's largest industry.  More than 25.8 million people visited the destination in 2019, spending more than $10 billion. More than 82,500 jobs are supported by tourism in San Francisco.
San Francisco is one of the metropolitan areas in the U.S. that has consistently kept Covid-19 largely under control. The  COVID-19 Prevention & Enhanced Cleaning Guidelines put forth by the Hotel Council of San Francisco, ensure that our hospitality businesses are adhering to the most elaborate cleaning and safety protocols. San Francisco Travel invites all visitors who are planning to come in 2021 to contribute their part to a safe and enjoyable experience by taking our Safe Travel Pledge. 
For information on meeting in San Francisco, visit www.sftravel.com/meeting-planners/.
For the latest meetings related updates, follow https://www.facebook.com/sfmeetings, 
https://www.instagram.com/sfmeetings/, https://twitter.com/SFMeetings, and  https://www.linkedin.com/company/san-francisco-travel-association/mycompany/.
For information on reservations, activities and more, visit www.sftravel.com.  
For more about San Francisco, follow on https://www.facebook.com/onlyinSF/, https://www.instagram.com/onlyinsf/, and https://twitter.com/onlyinsf. 
Please use hashtags #sftravel and #AlwaysSF.
About San Francisco International Airport  
San Francisco International Airport (SFO) wants you to Travel Well. SFO works with local, state and federal health officials to protect against COVID-19.  Measures include enhanced cleaning protocols, hundreds of hand sanitizer stations, physical barriers, face coverings for everyone and physical distancing. To learn more visit flysfo.com/travel-well.
SFO offers nonstop service to Asia, South Pacific, Europe, Canada, Mexico and across the United States. For up-to-the-minute departure and arrival information, airport maps and details on shopping, dining, cultural exhibitions, ground transportation and more, visit www.flysfo.com. Follow us on www.twitter.com/flysfo and www.facebook.com/flysfo.
United Airlines is the preferred airline of the San Francisco Travel Association. 
# # #
Note to editors:  
Press releases and other media resources are available at www.sftravel.com/media.  
The San Francisco Travel Photo Video Library is available at photos.sftravel.com
To receive news and updates regularly in San Francisco Travel's e-newsletters, visit www.sftravel.com and scroll down to "Newsletter Sign-up."