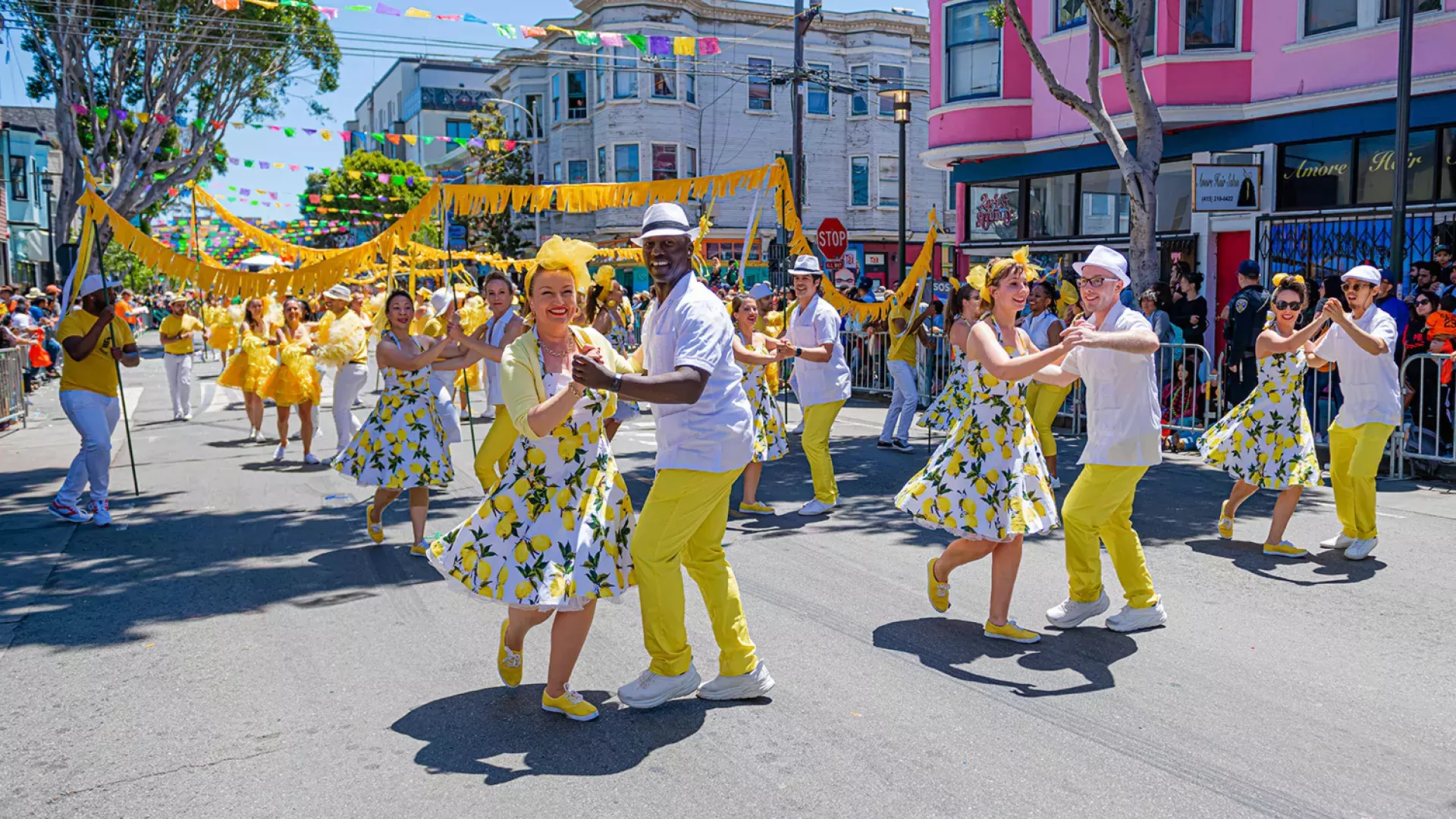 What's New in San Francisco
April 4, 2023 – This roundup from the San Francisco Travel Association includes news on San Francisco attractions, public art installations, tours, festivals, sporting events, performances, and San Francisco International Airport. For the latest roundups on art exhibitions, new restaurants, bars, and culinary experiences, visit San Francisco Travel's newsroom at https://www.sftravel.com/media.
Attractions & Exhibits
Iconic Anniversaries
Anniversaries are everywhere all at once in San Francisco this year. Two of the city's most iconic attractions have major ones: The Ferry Building turns 125 in July, and San Francisco's cable cars celebrate 150 years in August. On San Francisco Travel's newly relaunched website, visitors can discover the bountiful culinary experiences at the Ferry Building and what to explore via the Powell-Mason Line,  Powell-Hyde Line, and California Street cable cars.
The World's Largest Dinosaurs Are Coming to Golden Gate Park
On view at the California Academy of Sciences from May 26, 2023, to Jan. 21, 2024, The World's Largest Dinosaurs exhibit explores the amazing biology of the largest land animals ever to live: the long-necked and long-tailed sauropods. These uniquely super-sized herbivores (some grew the length of four city buses) roamed every continent for approximately 140 million years. A life-size Mamenchisaurus model, spanning 60 feet long, will be on display. The exhibit takes visitors beyond the bones and into the bodies of these massive marvels, shedding light on how heart rate, respiration, metabolism, and reproduction are linked to size and includes playful interactives that dig deeper into the palaeobiological research on present-day living organisms. (Location: 55 Music Concourse Drive | Golden Gate Park)
The San Francisco Sound
From recently legalized busking in Golden Gate Park to the city's resurgent music scene, San Francisco is hitting all the right notes. New venues like Keys Jazz Bistro in North Beach have joined icons like The Fillmore and The Warfield. Aiming to elevate San Francisco's music scene further, Music City San Francisco is opening an $11.6 million incubator for musicians and music lovers. The five-story Music City San Francisco complex currently comprises 36 budget-friendly rooms and the San Francisco Music Hall of Fame, a collection of over 90 multimedia photo installations honoring SF legends. This summer, Music City will unveil three transformed floors featuring four dynamic music venue spaces, a music education program for emerging artists, a bar and restaurant, and 23 sound stage/rehearsal rooms capable of live-streaming and recording. The incubator will be the only one of its kind in California. (Location: 1353 Bush St.| near Polk Gulch)
A Treasure of Golden Gate Park
The 108-year-old Japanese Tea Garden's pagoda in Golden Gate Park underwent a two-year restoration unveiled last fall. The first complete restoration of the five-story pagoda included replacing some of the damaged wood with 100-year-old salvaged redwood, re-shingling the pagoda's five roofs, and creating a new spire from recycled Douglas fir flagpole—a painstaking replica of the original. Traditional bells and giboshi (ornamental finial custom-made in Niigata, Japan) now adorn the pagoda for the first time in decades. The pagoda is one of the few surviving structures from the 1915 world's fair, and the 128-year-old Japanese Tea Garden is the oldest public Japanese garden in the U.S. The pagoda restoration was the first half of a $2 million renovation that also includes a redesigned pagoda landscape and repairs to the wooden Long Bridge. The Japanese Tea Garden will remain open during the work, which is slated to be finished in late 2023. (Location: 75 Hagiwara Tea Garden Drive | Golden Gate Park)
Flower Power
While springtime blooms are anticipated to be epic following record winter rains, San Francisco will also bloom this summer. The free Dahlia Dell, located next to the Conservatory of Flowers in Golden Gate Park, is in full bloom in July, August, and September. The dahlia has been the official flower of San Francisco since 1926. The Dahlia Dell, which is tended to by an all-volunteer group from the Dahlia Society of California, contains over 700 named dahlia varieties in eye-popping colors and forms. (Location: 100 John F Kennedy Dr.| Golden Gate Park)
Exploring Plantásticas!
Plantásticas! at the Exploratorium celebrates the history and science of plants and their integral role in connecting us to our cultures and planet. Developed by Vincent Medina and Louis Trevino of Berkeley's Cafe Ohlone with collaborators from the Latinx and Indigenous communities, the exhibit is a multilingual experience that invites visitors to touch, smell, and zoom into the world of plants. On view through Sept. 10, visitors can dig into Indigenous plant knowledge and relax in immersive plant patios created by Los Angeles-based artist Andi Xoch. Medina and Trevino created exhibits that take visitors through the traditional Ohlone practice of making cordage, or twine rope, from the dogbane plant and explore how the Ohlone people gather Bay Laurel, or sokóote, for ceremonial, culinary, and medicinal purposes. (Location: Pier 15 | The Embarcadero)
Public Art Installations
San Francisco's $1.95 billion Central Subway—the new arm of Muni's T Third light rail line— conveniently connects Chinatown to popular visitor destinations such as Union Square, SOMA/Yerba Buena, Mission Bay, and Dog Patch. It's also a public art destination. The Central Subway features three underground stations (SOMA, Union Square, and Chinatown), with ten site-specific works by twelve artists located inside and outside the stations. Ranging from large-scale photography, kinetic and traditional sculptures, murals and illuminated installations, the commissioned artworks each depict the character of the station neighborhoods, its history, residents, and the creativity and breadth of Bay Area contemporary arts.
Point of Infinity to Rise on Yerba Buena Island
The connected islands of Treasure Island and Yerba Buena Island, both former naval sights open to the public, aim to become world-class public art destinations through the Treasure Island Arts Program, with a projected $50 million in public art funds generated by private development earmarked for the transformation. The first installation will debut this summer, when internationally renowned artist Hiroshi Sugimoto's specially commissioned permanent sculpture, Point of Infinity, will be placed on the westernmost peak of Yerba Buena Island. It is Sugimoto's first large-scale public sculpture in the U.S. Starting at a width of 23 feet at the base, Point of Infinity rises to a height 69 feet (21 meters) and tapers to a diameter of 7/8 inch (21 millimeters). The sculpture acts as a monumental sundial, evoking the Tower of the Sun sculpture from the 1939 Golden Gate International Exposition on Treasure Island. Point of Infinity will be installed in a public park that serves as a community centerpiece and cultural and ecological arboretum. The installation will sit upon the foundations of a decommissioned water tank, which has been transformed into a scenic overlook providing 360-degree views of the San Francisco skyline, San Francisco Bay, Alcatraz, Clipper Cove Beach, Golden Gate Bridge, and the greater Bay Area. The sculpture will be a beacon, visible from many vantage points, including the Bay Bridge and city.
Larger-than-Life Feline-tastic Sculptures Light Up Hayes Valley
On view through fall 2023 is Cathenge, a multisensory "Holofelinity Sound-Light Sculpture" installation by San Francisco artist David Normal in Hayes Valley's Patricia's Green. Cathenge features six illuminated, nine-foot-tall, 3D-printed cat sculptures, or "Catholiths", set atop a pedestal base decorated with laser-cut space-cat-themed motifs and metallic gilding. The Catholiths are arranged in a circle to symbolize Normal's concept of "Holofelinity" or, "Universal Cat Consciousness." The public art installation features a motion-activated sound component: An array of harmonic tones is coordinated with changes in the color and pattern of embedded LED lights illuminating the cats from within. (Location: 50 Fell St. | Hayes Valley)
Tours
Chinatown History & Art Tour (C.H.A.T.)
Explore one of the largest Chinatowns outside of Asia and the oldest in North America, with the Chinese Culture Center's Chinatown History & Art Tour ($45 per person). The guided one-and-a-half-hour walking tour explores lived Asian American history and experiences. It encourages guests to "immerse" their senses at different art activation sites in the neighborhood and deepen their understanding of Chinatown's multifaceted social, cultural, and political evolution through narratives. The outing begins at the Chinese Culture Center's visual arts gallery and tours Chinatown streets and outdoor murals. (Location: 750 Kearny St., 3rd Floor | Chinatown)
The Streets of San Francisco
Visitors can dig deeper into the city's past on one of the San Francisco Historical Society's 90-minute walking tours ($20 per person; children under age 13 free). The SFHS offers several tours, including a Barbary Coast Trail Tour exploring "ground zero" of early San Francisco and the Secrets and Stories of San Francisco's "Wall Street of the West." The walking tours begin at the SFHS Museum. (Location: 608 Commercial St. | Financial District)
Festivals
San Francisco has a dynamic line-up of events all year, but summertime is especially filled with them. There are free outdoor concerts in the city's parks and neighborhoods, including Golden Gate Park's "Illuminate Live" concert series at the bandshell (March through November), Yerba Buena Gardens Festival (May through October), the Stern Grove Festival (mid-June to mid-August), Fillmore Jazz Festival (July 1 and 2), and Strictly Hardly Bluegrass (Sept. 29 to Oct. 2).
And while movies such as "Bullitt," "Vertigo," and Marvel Studios' "Shang-Chi and The Legend of the Ten Rings" showcase the city and its famous icons beautifully on film, the San Francisco Bay Area is also a movie-lovers destination. There are more than 35 annual film festivals this year, including the San Francisco International Film Festival—the longest-running film festival in the Americas (April 13-23), Frameline Film Festival (June 14 to 24) and the SF Dance Film Festival (October).
This year's Carnaval San Francisco, the free, two-day festival and grand parade (May 27 to 28), boasts two major international headliners: La Sonora Dinamita and Los Van Van. Celebrating "45 Years of Music & Movement," Carnaval is California's largest and longest-running multicultural celebration. Taking place in San Francisco's Calle 24 Latino Cultural District, hundreds of Carnaval San Francisco artists will transform the district into an enormous celebration featuring music, dance, brilliant costumes and delicious food from Brazil, Mexico, Bolivia, Colombia, Trinidad, Tobago, Puerto Rico, Cuba, Nicaragua, Panama, Peru, Guatemala, West Africa, Chile, and Haiti.
San Francisco is festooned with rainbow flags during San Francisco Pride (and every day of the year). Taking place June 24 to 25, Pride-goers have a plethora of events to choose from throughout the weekend, including the San Francisco Pride Parade, which is one of the largest in the U.S. Occurring the Sunday of Pride weekend, the parade features hundreds of colorful floats created by organizations, corporations, and communities across the Bay Area. This year's theme is "Looking Back Moving Forward." To kick off Pride weekend, Audacy will host a "Pride Vibes Concert" at Bill Graham Civic Auditorium on June 23.
Outside Lands returns from Aug. 11 to 13 to celebrate 15 years of world-class music, food, wine, beer, art, and cannabis in Golden Gate Park. Headliners include 15-time GRAMMY award-winning and Rock & Roll Hall of Fame inductees Foo Fighters, recent GRAMMY and Pulitzer Prize winner Kendrick Lamar, and electronic powerhouse ODESZA, who will be the first EDM act to headline the Lands End main stage. Also on the eclectic mix of musical acts are Lana Del Rey, The 1975, Megan Thee Stallion, Zedd, Janelle Monáe, Maggie Rogers, FISHER, Ethel Cain, and many more.  
Chinatown Media and Arts Collaborative's "Neon Was Never Brighter" contemporary arts festival returns Aug. 19. The free festival is a multi-sensorial outdoor experience showcasing art activations created from diverse media such as performance, sculpture, interactive sound, site-specific installation, film, music, fashion, augmented reality, scent and dance.
Sporting Events
Sail GP Championship Sails Into San Francisco
The third season of the Sail GP Championship, a global competition of the most talented sailors aboard the most technically advanced racing boats in the world, will culminate once again in San Francisco on May 6 and 7 at the United States Sail Grand Prix. Top teams from around the world will race across San Francisco Bay to determine who will take home the prize.
Take Me to Oracle Park
The San Francisco Giants kicked off the franchise's 140th year and 65th in San Francisco this spring. For the baseball team's schedule and to buy tickets, visit https://www.mlb.com/giants.
LPGA Golf Tournament Returns to San Francisco
Hanwha LIFEPLUS International Crown will occur in San Francisco's famed TPC Harding Park from May 4 to 7. The team match-play competition, an event showcasing the best female golfers from the top eight countries, will return to the LPGA Tour calendar for the first time since 2018. 
40th Anniversary of the San Francisco Marathon
The San Francisco Marathon, taking place July 22 and 23, prides itself on its unique nature; like the city, the race is more individual, the course more challenging, and the terrain more beautiful. The marathon hosts over 25,000 runners, and this year the half-marathon race will return to the Golden Gate Bridge after a six-year hiatus.
Performances
Theater and dance company Detour will premier We Build Houses Here at the historic Oasis nightclub in San Francisco's SOMA district. We Build Houses Here is a work of immersive theater and will transform Oasis nightclub's two-story space into a desert island with a band of glittering, shipwrecked castaways. Performances run from May 4 to 20. (Location: 298 11th St. | SOMA)
The Wizard of Oz will take the stage at the American Conservatory Theater (A.C.T.) from June 1 to 25 at A.C.T.'s historic Toni Rembe Theater. (Location: 415 Geary St. | Union Square)
TINA – The Tina Turner Musical will play a limited engagement at San Francisco's Golden Gate Theatre from Aug. 1 to 27. (Location: 1 Taylor St. | Market Street Theater District)
Cirque du Soleil returns to the San Francisco Bay Area for the first time in three years with Corteo, which will be presented at the Chase Center from Aug. 23 to 27. (Location: 1 Warriors Way | Mission Bay)
San Francisco Opera's Centennial Season continues at the War Memorial Opera House from June 3 to July 1, beginning with a new co-production of Giacomo Puccini's Madame Butterfly by director Amon Miyamoto. The Company's summer season also brings the return of Richard Strauss and Hugo von Hofmannsthal's Die Frau ohne Schatten, a rarely performed masterwork that had its American premiere here in 1959, and the highly anticipated Bay Area premiere of El último sueño de Frida y Diego, the new San Francisco Opera co-commission by Berkeley-born composer Gabriela Lena Frank and Pulitzer Prize-winning librettist Nilo Cruz. (301 Van Ness Ave. | Civic Center)
This August, the world premiere of Hippest Trip – The Soul Train Musical will take place at A.C.T.'s Toni Rembe Theater. The Broadway-bound musical is based on the iconic TV show that brought Black music, dance, and style into every living room in America. It will run from Aug. 25 to Oct. 1. (Location: 415 Geary St. | Union Square)
Audium has been pioneering spatial sound art for over 50 years and offers a unique Sound Hour. The composition takes the listener on an immersive sonic journey through San Francisco. Audiences sit and listen in total darkness, enveloped by sounds from over 176 speakers. (Location: 1616 Bush St. | Cathedral Hill)
AsiaSF, the storied San Francisco dinner theatre and cabaret featuring the world-famous transgender Ladies of AsiaSF, celebrates a quarter century this year at their newly remodeled and retrofitted iconic venue. (Location: 201 9th St. | SOMA)
Dear San Francisco, the critically acclaimed, intimate and immersive circus experience at Club Fugazi features new cast additions. Powered by exhilarating acrobatics, choreography, spoken word, video projections, shadow play, and original music, Dear San Francisco is a heart-stopping romp through both the essence and the myth that is San Francisco. Tickets are on sale through July 30. (Location: 678 Green St. | North Beach)
San Francisco International Airport (SFO)
Award-winning SFO
After being ranked the best airport in the U.S. by the Wall Street Journal in November 2022, SFO scored another win from Airports Council International (ACI), the foremost advocate for airport operators around the world. In March, SFO was named the Best Airport in North America in ACI's 2022 Awards for Airport Service Quality (ASQ) Awards. The awards recognize the best airports for customer experience as selected by passengers. SFO achieved this award in the category covering North American airports serving over 40 million annual passengers. Last fall, SFO was also the first airport in the world to be entirely certified at the Platinum level under the Leadership in Energy and Environmental Design (LEED) v4.1 for Communities program developed by the U.S. Green Building Council.
Art on the Fly
SFO Museum unveiled exhibits celebrating two San Francisco cultural institutions: the San Francisco Opera and San Francisco Ballet.
Celebrating 100 years of San Francisco Opera history, the San Francisco Opera: A Centennial Celebration exhibition in Harvey Milk Terminal 1 (post-security, Departures Level 2, Gallery 1D) showcases the Company's first century and the art of operatic stagecraft. On view through Aug. 13, it captures SF Opera's rich history through a selection of costumes, stage props, set models, and video and archival photographs from the collections of San Francisco Opera, the Museum of Performance + Design, and the Metropolitan Opera Archives
San Francisco Ballet at 90 in the International Terminal (Departures Level 3, Galleries 4B and 4C) features costumes from the past 30 years of SF Ballet's 90-year history. SF Ballet, the oldest professional ballet company in the United States, has balanced the commissioning of new works with classics of ballet repertory since its founding in 1933.  On view until Jan. 7, 2024, the exhibit features 18 unique costumes, particularly highlighting the new works festivals commissioned by previous artistic director Helgi Tomasson. The festivals have introduced emerging and established choreographers to San Francisco and have made SF Ballet one of the premiere centers for new ballet choreography in the U.S. and around the globe.
Expanded Centurion Lounge at SFO Reopens
American Express reopened the newly expanded Centurion Lounge at SFO. At 16,000 square feet, the lounge is now nearly double in size. It features more seating, an additional bar with specialty wine flights curated by sommelier and Centurion Lounge Wine Director Anthony Giglio, and a new menu from San Francisco's Liholiho Yacht Club Executive Chef Ravi Kapur. Located in Terminal 3, the Centurion Lounge's expanded facilities include additional restrooms, private phone rooms, and several private workspaces.
Airline Service Updates
U.S. low-fare airline Breeze Airways launched service to Cincinnati, Ohio, from SFO in February. This latest service represents their sixth destination from SFO, having already launched service from SFO to Richmond, Virginia; Louisville, Kentucky; San Bernardino, California; and Provo, Utah.
Low-cost carrier Frontier Airlines will launch new routes to its network from SFO.  Daily service to Orlando and Chicago/Midway will launch in May, while four weekly flights to Cleveland and three weekly to Detroit will start in June.
United Airlines will launch daily flights to Rome, Italy on May 25. United is the only U.S. airline to offer direct flights to Europe from its hub in San Francisco.
United also resumed service to Kansai International Airport, serving the Greater Osaka area, in January with three flights per week. With the resumption of the Kansai-San Francisco route, United offers 17 weekly flights from three Japanese airports, with the Kansai-San Francisco route's three flights per week, plus daily flights to Tokyo on its Haneda-San Francisco and Narita-San Francisco routes.  In addition, United resumed nonstop service to Hong Kong in March. SFO is United's largest West Coast hub.
Air India launched its first nonstop service between SFO and Mumbai in December, operating three times per week. It plans to add a fourth flight from Mumbai this summer. Air India also three flights per week from Bengaluru and seven flights per week to Delhi, with plans to increase to 10 flights this summer.
Qantas will resume nonstop service between SFO and Sydney, Australia on May 22, operating three weekly flights.
Norse Atlantic Airways, a Norwegian low-cost airline, plans to launch nonstop service from SFO to London-Gatwick on July 1. Norse intends to operate three flights per week.
Italia Trasporto Aereo (ITA), Italy's flag airline, plans to launch nonstop service from SFO to Rome on July 1, 2023. ITA intends to begin with three flights per week and increase to five weekly flights on Aug 2.
ZIPAIR, a Japanese low-cost airline, plans to launch nonstop service from SFO to Tokyo Narita in summer 2023.
Spanish carrier LEVEL resumed seasonal service to SFO from Barcelona in March.
Summer Season 2023 will see the return of the following seasonal services from SFO: AirTransat to Montreal, Condor to Frankfurt, Iberia to Madrid, and WestJet to Vancouver.
SAN FRANCISCO TRAVEL
The San Francisco Travel Association is the official destination marketing organization for the City and County of San Francisco. The city is one of the top tourism and meetings destinations in the U.S. and received 21.9 million visitors in 2022. Total tourism spending in 2022 exceeded $7.7 billion. The tourism industry is the largest generator of outside revenue into San Francisco's economy and supports over 53,000 jobs.
For information on reservations, activities and more in San Francisco, visit www.sftravel.com. 
Follow San Francisco Travel on Facebook (www.facebook.com/onlyinSF/), Instagram (www.instagram.com/onlyinsf/), and Twitter (www.twitter.com/onlyinsf). Hashtags are #sftravel and #AlwaysSF.
SAN FRANCISCO INTERNATIONAL AIRPORT 
SFO is excited to welcome travelers back to the skies with an airport experience featuring seamless access, thoughtful amenities, sustainable design and inspiring artwork and exhibits.
For up-to-the-minute departure and arrival information, airport maps and details on shopping, dining, cultural exhibitions, ground transportation, masks and COVID-related protocols and more, visit https://www.flysfo.com/. Follow us on twitter.com/flysfo and facebook.com/flysfo.
United Airlines is the preferred airline of the San Francisco Travel Association.
# # #
Image Links and Information: 
Press releases and other media resources are available at

www.sftravel.com/media

The San Francisco Travel Photo Video Library is available at

photos.sftravel.com

To receive news and updates regularly in San Francisco Travel's e-newsletters, visit

www.sftravel.com

and scroll down to "Newsletter Sign-up."