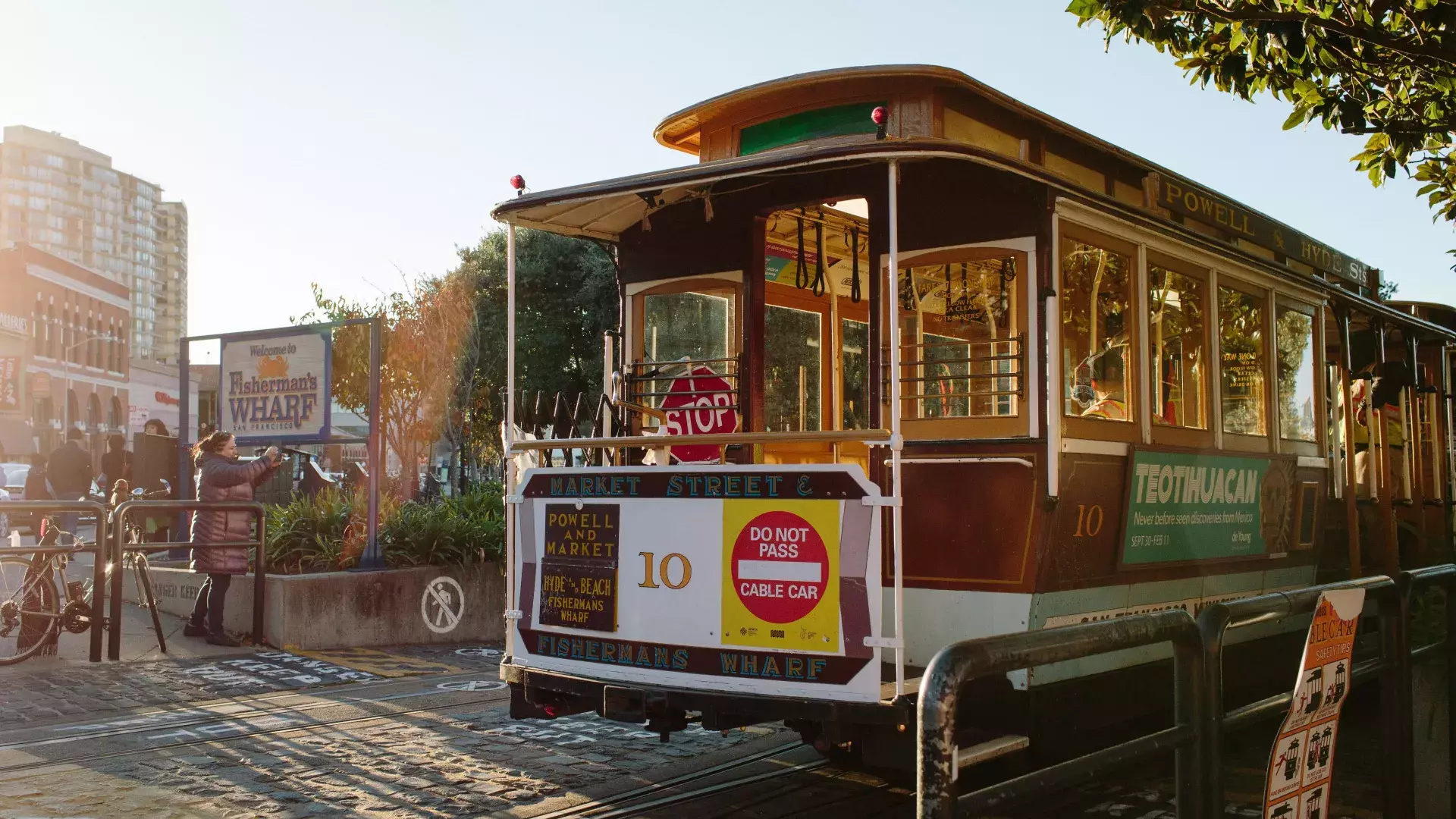 Your Guide to the Powell-Hyde Cable Car Line
Here's everything you need to know to have a fun-filled ride on the Powell-Hyde Cable Car Line.
San Francisco's iconic cable cars are recognized the world over for the clanging of the bells, panoramic views, and thrilling descents down steep hills. Taking a ride on a cable car is always at the top of visitors' must-do San Francisco experiences. Here is everything you need to know to have a memorable ride on one of the three lines serving San Francisco, the Powell-Hyde Line.
Follow along from the Market Street cable car turnaround to the Hyde and Beach stop at Ghirardelli Square. 
Best All-In-One Shopping
Westfield San Francisco Centre 865 Market St.
For first-class shopping and entertainment, Westfield San Francisco Centre is perfectly situated across from the cable car turnaround. Combining architectural beauty with nine floors of retail, dining, and entertainment, you will find major retailers, such as Bloomingdale's and Nordstrom, as well as 170 shops and restaurants, all beneath the fabled glass dome atrium.
Nearest stop: Powell and Market
Best Skybar
Cityscape 333 O'Farrell St., in Hilton San Francisco Union Square
Floating 46 stories above the ground is Cityscape, at the top of the Hilton San Francisco Union Square. An epic skybar, Cityscape is the perfect place to watch the sunset or take in 360° vistas of San Francisco. In a word, Cityscape is unforgettable. Kick up your heels with a DJ and dancing every Saturday night. Walk-ins are welcome.
Nearest stop: Powell and O'Farrell.
Best Department Store
Macy's 251 Geary St.
Macy's is a premier retail brand that started in 1858 and today stands as an iconic department store, conveniently located on San Francisco's vibrant Union Square shopping district. Across numerous floors, you can find a full line of the most popular brands for all your shopping needs. When you're ready for a break, make your way to The Cheesecake Factory on the 8th floor for dining and stunning views of Union Square.
Nearest stop: Powell and Geary.
Most Beautiful Lunch Spot
The Rotunda
150 Stockton St.
Everything at The Rotunda is fabulous, including the remarkable stained-glass ceiling. Located on the 4th level inside Neiman Marcus on Union Square, The Rotunda offers a delicious lunch in a beautiful setting. Afternoon tea is served daily from 2:30 to 4 p.m. and reservations are recommended on weekends.
Nearest stop: Powell and Geary.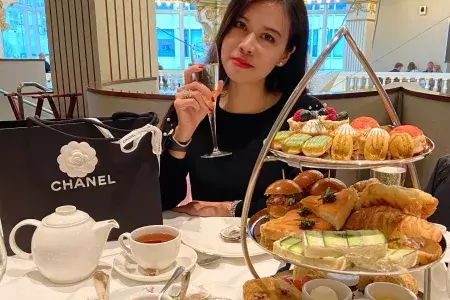 Best Classic Cocktail Lounge
Beacon Lounge 450 Powell St.
This second floor lounge in the Beacon Grand Hotel is a shining light of San Francisco hospitality. The historic building opened in 1928 and retains its old school atmosphere. Be sure to try the Espresso Martini made with organic vodka from Sonoma County. The drink is made famous by bartender Anson—and if you're lucky, he'll be behind the bar when you drop by. Come for live piano music on Thursdays and Fridays and a DJ on Saturdays. No cover charge; kids are welcome. The Beacon Lounge is open daily starting at 4 p.m.
Nearest stop: Powell and Sutter.
Most Historic Neighborhood
Chinatown
Enter through the Dragon Gate at Bush Street and Grant Avenue
Step off at Powell and Bush streets to walk through the historic Dragon Gate into bustling Chinatown, the oldest neighborhood of its kind in North America. Immerse yourself in the colors of China, discover dim sum shops and restaurants, and even do some shopping. Be sure to visit the famous Golden Gate Fortune Cookie Factory, where you can watch them prepare fresh fortune cookies in the open kitchen.
Nearest stop: Powell and Bush.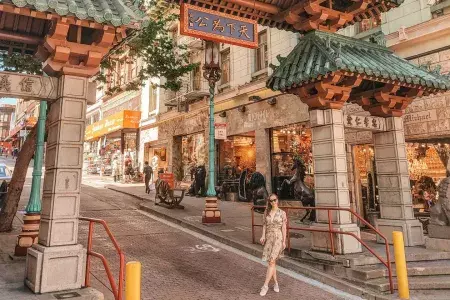 Best Coffee Shop
The Coffee Movement
1030 Washington St.
You'll find amazing coffee aromas emanating from this cute little coffee shop. Head over for a bit of coffee heaven—they even have a coffee tasting flight! There is an outside standing area, but no inside tables. They are open daily beginning at 7 a.m.
Nearest stop: Powell and Clay.
Best Ice Cream Shop
Swensen's
1999 Hyde St.
Swensen's brings back memories of an old-fashioned ice cream shop. They have been serving delicious scoops, sundaes, milkshakes, and floats since 1948. Try their most popular flavors, including Swiss Orange Chip and Sticky Chewy Chocolate. Other perennial best-sellers—Cookies 'N Cream or Thin Mint—are mouthwatering in a freshly made waffle cone. Open Tuesday through Sunday, 12 p.m. to 10 p.m. Closed Mondays.
Nearest stop: Hyde and Union.
Best Views and Photo Op
Hyde and Lombard Streets
When heading north towards the bay, have your camera ready before passing San Francisco's most crooked street and epic views of the mighty Golden Gate Bridge, Alcatraz Island, Angel Island, and the entire San Francisco Bay. Watch for views of Coit Tower and the Bay Bridge as you pass Filbert Street.
Nearest stop: Hyde and Lombard.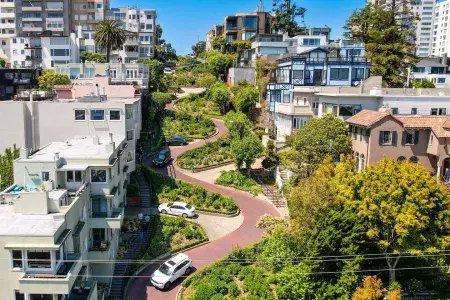 Best Park
Francisco Park
2445 Hyde St.
There are views, views, views from Francisco Park of the Golden Gate Bridge, Angel Island, passing ferries, and nearby maritime ships. Besides a children's playground, you will find a pollinator garden in the park, a colorful community garden with spring flowers and winter greens. This is among the newest open spaces in San Francisco, helping to make sure all visitors have plenty of access to our great outdoors.
Nearest stop: Hyde and Bay.
Best Family-Friendly Attraction
Ghirardelli Square
900 North Point St.
A historic public space, Ghirardelli Square features specialty shops, restaurants, and San Francisco's very own Ghirardelli Chocolate Experience, where you can savor your favorite treats. Shop at Lola or elizabethW for locally made gifts and unique San Francisco souvenirs. Dine at McCormick & Kuleto for steaks with full bay views. If you crave dim sum, Palette Tea House serves delicious creations that are all locally sourced.
Nearest stop: Hyde and Beach.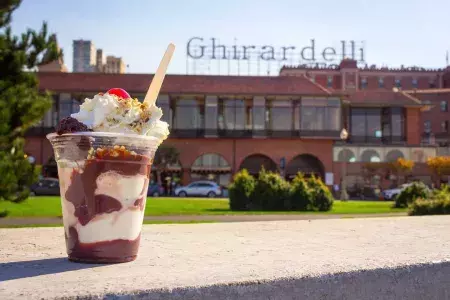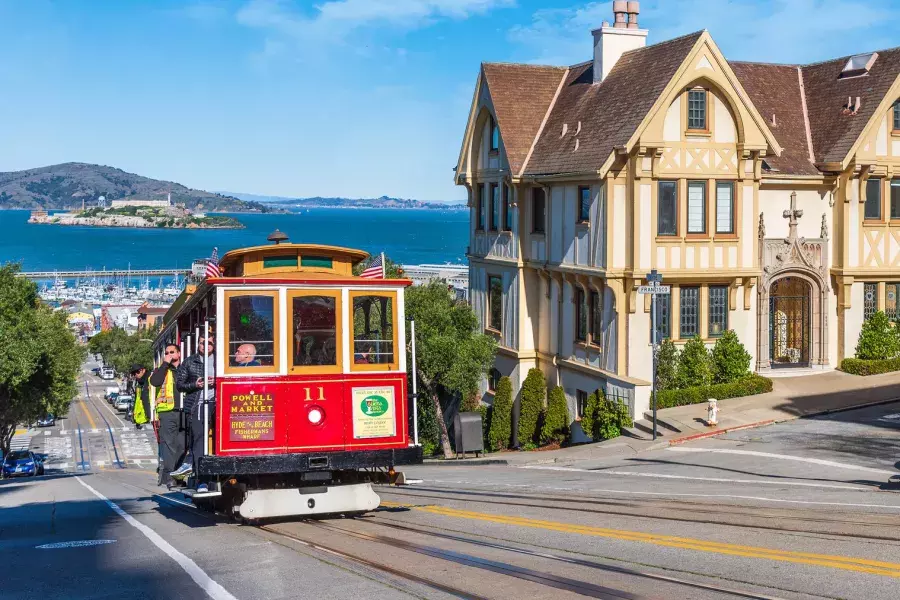 Take the Cable Car Crawl and Win Prizes!
Celebrate the 150th anniversary of San Francisco's famous cable cars and explore the city. From now until Oct. 30, enter to win incredible San Francisco prize packages.
Hop Aboard
Cable Car FAQ
How do I purchase tickets?
Visitors can purchase a single ride ticket onboard the cable car for $8 cash (exact change is required), or online through the MuniMobile app or Clipper Card. The single ride ticket is valid for one-way rides only and is not transferable to other cable car lines.
For all-day rides, purchase a 1-Day, 3-Day, or 7-Day Passport on the MuniMobile app, which is valid for 90 days. The fare is $13, $31, or $41, respectively. Clipper Card offers the 1-Day Passport for $24.
Do children need a ticket?
Children age 4 and under ride free.
When do the cable cars run?
The California Line runs from 7 a.m. to 9 p.m. daily. The route stretches from California and Market streets to California Street and Van Ness Avenue.
Where do I board?
At every block! Just look for the yellow stripe painted on the pavement at each intersection. On steep hills, cable cars stop in the middle of the intersection so watch for the yellow stripe. Most corners have a brown cable car signpost.
How long is the ride?
Approximately 16 minutes one way, end to end.
Can I get off and jump on again?
Absolutely! If you plan on taking multiple cable car rides, purchase a full-day or multi-day Passport on the MuniMobile app. Remember, a single ride ticket is valid for one-way rides only.
How do I ride the cable cars without waiting in long lines?
If you are short on time, head for the California line, as this one is generally less busy than either the Powell-Hyde or Powell-Mason lines. The California line does not go directly to Fisherman's Wharf or Ghirardelli Square. All three cable car lines start running at 7 a.m. and run into the evening, so you can always take your journey when it's less busy. You can also board at any intersection along the line, but there is no guarantee that there will be room on the cable car. As always, pack your patience.
Where can I learn more about cable cars?
Head to the free Cable Car Museum at the corner of Mason and Washington streets. You will be standing in the original wheelhouse building from 1887 that survived San Francisco's devastating 1906 earthquake.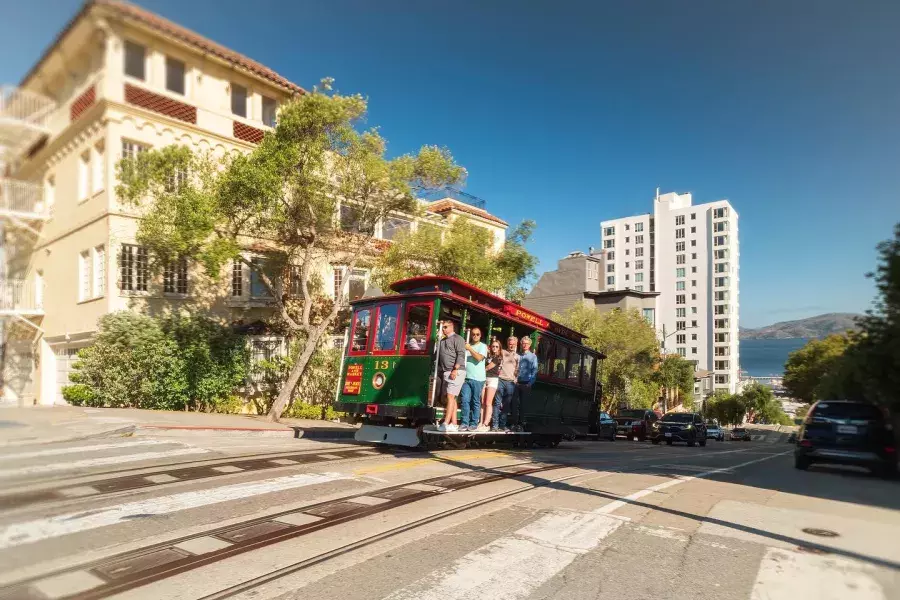 Did You Know?
San Francisco's cable cars reach a top speed of 9.5 miles per hour on cables that are 1.25 inches in diameter.
---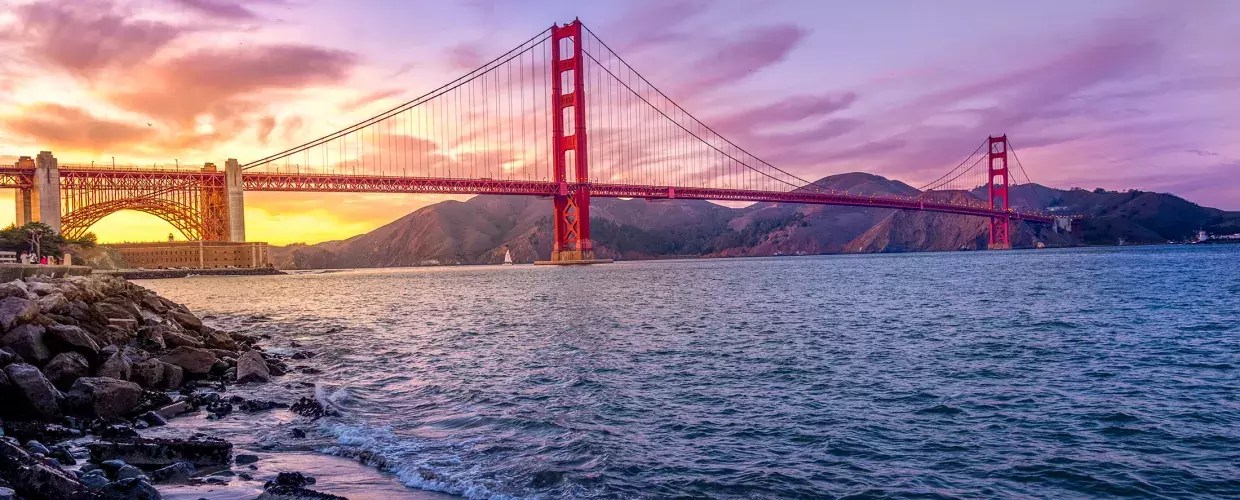 Stay Connected with SF
Sign Up for Our Newsletter
Be the first to know about upcoming events and festivals, new restaurants, special deals, and everything else happening in the City by the Bay.