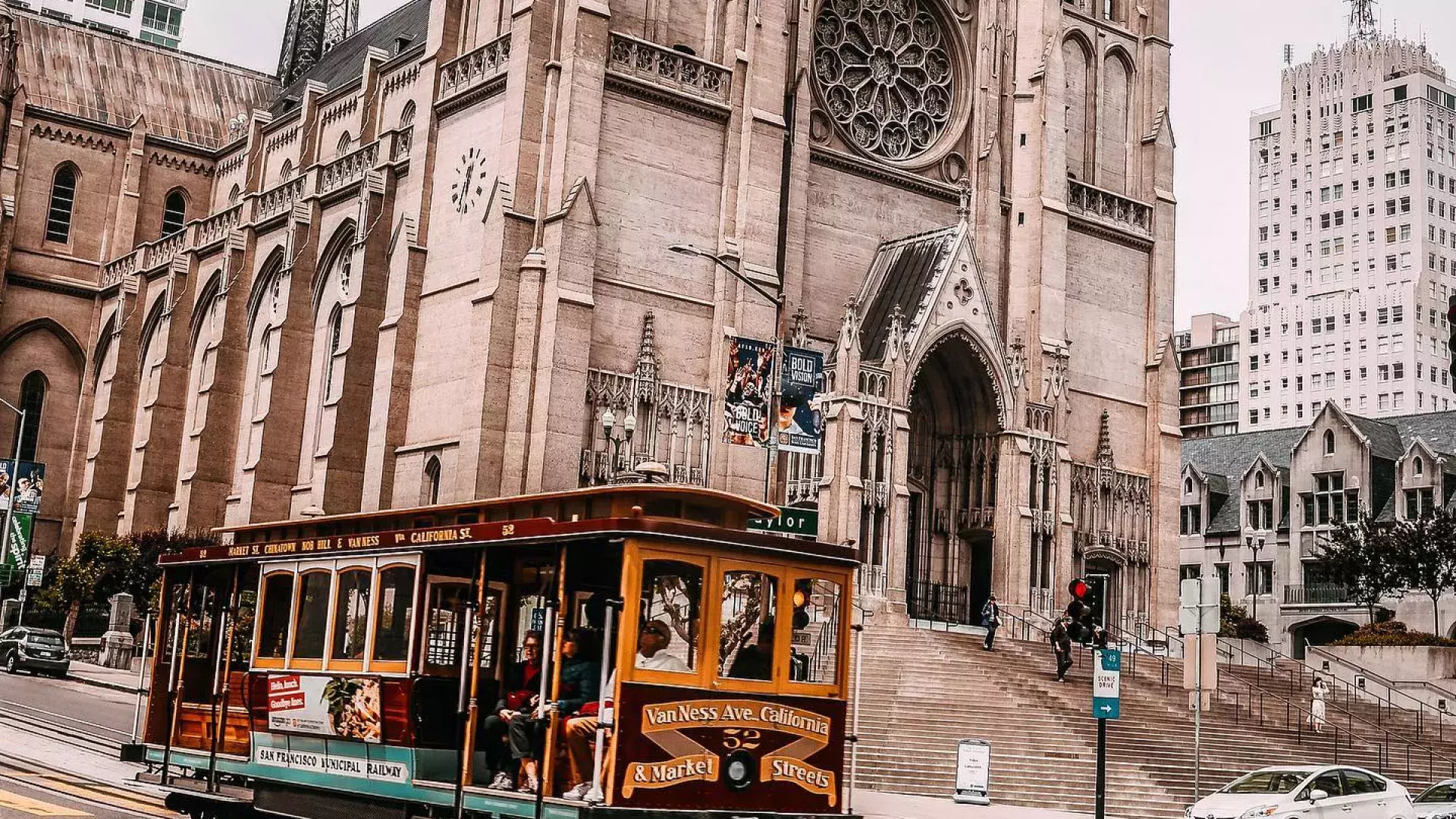 Your Guide To

San Francisco's California Street Cable Car

Here is everything you need to know to have a memorable ride on one of the three cable car lines serving San Francisco, the California Line.
San Francisco's iconic cable cars are recognized the world over for the clanging of their bells, panoramic views, and thrilling descents down steep hills. Taking a ride on a cable car should always be at the top of visitors' must-do San Francisco experiences.
Follow our guide to the must-sees along and near the California Street cable car route, starting from its terminus downtown at California and Drumm streets.
Best Food Hall
The Ferry Building
1 Ferry Bldg.
San Francisco's landmark Ferry Building celebrates its 125th anniversary in 2023. Throughout the year, foodies are drawn to this epic food hall and ferry terminal— ferries depart and arrive on the bay side—that opened in 1898.
Nearest stop: California and Drumm.
Oldest Restaurant
Tadich Grill
240 California St.
A San Francisco institution, Tadich Grill is classic dining at its best. Offering delicious seafood, steaks, and cocktails, Tadich is the city's oldest restaurant. Lunch is served during weekdays only. Closed Sundays.
Nearest stop: California and Battery.
Best Family Activity
The Wells Fargo History Museum
420 Montgomery St.
Drop into this free museum to learn about the bank's stagecoach era and a slice of California history. There are interactive exhibits, which are perfect for kids. Open 10 a.m. to 5 p.m. on weekdays only.
Nearest stop: California and Montgomery.
Best Neighborhood to Explore
Chinatown
Stockton and Kearny streets to Sacramento Street and Broadway
San Francisco's Chinatown is a must-stop along the California line. As the oldest Chinatown in North America, it is full of dim sum shops, restaurants, and the famous Golden Gate Fortune Cookie Factory, where you can watch them prepare fresh fortune cookies in the open kitchen.
Nearest stop: California and Grant.
Best Photo Spot
California and Powell Streets
Hold on and get your camera ready! Whether you're going east or west, this is where you'll be afforded the most dramatic downhill views of San Francisco. 
Nearest stop: California and Powell.
Best Bar With A View
Top of the Mark 999 California St.
Come for the views, but stay for the sunset. The Top of the Mark sky lounge on the 19th floor atop the InterContinental Mark Hopkins Hotel has offered 360 degree views of the city since 1939. Enjoy the sunset and Golden Gate Bridge views from the west side or views of Salesforce Tower and the Bay Bridge on the east side. Book a window table in advance, as they do fill up quickly. Serving appetizers, drinks, and desserts only.
Nearest stop: California and Mason.
Most Beloved Statue
Tony Bennett Statue
Tony Bennett Way at 950 Mason St.
Hop off in front of the Fairmont Hotel and you will find Tony Bennett's statue, a monument to one of San Francisco's most beloved performers. In 1961, Tony Bennett first sang his famous song "I Left My Heart in San Francisco" at the hotel's Venetian Room and became forever linked to the city by the bay.
Nearest stop: California and Mason.
Best Tiki Bar
The Tonga Room 950 Mason St.
Located in the Fairmont Hotel, the Tonga Room is a celebrated tiki bar with a live band playing island vibes from a boat in the central lagoon. You'll find a lively crowd that is ready to dance. Watch out for the thunder and rainstorm indoors! Open from 5 p.m. Wednesday to Saturday.
Nearest stop: California and Mason.
Best Concert Venue
The Masonic 1111 California St.
The Masonic is a legendary concert venue that has welcomed comedians Sarah Silverman and Trevor Noah, rap and hip-hop artists Yeat and Lil Wayne, and rock legend Ringo Starr and His All Star Band. 
Nearest stop: California and Taylor.
Most Outstanding Architecture
Grace Cathedral 1100 California St.,
Visit the large cathedral atop Nob Hill recognized for its stunning architecture, impressive stained glass, murals, and two labyrinths—one indoors and one outdoors.
Grace Cathedral's murals depict the history of California, Gold Rush pioneers, and the construction of the cathedral itself.
Visitors are welcome Monday to Saturday from 10 a.m. to 5 p.m. for sightseeing. Tickets are $12 for adults, $10 for seniors and age 22 and under. Children under 11 can enter free when accompanied by an adult.
There is no admission charge for prayer or meditation. The popular Candlelight Labyrinth Walk, a ticketed guided meditation, takes place monthly.
Nearest stop: California and Taylor.
Best Open Space
Huntington Park
Huntington Park is a quiet spot on Nob Hill. Take a break on one of the sunny benches or let your kids play at the playground.
Nearest stop: California and Taylor.
Best Street to Stroll
Polk Street
Between Pine and Union streets
Here you will find a vibrant neighborhood filled with coffee shops, restaurants, bars, and local retail shops. During the 1960s and 1970s, Polk Street was the predominantly gay neighborhood in San Francisco, predating the Castro.
Nearest stop: California and Polk.
Best Seafood
Swan Oyster Depot
1517 Polk St.
This no-frills spot is known for exceedingly fresh seafood, lines out the door, and cash only payment. They have just 20 counter seats where you can order any of their top sellers, such as Sicilian Sashimi, classic shrimp cocktail, oysters, or sweet Dungeness crab. Hours are 8 a.m. to 2:30 p.m.; you must be seated by 2 p.m. to be served. Closed Sundays. 
Nearest stop: California and Polk.
Best Local Bar
The Bell Tower Bar
1900 Polk St.
Open 365 days a year, The Bell Tower Bar has operated for over 30 years by local legend Barbi Tice. Known as a Vikings bar—Minnesota, that is—they play the football games with the sound on. There is both indoor and outdoor seating, which is perfect for a sunny day; they serve lunch, dinner, and brunch on weekends.
Nearest stop: California and Polk.
Best Gay Bar
The Cinch Saloon
1723 Polk St.
You're certain to make a friend at The Cinch Saloon, the last remaining gay bar on Polk Street. There is a Star Wars-themed game room with pool tables, darts, and a piano, plus a back patio to chill out with your friends.
Nearest stop: California and Polk.
Quirkiest Museum
The Antique Vibrator Museum
1620 Polk St.
The Antique Vibrator Museum is located in the back of Good Vibrations, an adult entertainment store and book emporium. This one-room museum showcases vibrators dating back to the 1930s. Free admission and open to ages 18+. The museum closes one hour before store closing.
Nearest stop: California and Polk.
Best Picnic Purveyors
Cheese Plus
2001 Polk St.
Pick up everything you need for a gourmet picnic from this specialty food shop. Mark your calendar for their own mini food festivals: March Cheese Madness, chocolate festival (April), and anniversary festival (June).
Nearest stop: California and Polk.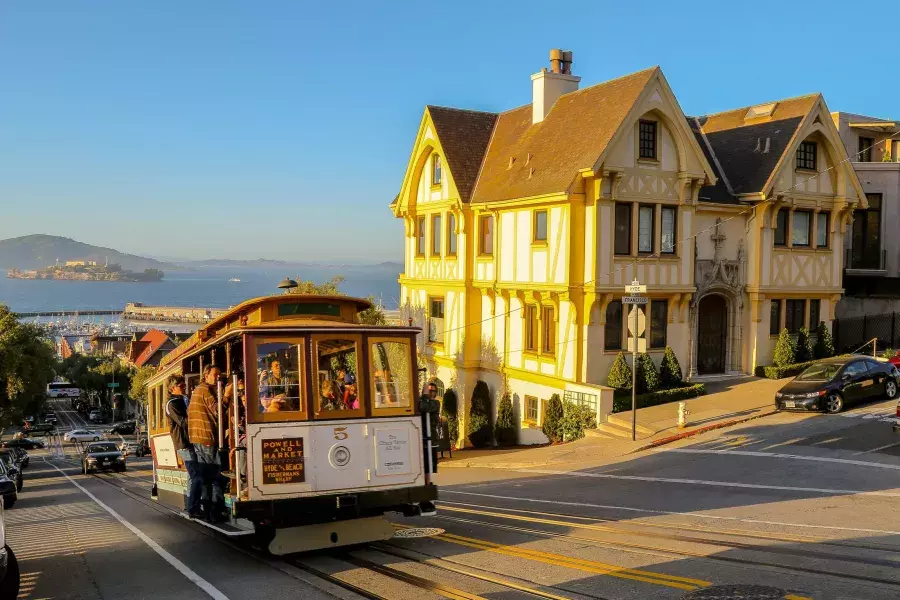 Take the Cable Car Crawl and Win Prizes!
Celebrate the 150th anniversary of San Francisco's famous cable cars and explore the city. From now until Oct. 30, enter to win incredible San Francisco prize packages. 
Hop Aboard
Cable Car FAQ
How do I purchase tickets?
Visitors can purchase a single ride ticket onboard the cable car for $8 cash (exact change is required), or online through the MuniMobile app or Clipper Card. The single ride ticket is valid for one-way rides only and is not transferable to other cable car lines.
For all-day rides, purchase a 1-Day, 3-Day, or 7-Day Passport on the MuniMobile app, which is valid for 90 days. The fare is $13, $31, or $41, respectively. Clipper Card offers the 1-Day Passport for $24.
Do children need a ticket?
Children age 4 and under ride free.
When do the cable cars run?
The California Line runs from 7 a.m. to 9 p.m. daily. The route stretches from California and Market streets to California Street and Van Ness Avenue.
Where do I board?
At every block! Just look for the yellow stripe painted on the pavement at each intersection. On steep hills, cable cars stop in the middle of the intersection so watch for the yellow stripe. Most corners have a brown cable car signpost.
How long is the ride?
Approximately 16 minutes one way, end to end.
Can I get off and jump on again?
Absolutely! If you plan on taking multiple cable car rides, purchase a full-day or multi-day Passport on the MuniMobile app. Remember, a single ride ticket is valid for one-way rides only.
How do I ride the cable cars without waiting in long lines?
If you are short on time, head for the California line, as this one is generally less busy than either the Powell-Hyde or Powell-Mason lines. The California line does not go directly to Fisherman's Wharf or Ghirardelli Square. All three cable car lines start running at 7 a.m. and run into the evening, so you can always take your journey when it's less busy. You can also board at any intersection along the line, but there is no guarantee that there will be room on the cable car. As always, pack your patience.
Where can I learn more about cable cars?
Head to the free Cable Car Museum at the corner of Mason and Washington streets. You will be standing in the original wheelhouse building from 1887 that survived San Francisco's devastating 1906 earthquake.
---