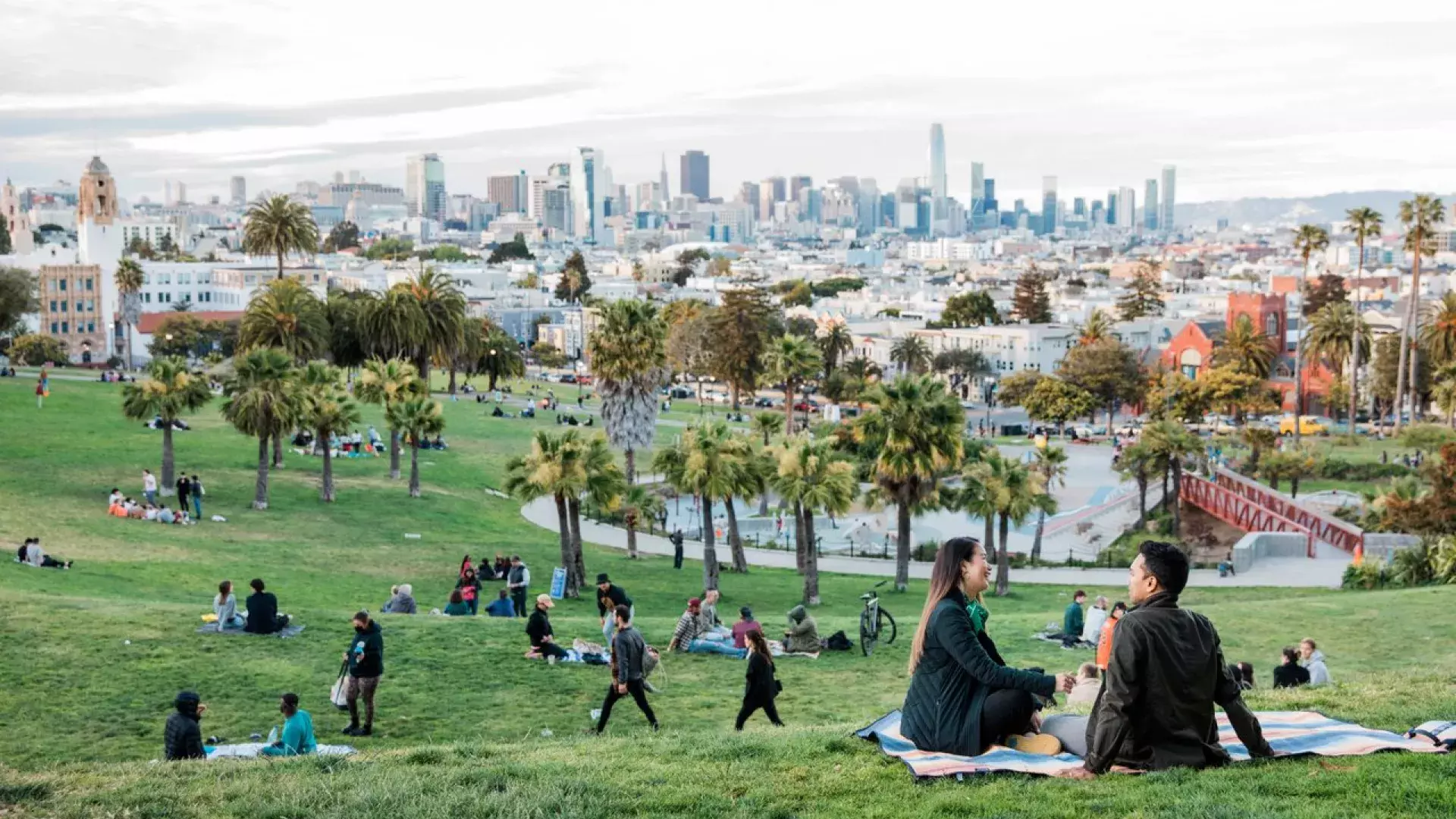 San Francisco Travel Welcomes Visitors for a Three-Day 420 Festival Celebrating the City's Cannabis Scene and Culture
Evergreen San Francisco is a citywide, three-day celebration that kicks off on April 20th (420), the global cannabis holiday that originated in the San Francisco Bay Area.
(San Francisco) April 10, 2023 – From April 20 to 23, cannabis-themed entertainment, activities, and complementary experiences will be showcased throughout San Francisco for the second annual "Evergreen San Francisco" festival.
Catering to the canna-curious as well as the canna-enthusiast, Evergreen San Francisco invites visitors to discover the creative California cannabis landscape by exploring San Francisco's innovative cannabis lounge scene and enjoying special offers and experiences in cannabis shops during the festival.
The celebration was created in partnership between the San Francisco Cannabis Retailers Alliance, San Francisco Chamber of Commerce, Fisherman's Wharf Community Benefit District, San Francisco Cannabis Equity Group and San Francisco Travel Association to share San Francisco's rich cannabis history and celebrate local businesses, pioneers, and stories.
"From the counterculture movement in the 1960s to compassionate use during the AIDS crisis, cannabis played an important role in San Francisco's history of progressiveness and activism. The Evergreen San Francisco festival highlights this legacy and puts a spotlight on the city's regulated cannabis and social equity businesses. With iconic places throughout the city like Hippie Hill and The Castro serving as a backdrop, the festival gives visitors the opportunity to experience first-hand how we are reimagining what the cannabis experience looks like," said Joe D'Alessandro, President and CEO of San Francisco Travel.
In 1996, California became the first destination to allow medicinal cannabis consumption under the Compassionate Use Act. The state legalized recreational cannabis use in 2016.
"Evergreen San Francisco invites you to explore the city, our many cannabis lounges and dispensaries, as well as to learn about cannabis's rich history here," said Ben Bleiman, President of the California Nightlife Association. "Each of our retailers is located in a vibrant corridor which is deeply woven into the fabric that is San Francisco."
More than 25 of the city's cannabis shops and lounges are participating in Evergreen San Francisco and will offer promotions and various curated experiences to celebrate the cannabis holiday. Other activities include special giveaways, a music DJ at Fig & Thistle's "High, San Francisco!", an interactive cannabis scavenger hunt, the Green Dream Cannabis Tour, and  a 420 history workshop at the San Francisco Public Library highlighting the city's marijuana culture and history of activism.
On Thursday April 20, the annual 420 gathering in San Francisco's Golden Gate Park at "Hippie Hill" will take place. Since the Summer of Love in 1967, Hippie Hill has been a counterculture gathering spot for the cannabis holiday. The free event brings thousands of people together in the park's Robin Williams Meadow to celebrate the cannabis plant and cannabis culture. Music and event programming will run from 10 a.m. to 5 p.m.
"San Francisco is a welcoming place, and our hotels are among the best in the world. We welcome all travelers who are coming to partake in our culture, restaurants, and natural beauty. We ask you to enjoy your stay, and to celebrate 4/20 responsibly," shared Alex Bastian, President and CEO of the Hotel Council of San Francisco.
For information on Evergreen San Francisco activities, offers, and events, visit the official website at www.evergreensanfrancisco.com. The site will continue to be updated with new information for visitors.
EVERGREEN SAN FRANCISCO
Evergreen San Francisco is an initiative to elevate and highlight the history, equity, and value of the cannabis industry and cannabis tourism in San Francisco. Cultivated by a desire to share San Francisco's rich history with the world at large, Evergreen San Francisco is a partnership with the San Francisco Cannabis Retailers Alliance, San Francisco Cannabis Equity Group, San Francisco Chamber of Commerce, Fisherman's Wharf Community Benefit District, San Francisco Travel, San Francisco Public Library, Hotel Council of San Francisco, Another Planet Entertainment, California Music and Culture Association, Dear San Francisco, and the Golden Gate Restaurant Association.
SAN FRANCISCO TRAVEL
The San Francisco Travel Association is the official destination marketing organization for the City and County of San Francisco. The city is one of the top tourism and meetings destinations in the U.S. and received 21.9 million visitors in 2022. Total tourism spending in 2022 exceeded $7.7 billion. The tourism industry is the largest generator of outside revenue into San Francisco's economy and supports over 53,000 jobs.
For information on reservations, activities and more in San Francisco, visit www.sftravel.com. 
Follow San Francisco Travel on Facebook (www.facebook.com/onlyinSF/), Instagram (www.instagram.com/onlyinsf/), and Twitter (www.twitter.com/onlyinsf). Hashtags are #sftravel and #AlwaysSF.
Image Links and Information: 
Press releases and other media resources are available at www.sftravel.com/media
The San Francisco Travel Photo Video Library is available at photos.sftravel.com
To receive news and updates regularly in San Francisco Travel's e-newsletters, visit www.sftravel.com and scroll down to "Newsletter Sign-up."