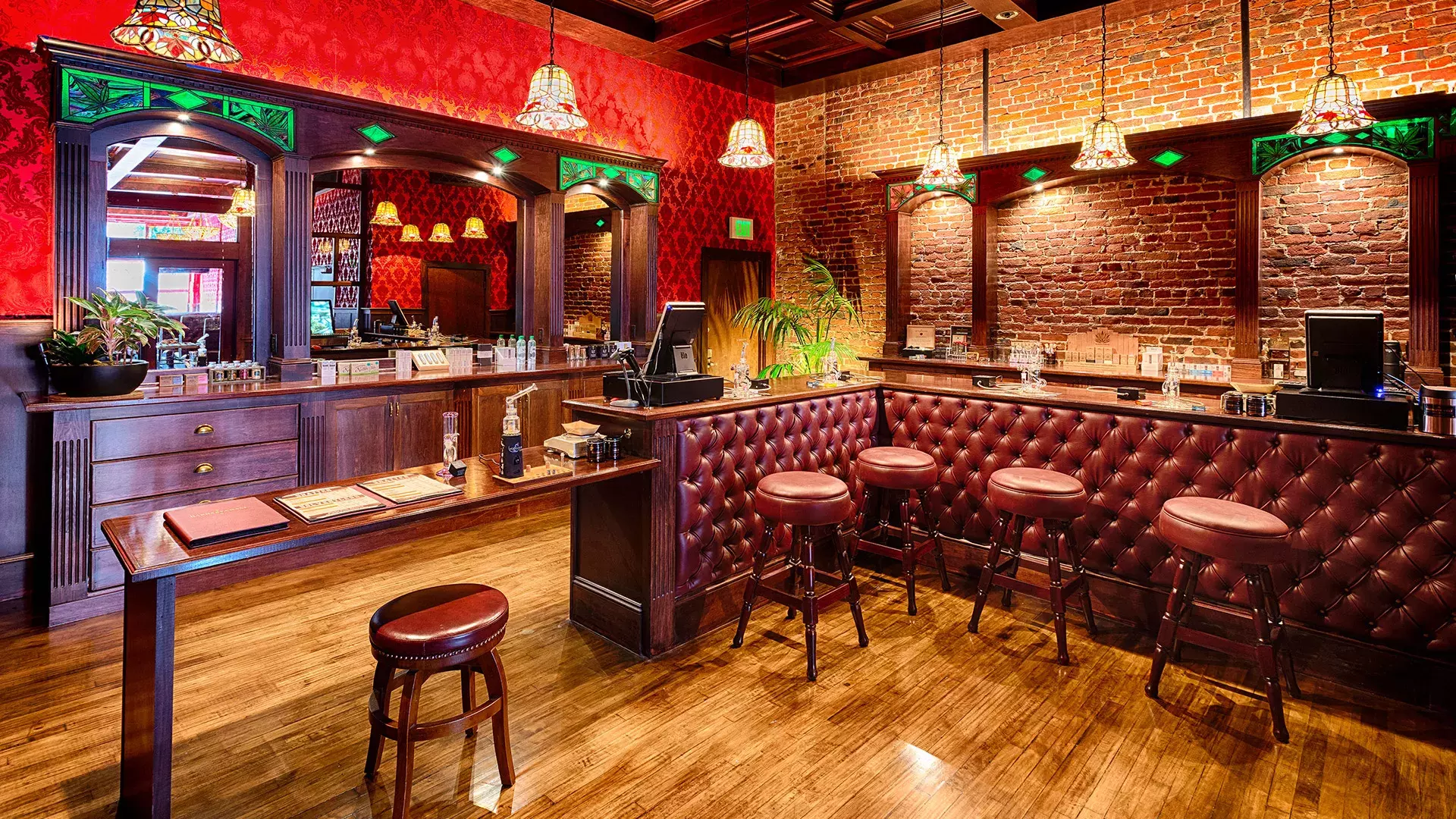 San Francisco's

Most Stylish Dispensaries

Explore these San Francisco dispensaries bringing a new emphasis on style to the cannabis experience.
It's no secret that San Francisco has always been 420-friendly, but legalization has transformed a product that was once more of a wink-and-a-nod gig into a lucrative industry. The world of cannabis has come a long way since those tie-dye and tapestry-laden headshops you might have frequented in college. These days, consumers have stepped out from the dimly lit, patchouli-scented shadows and into sleekly designed showrooms catering to everyone from grad students to grandparents. With seemingly endless options for where to catch your next buzz in San Francisco, we picked a few of the city's most well-designed offerings. 
Before you venture out into these weed wonderlands, keep in mind that, like all establishments, these cannabis clubs deal with the ongoing ebbs and flows of quarantine and safety protocols. As essential businesses, many have stepped up their game to include distanced lines, plexiglass barriers, and enough hand sanitizer to wipe out every germ you've picked up since the Giants last won the World Series. 
That said, calling ahead to ensure that your dispensary of choice is accepting walk-ins is always a wise choice. Additionally, keep in mind that many rely on cannabis for medicinal purposes. Stay patient as your budtenders work through long lines during these strange times, and don't forget to tip!
Barbary Coast
952 Mission St.
Just down the street from the legendary San Francisco Chronicle building, Barbary Coast boasts a robust menu that includes everything from bongs to bath bombs and, in less restricted times, a slick leather dab bar where customers can enjoy their new purchases with the assistance of expert budtenders.
In 2019, they opened Barbary Sunset (2161 Irving St.) the very first dispensary in San Francisco's largely residential Sunset District. Since then, the location has proven to be a valuable neighborhood resource that's as stylish as it is convenient in aiding in the stress and sleeplessness of pandemic life. Conveniently nestled between a cornucopia of sushi, dumpling, and bubble tea shops, Barbary Sunset caters to all (legal) walks of life, features an impressive selection of Black-owned brands, and showcases local artist collaborations to boot. Be sure to reserve a few bucks to spend on their plethora of merch!
The Apothecarium
2029 Market St.
If we could go back in time and tell you that one day you'd legally be selecting your weed from leather-bound menus, would you even believe us? The Apothecarium is busy changing the world of weed city by city. In fact, they're currently up to ten locations across the country, including four in the Bay Area alone. Take, for instance, their flagship Castro location, named the best-designed dispensary in the country by none other than Architectural Digest. After checking in, guests are welcome to lounge on plush couches before being escorted to the marble countertops of the sales floor. Best of all, while The Apothecarium may have the upscale aesthetic of a shop only for high-rollers, their prices are competitive and welcoming for all budgets. Be sure to ask their patient and knowledgeable budtenders about their ever-present specials! 
Moe Greens
1276 Market St.
Ever since legalization's big coming-out party, dispensaries have stepped up their design game and debuted some truly gorgeous spaces. Case in point: Market Street's Moe Greens. For those turned off by the Bob Marley blacklight posters of yesteryear, Moe Greens offers chic midcentury style with exposed brick, hardwood, and emerald green accents. Just steps away from the legendary Bill Graham Civic Auditorium, Moes also provides a welcome alternative to the traditional pre-show beer with three different lounges dedicated to vaping, dabbing, or smoking.
BASA
1326 Grove St.
Never judge a book by its cover. You might be wondering how what appears to be a shiny storage container tucked back from the sidewalk ranked among San Francisco's most stylish dispensaries. We encourage you to take a closer look. BASA's earth-toned exterior gives way to a glowing, clean interior that gets plenty of natural light, allowing you an unobstructed view of operations behind the counter. A comprehensive menu of products, reasonable prices, and a staff renowned for their friendliness and knowledge make BASA a must-stop during your San Francisco cannabis experience.
Urbana
4811 Geary St., 33 29th St.
Who says the avenues are sleepy? Neatly tucked away on Geary Boulevard is Urbana, a neighborhood weed shop with an ever-present line out front. To unknowing passersby, Urbana (formerly known as Harvest) may look more like an upscale plant nursery or boutique. Light gray siding with white accents and enamel light fixtures make for a welcoming storefront straight out of Half Moon Bay, while homey wooden cabinets and open product displays create a cozy and relaxed shopping experience for cannabis users of all experience levels. Time will tell how dispensaries will adapt post-lockdown, but Urbana also features a stylish smoking lounge bordered by wood inlays and modern chandeliers that has regularly hosted DJs and product demos in the past. Urbana's location is central to both Golden Gate Park and the Presidio, making it an ideal stop for those looking for a post-hike toke. Not traveling towards the avenues? Swing by Urbana's equally-elegant Mission location.
Vapor Room
79 Ninth St.
Clean, minimalist, and thoroughly modern, Ninth Street's Vapor Room is one of San Francisco's best loved apothecaries. Located between Market and Mission streets, this small but mighty shop is a sun-drenched dream for design-loving cannabis consumers. The interior spotlights natural wood underscored by greenery and gold and, of course, a carefully curated selection of products that are as perfectly packaged as they are effective. Even their bathroom is an Instagram-worthy visit with its marijuana leaf wallpaper flanked by pink tiles. Vapor Room is something of a local cannabis staple, having first opened in Lower Haight back in 2004 as a medical dispensary and lounge. Though shuttered in 2012, the dispensary rose from the ashes in 2019 to greet a new world of recreational users. 
Want to know more about the rules around legal weed in San Francisco? We've got it covered.
---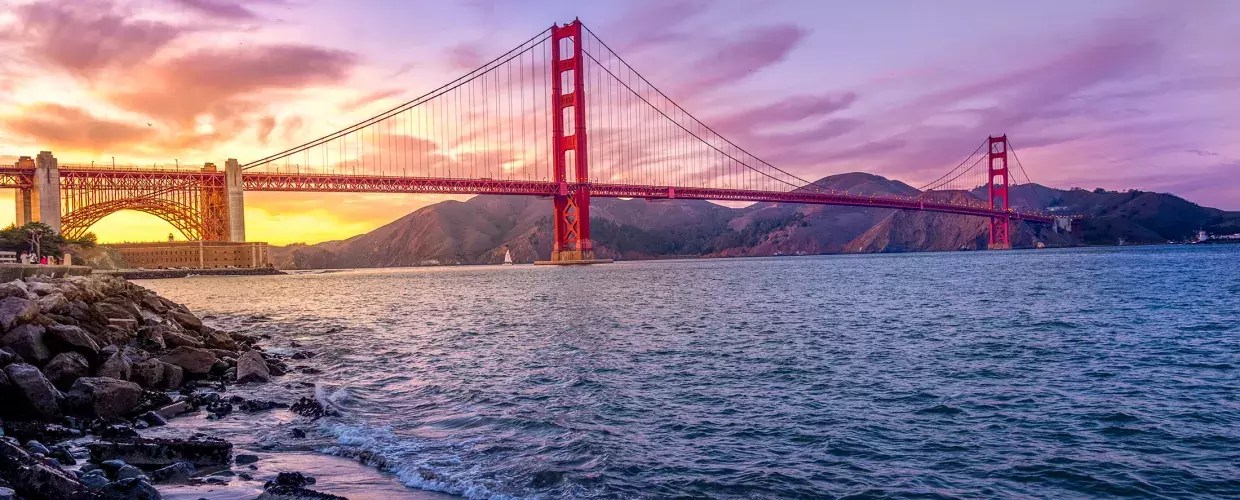 Stay Connected with SF
Sign Up for Our Newsletter
Be the first to know about upcoming events and festivals, new restaurants, special deals, and everything else happening in the City by the Bay.