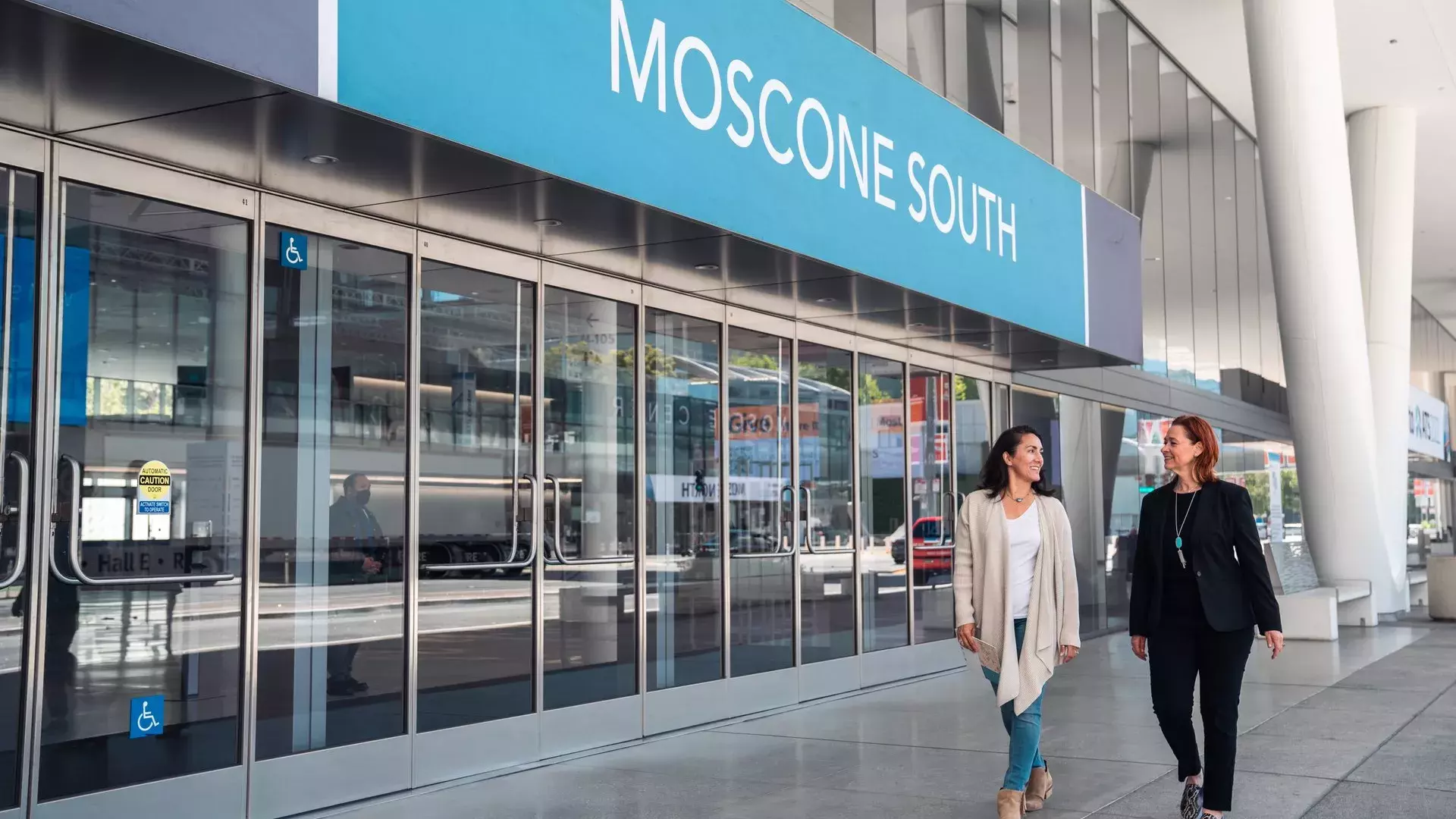 Everything You Need to Know About the Moscone Center Expansion
Learn all about the extensive expansion project that has made San Francisco's Moscone Center a pioneering facility perfect for your next event.
Take the Moscone Center Virtual Tour
The iconic Moscone Center has been reimagined to deliver expanded, contiguous exhibition space, more meeting rooms, cutting-edge technology, sustainability and greater flexibility—all while retaining its reputation as a top venue in the heart of San Francisco.
The Expansion by the Numbers
The $551 expansion added more than 157,000 gross square feet of flexible meeting space to Moscone North and South. The project created more than 500,000 gross square feet to be used as contiguous exhibition space or flexible meeting space. Expanded lobbies in Moscone's North and South buildings total approximately 60,000 square feet. Two new floors of column-free meeting space include a 50,000-square-foot ballroom. A new enclosed pedestrian bridge connecting Moscone Center above Howard St. provides enhanced circulation for convention attendees.
To learn more about the Moscone Center, download the PDF or contact us for more details.
The Center at a Glance
One million people each year utilize Moscone North, South and West buildings. Located in the heart of San Francisco, The Moscone Center is minutes away from world class shopping and dining, and walking distance to 22,000 of our more than 33,000 hotel rooms. Moscone West, at the corner of Fourth and Howard streets, offers more than 300,000 gross square feet of meeting and exhibition space. The Moscone Center answers the call of today's meeting attendees with a $4.5 million wireless system providing complimentary high speed service to 60,000+ devices at one time with peak performance.
Moscone Expansion FAQs
When did the expansion begin?
Groundbreaking for the expansion was in December 2014.
How much did the expansion of The Moscone Center cost?
The expansion cost $551 million, and was completed on time and on budget.
Who paid for the expansion?
This project was a partnership, in which two-thirds of the cost was covered by an assessment on hotel rooms. The remaining third was paid through the City of San Francisco's general fund. A significant portion of the general fund is derived from hotel tax and convention revenue.
Has The Moscone Center been expanded before?
The Moscone Center consists of three buildings that were developed every decade over the last 30 years. The first was Moscone South, completed in 1981. The Esplanade Ballroom and Moscone North were completed in 1991 and 1992 respectively. Moscone West opened in 2003, and now 2019 has seen the completion of a massive improvement to the North and South buildings.
Will this project be LEED® certified?
This project is LEED Platinum Certified, making it the most environmentally sustainable convention center in North America.
Who were the institutions guiding this effort?
The roles are as follows:
Architects: Skidmore Owning and Merrill, LLP and Mark Cavagnero Architects
Contractors: Webcor Builders
Project management: Department of Public Works
Building owner: The Office of Community Investment and Infrastructure
Oversight: Tourism Improvement District Management Corporation Board of Directors
Additional: Mayor's Office of Economic and Workforce Development
Booking Inquiries and Information
San Francisco Travel Association
One Front Street, Suite 2900
San Francisco, CA  94111
Attn: Leonie Patrick
Vice President, Convention Sales
[email protected]
Tel: 415-227-2691
Fax: 415-227-2646
www.sftravel.com
Moscone Center
747 Howard Street
San Francisco, CA  94103-3118
Tel: 415-974-4000
Fax: 415-974-4073
www.moscone.com
---