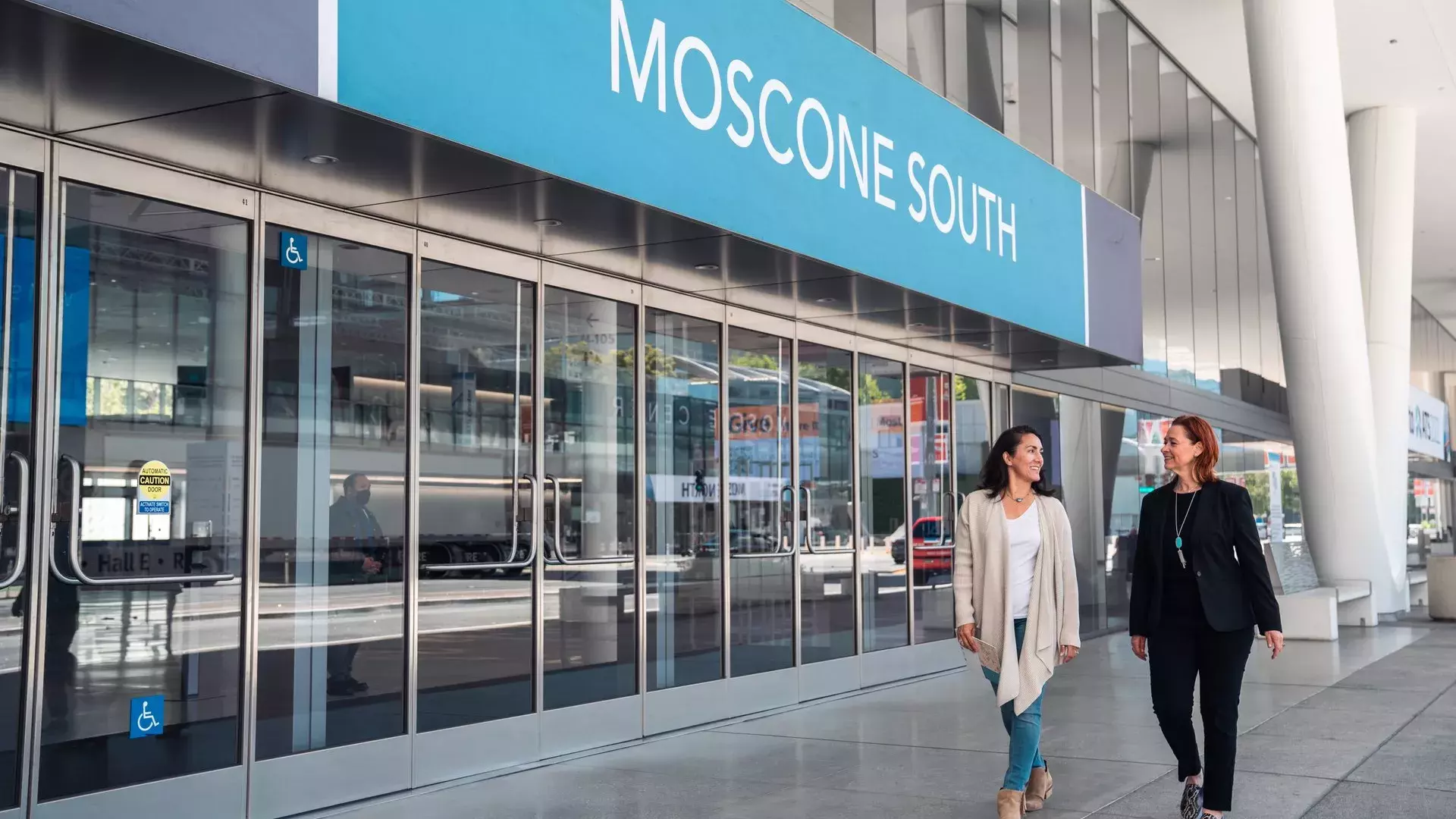 The Moscone Center
San Francisco is a premier world destination, famous for fostering new ideas and drawing record-breaking attendance. The city is always changing, and now the Moscone Center is, too.
This change goes beyond the addition of space. The expansion is mindful of the environment, responsive to clients, and respectful of a legacy that includes moments of history and transformation. With the completion of a $550 million expansion, The Moscone Center (North and South) offers:
Accredited by the Global Biorisk Advisory Council's 20 GBAC STAR program and implementing protocols from ASM Global's VenueShield to continue offering the highest levels of safety, security, and consumer confidence.
More than 502,000 square feet of contiguous space that can be used for exhibitions and/or meetings—almost double the previously offered in its largest hall.
Two ballrooms, including a new 50,000 square foot, column-free ballroom.
82 meeting rooms.
107,000 square feet of light-filled, pre-function lobbies offering dramatic views of the city and the surrounding Yerba Buena Gardens.
More than 25,000 square feet of secure outdoor terraces ideal for receptions.
Improved public amenities, including wider sidewalks, larger crosswalks between buildings, multiple open-air plazas, and public art.
Highly flexible design accommodating new and current groups with increased attendance.
The expanded facility is LEED Platinum and achieved the highest-scoring LEED® certification for a convention center in the world. Sustainable features include:
Less carbon emissions per delegate than any major convention center in North America.
Recovery of 15 million gallons of groundwater annually for reuse in the Center, irrigating neighbor parks, and street cleaning.
The largest rooftop photovalic (solar panel) array in San Francisco.
Zero-emissions electricity.
Daylight harvesting to offset electrical lighting.
Exhibition Level (502,000+ square feet (Halls A-F)
The expansion links two of Moscone's largest exhibition spaces to create 502,000+ square feet of contiguous space, which can accommodate more than 2,300 10'x10' booths and/or be used as flexible meeting space. This exhibition level includes Halls A-F. The Center's internal freight system provides access to 20 loading docks with direct drive-on access to the exhibit halls.
Upper Mezzanine (42,675 square feet ballroom only)
Twenty-eight-foot high ceilings define a space designed to accommodate banquets and large general sessions for up to 4,800.
Lobby Level (69,400 square feet)
From either side of Howard Street, wide sidewalks lead to glass-enclosed lobbies allowing natural light and revealing the activity within while engaging the surrounding public realm.
Lower Mezzanine (6,744 square feet)
Located in the south building of The Moscone Center, the Lower Mezzanine offers flexible meeting space ideal for break-out sessions from 20 to 329.
Level Two (50,000 square foot ballroom)
The new 50,000-square-foot, column-free, flexible ballroom in Moscone South accommodates more than 5,500 in a theater setting. Two terraces, echoed on the third level, face north and south. A glass bridge linking this level to the North building features "Point Cloud," a light sculpture created by Leo Villareal, the artist who designed "The Bay Lights."
Level Three (64,174 total square feet)
Nearly 22,000 square feet of secure outdoor terraces bracket the top level of the South building. Offering spectacular views of the San Francisco skyline, ideal for networking, receptions, and fresh air between sessions.
Moscone West (367,500 square feet, 3 levels)
Moscone West's design emphasizes flexibility. It enables conversion between exhibit, meeting, and banquet uses, as well as efficient adjustment to room sizes. Three levels offer nearly 100,000 square feet of dedicated function space on each floor, as well as approximately 25,000 square feet of elegant pre-function lobby space on each level.
The first-floor lobby is ideal for registration and pre-function uses, leading to the main floor exhibit hall. Elevators and escalators are carefully positioned to move attendees quickly from floor to floor.
The second and third levels offer the flexibility of "swing space," a total of 200,000 square feet that can be configured into 19 rooms per floor through a system of movable walls. The third level mirrors the capacities of the second level, with the option of a column-free general session or ballroom space seating more than 6,000. Both second and third levels can accommodate more than 500 booths each.
To check the availability of the Moscone Center, please call us at 415-227-2691 or email our team.
---