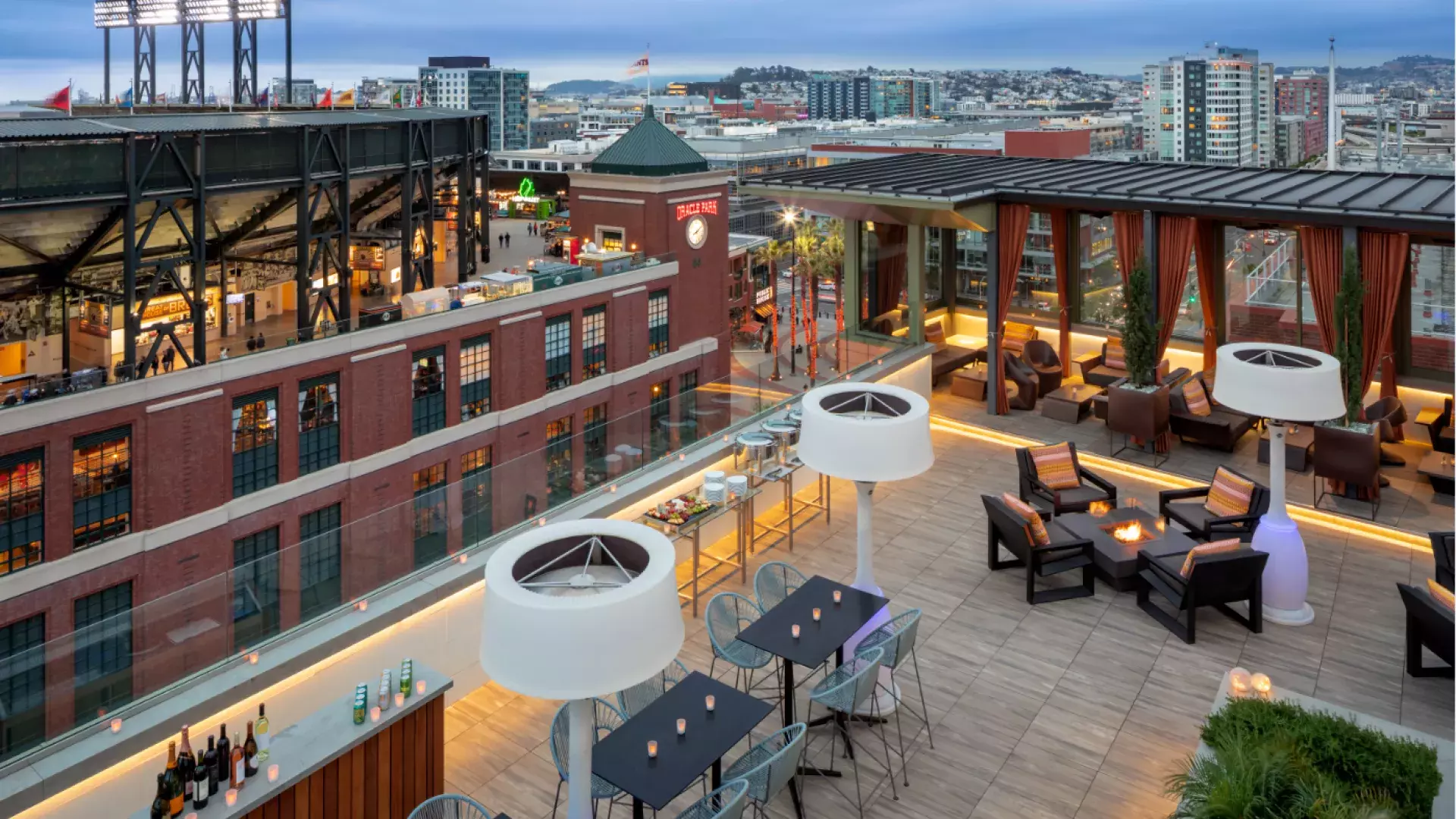 Meeting Space Virtual Tours
Our top meeting hotels have all the space you need.
San Francisco offers many exceptional meeting hotels that accommodate your group's desires. We make it convenient and stress-free to view a hotel from the comfort of your living room via Virtual Tours courtesy of our partner, Threshold 360. Below please find a list of our major meeting and convention hotels sortable by the total square footage of meeting space and number of sleeping rooms. Click the link to the corresponding hotel to access a comprehensive virtual tour, which will allow you the opportunity to view the main areas of each hotel, from the lobby, to various room types, to key function spaces.
Once you find the right fit, be sure to reach out to our friendly Sales Team so we can help connect the dots and turn your vision into reality.
| Hotel Name | Address | Sleeping Rooms | Meeting Rooms | Largest Meeting Space SQFT | Total SqFt of Meeting Space | Virtual Tours |
| --- | --- | --- | --- | --- | --- | --- |
| Hotel Caza | 1300 Columbus St. | 342 | – | – | – | |
| Hotel VIA | 138 King Street | 138 | 2 | 1,200 | 1,950 | |
| Hyatt Place San Francisco Downtown | 701 Third Street | 230 | – | – | – | |
| The Marker San Francisco | 501 Geary Street | 208 | 16 | 2,870 | 17,417 | |
| Four Seasons Hotel San Francisco at Embarcadero | 222 Sansome Street | – | – | – | – | COMING SOON |
| LUMA Hotel San Francisco | 100 Channel Street | 299 | 8 | 2010 | 7,250 | COMING SOON |
| Yotel San Francisco Hotel | 1095 Market Street | 203 | 2 | 3,700 | 4,500 | |
| Hotel Zelos | 12 Fourth Street | 202 | 10 | 1,374 | 6,327 | |
| Marriott Union Square - San Francisco | 480 Sutter Street | 400 | 10 | 3,276 | 11,164 | |
| King George Hotel | 334 Mason Street | 153 | 1 | 551 | 551 | |
| Tilden Hotel | 345 Taylor Street | 118 | 3 | 1,440 | 2,000 | |
| San Francisco Marriott Fisherman's Wharf | 1250 Columbus Avenue | 285 | 10 | 3,562 | 9,082 | |
| The Pickwick Hotel | 85 Fifth Street | 192 | 3 | 1,350 | 1,975 | |
| Cova Hotel, San Francisco | 655 Ellis Street | 96 | 1 | 1,900 | 1,900 | |
| Hotel Zephyr SF | 250 Beach Street | 361 | 2 | 8,000 | 9,600 | |
| Hotel Abri | 127 Ellis Street | 91 | 1 | 408 | 408 | |
| Hotel Griffon | 155 Steuart Street | 62 | 1 | 308 | 308 | |
| 1 Hotel San Francisco | Eight Mission Street | 200 | 19 | 4,887 | 16,616 | COMING SOON |
| Hotel Zoe Fisherman's Wharf | 425 North Point Street | 221 | 4 | 1,250 | 2,525 | |
| Marines' Memorial Club & Hotel | 609 Sutter Street | 138 | 6 | 4,875 | 14,740 | |
| Villa Florence Hotel | 225 Powell Street | 189 | 3 | 816 | 1,438 | |
| RIU Plaza Fisherman's Wharf | 2500 Mason Street | 531 | 4 | 2,196 | 5,562 | |
| Argonaut Hotel - Maritime National Historical Park | 495 Jefferson Street | 252 | 8 | 4,200 | 12,450 | |
| Hyatt Centric Fisherman's Wharf San Francisco | 555 North Point Street | 316 | 16 | 6,696 | 22,573 | |
| The Donatello Hotel | 501 Post Street | 94 | 2 | 1,000 | 1,525 | |
| The Clift Royal Sonesta Hotel | 495 Geary Street | 350 | 8 | 2,373 | 9,374 | COMING SOON |
| Galleria Park Hotel, a Joie de Vivre hotel | 191 Sutter Street | 177 | 3 | 923 | 2,003 | |
| BEI San Francisco | 50 Eighth Street | 276 | 1 | 2,925 | 2,925 | COMING SOON |
| Kimpton Alton Hotel Fisherman's Wharf | 495 Beach Street | 248 | 1 | 1,000 | 1,000 | COMING SOON |
| Hotel Zetta San Francisco | 55 Fifth Street | 116 | 4 | 1,672 | 3,010 | |
| Hotel Spero San Francisco | 405 Taylor Street | 236 | 8 | 1,089 | 4,402 | |
| Holiday Inn Express Hotel & Suites Fisherman's Wharf | 550 North Point Street | 252 | 2 | 1,600 | 2,400 | |
| The Clancy, Autograph Collection | 299 2nd Street | 380 | 16 | 2,016 | 9,549 | |
| The Orchard Hotel | 665 Bush Street | 104 | 3 | 580 | 850 | |
| W San Francisco | 181 Third Street | 404 | 14 | 3,762 | 20,924 | |
| Omni San Francisco Hotel | 500 California Street | 362 | 13 | 2,800 | 14,632 | |
| Grand Hyatt San Francisco | 345 Stockton Street | 668 | 29 | 7,450 | 52,568 | |
| Hyatt Regency San Francisco | Five Embarcadero Center | 821 | 49 | 17,064 | 127,264 | |
| InterContinental Mark Hopkins San Francisco | One Nob Hill, 999 California Street | 383 | 26 | 6,528 | 29,215 | |
| San Francisco Marriott Marquis | 780 Mission Street | 1,500 | 65 | 39,621 | 223,616 | |
| Hyatt Regency San Francisco Downtown SOMA | 50 Third Street | 686 | 18 | 9,040 | 31,554 | COMING SOON |
| Hotel Kabuki, a Joie de Vivre hotel | 1625 Post Street | 225 | 13 | 4,600 | 20,255 | |
| JW Marriott Hotel San Francisco Union Square | 515 Mason Street | 337 | 19 | 4,352 | 20,668 | |
| Parc 55 San Francisco - A Hilton Hotel | 55 Cyril Magnin Street | 1,024 | 25 | 6,840 | 39,372 | |
| Hilton San Francisco Union Square | 333 O'Farrell Street | 1,921 | 60 | 29,637 | 156,419 | |
| Four Seasons Hotel San Francisco | 757 Market Street | 277 | 12 | 6,960 | 19,290 | |
| The St. Regis San Francisco | 125 Third Street | 260 | 19 | 5,548 | 33,710 | COMING SOON |
| The Ritz-Carlton, San Francisco | 600 Stockton Street | 336 | 18 | 9,360 | 29,500 | |
| InterContinental San Francisco | 888 Howard Street | 556 | 38 | 6,800 | 29,500 | |
| Le Meridien San Francisco | 333 Battery Street | 360 | 16 | 8,045 | 29,500 | |
| The Westin St. Francis San Francisco on Union Square | 335 Powell Street | 1,195 | 34 | 10,700 | 57,683 | |
| Palace Hotel, A Luxury Collection Hotel | 2 New Montgomery Street | 552 | 24 | 8,964 | 48,374 | |
| Fairmont San Francisco | 950 Mason Street | 592 | 21 | 11,362 | 46,609 | |
| Beacon Grand | 450 Powell Street | 418 | 17 | 3,081 | 17,170 | COMING SOON |
| Stanford Court San Francisco | 905 California Street | 400 | 4 | 450 | 450 | |
| Hilton San Francisco Financial District | 750 Kearny Street | 544 | 27 | 4,396 | 29,533 | |
| Holiday Inn Golden Gateway | 1500 Van Ness Avenue | 500 | 17 | 5,600 | 30,926 | |
| Hotel Nikko San Francisco | 222 Mason Street | 532 | 22 | 6,658 | 35,478 | |
---