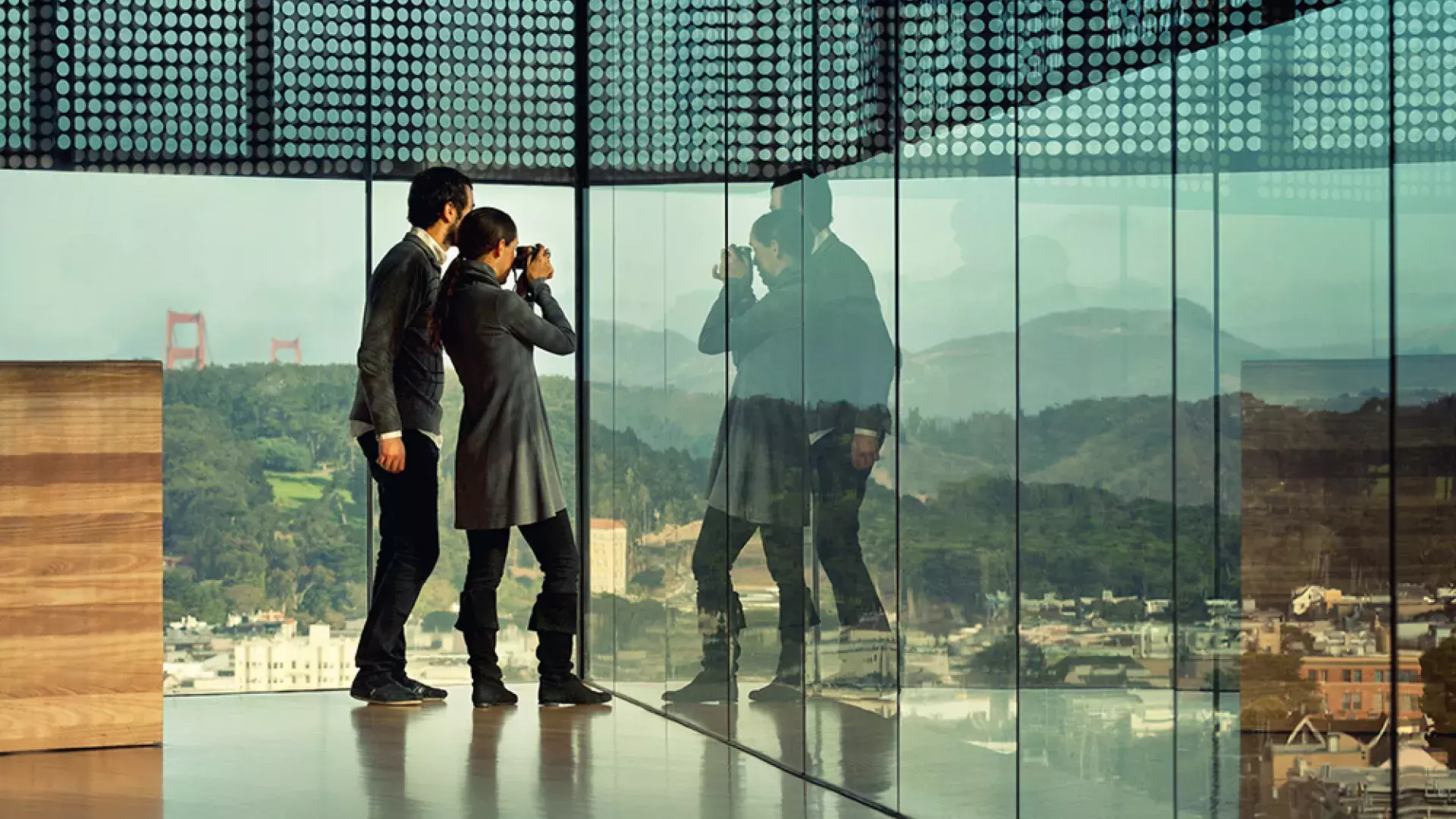 Meeting Venues In Golden Gate Park And The Presidio
If you're looking for meeting space that makes the most of San Francisco's diverse landscape, then consider booking a venue in one of the city's lush green spaces.
From incredible scenery to distinctive history, Golden Gate Park and the Presidio offer locations sure to inspire attendees. Whether you want a backdrop of natural beauty or an instant spark of creativity, these "Only in San Francisco" venues make for a memorable meeting.
Conservatory of Flowers 
100 John F. Kennedy Dr., Golden Gate Park
This San Francisco landmark has celebrated its collection of rare and tropical plants since 1879. Great ideas are sure to blossom when you choose to host an event at this architectural gem in the middle of Golden Gate Park. With varying configurations based on the chosen rooms, the Conservatory of Flowers can easily fit seated dinners of 150-165, or a cocktail reception of 300-500 in the greenhouse and Orchid Pavilion. 
Presidio of San Francisco 
103 Montgomery St.
This former military post has history stretching back to the earliest days of San Francisco, but its breathtaking views of the Golden Gate Bridge and Marin Headlands are among the reasons why people continue to love the national park site today. The Presidio of San Francisco's meeting facilities are capable of accommodating events ranging from intimate breakout sessions to receptions for several hundred attendees. Surrounding meeting spaces is one of the city's most beloved pastoral settings, which is interwoven with hiking trails and breathtaking vistas. It's the perfect marriage of business and relaxation.
California Academy of Sciences
55 Music Concourse Dr., Golden Gate Park
This world-class institution includes more than 400,000 square feet of exhibit space, including an aquarium, planetarium, natural history museum and four-story rainforest all under one living roof. Surrounded by the wonders of the natural world, the LEED® Platinum-certified space is the perfect setting for an environmentally responsible meeting. Able to accommodate groups up to 3,000 for a reception, California Academy of Sciences offers a unique and exciting setting for larger groups. There are also breakout rooms and theater space perfect for smaller groups and breakouts.   
de Young Museum
50 Hagiwara Tea Garden Dr., Golden Gate Park
For events that need a creative environment, the de Young Museum's collection of American art from the last four centuries is a great choice. From art-filled gallery spaces to the stunning 360-degree views from the observation level of Hamon Tower the museum offers attendees plenty of inspiration. Able to host events as large as 2,000 attendees, there are appealing options for large and small groups alike.
Walt Disney Family Museum 
104 Montgomery St., Presidio of San Francisco
What better way to infuse inspiration and creativity into a meeting than by choosing a venue celebrating the legacy of Walt Disney. At the intersection of art, business and innovation, the Walt Disney Family Museum is housed in a historic building offering more than 40,000 square feet of imagination. From art galleries to historic artifacts, the museum's meeting spaces include the 1,500-square-foot Lower Lobby, a 114-seat theater and the 3,478-square-foot Special Exhibition Hall — all surrounded by the natural beauty of the Presidio.
San Francisco County Fair Building 
1199 9th Ave. at Lincoln Way, Golden Gate Park
The County Fair Building, also known as the Hall of Flowers, offers a budget-friendly venue option for planners in need of a large, flexible space that can accommodate up to 2,000 people. Throughout the year, the facility hosts a variety of events and festivals, including cultural events and group gatherings across its 30,000 square feet of space. Choose from indoor spaces like the Auditorium (4,200 square feet) or Gallery (8,636 square feet), or plan an outdoor function in the Gallery Courtyard (approximately 6,000 square feet).
Stow Lake Boathouse
50 Stow Lake Dr., Golden Gate Park
The historic Stow Lake Boathouse offers an ideal setting for you to host an unforgettable party, business meeting, or private dinner in the heart of Golden Gate Park. This one-of-a-kind property accommodates groups of varying sizes, with catering options and room rentals to meet your specific needs.  Whether you're planning a romantic dinner for 2 or an intimate reception for 70, the setting is sure to leave a lasting impression on your guests. 
---