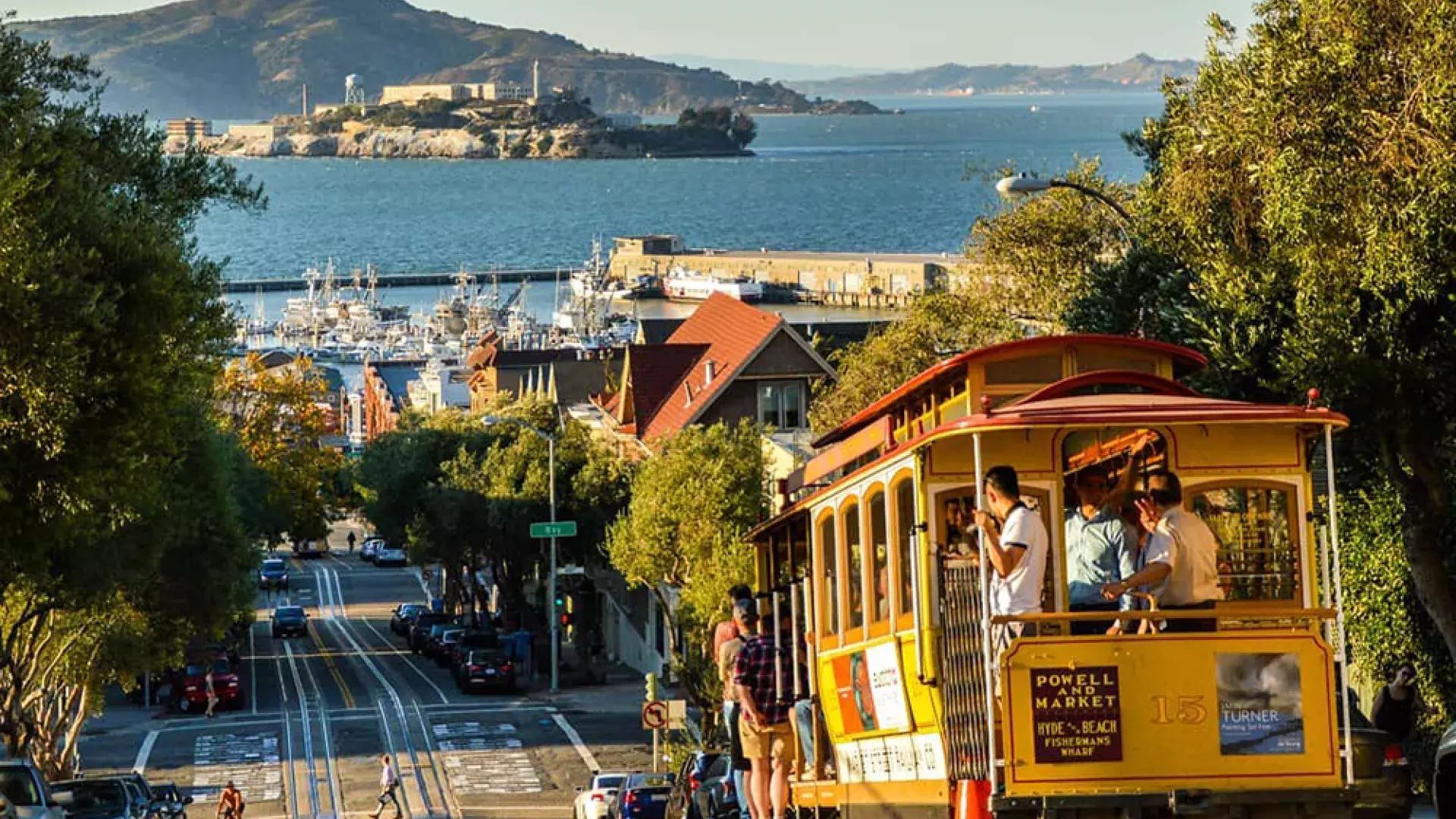 Best Neighborhood to Stay in San Francisco
Whether you're looking for a high-end hotel, a budget motel or even just hostels, there's a perfect San Francisco neighborhood for you.
San Francisco is well-known for its world-class dining and entertainment, innovative businesses and abundance of culture. It is also known for a number of diverse neighborhoods and a wide variety of hotel and lodging options that are well suited for everyone
San Francisco Neighborhood Guide
Before choosing a place to stay in San Francisco, the first step is to choose from one of its many diverse neighborhoods. While it is possible to walk, cab or take Muni and BART from one neighborhood to another, the ability to walk outside of your hotel room and be right where you want to be is valuable.
Here's the skinny on some of San Francisco's most notable neighborhoods:
Nob Hill
Nob Hill is one of the most upscale neighborhoods in San Francisco. If you're looking to stay in a classy neighborhood with excellent views right in the heart of the city, Nob Hill is the place to be.
There are several excellent luxury hotels in Nob Hill. One of the most popular is The Fairmont San Francisco. This legendary hotel features a full-service spa and the quality of rooms you'd expect from a top-tier hotel.
North Beach
North Beach is a strong option if you're looking for a more casual neighborhood. Within walking distance from Chinatown and the popular Fisherman's Wharf, North Beach offers a more relaxed atmosphere and a thriving "Little Italy."
If you're looking for an affordable place to stay with your children, Hotel Boheme is an affordable and charming retreat from the bustling daytime activities and vibrant nightlife in the North Beach area.
SoMa
The SoMa neighborhood is located South of Market (hence the name) and is arguably the cultural hub of San Francisco. Many of San Francisco's popular museums are located in SoMa, and the nightlife here -- from trendy restaurants to buzzing nightclubs -- is among the best in the city.
If you're looking for high-end accommodations with breathtaking views, St. Regis is among the top locations in an already competitive neighborhood.
The Mission
The Mission is the heart of San Francisco's Latino and Hispanic culture, with more restaurants and art venues than you can count. There are also excellent views of downtown San Francisco, particularly from the popular Dolores Park.
If you're looking for low-key bed and breakfast-style accommodations, Nineteen 06 Mission is an affordable and charming option.
Richmond
Richmond is the place to go if you want to escape the city center and enjoy gorgeous views of the iconic Golden Gate Bridge. After all, it only takes a quick walk or Muni ride to get right back into the hustle and bustle of downtown.
Presidio
The Presidio neighborhood, which includes the enormous park of the same name, offers panoramic views that combine the beauty of San Francisco with the natural beauty of the Marin Headlands and the Pacific Ocean. the Inn at the Presidio is historic and often appears on "top 10" lists. If you're fortunate to be staying near the Presidio, enjoy an afternoon or evening there.
Embarcadero
If you want waterfront views from your hotel room, the Embarcadero is the place to stay. Home to some of San Francisco's most popular traditions -- including summertime concerts in Justin Herman Plaza -- the Embarcadero is a cultural center for native San Franciscans.
To enjoy those views, the 1 Hotel San Francisco offers that and much more -- including spacious rooms and short walks to some of the best food and entertainment venues in San Francisco.
Fisherman's Wharf
One of San Francisco's most popular and iconic neighborhoods, Fisherman's Wharf is located along the northern waterfront and is home to a wide variety of shops, as well as the popular The Anchorage and PIER 39. For chocolate lovers, Ghirardelli Square is nearby as well.
If you're looking for affordable motels in the center of the Wharf, The Wharf Inn is a solid option. For those who want something a bit more upscale, Hotel Zephyr offers an elegant and trendy nautical theme.
Marina
If you're fortunate enough to stay in the Marina, do yourself a favor and visit the Palace of Fine Arts. Even if you walk the grounds, you'll be blown away by the beauty of this iconic landmark.
The Seaside Inn provides affordable lodging in the center of this district.
Union Square
Union Square is the central hub of San Francisco. From the public plaza that gave the neighborhood its name to the countless theaters, restaurants and shops radiating outwards, Union Square is the place to go if you want to quite literally be in the middle of it all.
There are dozens of hotels to choose from in Union Square; however, a couple of our favorites are Hotel Nikko and Hotel Zelos.
---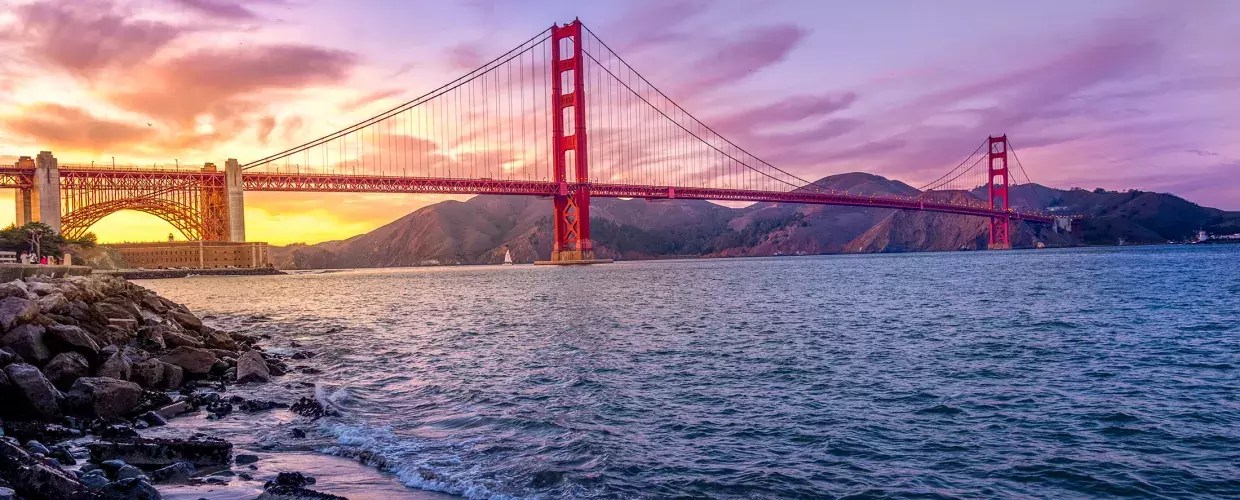 Stay Connected with SF
Sign Up for Our Newsletter
Be the first to know about upcoming events and festivals, new restaurants, special deals, and everything else happening in the City by the Bay.