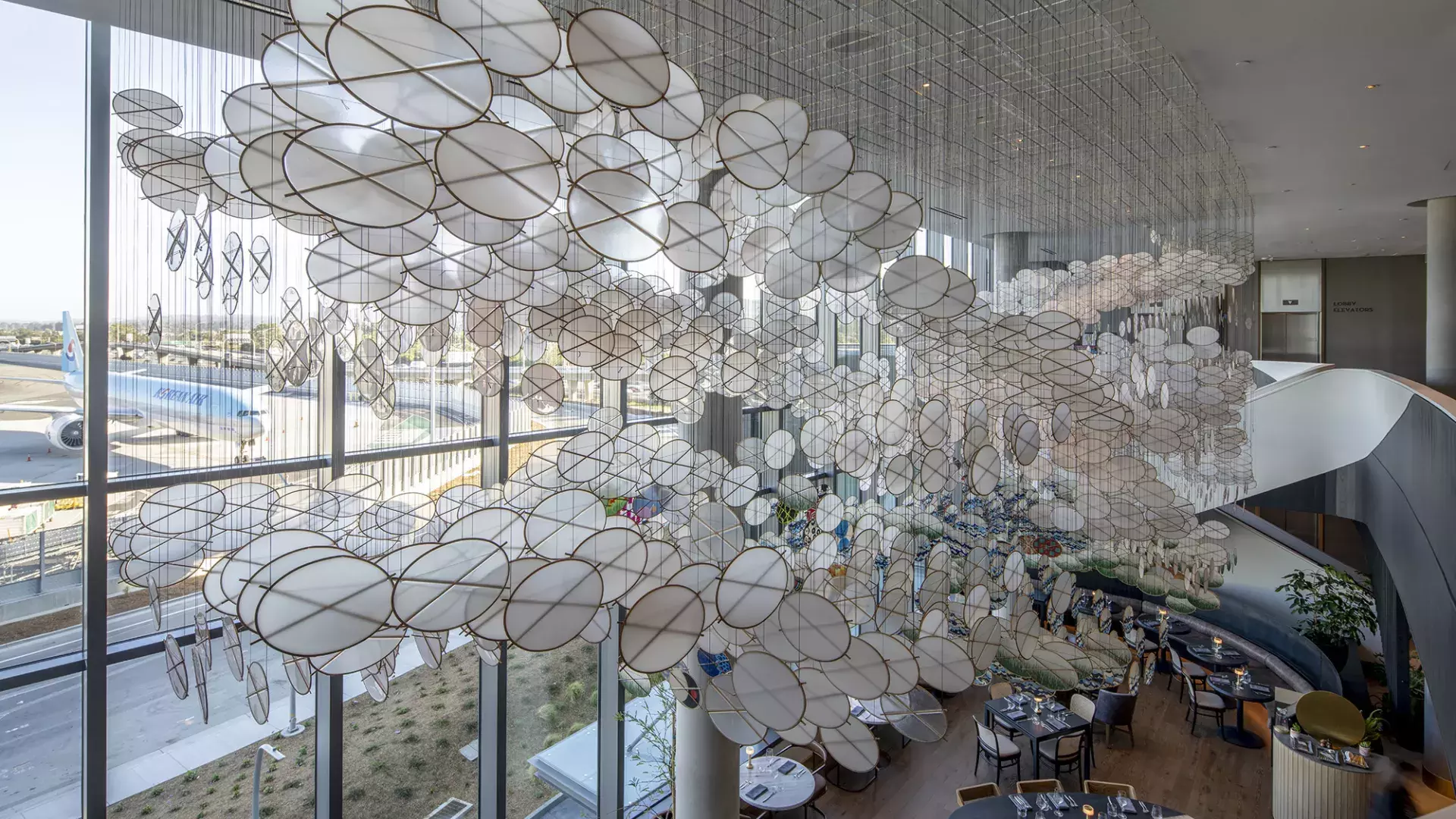 8 San Francisco Hotels Featuring Awesome Local Art
Explore art by some of the Bay Area's finest artists that's eclectic and a little sexy on your visit to these boutique and classic hotels.
Whether it's a quick tour, an overnight stay or an extended vacation venture, discover the hottest local artists, a renowned photo collection chronicling San Francisco's Beat Era, and the legendary rock and roll hotel, party hot-spot, and launching pad for world-renowned bands like the Red Hot Chili Peppers, Pearl Jam and The Killers.
LUMA Hotel
100 Channel St.
The new LUMA Hotel in the heart of Mission Bay boasts a local art hero's work which lights up not only the lobby but also everything nearby with a three-story illuminated installation. Artist Jim Campbell is the prolific artist who installed Day for Night atop the Salesforce Tower and created this striking installation that looks different from every angle and uses the reflection of the windows to amplify its movement. The figures within climb an infinite stretch of the waterfall, allowing Campbell to create delight out of physical struggle.
The Mosser Hotel
54 Fourth St.
Nestled between Union Square and The Moscone Center, this historic property fuses Victorian architecture with modern interior design. In partnership with the San Francisco nonprofit ArtSpan, the hotel exhibits a regular program of rotating local art exhibitions as part of the Art-in-Neighborhoods program. Local artists who are ArtSpan members are given the opportunity to display, promote and sell their artwork to Bay Area and visiting art lovers.
Phoenix Hotel
601 Eddy St.
With his purchase of a boarded-up building in the Tenderloin back in 1986, Chip Conley founded the Joie De Vivre hotel chain, and this long-neglected property rose to become the legendary Phoenix Hotel, a fancy pool-centered motor lodge and infamous rock 'n' roll crash pad with an underwater mural entitled My Fifteen Minutes/Tumbling Waves by Francis Forlenza.
While staying true to its rock 'n' roll roots, today visual art takes center stage. Don't miss the psychedelic-Zen, life-sized frog statue near the pool, or the 2013-commissioned mural by Bay Area wunderkind Zio Ziegler, tattooing the skin of the building with a colorful new sleeve.
The Phoenix regularly hosts a digital art gallery exhibit featuring local artists and artist meet-and-greets organized by San Francisco curators Daylighted.
Hotel Boheme 
444 Columbus Ave.
The best new place to crash in North Beach is Beat-inspired through and through. Hanging lampshades double as exquisite collages festooned with evocations of an era, including bits and pieces of old Blue Note Record album sleeves and paperback covers from City Lights poetry books.
Lining the hallways, 1950′s black and white photos by legendary photographer, filmmaker, and social activist Jerry Stoll recall Kerouac's smoky prose and double as windows on the city's old bohemian scene. Spend some time immersed in the largest permanent collection of his work and the evocative images that exquisitely capture what he called the "San Francisco Renaissance."
Axiom Hotel
28 Cyril Magnin St.
History meets the digital revolution at the foot of the Powell Street cable car turnaround. This chic new hotel is next to Hallidie Plaza, whose namesake Andrew Smith Hallidie invented the steel cables that powered the city's cable car system. Guests walk through a hidden tunnel of light to emerge into the lobby where inspired by the visual representation of the word "Axiom" and its strong angular typeface, the hotel's murals from local street artists 1AM, short for First Amendment, mimic the word's lines and angles by using a grid of triangles to form a geometric composition. There's much to explore in artworks that links the city's historical past with its current moment as a technological metropolis, including a visit to the "Hallidie Library," featuring books and curiosities that reference back to the famous San Franciscan.
Hotel Zeppelin
545 Post St.
Just steps from Union Square, this boutique hotel rebelliously celebrates the collision of the city's countercultural tradition with must-see artworks and a mischievous approach.
Guests are greeted in the lobby by a 7-foot sculpture of a woman with free-flowing hair, created by Brian Mock from 100% recycled materials, cutlery and tools. Grace Slick's custom portrait, painted on reclaimed wood by Antonio Mora, watches over the lobby and café lounge seating. A larger than life peace sign made from recycled license plates graces the game room, and lines from Allen Ginsburg's poem "HOWL" are scrawled on the ceiling in UV paint, spontaneously appearing and fading away.
Grand Hyatt San Francisco
345 Stockton St.
The iconic sculpture "Rainbow LOVE" by Bay Area-based conceptual artist Laura Kimpton was unveiled in June 2016, becoming the 11th piece of local art commissioned for Grand Hyatt San Francisco. This site-specific piece is the highlight of a new public courtyard bordering the Union Square hotel, where it is joined by the Ruth Asawa Fountain, a historic bronze sculpture of whimsical images referencing San Francisco's storied past.
Inside, seven large-scale paintings by local artists include mirroring oil and acrylic assemblages by David Choong Lee called "Village Of The Wind 1" and "Village Of The Wind 2." In the OneUp Lounge is "Quintessence" by Damon Soule, and facing this piece is Mario Martinez's "The Natural Order Of All Things Chaotic And Random." An 11- by 13-foot acrylic and collage on wood "Ficus" by Reuben Rude holds court on its own in the OneUp restaurant. The 36th Floor is home to "Where Dreams Are Born" by Erik Otto and "What Dreams Are Made Of" by Ursula Xanthe Young.
---