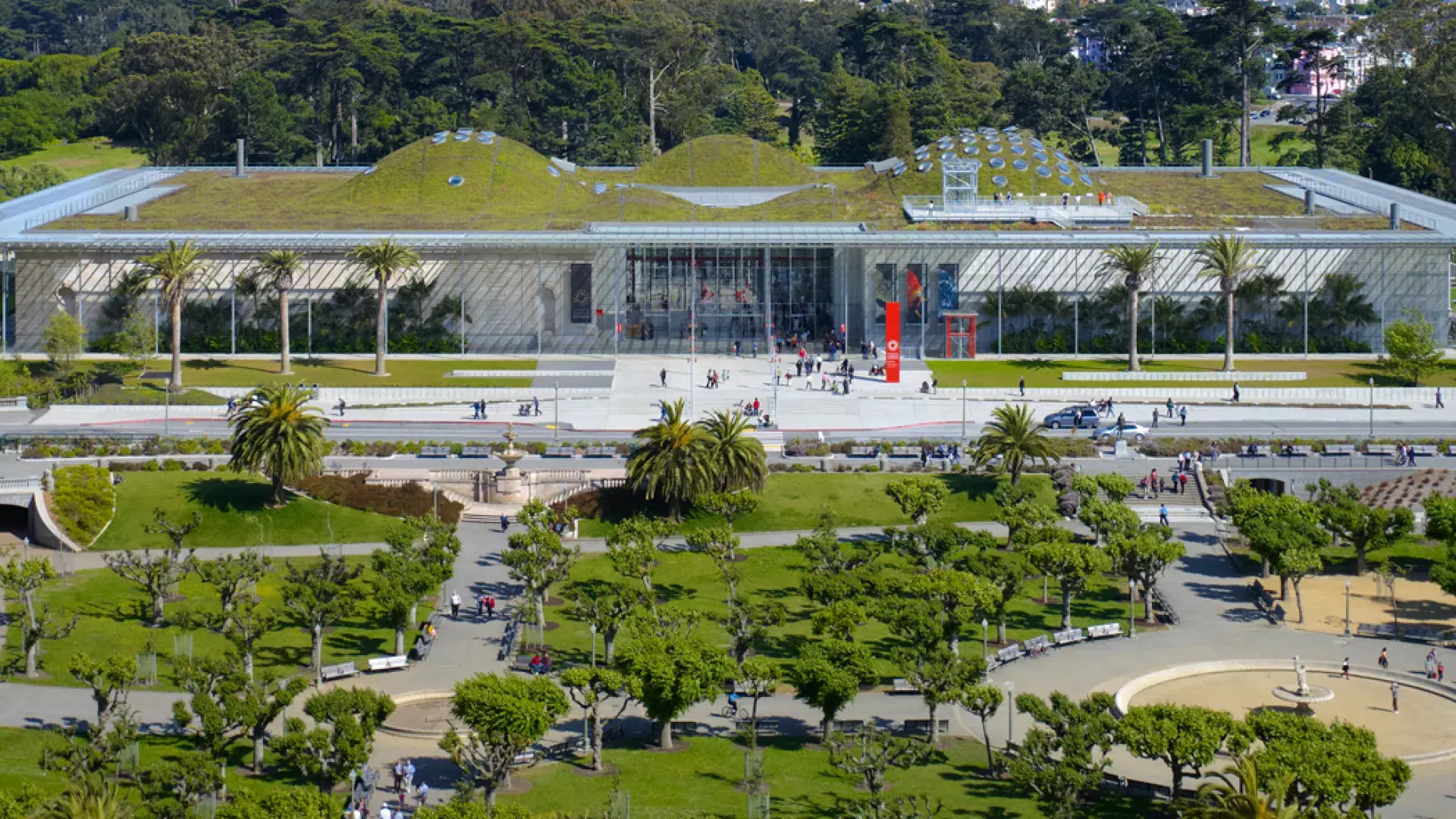 Your Guide to Visiting the California Academy of Sciences
See an aquarium, planetarium, rainforest, and natural history museum all at San Francisco's California Academy of Sciences.
Located in the heart of San Francisco's Golden Gate Park, the California Academy of Sciences offers life-changing experiences with world-changing science. The museum contains an aquarium, planetarium, rainforest, and natural history museum, making it a one-stop shop for exploring your world when you come to San Francisco.
Exhibits & Galleries
Steinhart Aquarium
The Steinhart Aquarium houses nearly 40,000 live animals representing more than 900 unique species, making it one of the most biologically diverse and interactive aquariums on Earth. Observe a Philippine Coral Reef, a colony of endangered African penguins, flashlight fish, coconut octopuses, and more! In addition to providing an unprecedented view of many marine habitats, visitors can also learn about our local ecosystems and sustainability solutions through various enrichment programs. 
Morrison Planetarium
The Morrison Planetarium is your passport to the universe. Inside this 75-foot dome that mimics the tilt of planet Earth, discover all of the latest findings, theories of the universe and beautiful visualizations of the galaxies beyond our world. Planetarium show passes are included in the price of admission. See the Academy's Daily Calendar for exact shows and showtimes. 
Kimball Natural History Museum
The Kimball Natural History Museum takes a look at the past, present, and future of life on earth with fascinating hands-on exhibits and thousands of specimens on view. Compare ancient fossils of wild animals, learn about color's powerful influence on animal behavior, and marvel at the 87-foot-long blue whale skeleton suspended from the ceiling or the towering T. rex fossil in the Academy's Main Lobby. 
Osher Rainforest
Step inside the Osher Rainforest and discover more than 1,600 live plants and animals that are all housed within this spectacular 90-foot glass dome. The Osher Rainforest is the largest of its kind in the world. This four-story rainforest mimics the habitat of the Amazon and is teeming with animals such as Amazonian tree boas, Amazonian fish, and more than 200 free-flying birds. Look closely to spot chameleons, dozens of tropical flora, and watch the life cycle of tropical butterflies unfold before your eyes.
Special Events
Penguins + Pajamas Sleepover
Have you ever imagined sleeping beside an albino alligator or a colorful coral reef? Penguins+Pajamas is the perfect way to experience just that. This program is an overnight Academy adventure, perfect for families with children between the ages of five and 17. A night at the museum Sleepovers includes an overnight stay in an exhibit area, live animal presentations, private planetarium showings, late access to Osher Rainforest, next-day admission to the Academy, and much more. 
Thursday NightLife
Thursday NightLife is an after-hours event for adults 21+, where visitors are in for a fun night of drinks, music, and science. Thursday NightLife (every Thursday night, 6-10 p.m.), has a new theme every week, so you'll have plenty of opportunities to dive into a variety of scientific topics and thought-provoking experiments. Prices may vary. 
The Academy Café
The Academy Café offers an array of options to choose from during your visit. The menu features local, sustainable, and seasonal ingredients in dishes ranging from sandwiches to pizza, and salads to sushi. The Academy Cafe is open Mon.–Sun., from 9:30 a.m. to 5 p.m.; Sundays from 10 a.m. to 5 p.m.; and Thursdays from 6 to 10 p.m. during NightLife. 
Academy Store
The best way to conclude your visit to the Academy is to stop by the museum's gift shop. Take home exhibition-specific souvenirs or San Francisco-themed gifts like accent pillows featuring the San Francisco skyline and Claude (the Academy's albino alligator), fog mugs, Academy t-shirts, and much more. Your purchase supports scientific and educational endeavors at The California Academy of Sciences. 
Academy Fast Facts
Location and Hours
55 Music Concourse Dr.
San Francisco, CA 94118
Mon.–Sat.: 9:30 a.m.–5 p.m.
Sun.: 11 a.m.– 5 p.m. 
Thursday NightLife (21+): 6–10 p.m.
Public Transportation
Muni serves the Academy via a number of convenient bus and metro lines. Take public transit and save $3 on daytime admission.
Parking
The Music Concourse Garage is an underground parking facility located steps away from the Academy's main entrance. On weekends and holidays, the garage fills up early, so public transit may be your best option. There are 15 wheelchair spaces near the elevator.
Wed.–Fri.: 7 a.m.–7 p.m.
Thu.: 7 a.m.–11 p.m. 
---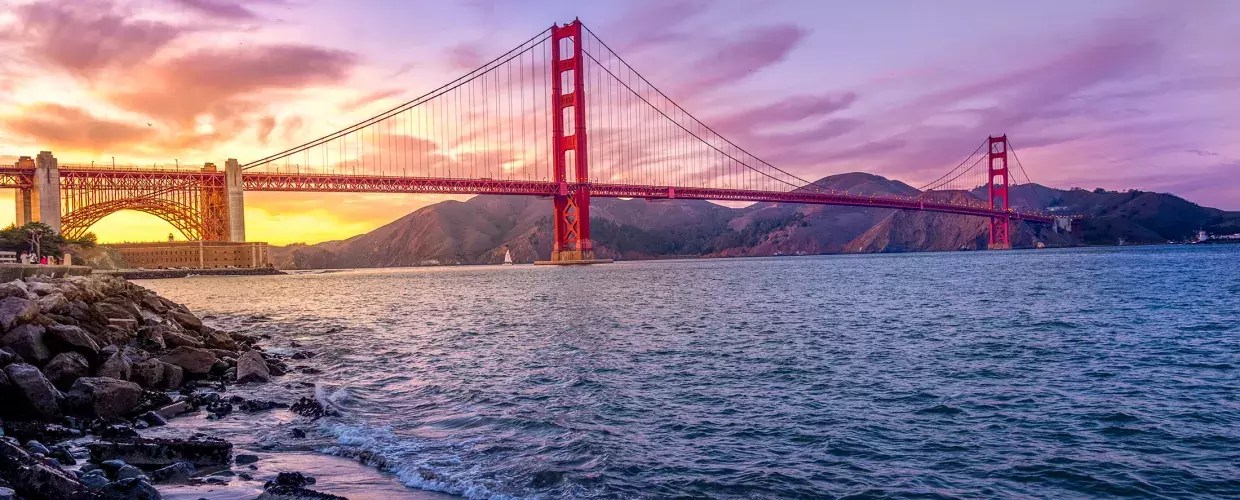 Stay Connected with SF
Sign Up for Our Newsletter
Be the first to know about upcoming events and festivals, new restaurants, special deals, and everything else happening in the City by the Bay.