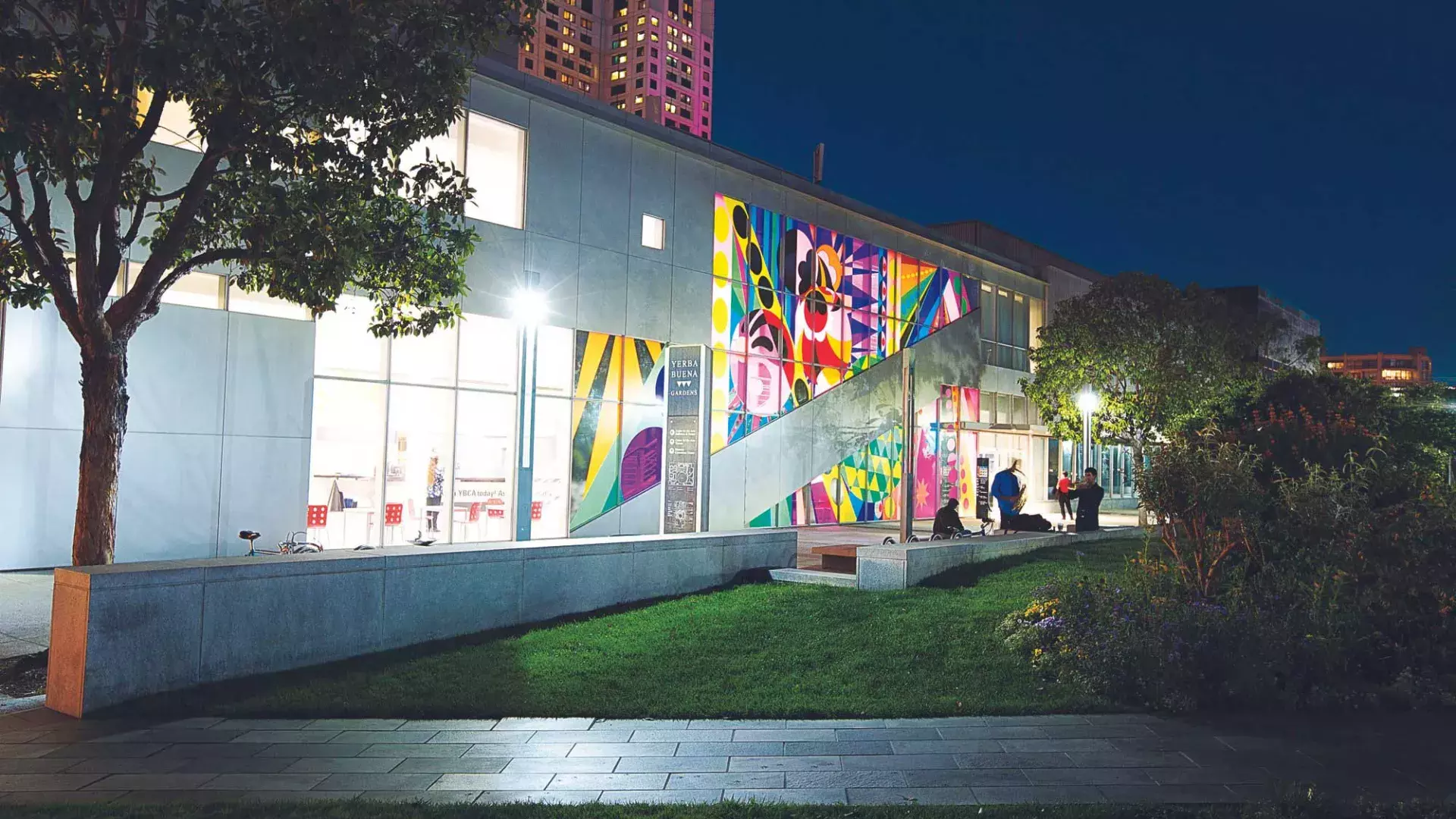 8 Must-Sees In The Yerba Buena Neighborhood Cultural District
Explore one of the most densely packed arts districts on the West Coast.
The neighborhood is enjoying a new wave of economic and cultural vibrancy. While you're there, don't miss the opportunity to check out some of SFMOMA's most well-respected art neighbors, many of whom partnered with the museum on its ambitious "SFMOMA On the Go," off-site programming initiative during construction on the new building and still maintain close ties.
Yerba Buena Center for the Arts 701 Mission St.
A favorite of the local vanguard, this multidisciplinary hub offers adventurous visual arts, performing arts and film programs with a youthful, global-minded outlook. 
Museum of the African Diaspora
685 Mission St.
Art and stories of African-descendant cultures worldwide are the MO of this unique museum, among the few in the world dedicated to documenting the African diaspora.
Contemporary Jewish Museum 
736 Mission St.
Consistently great exhibitions that explore contemporary views on Jewish culture, history and art make this small but formidable museum a popular stop on the art circuit.
Children's Creativity Museum  221 Fourth St.
For little art lovers, hands-on art and technology exhibits designed to nurture creativity and collaboration are here to explore.
California Historical Society 
678 Mission St.
Original exhibitions that draw on the organization's vast archive of manuscripts and fine art illuminate the Golden State's social, political and cultural heritage.
Crown Point Press
20 Hawthorne St.
A respected print publisher specializing in etchings, this light-filled gallery and workshop shows works on paper by contemporary masters like Robert Bechtle, Kiki Smith and Wayne Thiebaud.
Yerba Buena Garden Festival  Mission Street between Third and Fourth Streets
Held from May 1 through October 30 in the beautiful, grassy park at the heart of the neighborhood, this annual outdoor arts festival offers some 75 free music, dance and theater performances.
SFMOMA 151 Third St.
The San Francisco Museum of Modern Art is one of the largest museums of modern and contemporary art in the United States and a thriving cultural center for the Bay Area. Our remarkable collection of painting, sculpture, photography, architecture, design and media arts is housed in a LEED Gold-certified building designed by the global architects Snøhetta and Mario Botta. In addition to our seven gallery floors, SFMOMA offers 45,000 square feet of free, art-filled public space open to all.
Buy Tickets
---