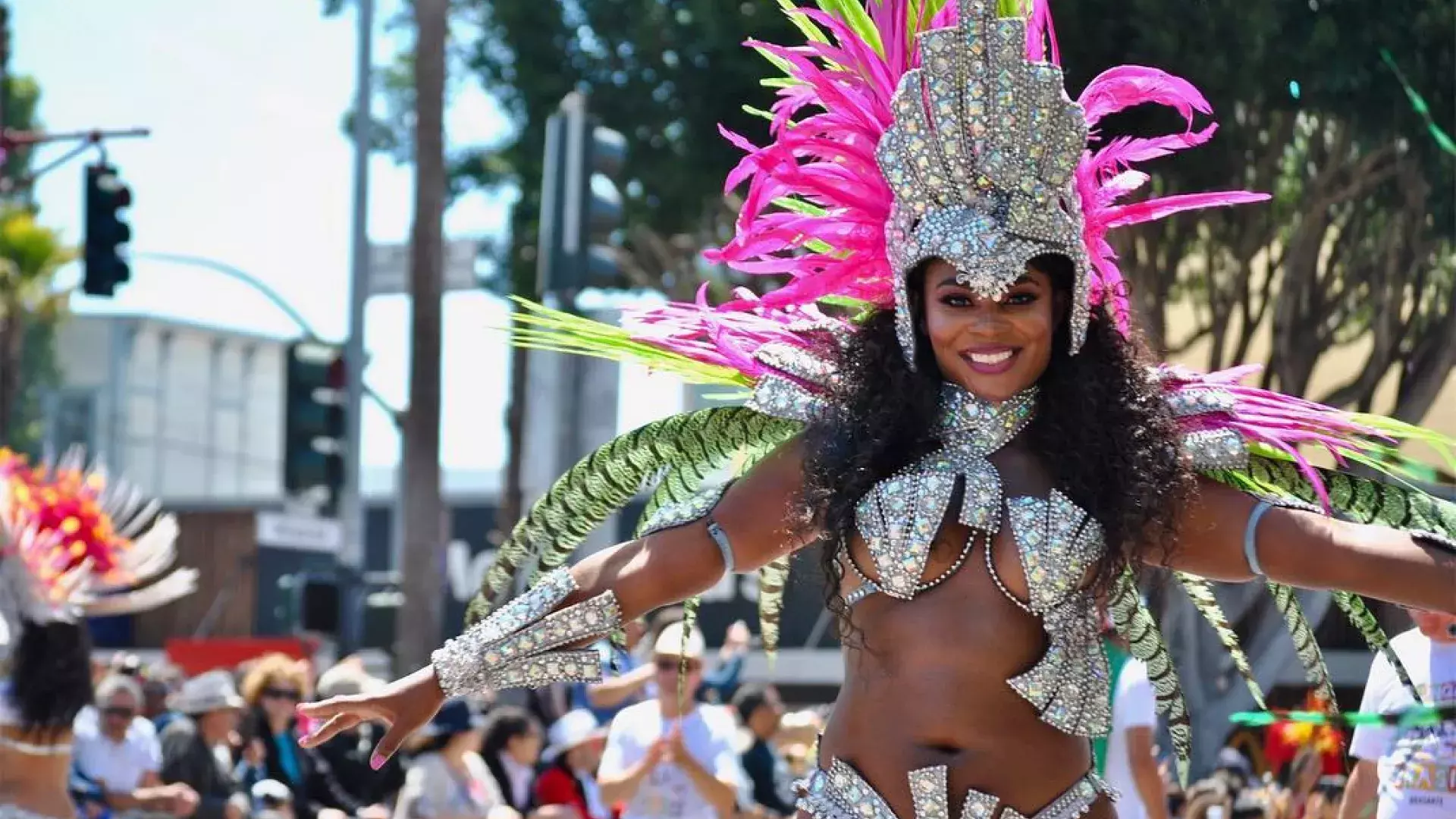 How San Francisco

Became A City of Dance

From the stage to the club to the streets, San Francisco's dance scene is one of the best year-round.
San Francisco has always been a city that dances to its own beat. From the oldest professional ballet company in the U.S. to some of the most celebrated contemporary choreographers and dance festivals in the world, our dance card is full—and the citizens of San Francisco wouldn't have it any other way.
What's more, San Francisco's spirit of artistic exploration and cultural inclusivity has made the city a beacon for a diverse range of performers and movement-based art forms that hail from every corner of the globe.
Whether you want to take in a professional performance, learn some new moves at a festival, or dance the night away at the hottest clubs in town, here's our guide to dance in San Francisco.
Where Movement Meets Movements
More than an art form, dance is deeply entwined with San Francisco's political and social history. From the hippies who danced their way through the Summer of Love to our legendary gay club scene, self-expression through dance has been a constant in changing times.
San Francisco is also a place of rebels and pioneers. One of the most important dancers of the 20th century, Isadora Duncan, was born in San Francisco and honed her craft here. You can even visit Isadora Duncan Lane, located behind the dancer's childhood home in Central Market. Beginning in the early 1930s, the San Francisco Ballet set the standard for classical ballet in America. By the 1970s, experimental dance companies began forming on the fringes of the mainstream dance scene, with visionaries like Margaret Jenkins and Brenda Way pushing the form to daring new heights. Contemporary dance companies continue to use dance to investigate the most important issues of our day, and a wave of open-minded repertories are giving a voice to performers of every age, race, gender, body type, and ability.
Dance Forms and Festivals in San Francisco
From classical ballet to cutting-edge hip hop to ancient Indian kathak, there is truly no limit to the styles of dance you can discover on a visit to San Francisco. Here are some of the diverse dance companies and festivals you can experience in the City by the Bay.
Alonzo King LINES Ballet
Founded by virtuoso dancer and choreographer Alonzo King in 1982, the Alonzo King LINES Ballet blends classical techniques with new forms of movement and storytelling, often collaborating with poets, artists and musicians to create adventurous soundscapes and striking visual poetry. Performances, classes and workshops take place throughout the year, and the company frequently tours nationally and internationally. The LINES Ballet Company recently celebrated their 40th year of performances at the Blue Shield Theater at Yerba Buena Center for the Arts.
San Francisco Ballet
Founded in 1933, the San Francisco Ballet is the oldest and one of the most prestigious classical ballet companies in the U.S. From the start, the ballet's home has been the War Memorial Opera House, an opulent Beaux-Arts building in the Civic Center/Hayes Valley neighborhood. Many legendary ballet masters have led the company through the years, including former artistic director Helgi Tómasson, a former protégé of George Balanchine. In addition to familiar favorites like "Swan Lake" and "Don Quixote," the company's repertory season (which runs winter through spring) also includes contemporary and experimental ballets, all accompanied by its own orchestra and led by Artistic Director Tamara Rojo.
Smuin Contemporary Ballet
You can see everything from sultry works set to the music of soul queen Etta James to "The Christmas Ballet," an off-kilter take on "The Nutcracker," at Smuin Contemporary Ballet. Formed in 1994 by the late Michael Smuin, a former artistic director of the San Francisco Ballet, this acclaimed company performs its boundary-pushing contemporary works to sold-out audiences around the Bay Area.
Postmodern & Avant Garde
The tendency to blaze new trails is alive and well in the city's vibrant contemporary dance scene.
AXIS Dance Company
Featuring an amazing and inspiring mix of dancers with and without disabilities (including some in wheelchairs), AXIS Dance Company aims to prove that anyone is capable of doing just about anything in pursuit of self-expression. Founded in 1987 by artistic director Thais Mazur to make dance more accessible and inclusive for all, AXIS also hosts workshops and dance classes that are open to the community.
Margaret Jenkins Dance Company
Margaret Jenkins Dance Company is one of the pillars of the San Francisco postmodern dance movement. Her intimate company, founded in 1973, shatters norms of movement and staging, incorporating everything from conceptual lighting design to immersive seating. So influential is Jenkins, a former member of Twyla Tharp's original dance company in New York City, that April 24 was declared Margaret Jenkins Day in San Francisco back in 2003.
ODC Dance Commons
In true San Francisco fashion, choreographer Brenda Way brought her fledgling dance company from Oberlin College in Ohio to San Francisco on a yellow school bus in 1976. Since then, ODC/Dance has been at the leading edge of postmodern dance in the city and beyond, collaborating with artists from different mediums to create interdisciplinary works that are thought-provoking, stirring, and unlike anything you've ever seen.
Robert Moses' Kin
One of the most exciting contemporary dance companies to emerge from San Francisco in decades, Robert Moses' Kin uses eclectic movements and a unique blend of dance styles to explore issues of race, class, and gender. Notable works from the prolific group include "Bootstrap Tales" and "Biography," an interpretation of the life of author James Baldwin.
There are so many more boundary-breaking dance companies to check out in San Francisco, including Joe Goode Performance Group, PUSH Dance Company, and Deborah Slater Dance Theater, a multimedia dance company that celebrates the "art of human motion" through inventive, acrobatic dance.
LGBTQ
San Francisco has long been known as America's capital of LGBTQ culture, and our dance scene is no exception.
Sean Dorsey Dance
Recognized as one of the first openly transgender choreographers in the U.S., Sean Dorsey brings a wholly original perspective to the city's dance scene with Sean Dorsey Dance. Powerful yet vulnerable, Dorsey's works focus on issues of masculinity and gender identity. Dorsey is also a founder of Fresh Meat Productions, an incubator for multidisciplinary transgender arts programs.
STEAMROLLER Dance Company
You'll want to experience the raw performances by STEAMROLLER Dance Company presenting queer dance works confronting HIV/AIDS among marginalized communities.
Dance Festivals & Events
Throughout the year, numerous festivals and events showcase San Francisco's brightest dance stars and invite the public to get on their feet.
Bay Area Dance Week
Each spring, the local dance community invites the entire Bay Area to get up and dance at locations across the region. You can learn everything from Greek dance to hip-hop to Argentine tango to belly dancing, all free of charge.
Carnaval San Francisco
You'll literally be dancing in the street alongside thousands of energetic performers at Carnaval, the largest multicultural celebration of its kind on the West Coast. Dance is a centerpiece of the festival. You'll see local contingents from Cuba, Brazil and many other Latin countries shaking a tail feather—thousands of them, actually—in their gloriously plumed costumes.
Chinese New Year Festival & Parade
San Francisco's rich Chinese heritage is celebrated each February at the annual Chinese New Year Festival & Parade, where you can see lion dancers, colorful dragon performers, and local companies performing traditional Chinese folk dances.
San Francisco Ethnic Dance Festival
The incredible cultural diversity of the Bay Area is on display at the San Francisco Ethnic Dance Festival, one of the largest events of its kind. You can see a mind-boggling array of dance forms over two weekends, like the graceful, sensual Lily Cai Chinese Dance Company, the fiery Theatre Flamenco, and the Chitresh Das Institute, which preserves Indian classical arts such as kathak dance.
San Francisco International Hip-Hop DanceFest
Founded in 1999, SFIHHDF gathers the most mind-blowing solo performers and crews from around the Bay Area and as far away as New York and Paris for one explosive weekend of dance at the Palace of Fine Arts.
Get Out and Dance
Now it's your turn. If you've got the music in you, here are some of the great places to shake your groove thing around San Francisco.
The SoMa Scene
While opportunities to dance abound in San Francisco, the SoMa neighborhood is the pulsing center of the city's club scene.
Audio (316 11th St.)
Audio boasts a 54,000-watt Funktion One 3D surround system – the only one in the world – plus a spring-loaded dance floor to create the ultimate experience in sound and dance.
Cat Club SF (1190 Folsom St.)
This is the place to mix it up, from 80's underground music to hip hop to theme nights. With two dance floors, the Cat Club is the place to let go and dance—plus there is an early bird cover charge discount most nights. 
DNA Lounge (375 11th St.)
Just a few steps away from Audio, DNA Lounge is consistently voted the Best Dance Club in San Francisco. With four dance floors bumping everything from '90s hip-hop to trance, it's easy to see why.
F8 Nightclub & Bar (1192 Folsom St.)
An electrifying club, F8 Nightclub is like a dance family, an inclusive place for all, expressly the QTBIPOC community. All genres of music are played with world class DJs on Wednesdays, a poppin' dance floor, and raging music til 2 a.m.
Monarch (101 6th St.)
Make your way to Monarch for some dance therapy, a two-level club with a great sound system that will make you feel right at home. Start with a craft cocktail in the posh Victorian steampunk lounge then really get down in the basement dance club, home to one of the loudest, sweatiest dance parties in the city.
Oasis (298 11th St.)
Located in a former bathhouse, Oasis is a popular gay club that hosts a diverse lineup of musicians, DJs and cabaret acts. It may be best known for Mother, a club-within-a-club that showcases some of the most acclaimed drag performers in the world.
Retro & Historic Dance Clubs
More comfortable twisting than twerking? Lucky for you, there are plenty of places to trip the light fantastic, retro-style, in San Francisco.
Bimbo's 365 Club (1025 Columbus Ave.)
With its red velvet drapes, glittering chandeliers and checkerboard floors, Bimbo's feels like waltzing into the past. This classic North Beach supper club has hosted the likes of Louis Prima and Marvin Gaye over the years. If you're looking to dance, don't miss Tainted Love, a super popular 1980s throwback band that plays here often.
Deco Dance (1160 Polk St.)
Both nostalgic and elegant, Deco Dance is a stylish club for dancing in Art Deco style. Break out your pearls for a visit to this "Great Gatsby"-styled venue located in Lower Nob Hill with swing dancing, oldies, and more. Creative and reasonably priced cocktails—try the Fitzgerald with gin, lavender syrup, and flowers—are the perfect accessory.
Tonga Room & Hurricane Bar (950 Mason St.)
The Tonga Room & Hurricane Bar isn't just one of the most famous tiki bars in the world for its beverages. Catch high-energy music by The Island Groove nightly for dancing in an island setting. $15 cover charge.
Best of the Rest
Of course, that's just a taste of San Francisco's large and varied club scene. You can find scores of iconic gay clubs throughout the city, like The Café in the Castro and Club OMG in SoMA. See top touring DJs at clubs like swanky Temple SF, or go Latin at spots Dance Fridays & Saturdays, located between Bernal Heights and the Bayview, where you can practice your bachata and salsa moves on a large dance floor.
---