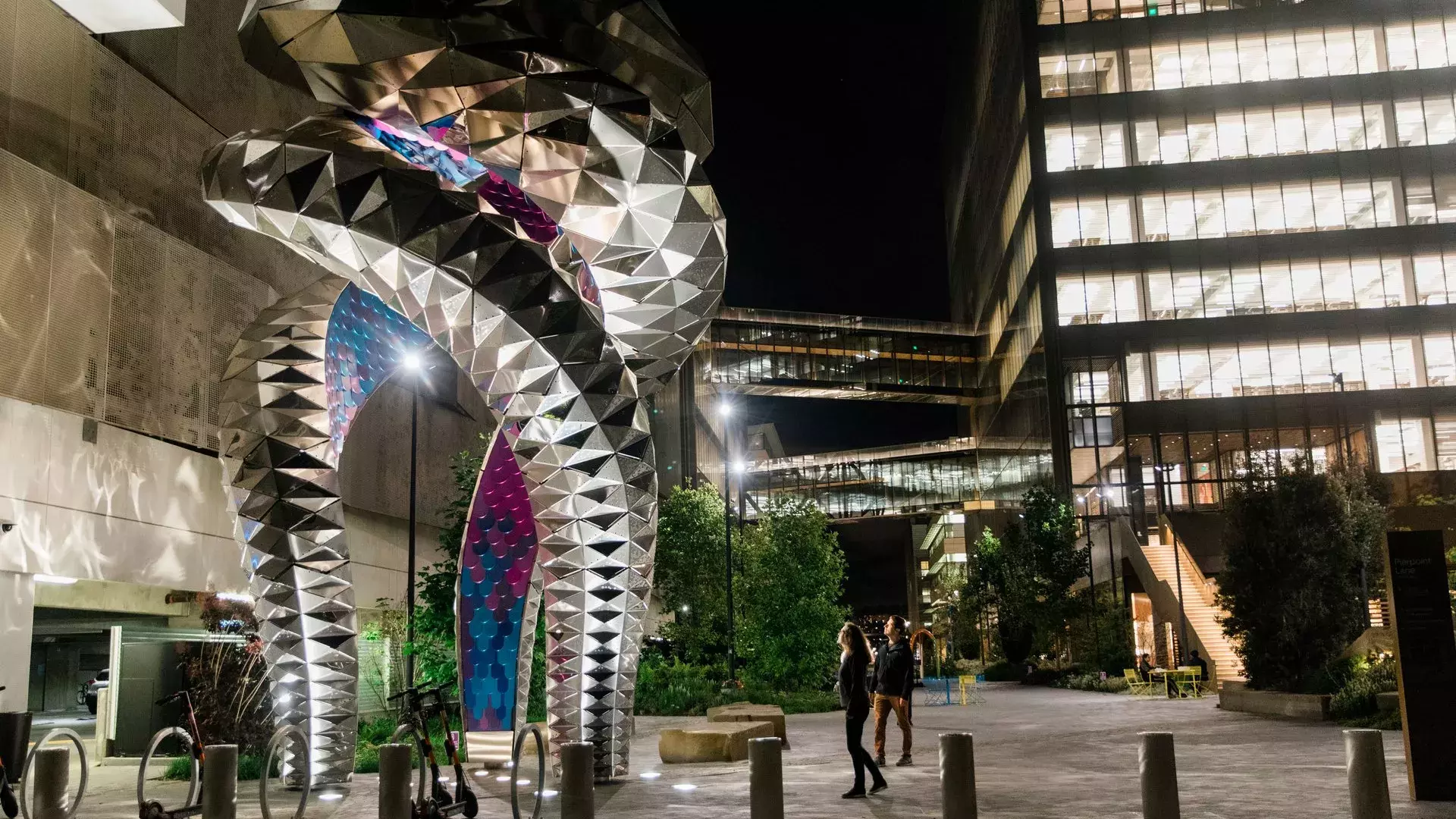 Art, Science, and Healing Entertwined
Public Art at San Francisco Hospitals
While the idea of art as medicine dates back to antiquity, San Francisco's newest medical campuses and hospital buildings are taking the art of healing to new heights with a wealth of installations, illuminated sculptures, murals and major works of art. And the public is invited.  
While many of the works are in public plazas, outdoor areas and main lobbies, others are located within busy working hospital facilities to enhance the therapeutic environment. Navigating these publicly accessible areas requires an awareness of what you want to see, and a plan to access the locations. Some campuses provide downloadable maps, artwork and artist information; others ask visitors to first get a visitor badge from each building's security desk.
Kaiser Permanente Mission Bay
San Francisco's newest medical facility is an illuminated multi-story column of "Kaiser Blue" light that glows nightly. The monumental stainless steel and LED sculpture "Monarch" by Cliff Garten can be experienced in the park adjacent to the building at 1600 Owens St. During the day, sunlight emanates through the piece, enlivening individual butterflies; at night, programmable LEDs spotlight the gathering of Monarchs with multicolored luminescence. The piece was chosen by a team of local Kaiser Permanente staff with guidance from art advisor Chandra Cerrito. It envisions the Monarch butterfly and its migration habits as a metaphor for how individuals become stronger by gathering together in communities. This massing of Monarch butterflies forms a completely new image – the sculpture as a vision of the city's neighborhoods, which Kaiser Permanente serves.
UCSF Mission Bay
The public art collection at UCSF Mission Bay is named in honor of Nobel Laureate and Emeritus UCSF Chancellor J. Michael Bishop, MD, who collaborated with Neal Benezra, director of the San Francisco Museum of Modern Art (SFMOMA) and a UCSF Art Advisory Board to amass a wealth of cutting-edge contemporary works equal to the scientific innovations of the campus. Dr. Bishop set aside one percent of campus building costs — a considerable sum in view of its scale — for world-class art (the state institution is exempt from the city's percent-for-art requirement for new construction). One of the foremost artists of his time, San Francisco native Richard Serra created the monolithic sculpture "Ballast," two 80-ton rectangular steel plates in the campus east plaza. In the main entry to Byers Hall, "Hammering Man at 2,908,440" by Jonathan Borofsky is on loan from SFMOMA. Numerous Bay Area artists, including Mark Citret, Rosana Castrillo Diaz, Kota Ezawa, Vincent Fecteau and Paul Kos have works in publicly accessible interior spaces. Visitors must check in with building security in order to gain access to Genentech, Byers (QB3) and Rock Halls, the Helen Diller Family Cancer Research Building and Mission Bay Housing. 
UCSF Medical Center at Mission Bay
Beautiful objects and brilliancy of color, wrote Florence Nightingale in "Notes on Nursing," are an actual means of recovery. Scientific studies now support the healing power of art, and so the aim of UCSF Medical Center, says Cindy Lima, executive director of UCSF Mission Bay Hospitals Project, "is for art to be integrated into the fabric of our new facilities in a way that reinforces the healing environment that we were creating." Curated with guidance from art advisor Lynne Baer, the collection includes Barry McGee's site-specific mosaic-tile mural for an entrance lobby on Third Street that can be seen from the T-Third Muni Metro train platform. Clare Rojas designed the public amphitheater exterior with a mosaic of vivid, geometric shapes featuring hummingbirds. Spencer Finch created colored florescent tube lamp sculptures for the entrance to the adult hospital, representing stars in the constellation Ophiucus, named after the Greek god of healing and medicine. Shinique Smith held poetry workshops with UCSF pediatric patients and interpreted their inspiring words into "Fields of Joy," an expansive wall mural in a first-floor corridor. The entrance to the new UCSF Benioff Children's Hospital San Francisco, designed by Jessica Stockholder, introduces visitors to bold shapes and colorful light as they walk in, and at night, the lighting transforms the lobby into a wonderland, when viewed from outside.
Much of the public art that has become a UCSF hallmark over the years can be found on the Parnassus campus, including sculptures by Beniamino Bufano, Robert Arneson, Nathan Oliveira and light artist Jim Campbell, murals by Douglas Cooper and Juana Alicia, and a stunning installation by Sarah Sze that cascades down the three-story front window of the Kalmanovitz Library. The locations where most of the artworks are installed are the library, which has nine, and Saunders Court with six, a somewhat hard-to-find green space next to the School of Nursing and Clinical Sciences buildings. This eclectic group of purchased, commissioned, and donated artworks by internationally known and emerging artists dates from the 1930s to the present, and is curated by the Chancellor's Committee on Art, Honors, and Recognition with guidance from art advisor Lynne Baer. 
Zuckerberg San Francisco General Hospital
The Priscilla Chan and Mark Zuckerberg San Francisco General Hospital and Trauma Center features 14 public art installations and more than 200 framed works. Two light sculptures are among the impressive collection. "Ethereal Bodies 8," by Cliff Garten, is a group of eight slender and diaphanous illuminated sculptures within a planted earthwork on the 23rd Street entry drive median. For "Archipelago," Anna Valentina Murch designed the entire plaza between the new hospital and Building 5 with sculptural seating and lighting, planters and olive trees, to be like islands set in a meandering river. While being a local artist is not a criteria or directive of the San Francisco Arts Commission when accepting proposals for public works of art, when the final decisions were made by the Arts Commission based on the quality of the artists' vision and work, a number of commissions went to Bay Area artists—and in the case of artists Anna Valentina Murch and Paul Kos, who live close by, and Rupert Garcia, who started his career in the Mission, it's hyper-local. To see the works that are currently accessible and get a sneak peek at more, download the portfolio.
The San Francisco Arts Commission is the City agency that champions the arts as essential to daily life by investing in a vibrant arts community, enlivening the urban environment and shaping innovative cultural policy.
---