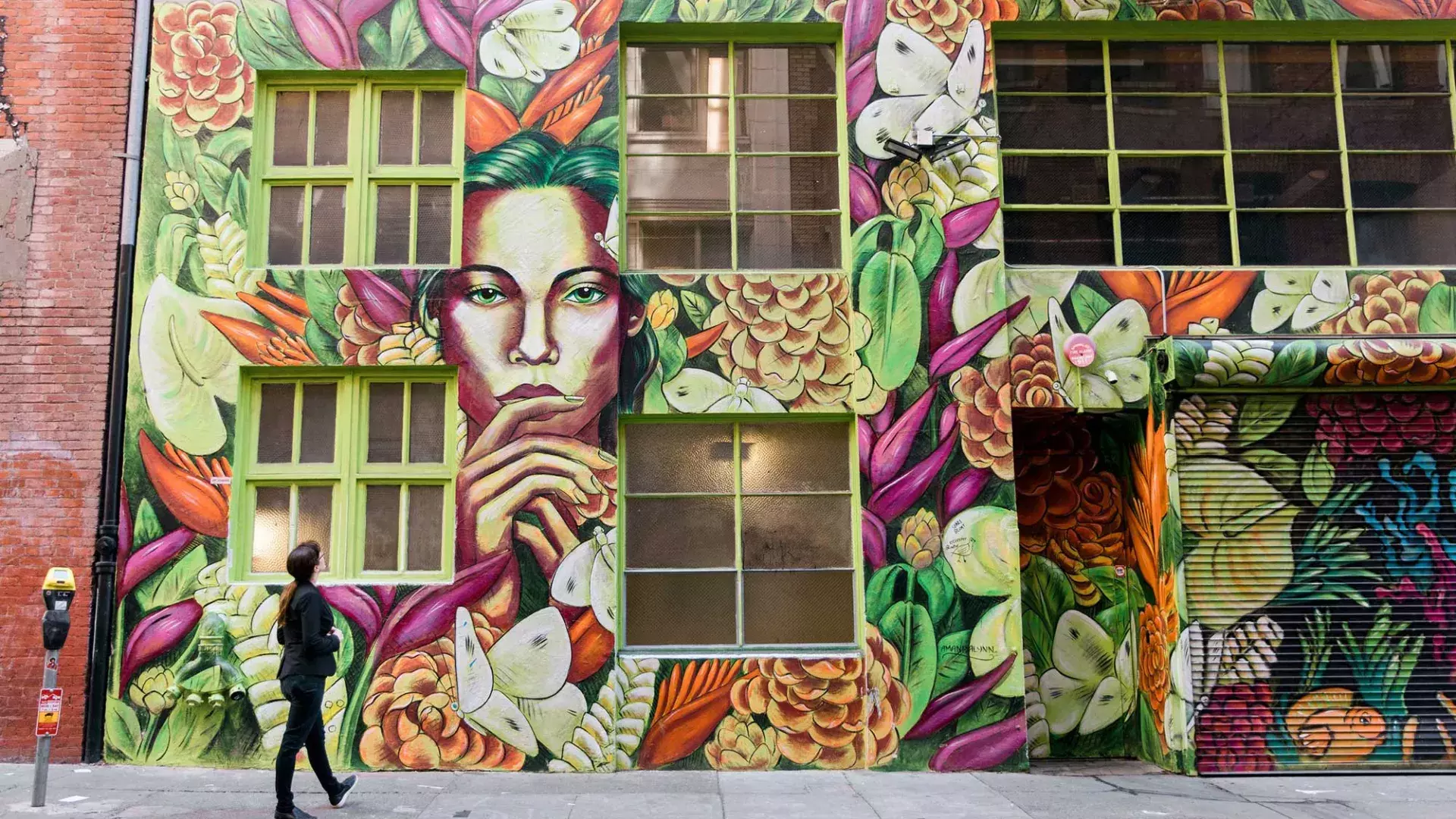 10 Cannabis-Infused Arts Experiences in San Francisco
Elevate your experience and get cultured at San Francisco galleries, museums, and public art collections.
San Francisco is a haven for out-of-the-box thinkers and innovative minds. The city is known for showcasing a wide array of artistic expression, often pushing the boundaries of creativity. Today, appreciating art in a cannabis-enhanced state offers a new and fun twist on the San Francisco arts scene.
Scientifically speaking, cannabis and art do complement one another. Research shows that cannabis can increase cerebral blood flow, which helps neurons receive and interpret information in a more uninhibited way. Cannabis amplifies shapes, colors, and textures, often unlocking a sense of awe and wonder. Simply put: when an art experience is elevated by cannabis, it can be more profound. 
Lucky for you, San Francisco is a cannabis-friendly, art-rich playground that awakens and invigorates the senses. Here are ten stand-out cannabis-infused art experiences to consider as part of your San Francisco adventure.
Audium 1616 Bush St.
Audium is a transportive audio experience that explores the sensory intersection of sound and space design. Originally known as the "theater of sound", Audium has been innovating spatial sound since 1967. An experience well-suited for an enhanced cannabis perspective, Audium is a small 49-seat venue of complete darkness. Listeners are bathed in meticulously crafted "sound sculptures" amplified through 176 speakers. The experience has been described as "surreal", leaving a theater-goer feeling "excitable" and "outside of oneself".
Exploratorium After Dark Pier 15
With more than 600 interactive art and science exhibits, Exploratorium After Dark is the perfect cannabis-complementary experience to add to your itinerary. Visitors are invited to explore, interact, and get inquisitive against a backdrop of relaxing ambient sounds being spun by a local DJ. An adults-only event, Exploratorium After Dark happens every Thursday night between 6 and 10 p.m.
Buy Tickets
Balmy Alley
Between 24th and 25th streets
Balmy Alley is one of the most extensive mural art collections in San Francisco. Located in the Mission District, Balmy Alley originated in the 1980s as a small collection of activism art pieces expressing outrage about the human rights abuses happening in Central America. Powered by global politics today, human rights and the most pressing cultural issues of our time, Balmy Alley offers a spectrum of ever-changing murals in a myriad of styles and themes. For an added storytelling layer to the experience, consider booking a guided tour with Precita Eyes Mural Arts.
Clarion Alley
Between Mission and Valencia streets
Inspired by Balmy Alley, the Clarion Alley Mural Project (CAMP) took flight in 1992. The walls that line the 560-by-15 foot corridor are the canvas, and the mission of CAMP is to support socially engaged and aesthetically innovative art with an emphasis on new styles and social justice. Since it began, Clarion Alley has been home to more than 900 murals created by artists of all ethnicities, ages, and levels of experience. For an added storytelling layer to the experience, consider booking a privately guided tour with Precita Eyes Mural Arts.
San Francisco Museum of Modern Art
Rotating more than 30,000 works of art and supporting 45,000 square feet of public art space, SFMOMA is a must-see museum filled with creative inspiration. With huge windows, perspective-shifting staircases, a kaleidoscope-like sky bridge, and a vertical living plant wall, the museum invites you to contemplate the relationship between space, light, and color. Plan to spend at least 2 to 3 hours roaming the seven gallery floors. Mesmerizing photography, paintings, sculptures, media arts, and interactive elements delight the senses around every corner. For the complete experience, grab a refreshing drink or quick bite at the cafe on the 5th floor and enjoy the well-curated gift shop on your way out.
Buy Tickets
Illuminate SF Light Art Trail
Citywide
After enjoying a San Francisco cannabis lounge experience, embark on an evening walkabout along the Illuminate SF Light Art Trail. Featuring renowned artists from around the world, the ever-changing light art is something truly unique to San Francisco. Most of the installations are always accessible and free to view.  Bring your jacket and a hot beverage, loose track of time, and enjoy this elevated experience that is a visual feast.
Walk The Trail
Oasis
298 11th St.
Oasis is a radically inclusive nightlife venue and creative incubator for the performing arts. The artistic mix of music, edgy themes, and over-the-top performers invigorates all the senses. The experience is often transportive and mind-bending in the best of ways. The mission of Oasis is to uplift the voices of historically suppressed, disenfranchised, and forgotten LGBTQ and BIPOC communities by providing a platform to present artistic expression. It has been voted Best Drag Show and Best Cabaret Venue in San Francisco, and is an unforgettable only-in-San Francisco experience that pairs well with a cannabis-enhanced point of view. 
The Women's Building
3543 18th St.
As the first woman-owned and operated community center in the country, The Women's Building has been a resource for well-being and social services since 1979. The exterior is home to the awe-inspiring MaestraPeace Mural, a timeless homage to revolutionary women across the globe. Painted by seven leading female muralists in 1994, the vivid representation of empowerment and courage spans five stories and two sides of the building. Take your time examining the diverse faces. From human rights activists and rebel artists to herbal healers and compassionate caretakers, there are powerful themes represented here that crossover to the cannabis legalization movement. 
The Moraga Steps
Moraga St. and 16th Ave.
Tucked between the Inner and Outer Sunset, the Moraga Steps showcase a breathtaking mosaic of earthly elements. Inspired by a popular staircase in Rio de Janeiro, the Moraga Steps were beautified thanks to community-funding and the creative vision of Irish ceramist Aileen Barr and local artist Colette Crutcher. 163 steps feature thousands of hand-painted tiles, stained glass, and mirror pieces to form familiar scenes of sea and sky. Follow the swirling school of rainbow fish up to the whimsical moon and stars and you'll arrive at a sublime view of the city. 
Lincoln Park Steps
California St. and 32nd Ave.
Before strolling the Land's End trail, treat your eyes to the Lincoln Park Steps for a brilliant pop of color. Bright green, orange, and yellow hues reminiscent of a flowering cannabis plant create an epic geometric pattern. Ceramist Aileen Barr also oversaw this mid-aughts renovation project, which features tiles donated by local businesses. From the top of these 52 steps, enjoy the unobstructed view down California Street looking toward downtown San Francisco. Take a break between snapping photos to daydream on one of the matching tiled benches. 
---