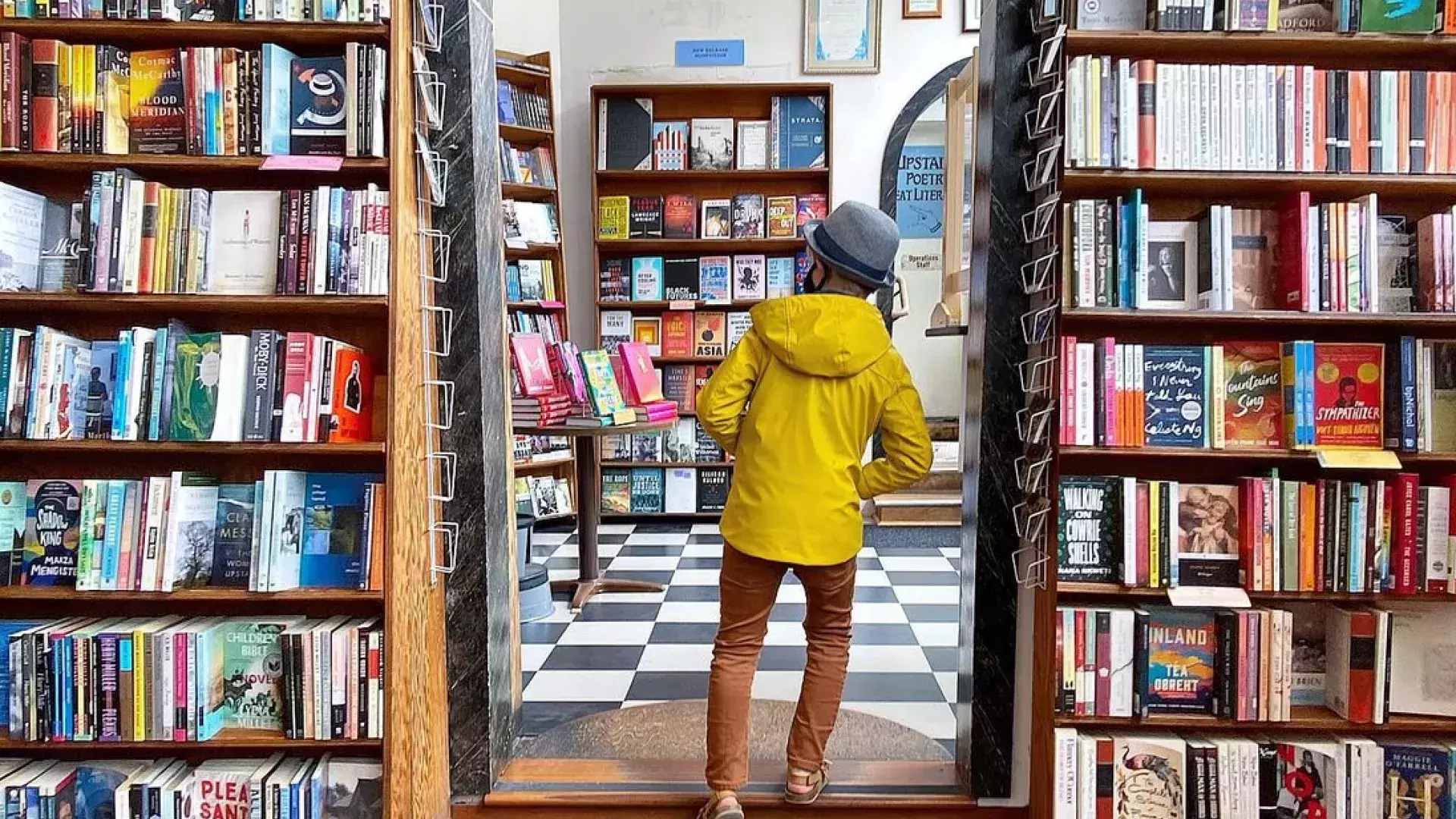 Best Bookstores in San Francisco
You'll find some of the most niche bookstores in the country right here in San Francisco.
San Francisco has been the home of literary greats like Jack Kerouac, Allen Ginsburg, and many others. You'll find some of the most niche bookstores in the country right here in San Francisco. We've gathered a list of bookstores by neighborhood to get your literary juices pumping.
The Castro
Fabulosa Books
(489 Castro St.)
This is the perfect place to find new or used books by local writers, independent publishers, and best-selling authors. One thing to know about this location is that it has one of the largest selections of LGBT+ books in the city, and also hosts a monthly book club geared toward this genre. Of course, you can look forward to attending book release parties, readings, and other events for writers and readers, as well.
Fillmore and Japantown
Books, Inc.
(601 Van Ness Ave.)
Books, Inc. has several locations throughout the Bay Area, but the one at the edge of the Fillmore District is among the most popular. Not only is it spacious enough to house thousands of paperbacks and hardcovers, but it also hosts several classes for writers. There's also a seminar series with tips on getting published. And of course, Books, Inc. has multiple book clubs to choose. 
Kinokuniya Book Store
(1581 Webster St. #218)
If you enjoy manga, graphic novels, or just books in general—whether in English or Japanese—come to Kinokuniya in Japantown. This bookstore not only sells reading material of all kinds, but also DVDs, stationery, and fun gifts from Japan. If you hang around this San Francisco bookstore long enough, you'll see firsthand the kinds of events it hosts, from author signings to book release parties.
Haight-Ashbury
The Booksmith
(1727 Haight St.)
Located just minutes from Golden Gate Park, this bookstore boasts a variety of paperbacks, hardcovers, magazines, and more. The owners of this bookstore run an author event program called Berkeley Arts & Letters, so you can be sure there are impressive events here and at the nearby event center, The Bindery. You can even join a group that revolves around your favorite book or TV series, as there are fan groups that regularly meet here to discuss and celebrate the stories they love most.
Borderlands Books
(1740 Haight St.)
Located in the Mission District, Borderlands Books is known for its wide selection of science fiction, mystery, horror, and fantasy books. Borderlands is a cool hangout for writers, reviewers, publishers, and of course, readers like you. It is known for hosting lots of great events, from author readings and signings to magazine release parties and even ghost story readings. 
Mission District
Adobe Books
(3130 24th St.)
If you're looking for a cozy bookshop with a huge selection of books—plus an inspirational art gallery—Adobe Books is it. This store is known for carrying rare books, showcasing local artists' work on the walls, and hosting hundreds of events that allow creators of all kinds to get together and network. Don't miss the various author readings, book signings, book club meetings, and live music nights.
North Beach
City Lights
(261 Columbus Ave.)
City Lights is among the oldest and most famous bookstores in San Francisco. Prepare to be delighted by three floors packed full of mainstream and independent books, artwork, and poetry. The store hosts free events for writers and readers. Once you're done checking out this bookstore, be sure to stop by the Beat Museum a block away to learn more about the authors who first frequented City Lights. 
SoMa
Alexander Book Company 
(50 2nd St.)
This San Francisco bookstore boasts three floors of books, including an awesome children's book section. Whether you're in search of an indie bestseller or the newest releases your friends have been talking about, you'll find the books you want here. And if you join the Frequent Buyer's Club, you'll get 10% back after you purchase 10 books. You can walk from here to numerous San Francisco attractions, including the San Francisco Museum of Modern Art (SFMOMA), the Ferry Building, and Oracle Park.
Chronicle Books
(680 2nd St.)
This independent publisher has its headquarters in a charming warehouse in SoMa. This is where all the publishing magic happens. It features four floors of space for marketing, contracts, and other behind-the-scenes business operations. Plus, there's a big meeting space for events like book-themed trivia nights, bake sales for good causes, and blowout book sales. There's still room for a storefront filled with a range of books, journals, calendars, cards, and more.
Richmond District
Green Apple Books
(506 Clement St.)
Green Apple Books is home to more than 100,000 used and 60,000 new books that beg to be browsed. The main storefront has two floors of non-fiction, kids' books, cookbooks, and new releases. While you're there, check out one of the many book readings where you can hear some insight on how the author penned his or her latest novel. They also have a second store, located on 1231 9th Ave, by Golden Gate Park.
---