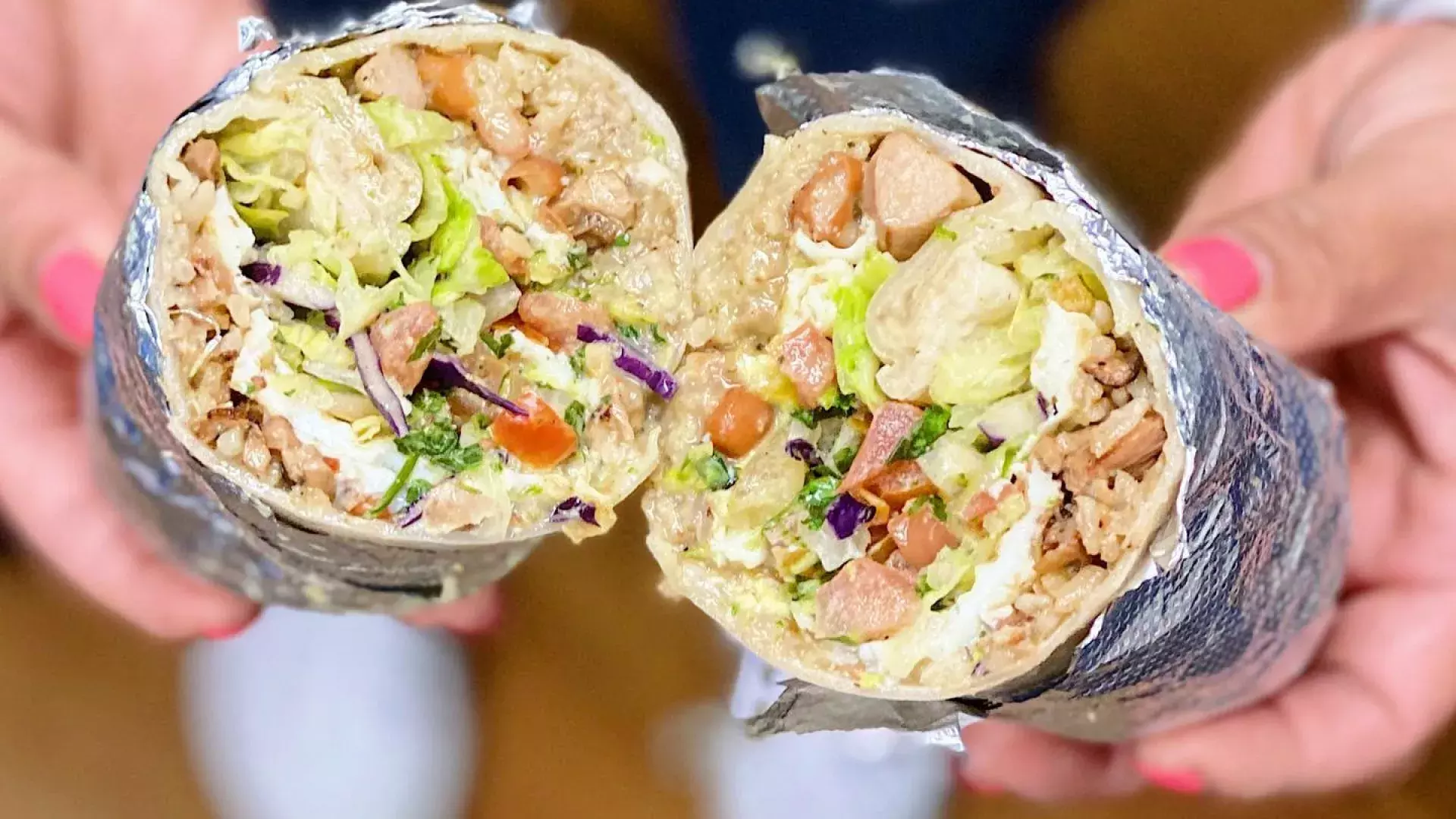 Best Burritos

in San Francisco by Neighborhood

San Francisco is the birthplace of the burrito as we know it. In the Mission and beyond, here's where to find the best foil-wrapped flavor bombs in the city.
San Francisco has the best burritos in the country. No, really. Just ask Nate Silver, GQ, Thrillist, the Daily Meal and Eater. That's something they can agree on. The one thing they can't agree on is which burrito is the best. We're not here to answer that question, but we can break down the best burritos in San Francisco by neighborhood.
Note: We're including fusion burritos on this list, too, because they are damn good. If you're a purist, skip over them or open your mind.
Castro/Upper Market
El Castillito
136 Church Street
Right off the intersection of the J and N Trains when you come up from the tunnel, El Castillo has high-quality meat and vegetables that make their burritos absolutely delicious. For a convenient burrito stop, this one is it. Most Popular Dishes: Carne asada super burrito, Suiza quesadilla (a crispy quesadilla that is basically a burrito without rice).
Marina
Tacko
3115 Fillmore Street
If you happen to find yourself in the Marina, head here. Tacko not only has "Mission Style" but also "SoCal Style" (add french fries), and "Baja Style," which adds cilantro, cabbage, and red onions. Most Popular Dishes: California burrito.
Mission District
El Farolito
2779 Mission Street
The one that reigns supreme on all best of lists is El Farolito. There are a few in the city, but we are specifically talking about the one at Mission and 24th Street. It's the best, not because we say so, but because of the lines that start forming at 8 PM every night. Have a late-night burrito craving? Be prepared to wait in line. Most Popular Dishes: Carne asada super burrito, Suiza quesadilla.
Mission District
La Taqueria
2889 Mission Street
Not all taquerias are created equal and the tacos and burritos at La Taqueria are like none other in this city. First, they do not put rice in their burritos. Second, they've perfected the crispy style that you can get around the city. In fact, they were the first. Ask for "dorado" style and they'll leave your burrito or taco on the flat-top a little longer. There's also a secret menu. Most Popular Dishes: Carnitas burrito "dorado" style.
Mission District
Taqueria Cancun
2288 Mission Street
Nestled among the bars on Mission Street sits colorful Taqueria Cancun. You'll always see a late-night crowd here from Thursday through Sunday because this place is open 24 hours. There are multiple locations in Bernal Heights and SoMa, so you can head there if you don't like waiting in lines. Most Popular Dishes: Shrimp Super Burrito and a side of cebollitas.
Mission District
Papalote
3409 24th Street
An expansive menu of items made fresh daily, a clean and inviting entrance and salsa that has a cult following. Are we forgetting anything? Oh, yeah: Bobby Flay's ringing endorsement. No other taqueria but Papalote can make that claim. Most Popular Dishes: Triple Threat Burrito (three different kinds of meat) and the salsa. Yeah, it's that good.
Mission District
La Palma Mexicatessan
2884 24th Street
La Palma is a Mexican grocery store that sells produce only found in Mexico. They also sell delicious burritos in the back. If you want/must have a freshly made tortilla with your burrito, this is the place. Most Popular Dishes: Chile Verde burrito.
Mission District
El Metate 
2406 Bryant Street
Since 2002, El Metate has been cooking its own style away from the hub of the Mission. Dive into authentic Mexican flavors with every bite of their beef, Chile Relleno con queso, pork, and seafood and vegetarian dishes. Whatever you're craving, you can find it at El Metate. Most Popular Dishes: Fish burrito.
Mission District
La Cumbre
515 Valencia Street
La Cumbre is the birthplace of the "Mission Style" burrito. So says their website, and we are not ones to argue with the internet. Located near the corner of 16th and Valencia, you can't miss it. Most Popular Dishes: BBQ chicken burrito.
Noe Valley
Little Chihuahua
4123 24th Street
Along the 24th Street corridor in Noe Valley, sits Little Chihuahua, a Mexican restaurant that focuses on sustainability. Who knew sustainability could taste so good? Also, they have an amazing patio. Most Popular Dishes: Garlic shrimp burrito and fried plantain and black bean burrito.
Potrero Hill
Papito
317 Connecticut Street
This Potrero Hill mainstay recently expanded to Hayes Valley. However, their location on the hill is still our favorite. Along with the mainstays (al pastor, carnitas, and carne asada), Papito is cooking up some of the most inventive burritos in the city. Most Popular Dishes: Rockfish and duck confit burrito.
Richmond
Chino's
3416 Balboa Street
Carne asada or al pastor not your jam? Head to Chino's in the Richmond for their spicy chicken. Get it extra spicy. Most Popular Dishes: the spicy chicken burrito.
Sunset & Richmond
Gordo Taqueria
1239 9th Avenue, 2252 Clement Street, and 5450 Geary Boulevard
Gordo's Taqueria rules the outer neighborhoods of San Francisco. People actually make the trek out here from the north end of San Francisco. Yes, all the way from North Beach. A burrito that makes people drive that far is the reason it's on our list. Most Popular Dishes: Super carnitas burrito. Don't mess around.
SoMa
HRD Coffee Shop
521A 3rd Street
Korean and Mexican fusion. Need we say more? Line up like the rest of us. Even non-burrito items are delicious at HRD Coffee Shop. Most Popular Dishes: Kimchi burrito with bulgogi and pineapple tacos.
---