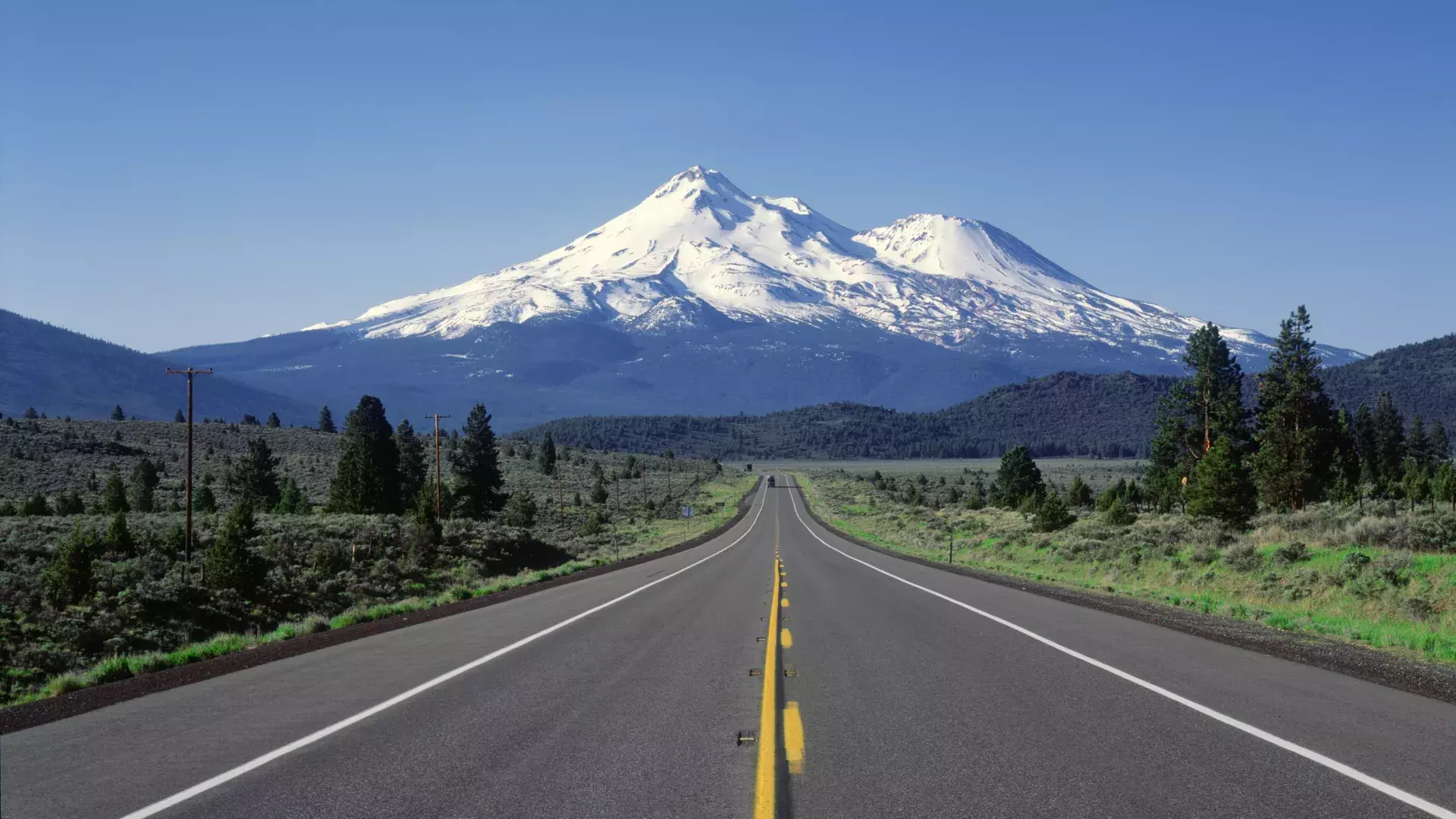 Natural Wonders

in the Shasta Cascade

Located four hours north of San Francisco, the Shasta Cascade is a perfect weekend trip full of beautiful untouched nature ready to explore!
Whiskeytown National Recreation Area
Whiskeytown National Recreation Area was established by President John F. Kennedy and is a beautiful example of what adventures nature has to offer. A backdrop of mountains and a tree-lined shore ensure the lake is the definition of scenic. It's a favorite spot for skiing, sailing, swimming, paddle boarding, canoeing, kayaking, and waterfall exploration. Oak Bottom and Brandy Creek are popular beaches for all ages of swimmers, sunbathers, and picnickers. A magnet for mountain biking enthusiasts, the lake area offers bike trails for every skill level along with fishing, hiking, hunting, and horseback riding. The lake and its surrounding hills are dedicated as a National Recreation Area, and the 220-foot Whiskeytown Falls is a destination in and of itself. Ranger programs include moonlight kayak tours, astronomy programs, and junior firefighter education. Tent and RV camping are available year-round.
Shasta Trinity National Forest
The Shasta Trinity National Forest area is known for its gracious hospitality, golden history, and many outdoor splendors. Even before the Gold Rush of 1849, pirate Bill English and his rogue crew discovered gold in the Trinity River near Big Bar and left the area with their purses full. Eventually, thousands of miners flocked to the area and prompted the construction of such towns as Weaverville and Lewiston. Most of the county is forestland, and some of the most beautiful scenery and natural lakes are found in the Trinity Alps Wilderness, so named because its snow-capped peaks are reminiscent of the Swiss Alps. The Trinity River, designated as a wild and scenic river, provides opportunities for kayaking, rafting, fishing, and swimming. The Coffee Creek area resorts just north of Trinity Lake offer horseback riding, cabins, and recreational activities. 
Weaverville, located along Highway 299, provides a step back in time. In the 1800s, as many Chinese men and women inhabited the region as did Euro-Americans, all of them searching for gold. In 1852 they established a Taoist place of worship, and the Joss House, dedicated in April of 1875, has been in continuous use as a place of worship ever since.
Trinity Lake, the third-largest lake in California, has 147 miles of shoreline and is uncrowded even during the summer peak months. The many secluded, tree-lined coves are perfect for anglers and houseboaters. Its crystal clear waters contain a variety of prize fish, including trout, smallmouth bass, and King Salmon. Lewiston Lake offers boating, fishing, swimming, and camping experiences, while marinas on Trinity Lake also rent houseboats and other types of watercraft. In southern Trinity County, Ruth Lake offers similar boating and fishing opportunities. All this and more is perfect for a relaxing vacation of a lifetime or just a few days away.
Hayfork is home to the nearby Natural Bridge, an unusual natural phenomenon with strong ties to the Native Americans who inhabited the area. Natural Bridge is a limestone arch thrown across a narrow ravine by nature. Neighboring Lewiston offers history buffs great opportunities to explore and wonderful photographic opportunities, including twenty of the town's structures listed in the National Registry of Historic Places. If jagged peaks over 9,000 feet tall, saw tooth ridges, alpine meadows, deep glaciated canyons, and more than 50 mountain lakes and streams are what you're looking for, the Trinity Alps Wilderness is waiting for you. This 500,000-acre wilderness area is the second largest in California and one of the largest in the United States.
Mt. Shasta
Mount Shasta is the most prominent landmark of the Shasta Cascade region and one of the southernmost volcanic peaks in the Cascade Range, which stretches from Canada to northern California. Theodore Roosevelt once declared, "I consider the evening twilight on Mt. Shasta one of the grandest sights I have ever witnessed." It's known as one of the sacred mountains of the world, and the small communities around the mountain offer the spiritual energy and peace of mind one looks for when one wants to get away from the stress of normal life. National Geographic Adventure listed it among its 25 Best Secret Ski Towns, highlighting its "small universe of backcountry skiing opportunities," and visitors who come to experience the wonder of Mount Shasta will find exceptional access to the mountain year-round. On the southern slopes of Mount Shasta off Hwy. 89 you'll find Mt. Shasta Ski Park, offering 425 acres of outstanding downhill skiing and boarding, as well as tubing and cross-country skiing and summer activities like mountain biking and cycle cross. Outside of the ski park, Mount Shasta and its glaciers beckon backcountry skiers and mountain climbers from all over the world. The summer climbing season runs from late April until October, though climbers still make the ascent (or attempt to) in winter months. Guide services are available.
McArthur-Burney Falls State Park
Northeast California is home to Burney: a humble logging town now developed into a popular destination for photographers, nature lovers, and anyone seeking some splendor. McArthur-Burney Falls State Park boasts one of California's most beautiful waterfalls, the 129-foot Burney Falls, which flows at 100 million gallons every day. While these aren't the largest or highest, they are exceptionally lovely. Additional water comes from natural springs, joining to create a mist-filled basin. According to the California Department of Parks and Recreation, "Burney Creek originates from the park's underground springs and flows to Lake Britton, getting larger along the way to the majestic falls. The park's landscape was created by volcanic activity as well as erosion from weather and streams. This volcanic region is surrounded by mountain peaks and is covered by black volcanic rock."
Lassen Volcanic National Park
Less than an hour's drive from Redding sits the beautiful Lassen Volcanic National Park. The park boasts incredible mountain scenery reminiscent of Yosemite, as well as fascinating thermal wonders similar to Yellowstone, with only a fraction of the visitors. Lassen offers three different types of geothermal features: steam vents, mud pots, and hot springs; all four types of volcanoes (shield, plug dome, cinder cone, and composite); and all types of naturally occurring lakes. Near Lassen Peak, the road reaches 8,512 feet, making it the highest road in the Cascade Mountain range. The Bizz Johnson Rail Trail, managed by the Bureau of Land Management and Lassen National Forest, is one of the best "rail to trail" conversions in California. Horseback riders, mountain bicyclists, and hikers alike enjoy the comfortable 25-mile trail along the Susan River. Folks who prefer a slower pace can enjoy meadows freckled with wildflowers, leisurely lakeside strolls, bird watching, star gazing, and auto tours. The park is open year-round, though snowfall usually limits access from December-May. Excellent cross-country skiing is available, as well as interpretive snowshoe tours led by park rangers. During the warm summer months in Redding, visit this spectacular park to experience spring all over again!
Shasta Caverns Natural National Landmark
One of three known caverns in the deep, 250-million-year-old limestone beds of Shasta County, Lake Shasta Caverns is an adventure for the whole family. It begins with a ride across the crystal blue waters of Shasta Lake on a 65-foot catamaran, where the boat captain will talk about the lake and its unique geography. You'll arrive on the east shore just below the limestone North Gray Rocks, where a custom bus takes you uphill to the cavern entrance. You may spot osprey, mountain lions, bald eagles, bobcats, black bears, or black-tailed deer in the manzanita, redbud, and pine along the hillside.
At the cavern, expert guides explain the discovery and history of the caverns and how they are formed. Inside the carefully preserved underground world, you will be surrounded by crystal beauty in the form of unique and stunning calcite formations. The caves are made entirely of limestone and feature every type of possible formation, including stalactites, stalagmites, soda straws, columns, and flowstone. It's an otherworldly trip through the earth's history!
Modoc National Forest
The northeasternmost corner of California is the definition of unspoiled, and the home of Modoc National Forest. It boasts lava beds and high desert plateaus, pine forests, mountains and meadows, lakes, streams, wetlands, and rugged canyons. This varied terrain is home to abundant wildlife and a memorable visitor experience. Explore beaches and dunes, cycle, hike, fish and hunt, camp, horseback ride, try your hand at geocaching, or just have a picnic. Tent, RV, and trailer camping is available. Modoc National Forest is where you can experience pure nature away from tourists and crowds, have an adventure, or just relax in peace.
Plumas-Eureka State Park
Plumas-Eureka State Park is both a time capsule and a getaway. According to the California Department of Parks and Recreation, "the park's focal point is the museum building and historic area surrounding it. Originally constructed as the miners' bunkhouse, displays depict the natural and cultural history of the park. Nearby is the historic mining area, where the Mohawk Stamp Mill, Bushman five-stamp mill, stable, mine office, Moriarity House (historic miner's residence), and the blacksmith shop depict life in Gold Rush-era California. The discovery of gold on the east side of Eureka Peak in 1851 eventually led to over 30 miles of mine shafts. When mining in the area ceased for good in the 1940s, over eight million dollars worth of gold had been removed from Gold Mountain!"
These days, wildlife such as weasel, black bear, deer, mink, marten, bobcat, and fox have replaced the miners and call the meadows and forests of the park home. Visitors can also enjoy fishing, nature study, and hiking within the park: Jamison Creek and other nearby waterways offer great fishing, and hiking opportunities are plentiful, including Lakes Basin Recreation Area and the Pacific Crest Trail. During the summer, tours of the buildings and blacksmithing demonstrations are conducted by docents and park staff.
---