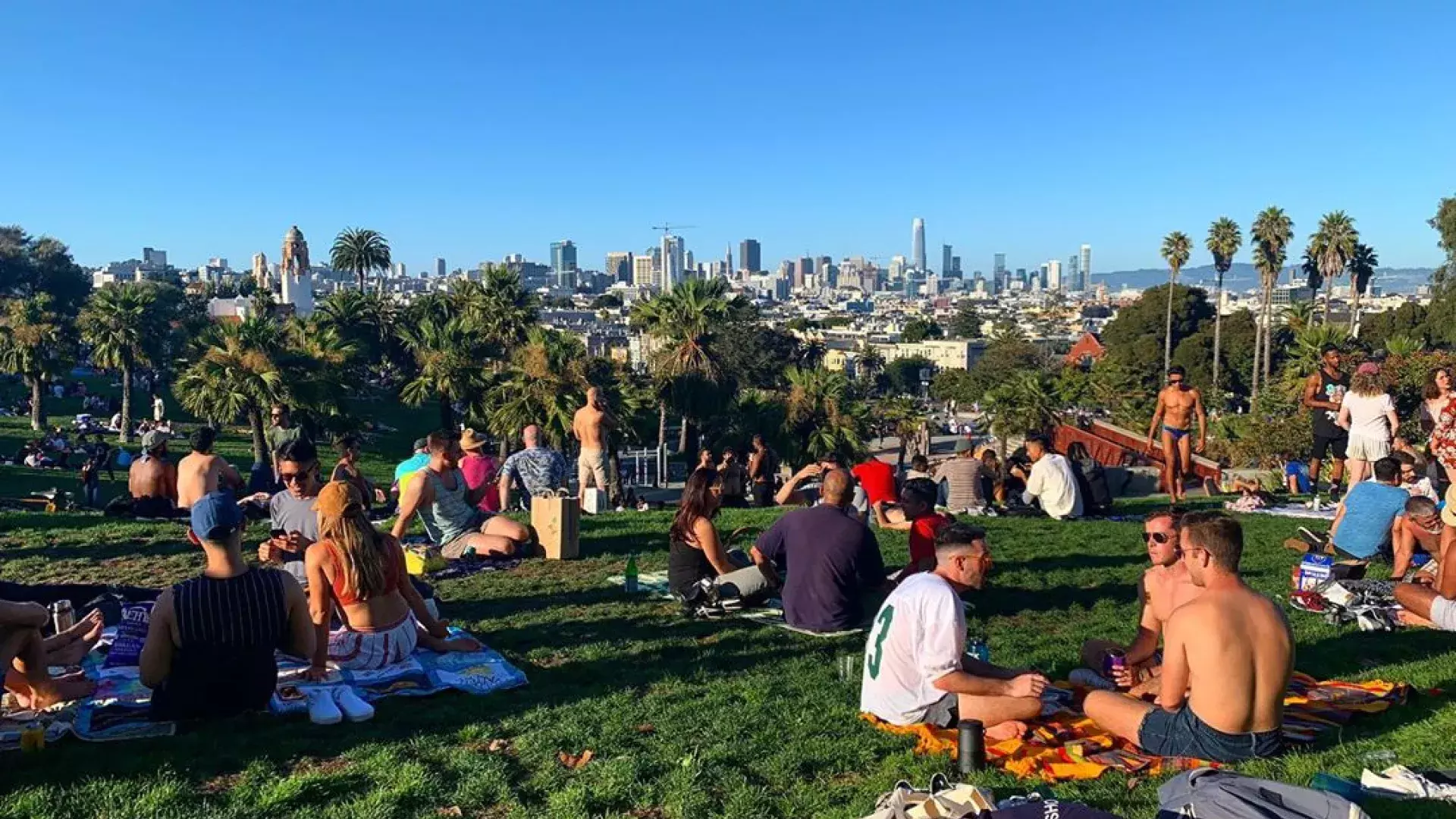 Best Places to Have a Picnic in San Francisco
Grab a blanket big enough for all your friends and head to any one of these great San Francisco picnic locales during your next visit.
There are two things San Francisco has in abundance: open spaces and delicious food. That makes our city perfect for a picnic. Here are our favorite places where you and your gang can gather for a terrific outdoor meal.
Alamo Square Park
Steiner St. & Hayes St.
The abundant lawns and flowerbeds make Alamo Square Park a natural place to have a picnic. Since it's up on a hill, you can take in a beautiful view of the Painted Ladies and downtown. In addition to its picturesque beauty, Alamo Square Park features many things to do after your picnic: a tennis court, walking trails, and a kid's playground.
Battery East
Lincoln Blvd.
A grass-covered earthen work fortification built in the 1870s, Battery East offers pristine vistas of the Golden Gate Bridge and the Pacific Ocean. The picnic tables located off the parking area from Lincoln Boulevard in the Presidio invite all visitors to linger a while.
Crissy Field West Bluffs
Long Ave. & Marine Dr.
This quiet stretch of shoreline in the Presidio is the gateway to San Francisco. The West Bluff and East Beach picnic area offer bayside picnic tables. Not only is Crissy Field famed as a windsurfing site, but it also offers some of the most remarkable views of the Golden Gate Bridge. Crissy Field is just one of many great places for a picnic in the Presidio.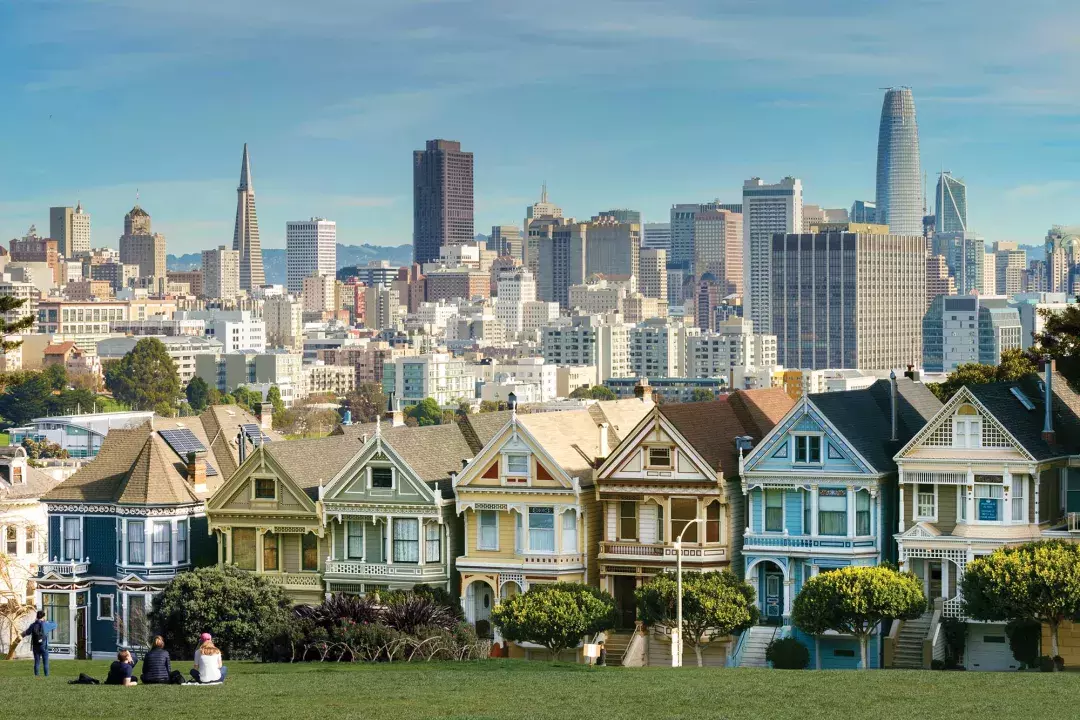 Dolores Park
18th St. & Dolores St.
This is one of the sunnier parks in San Francisco, with a great view and prime people-watching opportunities. There are a ton of recreational activities at Dolores Park—and it's 100% dog-friendly. Its 15 acres of land offers an abundance of grassy lawns, a children's playground with an impressive 40-foot slide, tennis courts, a basketball court, and stunning views of downtown San Francisco.
East Fort Baker
601 Murray Cir., Sausalito
Just below the northern end of the Golden Gate Bridge and Vista Point lies East Fort Baker. This secluded recreation area with views of the bay is often sunny when the western park areas are fogged in. The grassy parade grounds and coastal bluffs of East Fort Baker combine to make a protected picnic spot that is out of the wind. While it's a perfect spot to picnic, you can also take advantage of its proximity to the Bay Area Discovery Museum, historical Battery Cavallo, and a fishing pier.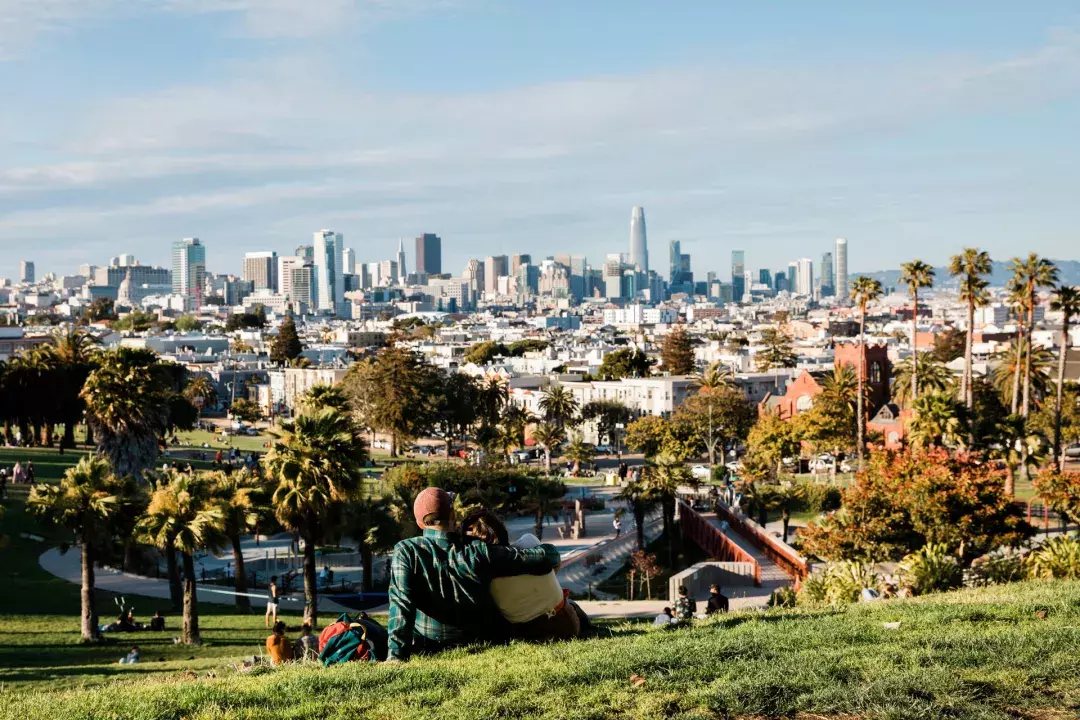 Golden Gate Park
Between Fulton & Lincoln from Baker St. to Ocean Beach
The park is vast, but one of the nicer places to visit is the Botanical Garden, full of plants and trees and flowers from around the world. Just know that out-of-towners have to pay an admission fee (but it's worth it). Stow Lake is another lovely picnic spot, especially if you're planning to host a larger group. There's a dedicated picnic area with a set of eight tables and two BBQ pits that can be reserved to make picnicking a breeze. While you're there, you'll want to rent a paddleboat from the boathouse and explore the lake.
Mt. Tamalpais
3801 Panoramic Highway, Mill Valley
Just 15 minutes north of the Golden Gate Bridge and Marin Headlands, Mt. Tamalpais' summit is less than a half-mile high—but the mountain rises almost straight up from sea level and offers 360 degree views of the entire Bay Area and west to the Pacific Ocean. The park has numerous parking areas, trailheads, scenic overlooks and two drive-in picnic areas with day-use facilities.
Ocean Beach
Great Highway
Ocean Beach is a popular site for picnics and beach activities. The 3.5-mile stretch of white sand makes it perfect for kite-flying or a game of frisbee. Picnics aren't limited to the daytime, though. Fire pits are available along Ocean Beach, making bonfires a fun nighttime activity. With respect to the Ocean Beach Fire Program, fires are only permitted between March 1 and October 31 from 6 a.m. to 9:30 p.m, and a permit will need to be obtained for groups of 25 or more.
Palace of Fine Arts
3601 Lyon St.
There's no more beautiful setting for a picnic than the Palace of Fine Arts. Admire this San Francisco treasure while watching swans drift across the lagoon. While it has open grassy areas for kids to play, it also offers an element of romance for those looking for a charming picnic date spot.
Presidio
Marina Entrance at Lombard St. & Lyon St.
The Presidio's Main Post lawn is always a favorite spot to gather with fellow park-lovers or lay out a blanket with your small group of friends. And the Presidio also features other sites that are perfect locations for picnicking in the park—some with views, some near beaches, and some forested nooks ideal for observing nature. While picnic tables are currently not available, the park offers plenty of open space to stretch out your spread. If you're feeling adventurous, try one of the pop-up food vendors at Tunnel Tops or the Main Parade Lawn available seven days a week.
Tilden Regional Park
2501 Grizzly Peak Blvd., Orinda
Across the bay and atop the Berkeley-Oakland Hills lies Tilden Regional Park. Magnificent views are the reward for ascending the Sea View Trail. Eucalyptus and Monterey pine trees line the trail that runs south from Inspiration Point off Wildcat Canyon Rd. It can be reached by car or AC Transit from the Berkeley BART station.
Washington Square Park
Columbus Ave. & Union St.
There's always plenty to watch in this North Beach park, from tai chi classes to old Italian guys shooting the breeze on a bench. Established in 1847, Washington Square Park was one of the city's first parks. Along with being a fantastic place to picnic, it's also known for hosting free movies nights and is bordered by many cafes and restaurants that are worth exploring.
Yerba Buena Gardens
750 Howard St.
You can have a picnic right in the middle of the city at Yerba Buena Gardens. It's the perfect place to escape the city's bustle for a lunch break. Many visitors picnic near the Martin Luther King Jr. Memorial, where you can find a peaceful waterfall and revel in the park's history and culture.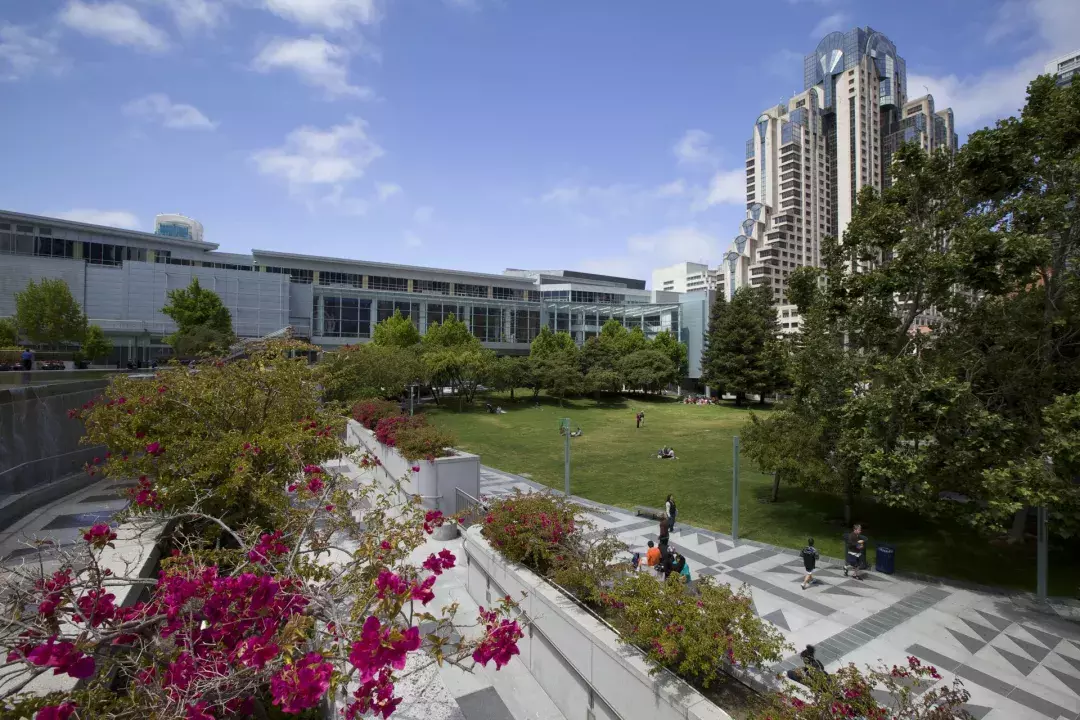 ---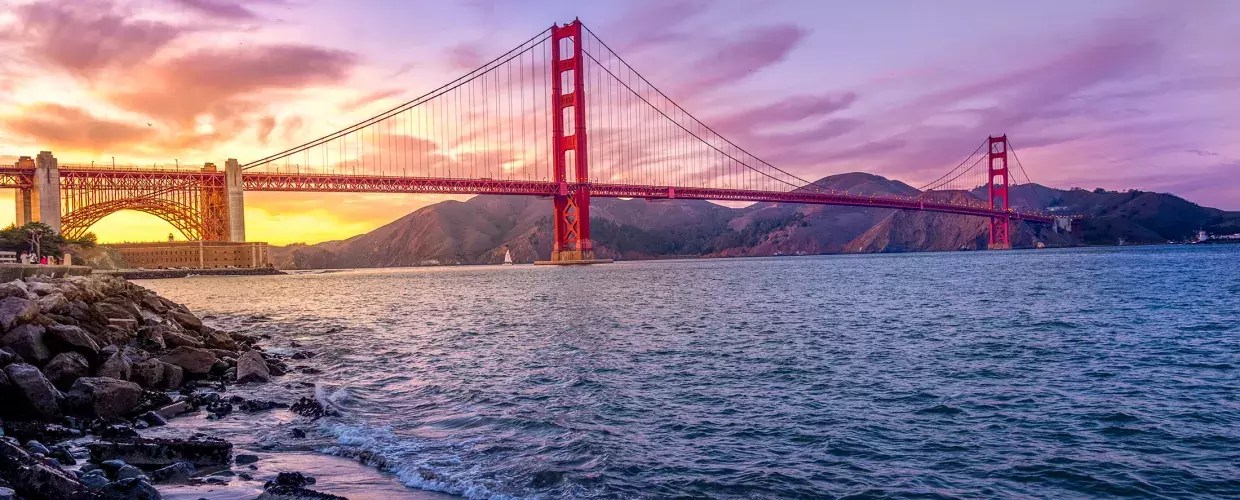 Stay Connected with SF
Sign Up for Our Newsletter
Be the first to know about upcoming events and festivals, new restaurants, special deals, and everything else happening in the City by the Bay.