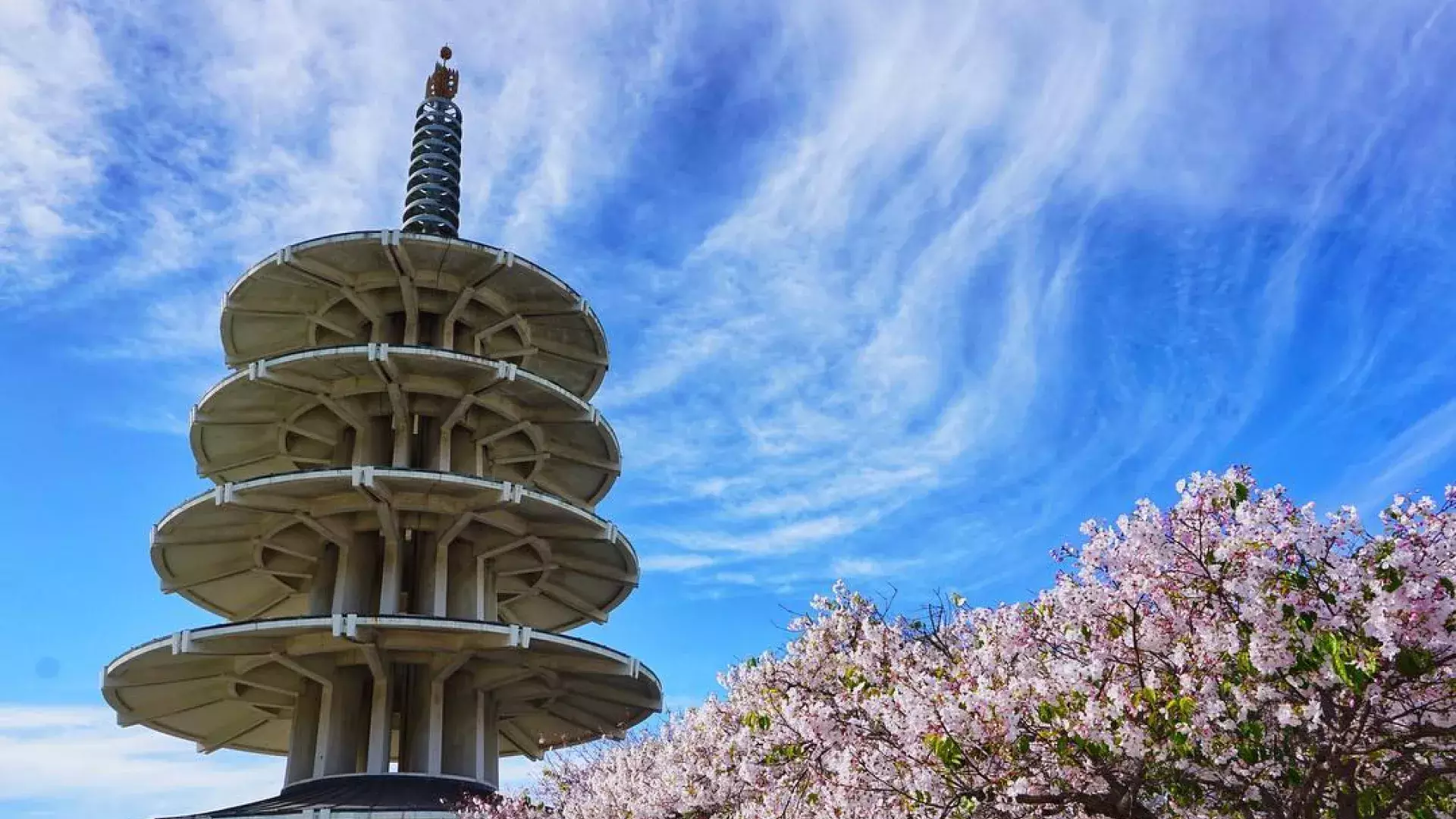 Everything You Need to Know

About the Cherry Blossom Festival

A sure sign of spring in San Francisco is Japantown's beloved Cherry Blossom Festival. Learn all about it!
About the Festival
The annual Northern California Cherry Blossom Festival, always one of California's most splendid celebrations, draws more than 200,000 people to a dazzling display of Japanese culture and tradition. The festival features a cultural food area, arts and crafts, and cultural stage performances at five venues. Most of the events and activities are free and headquartered at the Japan Center at Post and Buchanan streets.
About Japantown
One of only three Japantowns remaining in the United States, and the oldest of its kind in the continental U.S., San Francisco's Nihonmachi is the cultural headquarters for some 12,000 residents of Japanese descent. It's like taking a trip to Japan without a passport.
Japantown is bordered by Geary Boulevard to the south, between Laguna Street and Fillmore Street. Look for the bright red banners adorned with cherry blossoms and the Peace Pagoda which rises from the central plaza of the Japan Center.
Lost in Translation?
Visitors to Japantown may become confused by activities promoted in "Nihonmachi." Here are 15 words that we think will help you enjoy your Japantown visit more:
Anime – An abbreviation of "animation," which embraces Japanese hand-drawn or computer animation. Much of this movement manifests itself in local street culture and the annual JPOP Summit in July.
Bonsai – This Japanese art form yields miniature trees that can live for more than 100 years. Katsura Garden (1581 Webster St.) is known for its selection of bonsai.
Chanoyu – The word literally means "hot water for tea," but has been referred to as the "Japanese tea ceremony" for decades. There is a replica of a traditional tea room in the Asian Art Museum and, of course, the tea house located in the heart of the Japanese Tea Garden in Golden Gate Park.
Ikebana – The Japanese art of flower arranging.
Karaoke – Amateur sing-a-long.
Nihonmachi – Nihon translates to Japan and machi is town.
Mikoshi - A portable Shinto shrine, in which a deity or god may reside. It is borne by an exuberant group of volunteers who raise and lower the shrine. The arrival of the mikoshi is the climactic moment of the parade.
Mochi – A rice confection made by hand.
Origami – The art of paper folding. Paper Tree, located at the Japan Center, is a magnet for origami fans, offering classes and unusual paper stock.
Osento – A Japanese communal bath. The Kabuki Springs & Spa is one of the few to be found in the U.S.
Ramen – East meets East in this dish. This Japanese noodle soup includes Chinese-style wheat noodles basking in a meat- or fish-based broth.
Sakura Matsuri – Japanese for Cherry Blossom Festival.
Taiko – Taiko drumming is integral to the parade and festivities on both weekends. The word refers to the percussion instruments themselves, the most memorable of which are roughly the size of a large wine barrel!
Udon – A thick wheat flour noodle used in Japanese cuisine,
---