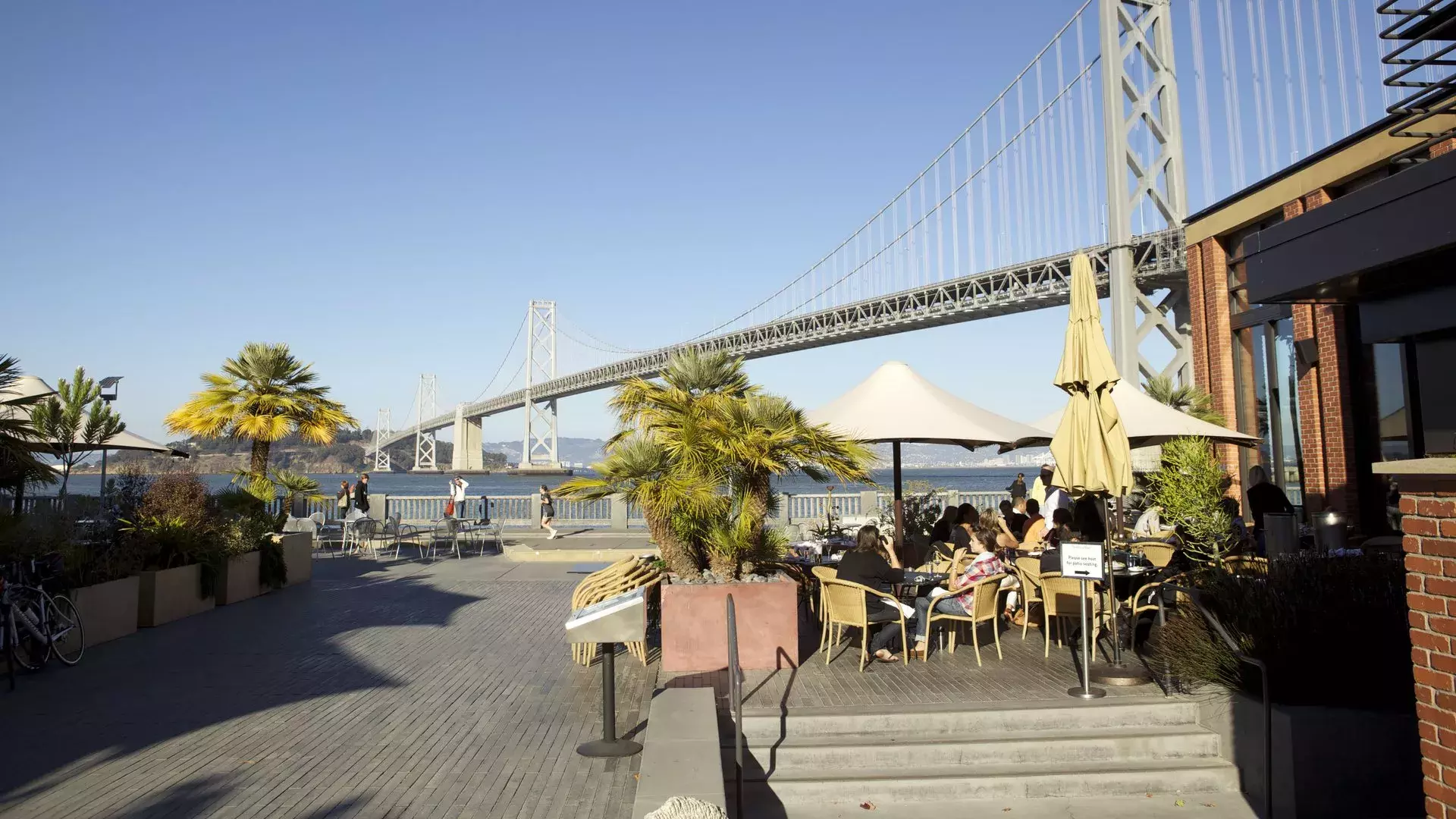 Great San Francisco Restaurants with Waterfront Dining
With wonderful weather all year long, there's never a bad time to dine outdoors in San Francisco.
Outdoor dining is more popular than ever in San Francisco, so why not see what's being served up at some of the city's best waterfront restaurants? These establishments along the Embarcadero, Fisherman's Wharf, and PIER 39 offer you a feast for the eyes, as well as your other senses. The best part? With our walkable waterfront just on the other side of your table, you can take a stroll to burn off whatever indulgences strike your fancy. Here are some of the best places for waterfront dining in the City by the Bay.
Embarcadero
EPIC Steak
369 The Embarcadero
For a stunning view of the Bay Bridge and a rather epic steak, here's your spot. You'll also find oysters, Dungeness crab cocktail, house-made charcuterie, salads and more.
Coqueta
Pier 5, The Embarcadero
Chef Michael Chiarello's Spanish-inspired Coqueta has a view of the water at a few of the tables, and the bar area (and outdoor patio) always draw a crowd enjoying gin and tonics, the extensive menu of hot and cold tapas, and larger plates (like paella).
Fog City
1300 Battery St.
This classic Cal-American restaurant is just across the Embarcadero, but you still get a slight view of the water. The menu is seasonally driven, full of local vegetables, meats from the grill and wood oven (their chicken is notable), and a really good burger. Outdoor tables, cocktails, wine on tap, and their made-to-order doughnuts make Fog City a popular spot.
La Mar
Pier 1 1/2, The Embarcadero
If you're a fan of ceviche, pisco sours, and other Peruvian dishes, La Mar is your place. The causas (whipped potatoes with toppings) and empanadas are also tasty. Bonuses: lunch, brunch, happy hour, a cheerful maritime look and a prime location right on the water.
Pier 23 Cafe
Pier 23, The Embarcadero
Proudly serving "fresh seafood, strong drinks, and live music," Pier 23 Cafe offers such comfort food favorites as baked cheese gnocchi and blackened fish and grits. Enjoy these and other dishes while soaking up the sun at one of their outdoor tables.
Waterbar
399 The Embarcadero South
A sister restaurant to Epic, the upscale Waterbar is known for its extensive oyster bar, outdoor patio, happy hour and menu of sustainable seafood, from grilled spot prawns to local salmon. The floor-to-ceiling aquariums get as much attention as the view.
Fisherman's Wharf
Bistro Boudin Restaurant and Bar
160 Jefferson St., 2nd Floor
Boudin at Fisherman's Wharf has a sourdough starter from 1849. Their handsome Bistro is where you can get the dish that visitors always associate with San Francisco: clam chowder in a sourdough bowl. There are also oysters, mussels, cioppino and more. Kids are welcome.
The Franciscan Crab Restaurant
Pier 43 1/2
This unmistakable 1950s building—tricked out with neon and a playful interior—has some stunning views of the bay. The Franciscan Crab Restaurant is known for its whole-roasted crab with garlic sauce. Save room for the frozen "kustard." It's also kid-friendly and offers validated parking.
Scoma's
Pier 47, One Al Scoma Way
Tucked right in the Wharf, Scoma's has been serving seafood for more than 50 years. The Lazy Man's cioppino (with picked crab) is a classic, as are their crab cakes, shrimp or crab Louis and petrale doré. It's not cheap, but at least the valet parking is free.
PIER 39
Wipeout Bar & Grill
Building A, Level 1
Wipeout is the perfect place for the family to grab a meal after exploring every corner of PIER 39. It's right in the middle of the action, with waterfront views on one side and terrific people-watching on the other. Wipeout lives up to its laid-back, casual surfer inspiration.
Fog Harbor Fish House
Building A, Level 2
The first restaurant in the neighborhood to offer a 100% sustainable seafood menu, Fog Harbor has a wide variety of signature dishes on hand, as well as surprising specials. Come with some hungry friends and see if you can make it through their unbelievable shellfish platter.
Pier Market Seafood Restaurant
Building F, Level 1
Known for its award-winning clam chowder, mesquite grilled seafood, and hand-crafted cocktails, Pier Market offers the closest seating to the PIER's most famous denizens: its California sea lions. Don't worry; there is plenty of space between diners and the sea lions. No need to worry about your lunch being snagged!
Swiss Louis Italian and Seafood Restaurant
Building G, Level 2
Swiss Louis is dedicated to serving the finest Italian dishes and freshest seafood. Their extensive menu offers many traditional favorites including pastas, pizzas, fresh fish and shellfish, and broiler entrees including fine steaks and hot roasted whole Dungeness crab.
---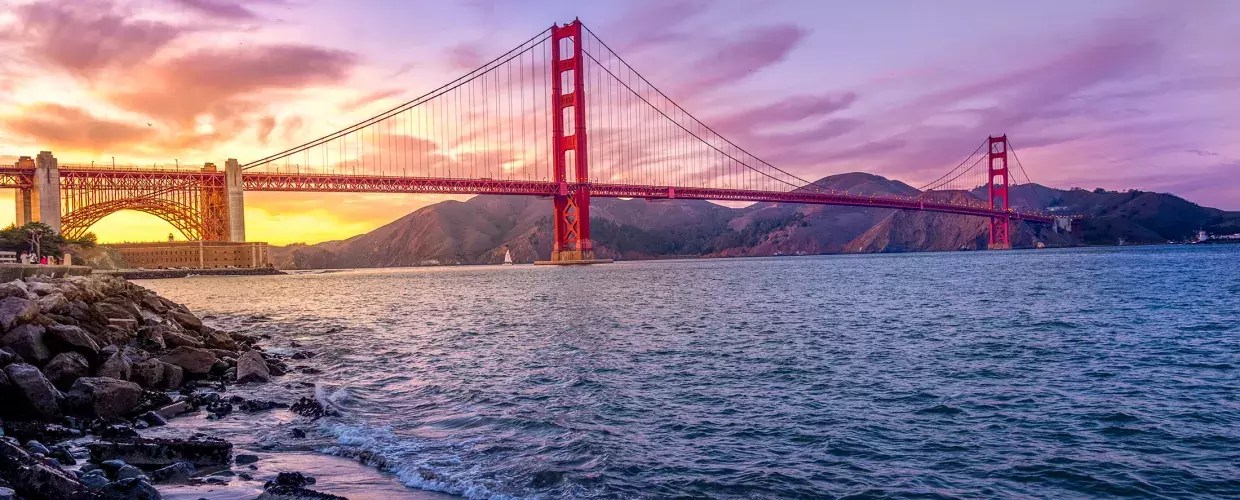 Stay Connected with SF
Sign Up for Our Newsletter
Be the first to know about upcoming events and festivals, new restaurants, special deals, and everything else happening in the City by the Bay.