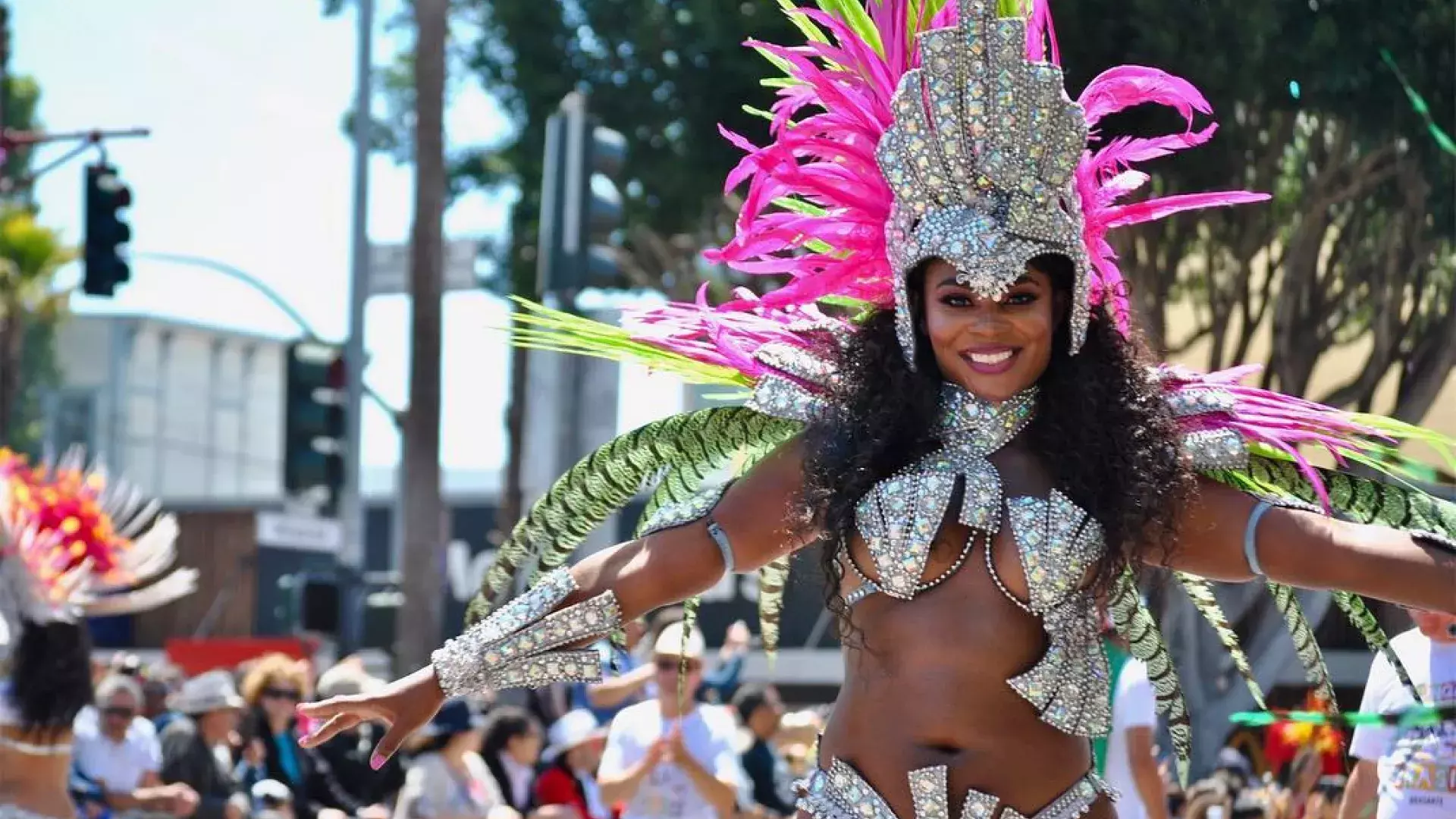 The Guide to

San Francisco's Carnaval Celebration

The Mission District will sizzle with the sights and sounds of samba, salsa and more for the festival and grand parade on Memorial Day weekend.
Highlights
The Carnaval San Francisco Festival will be held on Saturday and Sunday of Memorial Day Weekend. The festivities center on Harrison Street in the Mission District between 16th and 24th Streets.
Themed as "45 Years of Music & Movement", headliners at this years festival include La Sonora Dinamita con Vilma Diaz and Los Van Van. La Sonora Dinamita's sound originated from Colombia and has become an integral part of Latino music history and celebrations, while Los Van Van is one of the most influential bands of 20th century Cuban pop music.
The Grand Parade on Sunday begins at 9:30 a.m, on the corner of 24th and Bryant streets. Spectators return year after year to see the floats depicting multicultural themes. Brazilian-style escola samba schools with as many as 300 performers dance through the streets in lavish, feathered headdresses and swirling Bahia skirts. At the same time, Caribbean contingents perform the music and dance of the Bahamas, Cuba, Jamaica, Puerto Rico and Trinidad. Other groups in the parade include Mexican Aztec performers, traditional African drummers, Polynesian dancers, Japanese drummers, giant puppets and folkloric groups representing Guatemala, Honduras and Bolivia.
Parade Route
The parade will start at the corner of 24th and Bryant Streets and proceed west to Mission Street. From there, the parade heads north on Mission down to 15th Street and will turn east to South Van Ness avenue. Bleacher seats are available for the Grand Parade.
Festival
The two-day festival on Memorial Day Weekend is from 11 a.m. to 6 p.m. and will unfold along Harrison Street between 16th and 24th streets. The festival will feature various food, music, dance, arts, crafts and entertainment on several stages and appeal to all ages. Please note that no pets are allowed in the festival area.
Musical headliners will perform Saturday, May 27 from 4 to 6 p.m. La Sonora Dinamita con Vilma Diaz will perform at the 17th & Harrison Stage. Los Van Van will perform at the 22nd & Harrison Stage.
---