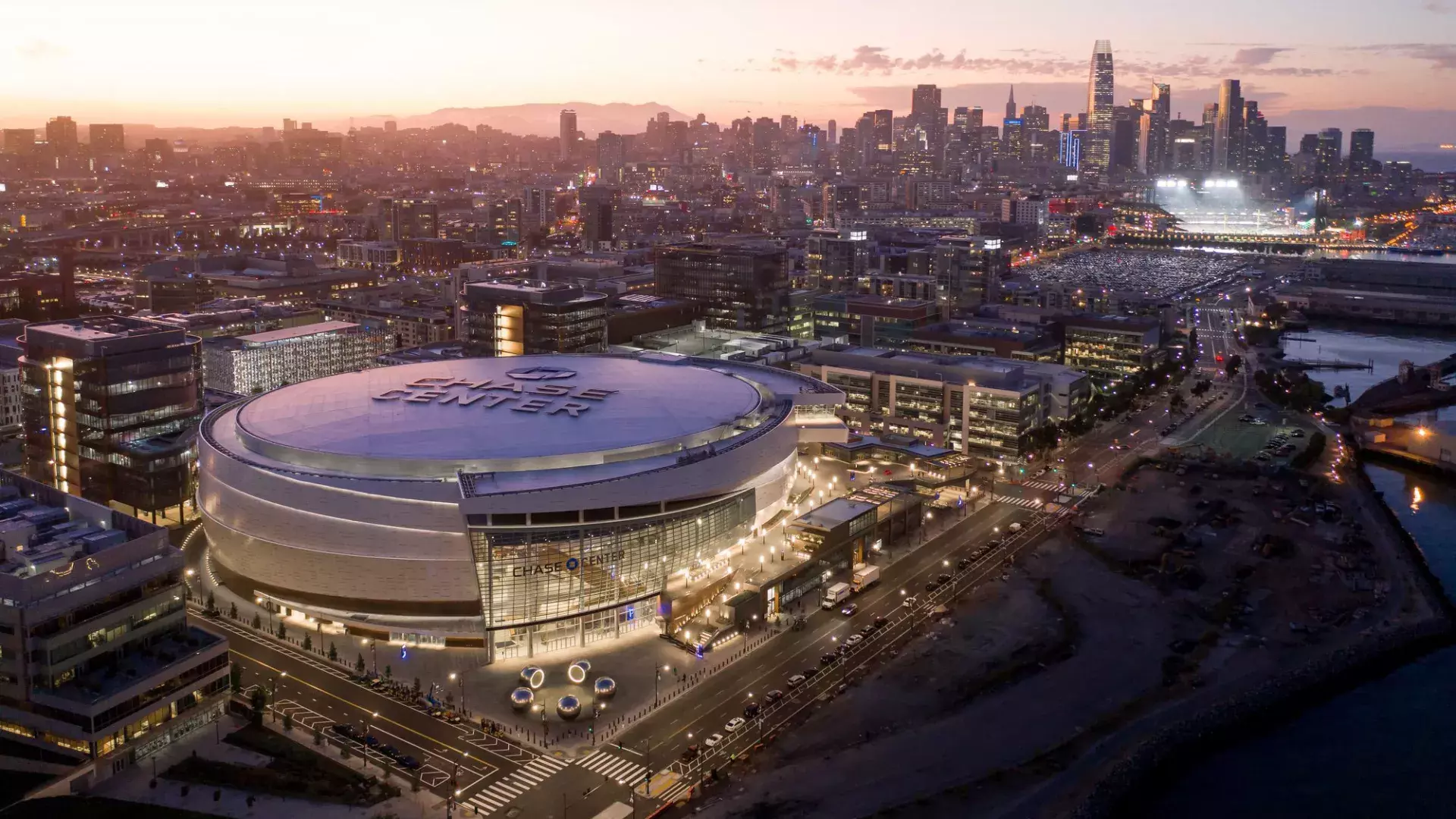 Everything You Need to Know About San Francisco's Chase Center
San Francisco's newest venue is home to much more than just the NBA Champion Golden State Warriors.
Great music, innovative food, and 11 acres of public space make the Chase Center a growing part of San Francisco's entertainment scene. Whether it's a night out with friends or a more intimate private event, the Chase Center has plenty to offer.
Chase Center Specs
The Chase Center is a multi-purpose complex boasting arena seating capacity of 18,064, and the largest scoreboard in the NBA. There are a number of VIP seating options, including mid-level theater boxes and lounges on the lower levels. The Chase Center also anchors 11 acres of restaurants, offices, hotels and a waterfront esplanade. 
Events
The Chase Center is an attraction for larger sporting and music events. Here are the major types of events held at the Chase Center.
Sports
The Chase Center is home to the Golden State Warriors. Check out one of the best teams in the NBA at one of 81 home games. 
Live Music/Entertainment
The Chase Center is already attracting some of the biggest and most popular musical acts. Expect to see one of your favorite bands performing live in the near future.
Competitions
The Chase Center hosted the League of Legends World Championships in 2022, welcoming avid gamers from all over the world.
Food and Drink
The surrounding Thrive City offers an eclectic mix of cuisine and plenty of bars to boot. 
Food Options
The Chase Center offers an impressive variety of dining options, from expertly brewed craft beers to innovative Mexican and Chinese cuisine. Here are some of the food options that are definitely worth checking out.
Tacolicious
Portals 3 & 22
The regional chain serves mouthwatering tacos with a variety of fillings, along with the "Marina girl" salad and crunchy churros.
Bakesale Betty
Portals 10, 18, 45, 55
Well known to Bay Area residents, this popular fried chicken chain serves the best buttermilk fried chicken sandwich west of the Rockies.
Sam's Chowder House
Portals 22 & 49
Gourmet versions of New England-inspired casual and authentic seafood dishes are served here.
Tony G's Pizza
Portals 5, 10, 14, 21, 30, 51
Sample signature slices from World Champion Pizza Maker Tony Gemignani.
Getting to the Chase Center
The Chase Center does have on-site parking, but public transportation is your best option. The Muni Metro T Third  line drops passengers on Third Street, just west of the Chase Center. Many Muni buses and shuttles drop off at the Chase Center, including late-night service. Visitors from the greater Bay Area can also use BART to reach Muni. 
These services are particularly convenient because your event ticket serves as your pass for the day.
Ferry service is also available to and from Pier 48.
Points of Interest Near the Chase Center
If you're looking for things to do near the Chase Center, there are plenty of options in the Mission Bay and SoMa neighborhoods.
Anchor Brewing Company
501 De Haro St.
America's first craft brewery, Anchor Brewing operates a brewery and taproom in Mission Bay. Enjoy a great beer and then take a tour to see how it's made.
Mission Bay Wine & Cheese
114 Channel St.
The latest concept from the team that brought you the Ferry Plaza Wine Merchant, Mission Bay Wine Bar offers regional wines, craft beers, and small plates.
San Francisco Museum of Modern Art
151 Third St.
This museum offers a world-famous collection of contemporary and modern art. 
Spark Social
601 Mission Bay Blvd.
Less than a ten-minute walk from the Chase Center, Spark Social is a food truck and beer garden haven in Mission Bay. Enjoy happy hour at SIP Bar or grab a bite at one of the gourmet food trucks.
Stagecoach Greens at Parklab Gardens
1379 Fourth St.
Play 18 holes at San Francisco's only outdoor mini-golf course, Stagecoach Greens, located just next door to Spark Social. All 18 holes are San Francisco-themed, so you can put your way through a gold mine, Sutro Tower, Chinatown's Dragon Gate, and much more.
City Kayak
Pier 40
If you're looking for some adventure out on the bay, go on a trip with City Kayak. Rent a kayak and paddle to McCovey Cove, Mission Creek, and under the Bay Bridge.
Yerba Buena Gardens
750 Howard St.
Located in the heart of the city's downtown cultural district, Yerba Buena Gardens is the perfect place to play, dine or relax. Enjoy year-round indoor ice skating and bowling, visit the Children's Creativity Museum, or lay out a blanket at the Martin Luther King Jr. Memorial.
---