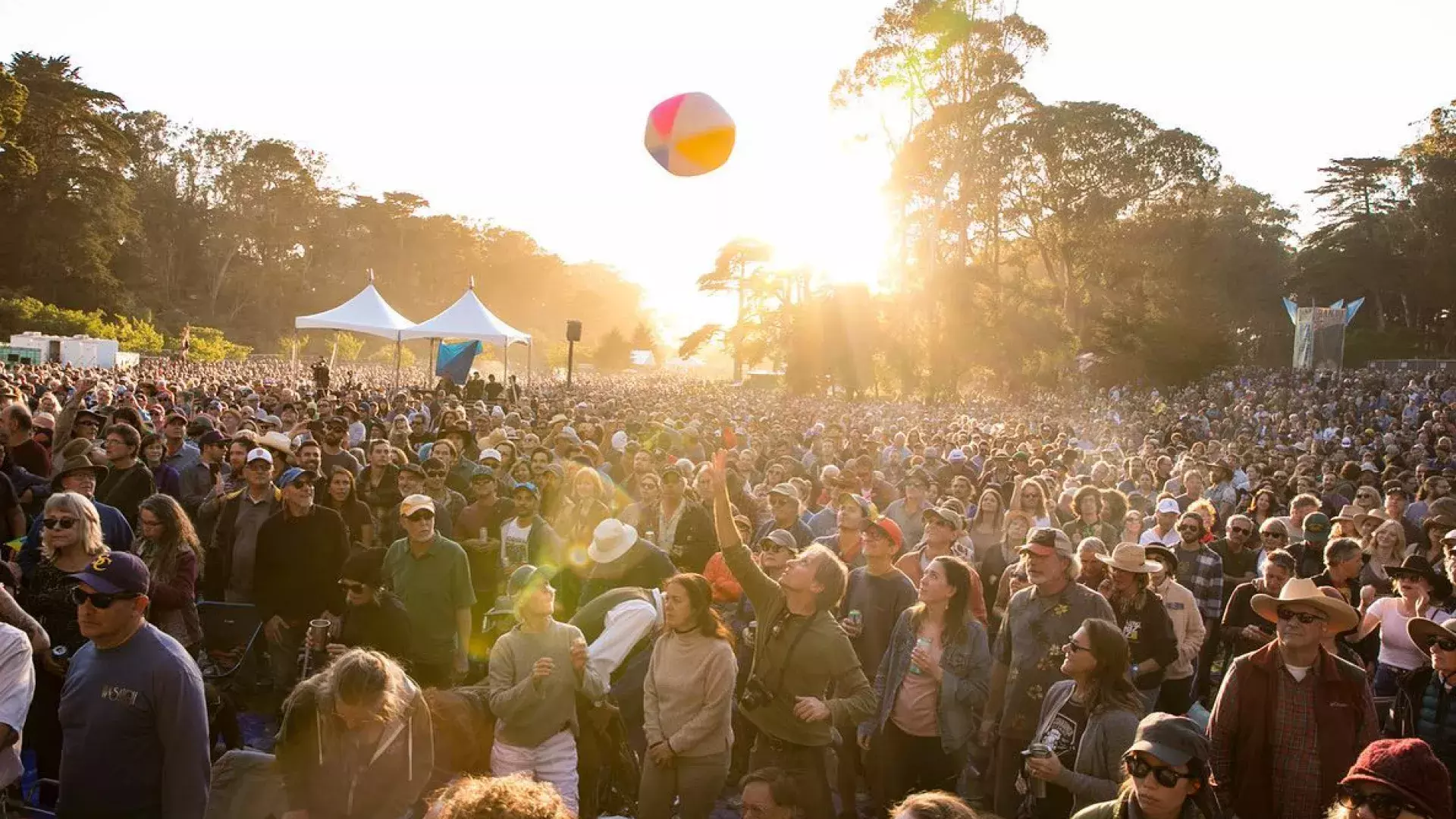 The Guide to

San Francisco's Hardly Strictly Bluegrass

One of the first signs of fall in San Francisco is the Hardly Strictly Bluegrass music festival.
This annual favorite will be returning to Golden Gate Park and welcoming gleeful music lovers from all over. With more than 80 artists performing at this celebration, you can hear country, soul, folk, and indie blues in a beautiful outdoor setting. And it's free to attend! Come celebrate in San Francisco September 29-October 1, 2023.
A Brief History of Hardly Strictly Bluegrass
The festival originated as "Strictly Bluegrass" in 2001, but as artists from other musical styles were added to the lineup, the name was changed to "Hardly Strictly Bluegrass". The festival serves as a gift to the people of San Francisco from the late investor, banjo player, and bluegrass fan Warren Hellman. 
The Hellman Foundation now funds this free and non-commercial music festival that celebrates creativity and community in a friendly and fun atmosphere spread across six stages in Golden Gate Park.
Hardly Strictly Bluegrass welcomes more than half a million festival-goers over its three days. In years past, the festival has featured artists like Emmylou Harris, Hazel Dickens, Gillian Welch, Earl Scruggs, and many others.
Festival Location in Golden Gate Park
Golden Gate Park welcomes more than 13 million visitors a year and hosts hundreds of events and activities. The park's 1,017 acres of gardens, playgrounds, lakes, picnic groves, trails, and monuments make it a perfect location for large public events.
Hardly Strictly Bluegrass takes place at Hellman Hollow and Marx and Lindley meadows in Golden Gate Park. The festival area is bordered by John F. Kennedy Dr. to the north and Transverse Dr. to the east. Remember to check the map to locate one of the four entrances.
If you want to see more of Golden Gate Park, try a free City Guides walking tour, which includes a tour of the Japanese Tea Garden, Stow Lake, Strawberry Hill, or the West End of the park.
Artists and Music Genres
While the entire slate of artists has not yet been announced, 32 artists have confirmed to play so far.
Festival attendees will be able to hear: Bahamas, Neal Francis, Kurt Vile and the Violators, Beth Orton, Gabby Moreno, Brennen Leigh, Buffalo Nichols, and a slew of other incredible artists. 
Bookmark this page to check for updates!
Things to Know Before You Go
The gates will open at 9 a.m., so you can head in and lay your blankets and chairs on the grass. While collapsable wagons and taller chairs are allowed, be considerate and mindful of your neighbors. Be sure to bring only clear plastic bags or backpacks. Refer to the Hardly Strictly Bluegrass website for a list of items allowed on the festival grounds.
As San Francisco is known for its wide range of cuisines, you will find great food options at Hardly Strictly Bluegrass. Expand your horizons by sampling any of the 35 food and beverage choices or feel free to bring your own picnic (but be sure to leave your coolers at home).
Alcohol will not be available for purchase at the festival, but beer and wine may be brought to the park in non-glass containers only. Kegs are not allowed per park rules. Check the festival website for park rules about alcohol.
Prescribed medication or infant care may be brought in a small, soft-sided cooler.
Please be aware that there are no ATMs on-site. Cash or cards will be accepted for concession and merchandise purchases.
While October usually brings warmer weather to San Francisco, it's best to prepare by dressing in layers for sunny days and foggy evenings. You never know when Karl the Fog might make a special guest appearance!
Ways to Get There
Parking can be extremely challenging in the neighborhoods around Golden Gate Park during the festival weekend. To make your commute to the festival less of a hassle, we encourage visitors to walk, bike or take public transportation.
A free Golden Gate Park shuttle will be operating during the festival weekend. The shuttle, provided by the San Francisco Recreation and Park Department, will run from 9 a.m. to 6 p.m. on Saturday and Sunday. Just look for the green shuttle stop signs at the Ocean Beach parking lot on the west end of Golden Gate Park. Your most convenient shuttle stops for the music festival are either JFK/Transverse Drive or Marx Meadow. You can find more shuttle information here.
You can take the 5 and 5R Fulton Muni bus to the north side of the park, with festival access at 25th, 30th, or 36th avenues. The 29 Sunset bus is also within close proximity to the festival and the 7 Haight/Noriega bus runs on the south side of the park.
If bringing your own vehicle is your only option, then take out some of the stress by using SpotHero to reserve parking ahead of time.
Accessibility Choices
Parking for vehicles with disability placards, license plates or other demarcation can be found along JFK, west of Chain of Lakes, available on a first come, first served basis.
There is a Shuttle that picks up passengers from Placard Parking and stops at 36th Ave & JFK Drive, adjacent to Gate 3. The Hours of operation for this shuttle are Friday, 10:30a.m to 7:30p.m., and Sat and Sun, 8:30 a.m. to 7:30p.m.
Accessibility Ambassadors will be located in a tent along JFK and 36th Ave, adjacent to Gate 3 at Spreckels Lake.
The Ambassadors can answer questions and will distribute wristbands to guests with mobility issues. Wristbands provide golf cart access up and down JFK. Wristbands are limited to the attendee with disability and one companion.
View the 2023 Accessibility Map here. Learn more about accessibility at Harley Strictly Bluegrass here.
Check the Hardly Strictly Bluegrass website and mobile app for the latest news and vendor locations that will be announced in the week leading up to the festival.
---