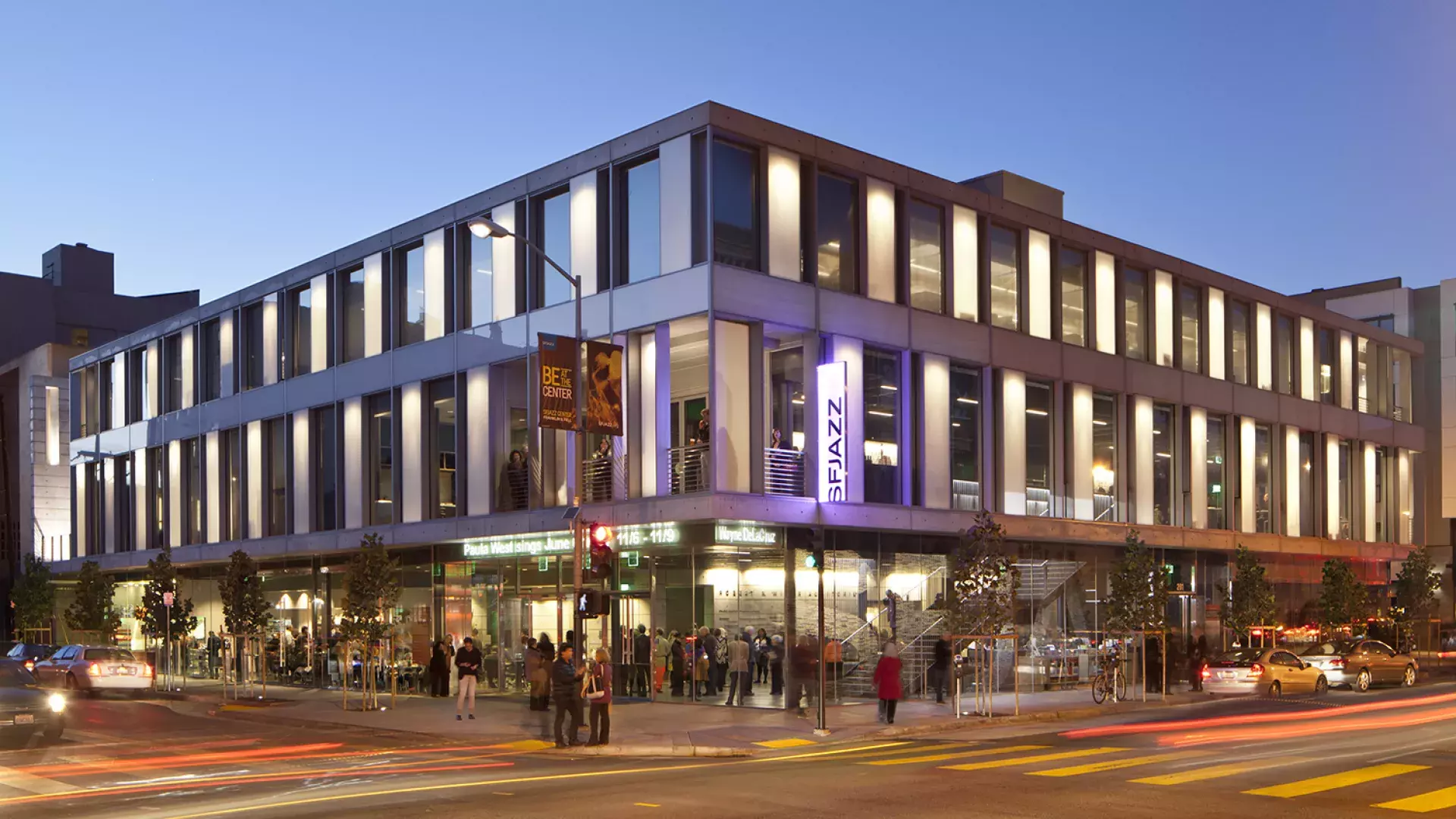 Jazz In San Francisco

History and Where to Hear it

San Francisco has a long history with jazz music. Learn about our history and where to find it now, from festivals to clubs and bars.
When you see the Tony Bennett statue outside of the Fairmont Hotel on Nob Hill, you will gain a better understanding of how San Francisco has embraced its jazz history. In December 1961, in the hotel's famous Venetian Room, Bennett first sang "I Left My Heart in San Francisco." The song quickly became one of the city's official anthems. Dedicated in 2016, the statue signifies the city's ongoing love affair with the song, the music, and the musicians who make it. And, if you go to a baseball game at Oracle Park, there is nothing like hearing "I Left My Heart in San Francisco" played after a Giants victory.
Much has been written about the historic jazz clubs from the 1950s and 60s — Jazz Workshop, The Blackhawk, Basin Street West, Todd Barkan's Keystone Korner—and the classic jazz albums recorded in the city, including Thelonious Monk's 1959 album Alone in San Francisco, the 1961 Miles Davis album In Person Friday and Saturday Nights at the Blackhawk, Complete, and Duke Ellington's Concert of Sacred Music at Grace Cathedral from 1965.
San Francisco always honors its jazz and blues history while listening for what will push the music forward. The city also continues to celebrate jazz and blues as an art form that is best experienced live and in the moment.
Where to Hear Jazz in San Francisco
San Francisco offers live jazz and blues each and every night of the week in various settings. See international artists in state-of-the-art auditoriums or local artists in historic cocktail lounges, unique dive bars, iconic restaurants, modern art galleries, and off-the-beaten path record stores and bookstores. Additionally, there are numerous Jazz Festivals throughout the Bay Area during warmer months.
Jazz Festivals 
This summer, the city, and region will host jazz and blues concerts, festivals, and numerous free outdoor events including:
San Francisco Jazz Festival
Monterey International Pop Festival
Chinatown Music Festival
SFJAZZ Center
201 Franklin St.
The award-winning SFJAZZ Center opened in Hayes Valley in 2013 and boasts the 700-seat Robert N. Miner Auditorium and the 100-seat Joe Henderson Lab, showcasing the biggest names in international music and the best of the Bay Area's local jazz scene. Enjoy a show and a cocktail at B-Side, the lounge in the SFJAZZ Center.
Boom Boom Room
1601 Fillmore St.
The Boom Boom Room hosts local and international blues, funk, jam bands, and everything in between. A place known to have shows go late into the night, welcoming artists who have finished shows at other venues, the Boom Boom Room is a laid-back venue that attracts a younger crowd looking to dance the night away.
Black Cat 
400 Eddy St.
A modern take on the vintage supper club, Black Cat is located in the heart of San Francisco's Tenderloin neighborhood, the historic arts and entertainment district once home to fabled jazz venues such as The Blackhawk. The downstairs music space features live music nightly from a wide variety of local and touring artists.
Feinstein's at the Nikko 
222 Mason St.
The Hotel Nikko in Union Square houses the eponymous Feinstein's. Founded by the Ambassador of the American Songbook, Michael Feinstein, Feinstein's at the Nikko presents top Broadway artists, cabaret singers, and today's best interpreters of the Great American Songbook.
The Royal Cuckoo Organ Lounge 
3202 Mission St.
Located in the Mission District, The Royal Cuckoo Organ Lounge is a kitschy bar that is both swanky and divey in just the right proportions. It features a house Hammond B-3 organ, played by the area's best organists, along with a huge record collection. You can request songs from a library card catalog system.
Comstock Bar 
155 Columbus Ave.
In North Beach, Comstock is a pre-Prohibition cocktail bar experience. With the musicians perched high above the bar, you can hear live jazz nightly as you sip specialty cocktails along the 20-foot mahogany bar from 1907.
Mr. Tipple's Recording Studio
39 Fell St.
A hideaway on Fell Street, Mr. Tipple's presents live jazz nightly alongside inventive cocktails in a dark and sophisticated space.
BIX Restaurant
56 Gold St.
Named in honor of cornetist Bix Beiderbecke and located off an alley near Jackson Square, BIX has been described as a civilized speakeasy, a supper club, and an elegant saloon, offering modern American cuisine served in a soaring two-story dining room to the strains of live jazz nightly.
Le Colonial
20 Cosmo Place
A few blocks from Union Square, Le Colonial serves French-inspired Vietnamese cuisine against the backdrop of live jazz, Monday to Friday, featuring music from the Django Reinhardt-influenced group, Le Jazz Hot, and the sultry soul sounds of Lavay Smith & Her Red Hot Skillet Lickers.
Pier 23 
Pier 23 on the Embarcadero
Pier 23 Cafe is a time-honored restaurant and bar located right on the Embarcadero and San Francisco Bay. Known for fresh seafood, unique cocktails, and bay views, Pier 23 presents nightly live music from local jazz and blues artists, Latin jazz bands and New Orleans-inspired groups.
Bird & Beckett Books and Records
653 Chenery St.
Named for legendary saxophonist Charlie "Bird" Parker and Irish novelist Samuel Beckett, Bird & Beckett in Glen Park is a true neighborhood hotspot that features weekly jazz concerts, allowing you to hear and read about jazz at the same time.
Madrone Art Bar
500 Divisadero St.
An ever-changing art gallery, Madrone presents local funk, jazz, and brass bands that play everything from James Brown to Brazilian samba. The music regularly turns the bar into a dance party.
Noise - Vinyl Records & Original Art 
3427 Balboa St.
Off the beaten path in the Outer Richmond and only a few blocks from Land's End, saxophonist Danny Brown and his family operate one of the city's best record stores and art galleries that features live jazz and jam sessions every Sunday afternoon.
KCSM
KCSM is one of the few 24-hour non-commercial jazz radio stations in the country. So, before you pack your bags to visit the Bay Area and once you return home, tune into KCSM/91.1 online to hear what is happening when you are in town and what you're missing after you have left your heart in San Francisco.
---