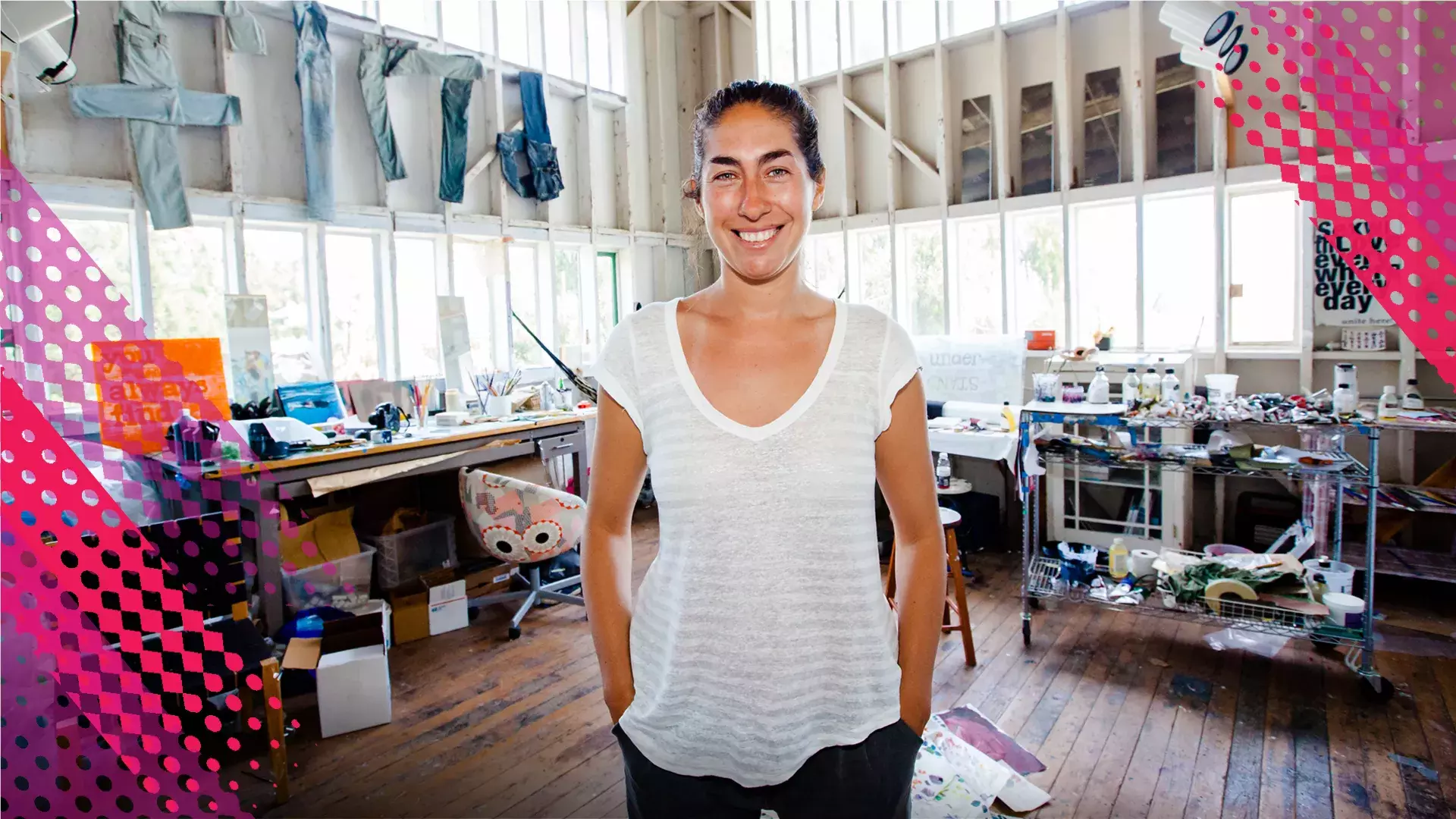 How I See SF:

Artist Ana Teresa Fernandez

See San Francisco through the eyes of one of its most trailblazing artistic creators, Ana Teresa Fernandez
If you want to have a truly genuine San Francisco experience, then you have to consult the experts: our friendly locals. Knowledgable, passionate, and always ready with a recommendation for what to do, see, or eat, San Franciscans of all types have been part of our ongoing "How I See San Francisco" series.
Artist Ana Teresa Fernandez, a graduate of the San Francisco Art Institute, explores politics, activism and intersectionality in her works. Her performances, videos, paintings and installations have been featured both locally and around the world. Ana Teresa also frequently partners with nonprofits and art organizations to help improve communities. Read on for her recommendations for experiencing San Francisco.
What does a typical day in San Francisco look like for you?
I wake up at 7 a.m., text my husband, "hug," and he comes back into our bedroom to give me a giant squeeze. He is usually up way before me. I have coffee and do an hour or two of emails, grants, applications, or interviews. My strongest writing happens in the morning.
By 9 a.m., I am usually surfing at Ocean Beach. We live right there, so we can do a wave check from any window and just cross the street to go surfing. If there isn't any surf that morning, I will go for a run to Sutro Park and take in the breathtaking view.
After working out, I go to my studio in the Bayview. I work until 5 p.m. I get home around 6 to my husband's cooking and we get to watch the sun set every night over the Pacific Ocean. 
Which neighborhood, other than your own, do you like to explore?
Anytime I have to go through older parts of the city such as Pacific Heights, I marvel at how different that part of the city is. It's as if I am seeing it for the first time. Any time I get to be in the passenger seat and we drive through the Presidio, on Highway 1 going south, or on Route 101 going north and I get to roam my gaze freely at the sites, it always feels like an absolute treat. The landscapes make me sigh each time. 
Where do you indulge your artistic side in San Francisco?
The natural world in San Francisco is where I take in a huge gulp of creativity: the cloud formations, color changes in the sky, trees kneeling in beautiful shapes after being pressed by the wind.
It has been a long time since I have been in a creative space. Working and being in the space of Creativity Explored always felt decadent. You get to be immersed in that artistic world as it is happening. 
How do you think the arts will shape our city's recovery?
Even before the recovery, art has been essential in and outside people's homes. It has inspired and encouraged people. Art has been part of the essential nature and fabric for all communities. No doubt it will stay with us as we continue the recovery process. 
How did you channel your creative energy while being stuck at home?
I get to work in an isolated studio. I always described my process as monastic, even before the pandemic, because it is extremely quiet and isolated. I can go a day without talking. But when I get home, I love tinkering by up-cycling clothes: getting vintage sweaters or pieces and adding sequins text to them, or sewing new patterns. On the weekends, our dining room table transforms into a studio of sorts. 
What's your favorite annual event that happens in San Francisco?
The Headland's Auction is one of my favorite events! It's an art auction that attracts some of the most exciting talent the city has to offer: architects, designers, tech, robotics, musicians—if they are innovative in their field, you will see them at this event. It is held at the beautiful Fort Mason Center. 
Where and what would you choose for your last meal in San Francisco?
The Progress in the Fillmore neighborhood. They have an ever-changing menu of great family style dishes. Whatever you choose, always finish the meal with the peanut milk.
Which restaurant is still on your list to dine at in San Francisco?
Cotogna, an Italian restaurant on the edge of North Beach. Every time I try to go, something happens or it is always booked. 
Where do you like to view sunrise and sunset?
Sunrise, my studio. Sunset, our balcony. Visitors should also try Bernal Heights Hill at sunrise and the Sutro Baths at sunset.
What should every visitor to San Francisco do at least once?
I take all my visitors to the observation tower at the deYoung Museum. It is free and you get an amazing 360-degree view of the city. 
What's one part of San Francisco that you wish visitors knew about?
It isn't in San Francisco, but just north: City Hall in Marin, designed by Frank Lloyd Wright. Several films have been made there. My husband and I went there to get officially married in November, and it was like walking into a magical and mysterious retro sc-fi landscape from the 60s. It happened to be empty and raining, which turned the arched skylights into waterfalls above our heads. 
Any final advice for visitors coming to San Francisco?
People in San Francisco don't call the city "San Fran".  That is how we know you are not from here.  Also, always bring a sweater or jacket, especially in the summer.
---