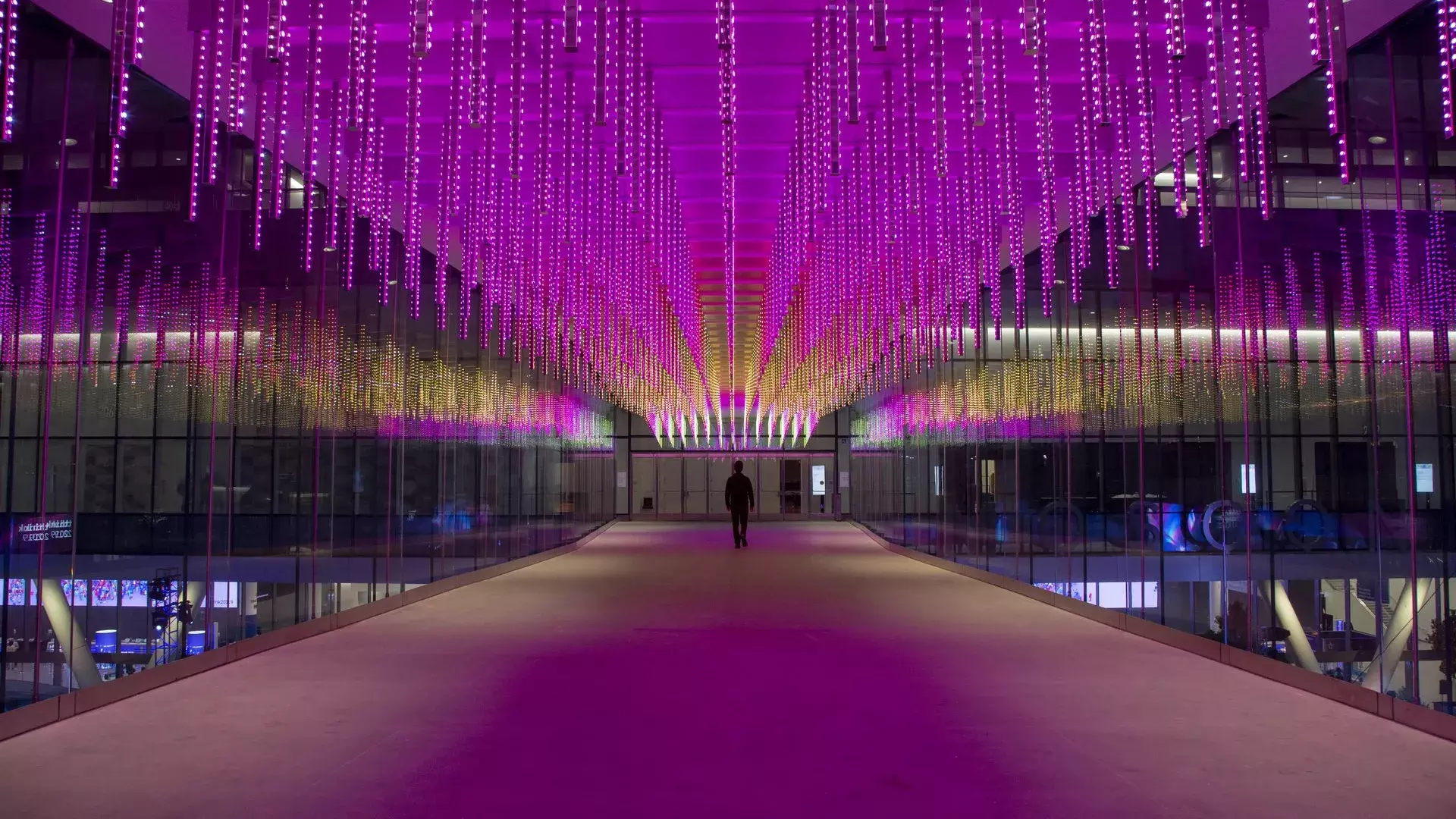 11 Installations To See On the Illuminate SF™ Light Art Trail
Illuminate SF™ is the annual light art festival that brightens all of San Francisco, November 24 through January 31.
Christmas trees and holiday decorations aren't the only things that are glowing this holiday season. Illuminate SF™ is the annual light art festival that brightens all of San Francisco, Thanksgiving through New Year's Day. While there are more than 60 permanent and temporary light art installations throughout the city, we've hand-picked a few that make for a fantastic light art trail. Experience this light art trail to keep your holiday season bright.
The Wind Baffles
The iconic wind baffle structures that anchor The Parks at 5M, a new, vibrant community connected to the surrounding fabric of San Francisco's SOMA District by a cohesive network of public spaces, are the brainchild of !melk, an award-winning urban design and landscape architecture firm. Built to mitigate wind, the baffles or "wind breakers" are artfully illuminated from the outside and complemented with a soft glow that radiates through the perforations in the upper zones. Though made from steel, a material associated with heaviness and industry, the baffles are often referred to as "flowers" for their stem and leaf-like design elements. Come nightfall, they transform into breathtaking sculptures and suddenly seem to float.
Point Cloud
Point Cloud is housed on the pedestrian bridge connecting the north and south buildings of The Moscone Center. This installation was created by Leo Villareal, the same artist created The Bay Lights. Point Cloud spans 100 feet and is constructed of 858 steel rods and 28,288 LED bulbs that are, like those on the Bay Bridge, individually programmed to change colors every 30 seconds. You can walk the bridge during The Moscone Center's open hours, or enjoy the light show from street level on Howard St.
Peace in the Middle East
Taravat Talepasand's Peace in the Middle East has returned as a permanent installation in YBCA's Grand Lobby. Hung from the ceiling, this intricate neon artwork, featuring the word "peace" in Farsi, explores the cultural taboos that reflect on gender and political authority through Talepasand's lens as an Iranian-American woman.
Love Over Rules
Glowing 6-foot-6-inch letters spell out LOVE OVER RULES on the exterior wall of the Salma Family Building in the heart of the Yerba Buena neighborhood. Situated in an alley off Mission Street, the light sculpture is the first permanent public artwork in the United States by New York-based artist Hank Willis Thomas. A tribute to the artist's cousin, murdered in 2000, the blinking white neon installation shares his cousin's last recorded message to Thomas. Each word gets a line, encouraging different reads: is it "LOVE OVER RULES" or "LOVE OVERRULES?" Thomas, who graduated from the California College of the Arts' MFA program in 2004, has deep ties to the city and local culture. The large-scale light art work is Sites Unseen's third public art project.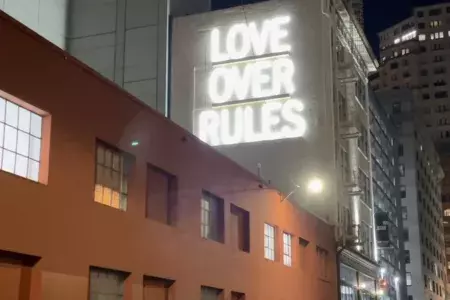 Day for Night
At the top of the Salesforce Tower, the tallest building west of the Mississippi, you'll find Day for Night, a massive and incredibly versatile light art installation by Jim Campbell. The top of the tower has been sheathed in 11,000 lights and video screens that allow daily scenes of city life to be displayed all night long.
White Light
In the gleaming, sunlit rotunda of the new Salesforce Transit Center, Jenny Holzer's White Light inspires commuters and visitors with its words of wisdom. The 182-foot-long LED screen displays the words of more than 40 writers for varying amounts of time. Some are fleeting, 45 second appearances. Others linger for up to two hours.
Let's Glow
Let's Glow SF is a holiday projection mapping event will run Dec. 1 to 10. The activation is produced by Downtown SF, the community benefit district which serves the Financial District and Jackson Square, in partnership with A3 Visual.
Let's Glow SF will be the largest holiday projecting mapping event in the U.S. The nightly journey of light and color will feature the works of local and international artists. Stunning whimsical, abstract, and naturalistic winter-themed images will be projected onto four iconic buildings in San Francisco's Financial District.
 
Language of the Birds
Language of the Birds is a permanent site-specific sculpture installed at a pedestrian plaza linking Chinatown and North Beach. Each of the artwork's suspended "books" mimic a bird in motion, with various wing positions created by the forms of the pages and bindings. Passing under the flock, pedestrians will notice words and phrases embedded in the plaza floor, which appear to have fallen from the pages above. On closer inspection, the fallen words are in English, Italian and Chinese, and were selected from the neighborhood's rich literary history.
At night, LED lights embedded within the books create visual patterns – at different times one might see the flock subtly pulsing or giving off a spectacular zoetrope effect. It is the first solar power-offset public artwork in California; the artists teamed with scientist David Shearer and Lawrence Ferlinghetti's City Lights Bookstore to provide solar power to the city's grid, offsetting the energy used by the artwork.
Buckyball
Experience Buckyball by Leo Villareal, a towering 25-foot illuminated sculpture that enlivens the Exploratorium's public space in both daylight and moonlight. Inspired by futurist and inventor Buckminster Fuller's geodesic dome, the spherical soccer ball-like form features two nested geodesic spheres comprised of 4,500 LED nodes arranged in a series of pentagons and hexagons. (Scientists discovered the form in a carbon molecule in 1985 and coined it the "Buckminsterfullerence" or "Buckyball," which is avidly being researched by scientists and material engineers).
Buckyball's light sequences are driven by chance, and can glow with more than 16 million distinct colors to create exuberant, random compositions of varied speed, color, opacity, and scale. Simple elements drive a full-scale sculptural installation that moves, interacts, and ultimately grows into a complex, dynamic form that questions common notions of space, time and sensorial pleasure.
Helical Trace
LUMA Hotel has given the gift of light art to passersby on the corner of Third and Channel streets. Local art hero Jim Campbell has created another beautiful, site-specific, dynamic light installation in the hotel's lobby that can be seen through floor-to-ceiling three-story windows. The prolific artist who installed Day For Night atop the Salesforce Tower created this striking installation that looks different from every angle and uses the reflection of the windows to amplify its movement. The figures within climb an infinite stretch of waterfall, allowing Campbell to create delight out of physical struggle.
Seeing Spheres
Olafur Eliasson's largest public artworks in the U.S., Seeing Spheres, consists of five fifteen-and-a-half-feet-tall polished hydroformed steel spheres that stand in a circle around a central space. Each sphere supports a flat, circular mirrored face, framed by a ring of LED lights, which is oriented inward to reflect the mirrored faces of the surrounding spheres. Together, they produce a surprising environment of multilayered, reflected spaces in which the same people and settings appear again and again, visible from various unexpected angles. Tunnel-like sets of nested reflections open up in the mirrors, repeating countless times and disappearing into the distance.
Situated on Chase Center's 25,000 square-foot triangular plaza in front of the East Entrance to the arena, this striking new artwork establishes a prominent public setting in Thrive City for visitors to meet and interact.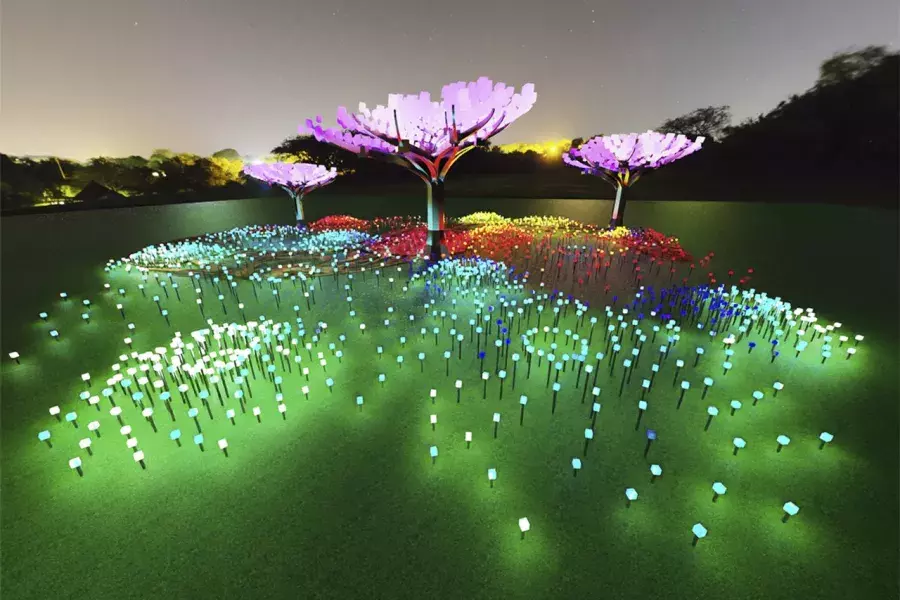 Win A Trip to San Francisco!
We're giving you the chance to experience San Francisco's electric winter wonderland for yourself! You can win a fantastic Illuminate SF prize package, including a two-night hotel stay, attraction tickets, and more. Enter before Dec. 15 to win.
Enter Now
---