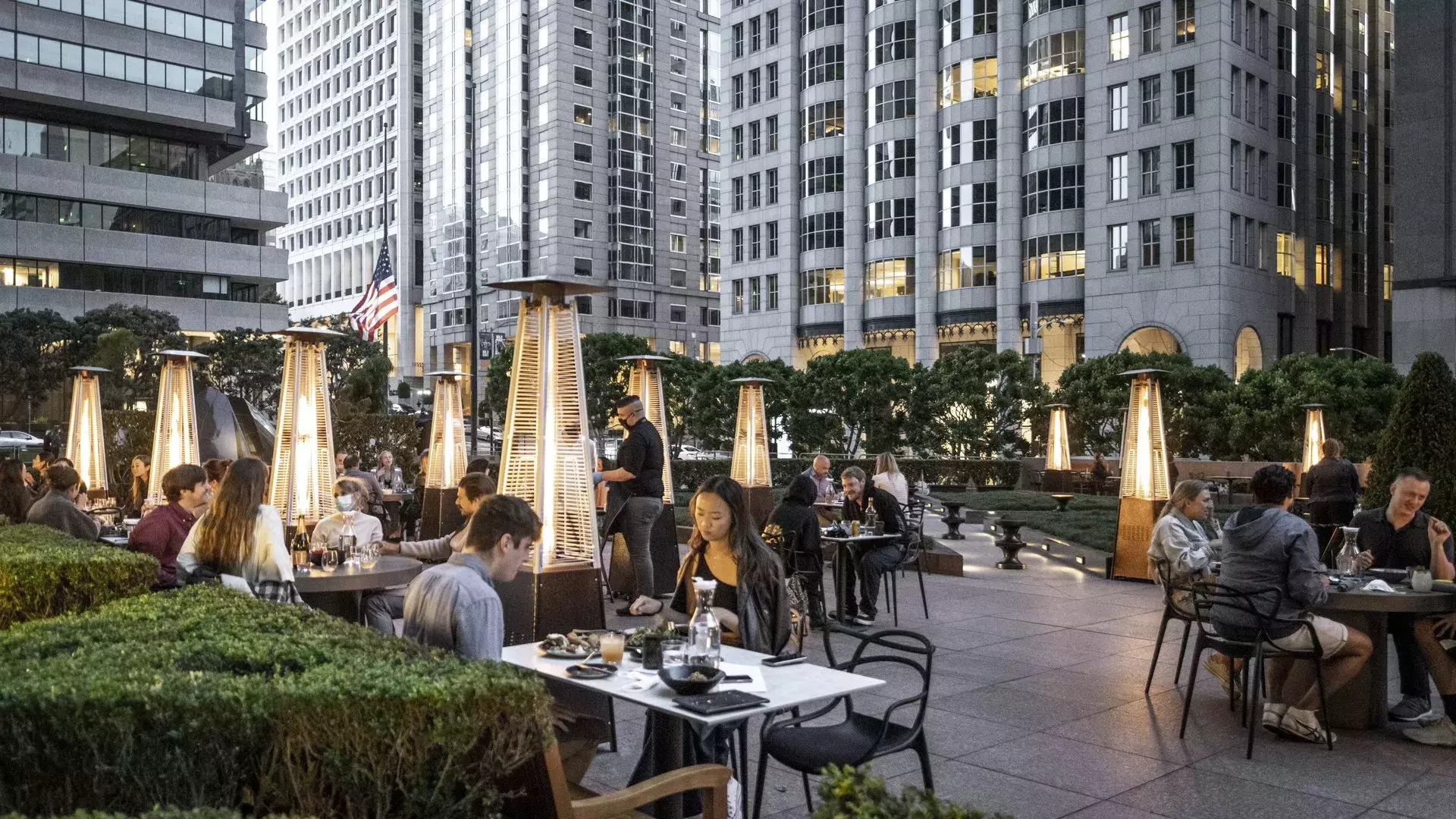 The Most Delicious Dining in Downtown San Francisco
Throughout the Financial District and along the Embarcadero, you'll find some of San Francisco's most awarded and in-demand restaurants.
You'd be wrong to assume that San Francisco's Financial District doesn't have much to offer after business hours. As it turns out, this neighborhood is a downtown dining destination of the highest caliber. With help from our friends at af&co., who know a thing or two about great restaurants in the city, we've rounded up some of the places downtown and along the Embarcadero where you absolutely must make a reservation.
Afici
680 Folsom St.
Experience contemporary American cuisine by Chef Eric Upper at Afici. Enjoy a pre-fix menu featuring French and Italian influences combined with unique cuts of meat inspired by the chef's NYC past. Enjoy their fresh pasta courses culminating with sumptuous sweets for dessert to finish. 
Angler
132 Embarcadero
Facing the Bay Bridge and Treasure Island, Angler's views are topped only by its Michelin-starred seafood. Their raw bar serves up the freshest variety of oysters, and their regular bar has an incredibly deep roster of wines, beers, and cocktails. The menu changes daily but never disappoints. 
Barcha
28 Fremont St.
A Mediterranean bistro just a short walk from the grassy, elevated expanse of Salesforce Park, Barcha is a perfect spot for lunch downtown. Lamb, falafel, and shawarma are served from 11:30 a.m. to 2 p.m., Monday to Friday. Looking to try more? Their expanded dinner menu offers all that, plus seared salmon and braised duck. And how could you resist some baklava?
Epic Steak
369 Embarcadero
For a stunning view of the Bay Bridge and a rather epic steak, here's your spot. You'll also find oysters, Dungeness crab cocktail, house-made charcuterie, salads and more to make a meal of.
Gott's Roadside
Ferry Building
From its original location in St. Helena, Gott's has expanded throughout the Bay Area. Gott's California-inspired dishes and seasonal specials use locally sourced ingredients to create delectable, modern takes on American roadside classics. Try their California Burger with a fried egg, bacon, and balsamic onions, or their Ahi Poke Crispy Tacos with sushi grade Ahi tuna. Gott's commitment to local sourcing also extends to their collection of local wines and beers, hand selected by Joel Gott himself. A Ferry Building staple, Gott's is the ideal spot for a quick break while walking the Embarcadero. Plus, if you're walking, you won't feel as guilty about springing for one of their thick, delicious milkshakes!
Hog Island Oyster Co.
Ferry Building
Yes, it's true that Fisherman's Wharf is the traditional home for seafood in San Francisco; but Hog Island Oyster Co., at the rear of the Ferry Building, gives its competition further along the Embarcadero a run for its money. An incredibly popular destination for brunch, Hog Island Oyster Co. supplies their raw bar from a sustainable farm in nearby Tomales Bay. Pull up a chair at the bar and order a glass of bubbly or a martini to pair with your plate of perfect raw oysters. Watch the shuckers work their magic, popping open the briny bivalve by the bushel in a matter of minutes. There are also seasonal cocktails, an amazing clam chowder, and quite possibly the best grilled cheese sandwich in the city on the menu. All of Hog Island's oysters come with their signature Hog Wash, a mignonette that is made with rice vinegar, cilantro and jalapeño.
One Market
One Market St.
Created by Chef Bradley Ogden and restaurateur Michael Dellar in 1993, One Market Restaurant has become a standard for sophisticated dining in San Francisco. One Market offers the award winning farm-to-table cuisine of Chef/Partner Mark Dommen. One Market also boasts one of the city's most robust wine lists, curated by Sommelier and Wine Director Tonya Pitts, and a stellar cocktail program from Bar Manager Oscar Davila. No matter where you look at One Market, you're bound to be impressed; whether it's out the windows at the Ferry Building and Bay Bridge or into the restaurant's open exhibition kitchen with its special chef's table. Between the menu and the ambiance, One Market is the perfect location for celebrating a special event or marking an indulgent end to your stay in San Francisco.
Pabu
101 California St.
Lovers of sushi will want to perch at the long counter at Pabu. The remainder of the menu is upscale izakaya in style, ranging from robatayaki skewers to gyoza. Larger dishes include shabu shabu and Japanese A5 Wagyu. Their sake list is one of the city's best.
Perbacco Ristorante & Bar
230 California St.
At Perbacco, you'll enjoy some of the city's most refined Italian dishes, with a focus on Piemontese cuisine. The salumi and stuffed pastas are especially notable. The dining room is refined yet understated, equally perfect for a business lunch or a birthday dinner. Neighboring Barbacco, run by the same team, offers a much more casual vibe and additional selections.
Sam's Grill & Seafood Restaurant
374 Bush St.
This old-school San Francisco restaurant has a longer history than many realize, stretching back to its modest beginnings in 1867 (the current location dates back to 1936). At Sam's Grill & Seafood Restaurant, you'll find white tablecloths, bent cane chairs, private rooms, snappy career waiters and a menu of fresh seafood, ranging from crab to bay shrimp cocktail to sand dabs.
Schroeder's
240 Front St.
Looking for a Bavarian beer hall in the City by the Bay? Head to Schroeder's, a popular happy hour spot with downtown office workers. Healthy pours and portions are the name of the game here. Wings, tots, and meatballs are among the excellent bar snacks. A variety of German sausages, served with mashed potatoes and sauerkraut, will fill you up. Pilsners, lagers, IPAs, and more are on tap.
Tadich Grill
240 California St.
A San Francisco institution, Tadich Grill is California's oldest restaurant. No-nonsense waiters, no reservations and seafood prepared simply are what to expect here. Whether you sit at the long bar or score a private booth, there's great people watching, with a fun mix of regulars and first-timers. Seafood, cocktails and, of course, crab in its many forms are reliable choices.
The Vault Garden & The Vault Steakhouse
555 California
Located in the heart of the Financial District, you'll find two outstanding dining destinations in one place. The Vault Garden is a fully outdoor, 100-seat restaurant on the spacious plaza of 555 California with seasonal food and cocktails. The Vault Steakhouse, located inside the building's original bank vault, is the perfect destination for a special occasion, business function, or date night. Enjoy classic steakhouse cuts with fun, creative sides, thoughtful tableside touches, an extensive cocktail program, whiskey selection, and wine.
Waterbar
399 Embarcadero
A sister restaurant to Epic, Waterbar is known for its extensive oyster bar, outdoor patio, happy hour, and sustainable seafood menu, from grilled spot prawns to local salmon. The floor-to-ceiling aquariums around the restaurant get as much attention as the view and the food.
Wayfare Tavern
558 Sacramento St.
Tyler Florence's American tavern has multiple levels. It's known for one of the best burgers in town, as well as fantastic deviled eggs, fried chicken and complimentary popovers. Popular for lunch, brunch or dinner, expect a lively scene whenever you arrive.
Yank Sing
49 Stevenson St. and 101 Spear St.
With two locations downtown, there's no avoiding the delicious dim sum served at Yank Sing. Come hungry but practice restraint so you can sample as many different menu items as possible. There are more than 100 in their repertoire! We won't tell you how to choose, but believe us when we say you must leave room for their enviable egg custards.
---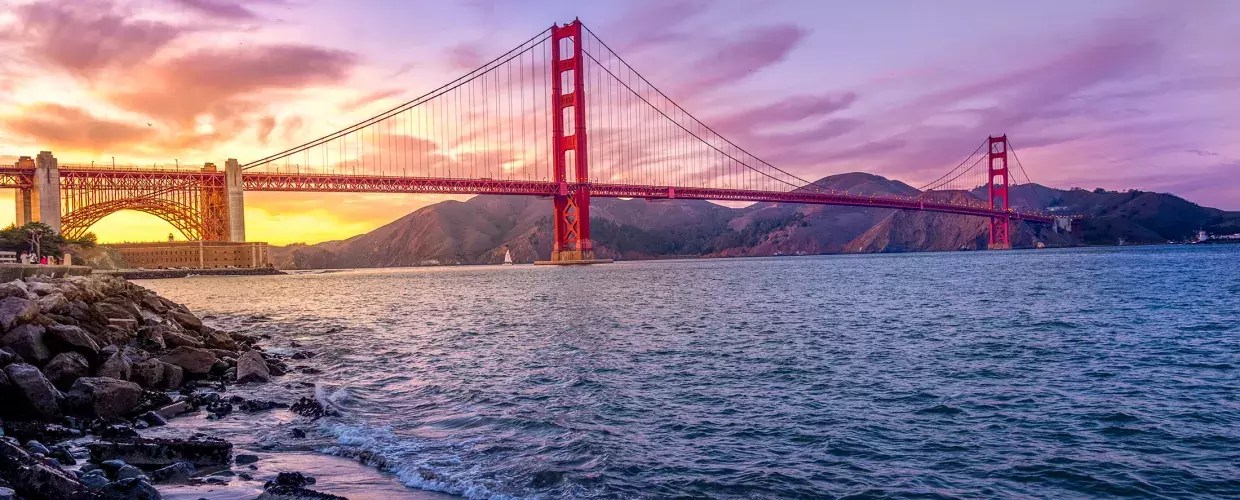 Stay Connected with SF
Sign Up for Our Newsletter
Be the first to know about upcoming events and festivals, new restaurants, special deals, and everything else happening in the City by the Bay.