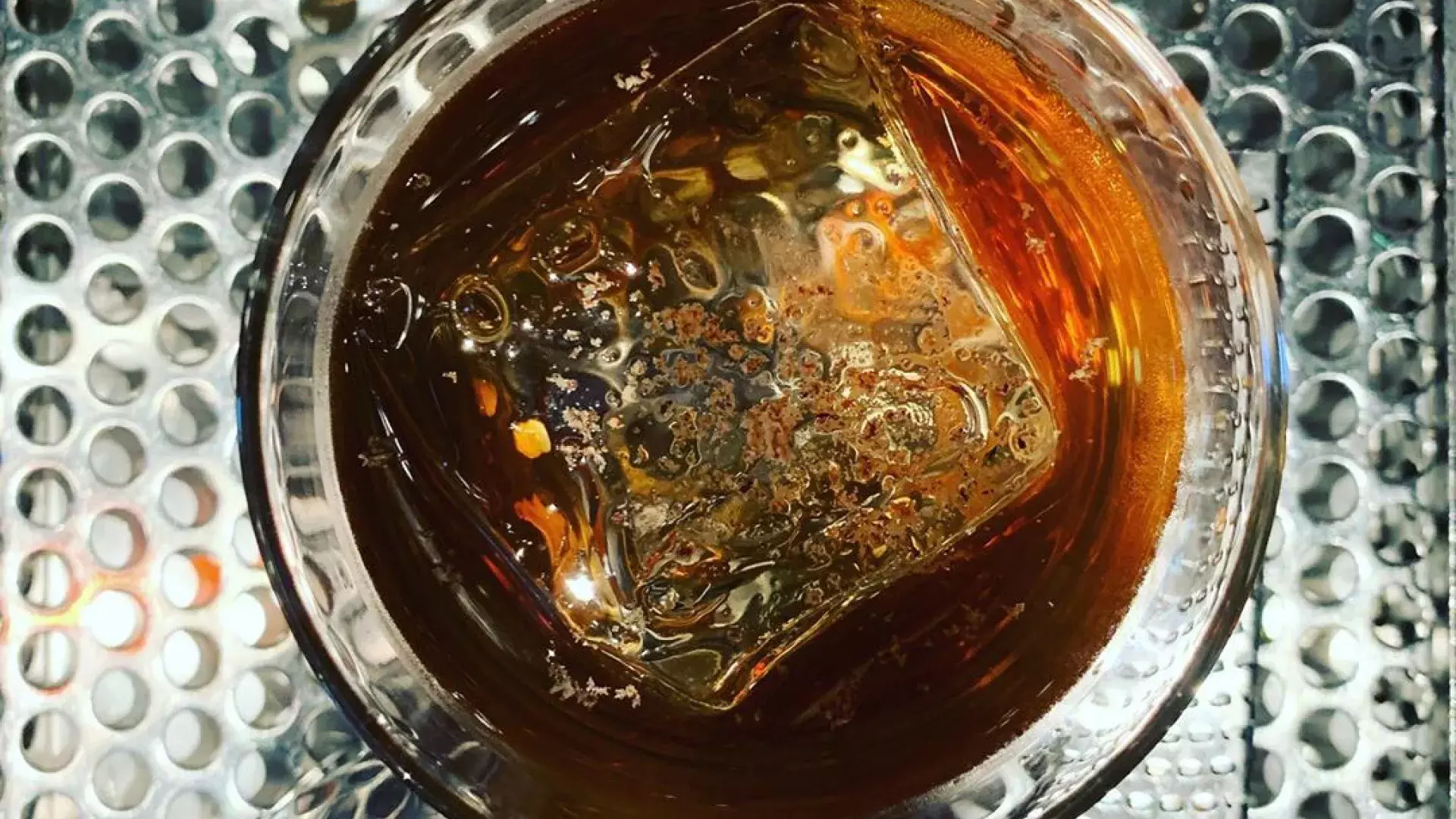 The Must-Visit Whiskey Bars in San Francisco
Whiskey lovers will find plenty of places to enjoy their favorite spirit in the City by the Bay.
Blackbird
2124 Market St.
Blackbird is a hip gathering spot for fine whiskey and some of the most creative cocktails in town. Try the "Improved Japanese Cocktail," with Toki Japanese whiskey, Nigori sake, and lime. A "Fire Walk With Me" features Four Roses bourbon, aquavit, and amaro. Be sure to stop in during happy hour to try the house drink specials, like $10 old-fashions or $8 well drinks.
Bourbon & Branch
501 Jones St.
Take a trip back to Prohibition and the roaring 1920s at Bourbon & Branch. Modeled after a 1920s speakeasy, Bourbon & Branch is one of the most fun whiskey bars in San Francisco. Pick from the full selection of whiskeys and spirits, like Noah's Mill, Buffalo Trace, and Rittenhouse 21 year. Scotch selections include rare favorites like Monkey Shoulder, Glenmorangie Margaux Finish, and 1971 Balvenie. There's also a prized Canadian whiskey called the Crown XR, for those looking to experiment. If you have some extra time in the city, be sure to take some of the "beverage academy" hands-on cocktail classes at Bourbon & Branch.
The Chieftain
198 Fifth St.
This inviting spot is a quick walk from The Moscone Center. For Irish whiskey, enjoy pours of Bushmills 10-year single malt, Knappogue Castle 14-year, or Midleton Very Rare. An extensive Scotch menu features selections from Glenmorangie, Dalwhinnie, Ardbeg, and Bowmore. The pours pair splendidly with some Irish food classics on the menu. The Chieftain is also an excellent option for live sports and offers a full slate of live music for patrons.
Dirty Habit
12 Fourth St.
This colorful, engaging rooftop bar and restaurant is one of the city's hidden gems and boasts an exceptional whiskey list. Try some rye whiskey favorites, like Michter's, Rittenhouse, or Woodford Reserve. Irish whiskey favorites include Green Spot, Jameson, Bushmills, and Red Breast. There are also favorites from Japan and the burgeoning Taiwanese whiskey scene, and a "whiskeys of the world" menu features French and Australian newcomers. 
Elixir
3200 16th St.
One of the oldest bars in San Francisco, this long-time favorite is one of the best places for whiskey in the city. Start with the "Morning Glory" fizz with Great King Street Glasgow Blend scotch with absinthe, soda water, and egg white. The "Cameron's Kick" boasts Bushmill's Red Bush Irish and Dewar's Blended Scotch with lemon and orgeat. Try one of the private barrel bourbon flights, or go for straight favorites from Michter's, Knob Creek, or Rieger's.
Johnny Foley's
243 O'Farrell St.
What could be more Irish than a great whiskey bar named Johnny Foley's on O'Farrell Street? This comfortable Irish bar is a must-visit location off of Union Square. Stop in for some live music, a great bite to eat, and one of the best whiskey selections in the city. The list includes Connemara single malt, Jameson Gold, John Power, and a full range of Bushmills and Tullamore dew. Check out the live entertainment calendar to see which great artists are performing that night!
Local Edition
691 Market St.
Right in the heart of the Hearst Building, this beautiful bar features a classic newspaper theme and some of the best live entertainment in town. Grab a selection from their long list of whiskeys and spirits, or try one of their special cocktails. The "Brass Knuckle" boasts Japanese whiskey, spiced blood orange liqueur, and angostura bitters. 
Pabu
101 California St.
One of San Francisco's greatest Japanese restaurants is also home to one of its top whiskey selections. Try one of the signature flights, showcasing the spectacular range and taste of modern Japanese whiskey. For a more traditional taste, there's also a tasting of favorite Scotch whiskeys. Try the 25-year single malt Yamazaki, with hints of dark chocolate, strawberry jam, and blackberry. Other favorites come from the White Oak, Mars, and Karuizawa distilleries.
Pacific Cocktail Haven
550 Sutter St.
Pacific Cocktail Haven (P.C.H. for short) is a lively bar that has quickly grown into one of the premier cocktail destinations in San Francisco. P.C.H. is known for its creative, balanced cocktails served in a welcoming atmosphere. Here you'll find plenty of whiskey cocktails inspired by Asian Pacific ingredients, like the Chimpan-Chiote, which has guava and cumin, and the Eggplant Wizard, which has charred eggplant, pinenuts and orange blossom water. While you can head here for a nightcap, you can also start your night off here with their hi-ball hour, which is every day til 7 p.m.
Rickhouse
246 Kearny St.
Named after the storage spot where whiskey ages, Rickhouse is an authentic standout whiskey bar in the heart of San Francisco. Not only does the Rickhouse offer a full selection of some of the best spirits in the city, but the bar specializes in an array of innovative whiskey cocktails. Try the "Ramblin' Man," with Noahs Mill 15 year, Cocchi di Torino, and becherovka. The "Admiral's Whiskey Punch" features rye whiskey, Jamaican rum, lemon, and sparkling water. A "Punch Drunk Buck" includes Irish whiskey, Swedish punch, and ginger beer. It's the perfect place for those that want a little bit of fun and creativity with their whiskey selections!
Seven Stills
100 Hopper St.
Located south of Oracle Park and east of Mission Bay, Seven Stills is America's first brewery and distillery. It was founded on the unique idea of making whiskeys from different styles of craft beer. On their menu, you'll find recipes that are their own, known as core whiskeys, and recipes from their favorite breweries, known as collaboration whiskeys. You can try many of them in their house or hoppy whiskey flights that come in five half-ounce pours. If you like what you taste, join them for a behind-the-scenes tour of the production facility, where you'll receive a first-hand look into the beer and spirits-making process. The tour includes a guided tasting where experts will teach you how to properly smell, sip, and describe different whiskeys.
Third Rail
628 20th St.
Designed to look like a classic train station, Third Rail offers an unbeatable combination: great whiskey drinks and some of the best jerky in America. House cocktails include the "Scottish Fizz," with scotch, ginger, apple, and egg white. "The Raven" features scotch, allspice dram, and walnut bitters on a big ice cube. Another favorite is the "Nighthawks at the Diner," with bourbon, applejack, pepper, and smoky scotch. Pair your favorite drinks with some of the incredible jerky selections. There is a wide variety of beef jerky, mushroom jerky, and pork sticks to choose from.
True Laurel
753 Alabama St.
Innovative cocktails & refined bar bites are the draw at True Laurel, the newest spot from the Lazy Bear team. You'll find plenty of whiskey in the cocktails and on the spirits menu for you to sip. Choose from In the Pines, Under the Palms to Bobby Boo-urns to Silk the Shucket and the classic Sazerac. And their whiskey collection spans the globe, from Kentucky, Scotland, Italy, Tasmania and India.
---