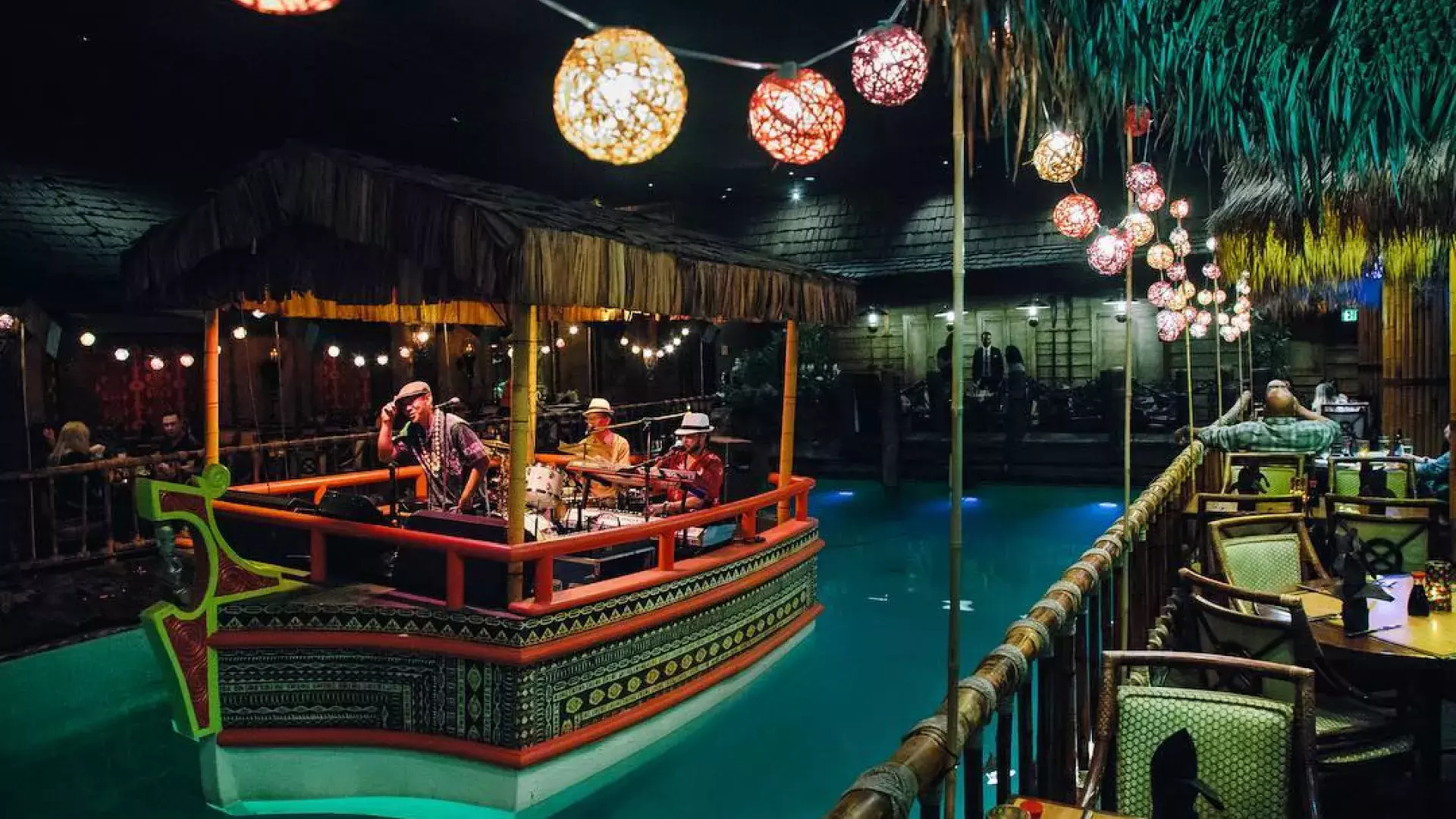 How to Experience

Tiki Culture in San Francisco

San Francisco is where tiki culture first took off in America. Here are the places where you can best experience it today.
San Francisco is the birthplace of tiki culture, and it is home to some of the oldest tiki establishments in the country. Themes range from traditional Polynesian kitsch to tiki mythology's dark side, but one thing is guaranteed: you can get a great mai tai at any of these Bay Area bars.
Trader Vic's
9 Anchor Dr., Emeryville
Life in the 1930s was hard. Americans were struggling through the Great Depression, and they needed a little escape from the pressure. California's proximity to the South Pacific meant more people coming and going from the tropics. They brought stories of warm beaches, soft breezes, and a soothing, relaxed atmosphere where worries simply evaporated. Entrepreneurs attempted to duplicate the setting, and tiki culture was born. Victor Bergeron opened his Oakland tiki bar, Hinky Dinks, in 1934. He changed the name to Trader Vic's in 1937.
Bergeron is often credited for the invention of the quintessential tiki cocktail, the mai tai, which makes this bar a can't miss on your tiki tour. He also started the trend of tiny drink umbrellas! Trader Vic's may have moved to Emeryville, but the atmosphere and cocktails are still the same.
Pagan Idol
375 Bush St.
The creative minds behind Pagan Idol wanted to give you the full tropical-island-at-twilight experience. From the moment you step through the doors and into the belly of an old wooden ship, you are transported to another place and time. There is often live music, and there is always a robust selection of rum-based drinks that come complete with a little umbrella.
Only the bravest patrons dare to visit the bar's back room, where you exit the safety of the "ship" and make your way onto a deserted island. The stars are out, but it isn't entirely peaceful. You will sit among large tiki statues and an erupting volcano. Fun fact: Pagan Idol is located in the historical building that once housed a staple of tiki culture, Tiki Bob's Mainland Rendezvous.
Zombie Village
441 Jones St.
Zombie Village, designed by the same Future Bars team behind Pagan Idol, is a fresh take on the traditional tiki theme. The two-level bar brings you into a tiki village, complete with thatched-roof huts and a starry night sky above. You may want to reserve a tiki hut for your group. In the back of the room, you can slip into a cozy cave that is perfect for intimate conversations. The stone walls and campfire lighting give you a sense of being in the wilderness.
The second level is where the magic happens. You'll sip tropical drinks in the comfort of Doc's VooDoo lounge, which features jars upon jars of terrifying "ingredients". You won't be frightened long, thanks to the extensive cocktail menu that includes fresh takes on old tropical favorites.
Trad'r Sam 
6150 Geary Blvd.
If you love a good dive bar and you are craving a tropical cocktail, Trad'r Sam's is the clear choice. Founded by Sam Baylon in 1937, it is one of the oldest tiki bars in the country. 
The beauty of Trad'r Sam's is its subtlety. Unlike more recent additions to the tiki scene, Trad'r Sam's has nothing to prove. Trad'r Sam's embraces its place in tiki culture with a few reminders of the old days, like rattan furniture and bamboo décor, but locals treat this spot like any other watering hole.
The Tonga Room & Hurricane Bar 
The Fairmont, 950 Mason St.
The Tonga Room draws big crowds, and always has since the doors opened in 1945. That year, the end of World War II brought soldiers home from the South Pacific, and with them came stories of tropical paradise. Hollywood boosted the mythology of island living with films like Elvis's "Blue Hawaii" and "Gidget Goes Hawaiian," and soon everyone wanted to experience it. The Tonga Room embraced the theme, taking tiki to the next level.
In addition to traditional tiki décor, the Tonga Room features a lagoon. The Island Groove Band performs from a thatch-covered barge that floats in the lagoon, while patrons enjoy their rum-based beverages. Periodic tropical "rainstorms" complete with "thunder" and "lightning" make the illusion of island escape complete. There is a full menu of Polynesian-fusion dishes and afterward you can dance the night away.
Smuggler's Cove 
650 Gough St.
Established in 2009, Smuggler's Cove is a relatively new addition to the tiki scene. However, connoisseurs can find plenty of history in this three-level shrine to tiki culture. Owners Martin and Rebecca Cate know everything there is to know about operating an authentic tiki bar, and the décor accurately reflects tiki heyday, right down to artifacts from some of the earliest icons of tiki culture that have long since closed their doors.
Last Rites
718 14th St.
Shipwrecks and crash landings on deserted tropical islands have always captured the imagination. Last Rites lets you step into that world, with décor designed from actual airplane parts. It's easy to immerse yourself in your castaway fantasy, thanks to dim lighting, dense foliage, and "trees" separating booths.
Instead of the traditional tiki masks you see at most bars, you may find yourself sitting next to a massive stone skull. Based on the bar's name and this bit of design, it appears that owners of the Last Rites aren't expecting you to survive your South Pacific adventure. Don't worry, though. The impressive list of exotic drinks will soothe your nerves no matter what the ending of your story turns out to be.
Forbidden Island
1304 Lincoln Ave., Alameda
For all-out kitsch, Forbidden Island is one of the best. A variety of bands, DJs, and unique entertainers make it easy to pass hours sipping traditional exotic cocktails or the bar's new takes on old flavor combinations in their tiki garden. Forbidden Island hosts luaus or movie nights to make the escape from reality complete.
You can expect plenty of Hawaiian-print shirts, and your drinks come in tiki-themed mugs. For a small extra charge, you can take one (or more) home for hosting your own tiki-themed events. Keep an eye on the skull rating for each drink you order; it's related to the amount of alcohol. As you can imagine, five-skull drinks pack quite a wallop.
---