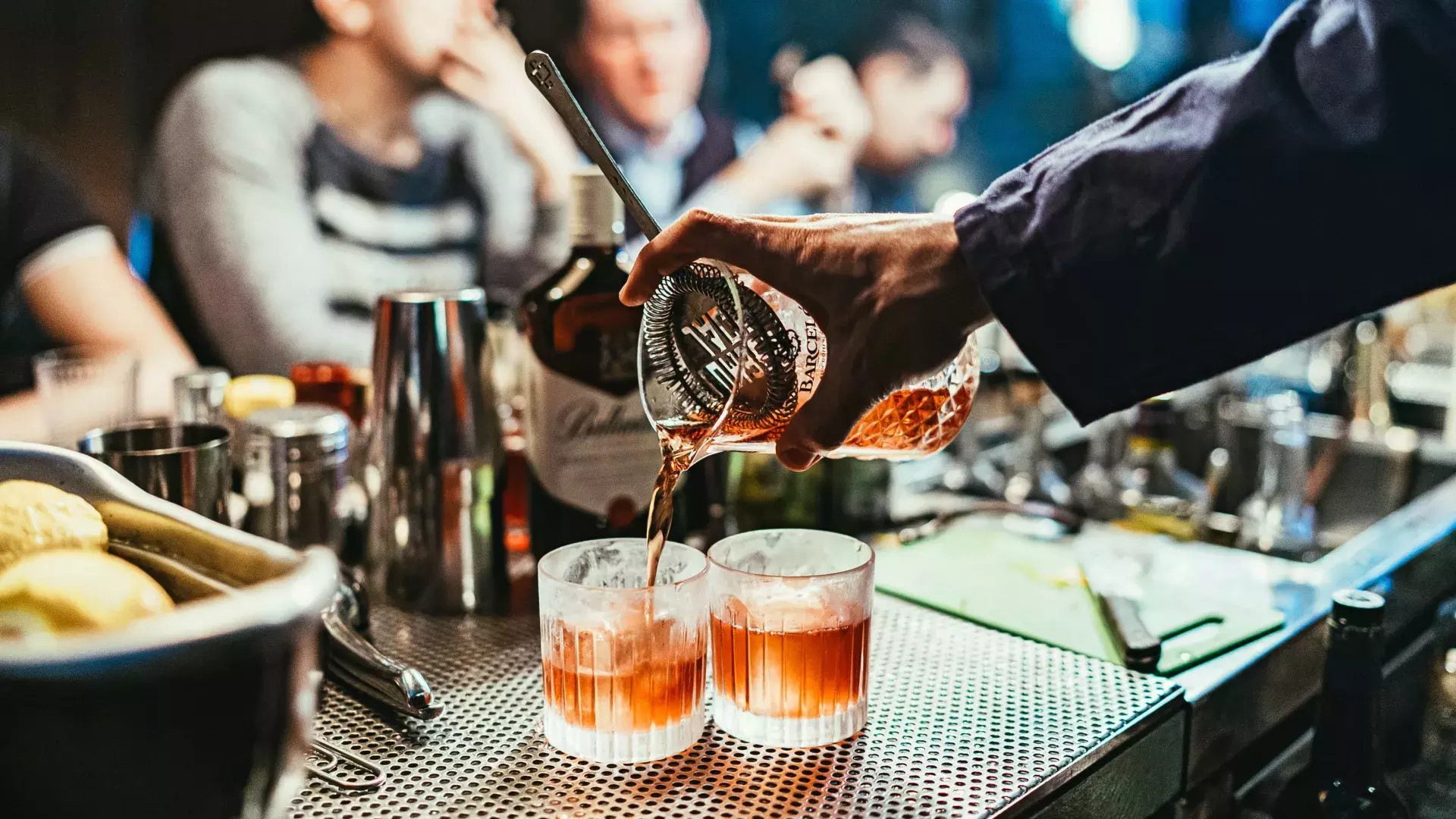 San Francisco's

Oldest Bars by Neighborhood

Stretching back to the wild Gold Rush days, San Francisco's neighborhood bars are as reliable a source of the city's history as any museum.
In a city that is as steeped in new technology as we are, San Franciscans are still traditionalists at heart. We even have an organization that chronicles the city, SF Heritage, whose Legacy Project marks historic places in the city. We like our architecture Victorian and our Manhattans stirred, not shaken. And, we love our bars with a sense of tradition. Here are the oldest bars in the city that you should visit the next time you're in town.
Bernal Heights
Wild Side West
424 Cortland Avenue
Established: 1962
This lesbian-friendly bar was named after the Barbara Stanwyck film, "Walk on the Wild Side." In the 1970s, this bar was vandalized when broken toilets and sinks were thrown through the windows and landed in the backyard. Out of the destruction, came one of the city's best outdoor patios, which still exists today. A bar that welcomed Bob Dylan and Janis Joplin back in the day now welcomes everyone who walks through their doors.
Castro
Twin Peaks Tavern
401 Castro Street
Established: 1935
An emblem of the gay community, Twin Peaks Tavern was designated an historical bar in 2013. The bar is the first known gay bar to feature full length plate glass windows, openly revealing the identities of their patrons. Sitting at the intersection of Castro and Market streets, Twin Peaks stands as a gateway into the neighborhood.
Cafe du Nord
2174 Market Street
Established: 1908
Located in an area where the Swedish community once thrived, Cafe du Nord occupies the basement of the Swedish American Hall, operated by the Swedish Society of San Francisco. The bar itself has , one of the two music venues in the space (the other being the Swedish American Hall). For more than 100 years, Cafe Du Nord has maintained its intimate mood of a speakeasy with rich, dark colors of red and black. 
Chinatown
Red's Place
672 Jackson Street
Established: 1960
Known as the "Cheers" of Chinatown, Red's Place was the site of the annual firecracker tradition when the Chinese New Year Parade would march by. Although the original owners have passed, the bar is still owned and operated by the family.
Civic Center
Great American Music Hall
859 O'Farrell Street
Established: 1907
Sitting on the border of Civic Center and Nob Hill, the Great American Music Hall opened in 1907 as a restaurant and a bordello. Today, it is a music venue that has hosted performers ranging from Duke Ellington, Sarah Vaughan and Count Basie to Van Morrison, the Grateful Dead, Arcade Fire, and Patti Smith.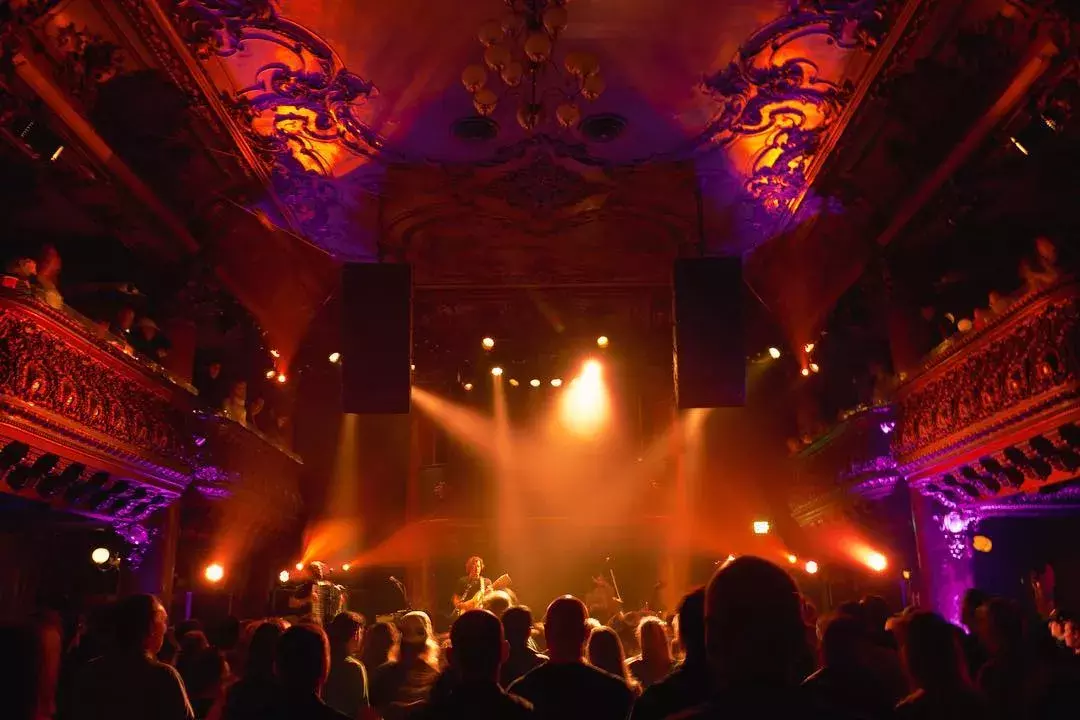 Dogpatch
Dogpatch Saloon
2496 Third Street
Established: 1912
Originally the site of a revival saloon, Dogpatch Saloon became a "soft" drink store when Prohibition was passed. After Prohibition, the bar quickly started serving alcohol again.
Embarcadero
Old Ship Saloon
298 Pacific Avenue
Established: 1851
The oldest bar in San Francisco, Old Ship Saloon is a bar made out of a ship's hull that ran aground during a storm off of Alcatraz. It was later towed to the current location, which was once a beach. Since renovated, the bar still preserves the memory of the ship.
Haight-Ashbury
The Gold Cane
1569 Haight Street
Established: 1926
The Gold Cane is a reliable neighborhood favorite, where drinks are always so cheap that no happy hour special is necessary. With its pool table, patio, and ample seating, it's the place to go if you want to feel like a local in the Haight.
Marina
Bus Stop Saloon
1901 Union Street
Established: 1900
How can a bar that attracts a young, rowdy crowd with wall-to-wall TVs and a Pac-Man console be on the list? Bus Stop Saloon has been around since the turn-of-the-century with more than four generations of family ownership.
Mauna Loa Club
3009 Fillmore Street
Established: 1939
A tribute to the Hawaiian volcano, Mauna Loa is a blue-collar bar in the trendsetting Marina neighborhood. The 1980's saw the inclusion of a pool table and Pop-a-Shot, but the bar still retains much of its charm. Cash only.
Horseshoe Tavern
2024 Chestnut Street
Established: 1934
A "regulars" bar if there ever was one. The original owner was a former football player of the team that would become the 49ers. Located on an upscale street in San Francisco, the "Shoe" remains a San Francisco classic.
Mission
The Homestead
2301 Folsom Street
Established: 1906
Opened in 1906 as the "Old Homestead," there's evidence in this Mission bar that it was a speakeasy during Prohibition. (I mean, there's a private room in the back. It doesn't get anymore obvious than that). Of all the old bars in the city, the Homestead maintains much of the same decor that was around during the turn of the century.
The Valencia Room
647 Valencia Street
Established: 1935
Formerly known as the Elbo Room, this dive bar has been renamed The Valencia Room, but still showcases the diverse culture and traditions of the Mission District. Since 1935, the Valencia Room has been many things: a Spanish restaurant, a western bar, and one of the nation's first lesbian dance clubs, Amelia's, which became the anchor for the lesbian community. Since 1991, the first floor has been a bar and the second floor is a performance/dance space.
Elixir
3200 16th Street
Established: 1858
On 16th Street and Guerrero sits Elixir. Since the Wild West days, Elixir has been transformed into many things. However, in 2003 it was fully restored, including its original bar, and returned to its original glory.
Shotwell's
3349 20th Street
Established: 1891
Opened originally by German immigrants as a grocery store that had a backroom for beer drinking, today it's simply known as Shotwell's, a place many people come to meet, drink beer, and play pinball. It serves only beer, but it's beer that is well curated to include many micro-brews from the Bay Area.
Nob Hill
Ha-Ra Club
875 Geary Boulevard
Established: 1947
Opened in 1947 by a former boxer, Ha-Ra Club has been an anchor for the neighborhood. Today, the interior displays memorabilia reminiscent of the past. This bar has all the essentials: liquor, a pool table and a jukebox. Nothing more than that.
North Beach
Mr. Bing's
201 Columbus Ave.
Established: 1967
Mr. Bing's is a bar that everyone can agree is a dive. With a spectacular view of Broadway and Columbus streets, this bar offers something that others can't. People still keep coming back for the inexpensive drinks and shrewd bartenders.
Vesuvio Cafe
255 Columbus Avenue
Established: 1948
A regular hangout of beatniks Jack Kerouac and Allen Ginsburg, Vesuvio was the seat of the hippie revolution. As the neighborhood has evolved, the bar has become a tribute to jazz, art and poetry. 
Spec's Twelve Adler Museum Cafe
12 William Saroyan Place
Established: 1968
Another staple of Bohemian culture in North Beach, Spec's has been an enclave that has become a haven for artists through the years. The interior serves as a showcase for Spec's curated collection of zany artifacts. Walking in here, you'll think you're in someone's garage.
Northstar Cafe
1560 Powell Street
Established: 1882
The oldest bar in North Beach, Northstar is a comfortable neighborhood bar with a lively character, including such eccentricities as a customer-of-the month award and a perpetual supply of free popcorn for its happy patrons.
Gino and Carlo Cocktail Lounge and Sports Bar
548 Green Street
Established: 1942
This is a true classic North Beach sports bar and lounge. Family-owned for more than 50 years, Italian and proud of it, Gino and Carlo offers 12 beers on tap. Cash only.
Tony Nik's Cafe
1534 Stockton Street
Established: 1933
When Prohibition was repealed in 1933, Tony immediately opened Tony Nicco's Café. Tony Nicco's was called a café because, at that time, food was required to be served with alcohol. Step in and step back in time. Entering Tony Nik's will bring you back to an era of friendly and professional bartenders, ice cold beer, delicious cocktails, and drinks served just the way you like them.
La Rocca's Corner
957 Columbus Avenue
Established: 1934
This sports bar has a history steeped in baseball lore as Joe DiMaggio's favorite hangout. During the 1940s and 50s, local mobsters were known to frequent La Rocca's as well.
The Saloon
1232 Grant Street
Established: 1861
The oldest "Saloon" in the city, The Saloon has been has a great place to grab a drink and get your dance on since the 60s (19th and 20th century).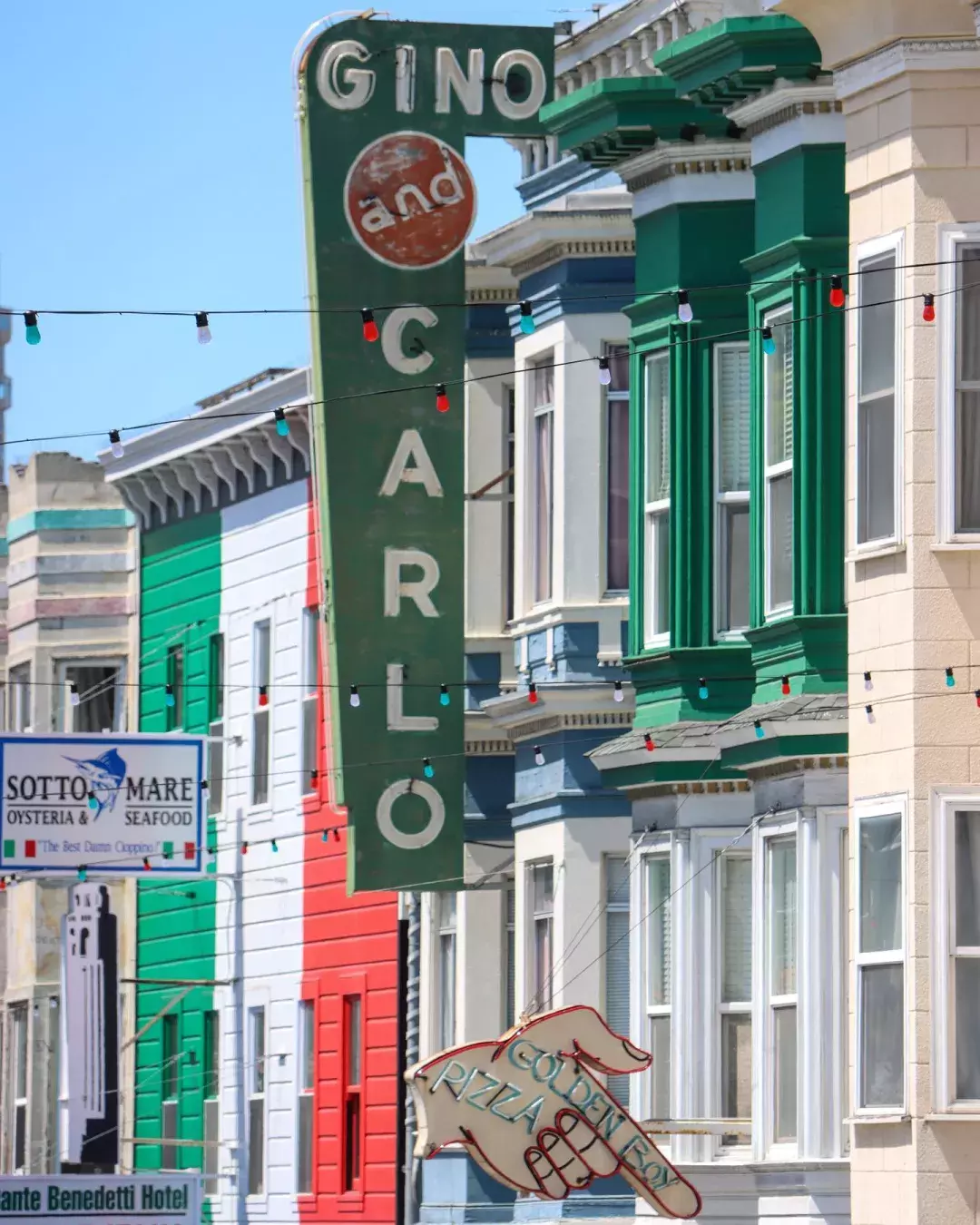 Richmond
Trad'r Sams
6150 Geary Street
Established: 1937
Before the heyday of the tiki craze in the 1960s there was Trad'r Sam. On top of the kitschy drinks they serve here, you'll get a geography lesson. The seating areas are named after tropical islands.
SoMa
The Endup
401 Sixth St.
Established: 1973
Home to San Francisco's after-hours crowd, The Endup has two indoor bars, an outdoor bar and food stand, a lounge with a pool table, a high-powered sound system and a dance floor with provocative lighting. What was once a club that catered to gay San Francisco now welcomes all walks of life. When you hear the bass thumping, you know you're close by.
Hotel Utah Saloon
500 Fourth St.
Established: 1908
A relic of the Barbary Coast era, Hotel Utah was a favorite among gamblers, thieves, ladies of the night, politicians, hustlers, gold seekers, charlatans, police and fancy miscreants when it first opened in 1908. Since then it has attracted celebrities such as Marilyn Monroe, Joe DiMaggio, Robin Williams, Whoopi Goldberg, and John Mayer. Today, the Utah is the home to the most intimate concert venue in the city
House of Shields
39 New Montgomery St.
Established: 1912
One of the city's most famous speakeasies during Prohibition, House of Shields didn't actually open up as a bar until 1944. How famous? There's an urban legend that President Warren G. Harding died at this bar (and then was taken through the tunnels underneath to the Palace Hotel where he was found). Today, House of Shields stands as a shining example of expertly poured drinks. Go and get one.
Sunset
Little Shamrock
807 Lincoln Way
Established: 1890s
The oldest business in the Sunset, Little Shamrock has been a favorite watering hole of visitors to nearby Golden Gate Park for some time. Legend has it that the Shamrock first opened in 1893 in another neighborhood completely, but by 1896 had relocated to its current location, where to this day, people love to have a beer and play darts.
West Portal
Philosopher's Club
824 Ulloa Street
Established: 1960
All the way out in this sleepy but quaint and lovable neighborhood sits the Philosopher's Club, the home of the man who started mixology, Jerry Thomas. Come for the history and the quotes on the ceiling, but stay for the drinks.
---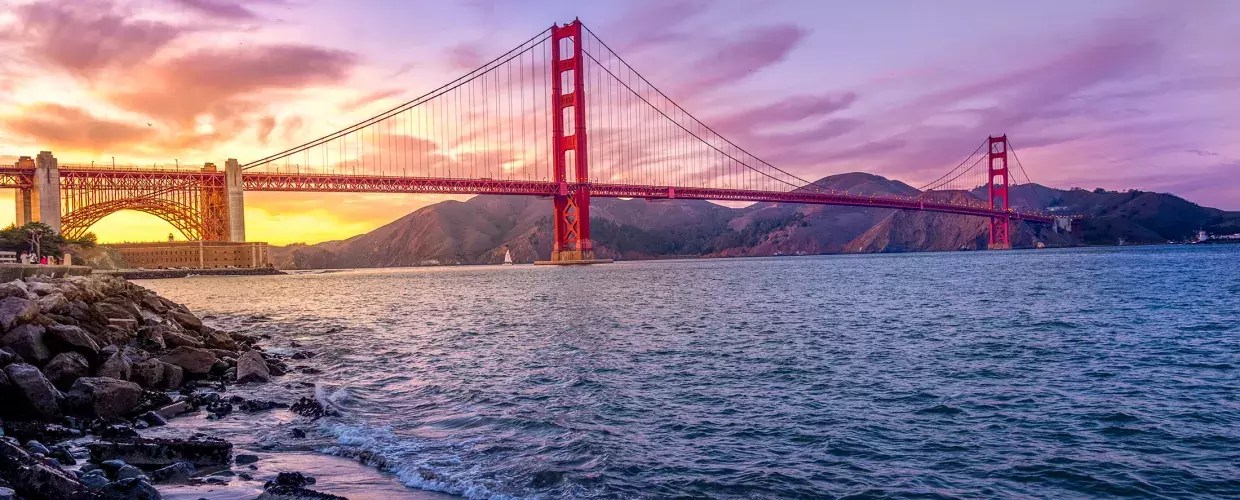 Stay Connected with SF
Sign Up for Our Newsletter
Be the first to know about upcoming events and festivals, new restaurants, special deals, and everything else happening in the City by the Bay.