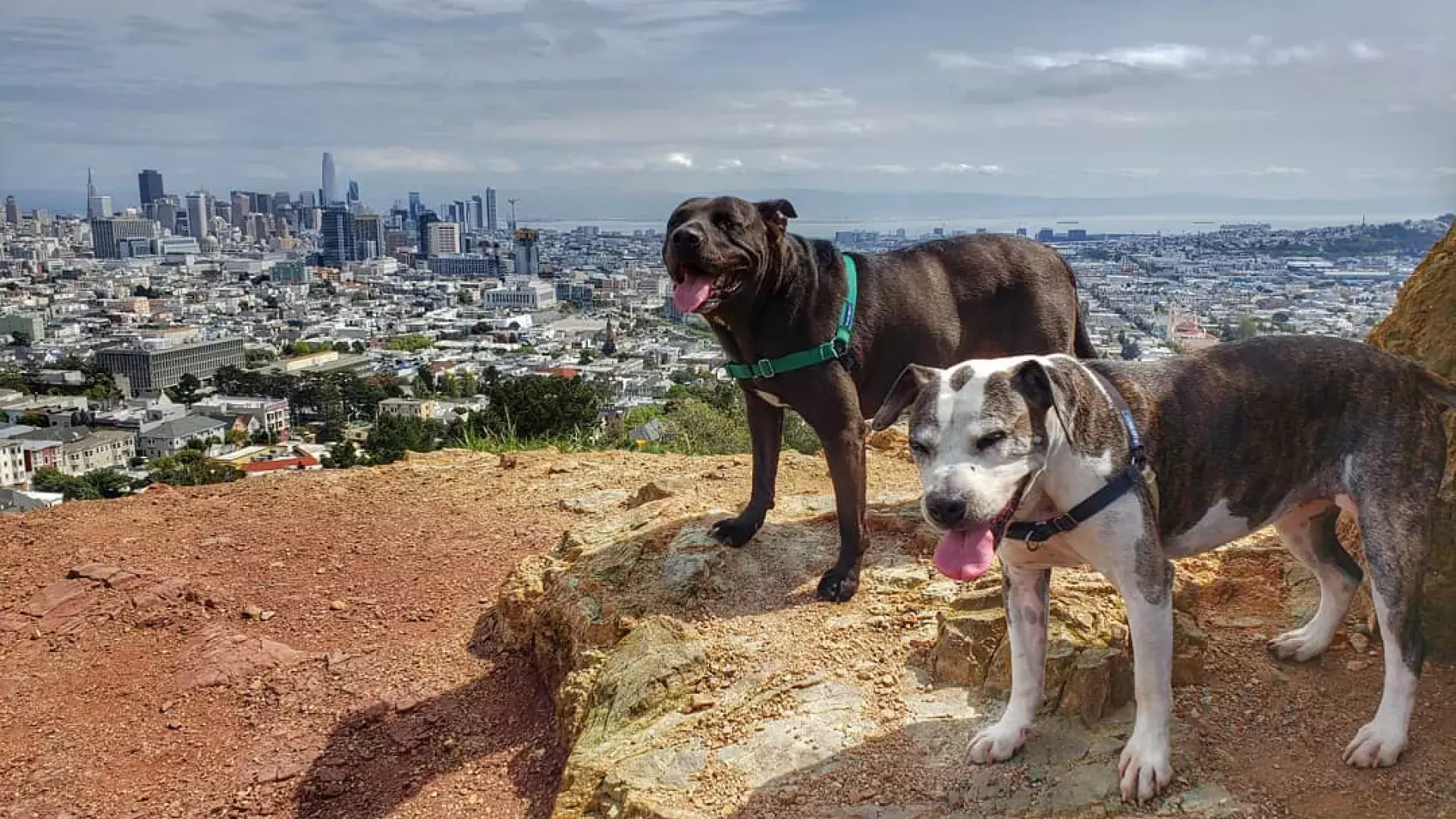 Pet-Friendly Getaways

Near San Francisco

Take your fur baby on an adventure to these dog-friendly Bay Area destinations, including Sausalito, Healdsburg, Carmel-By-The-Sea, and Albany.
You were not going to be one of those pet owners, but this little lump of fur is so cute. It started simply with organic rawhide chews, then a down dog bed, and there was the cable-knit sweater for all those windy late-night walks… Now, to avoid separation anxiety (for yourself as well as Fido), you've moved on to pet-friendly getaways.
But with all the allergies and phobias people have added to their resumes these days, is there really an affordable place to which you can escape without feeling like you're rooming in aisle three at Petco? Fear not, my friend. Pet-friendly travel doesn't have to be full of cat hair, squeaky toys, or the cast of Best in Show. These retreats will have you wondering why you didn't let your four-legged friend run your life sooner.
Play Across the Bay in Sausalito
Play
This pretty hamlet across the Bay has a little bit of everything: great hikes, beach walks, wine tastings, shopping, delicious food, spectacular views… And you can pal around with your pooch through it all. Start the day off taking in spectacular city views while exploring the Marin Headlands trails. Then trek down to Rodeo Beach, where you can take a coastal hike or throw a frisbee down the sandy stretch.
Eat
Pet-friendly restaurants abound in Sausalito. Fred's Place (1917 Bridgeway Boulevard) is renowned as "best breakfast in town," and Fish (350 Harbor Drive), Poggio (777 Bridgeway Boulevard), and Kitti's Place(3001 Bridgeway Boulevard) all offer delicious food and dog-friendly environments.
Stay 
It's good to be a dog at Cavallo Point (601 Murray Circle), where your best friend will be treated to super absorbent towels, plush bedding, and organic treats.
Directions 
Pets are permitted on the Golden Gate Ferry, which makes daily departures from San Francisco to Sausalito. All dogs must be in hand-held containers while aboard the ferry.
Have a Doggone Day(s) in Healdsburg
Play 
With the motto, "bark less, wag more," it's no wonder Mutt Lynch Winery (602 Limerick Lane) has received statewide and international awards for being the most dog-friendly winery. It's a family affair here. Owners Brenda and Chris (and their dog Patch) will let you sniff around the grounds, and throw a few treats your dog's way while you chat and taste.
Eat
Soak up the vino (and some sun) at one of Healdsburg's many restaurants with pup-friendly patios.Barndiva (231 Center Street) serves up local eats in a stunning outdoor space, and Willi's Seafood & Raw Bar (403 Healdsburg Avenue) is located next to a schmancy pet outfitters store (Fideaux, 43 North Street).
Stay
High-energy pups will love the rural walks at Bella Villa Messina (316 Burgundy Road), which is situated a bit outside downtown Healdsburg. You'll love the exquisite antiques and fabulous breakfast.
Directions
Because some of the buses to Sonoma County do not allow dogs, you might want to drive to Mutt Lynch Winery.
A Great Weekend Unleashed: Carmel-by-the-Sea
Play
Dubbed "America's Most Dog-Friendly Small City" by Dog Fancy Magazine, Carmel-by-the-Sea certainly lives up to its name. Here, shop owners generously leave out treats and water for four-legged visitors, art galleries hang paintings at dog's-eye level, and hitching posts and doggie-bag stations line the streets. Carmel Beach is one of California's few leash-free beaches, where these lucky dogs run the beach (literally).
Eat
The Dog Pound at Forge in the Forest (Junipero Street and 5th Avenue) is an enclosed patio with its own entrance. On the "Canine Cuisine" menu? An 8-ounce New York steak.
Stay
Pack some stylish doggie duds, because at the Cypress Inn (Lincoln Street), owned by animal lover Doris Day, dogs are invited to afternoon tea. And "mutt-tinis" are available at yappy hour too.
Directions
Because the public transportation services from San Francisco to Carmel do not allow dogs, it's best to drive. Once you're in town, however, you can get around easily on foot.
Walk on the Wild Side: Albany Bulb Adventure
Play 
Is Princess getting restless? A nice long walk should help things. Explore the East Bay shoreline (known as Albany Bulb) and get a true rails-to-trails experience. At Albany Bulb, the city and the wilderness collide. The beginning of the route starts on the Ohlone Greenway, a trail that runs next to the BART tracks. Along the way, you'll find people observing wildlife while others check out the rotating collection of sculpture art along the trail. While the Albany Bulb is on flat ground, plan ahead as it can take four or five hours to walk the trails.
Eat
Albany offers a wealth of restaurants that welcome four-legged friends. Spend time outside at Westbrae Biergarten (1280 Gilman St.) and enjoy a huge selection of brews and an extensive food menu, or savor some Italian at Cugini (1556 Solano Avenue).
Stay
Keep things on the water at the Doubletree Berkeley Marina (200 Marina Boulevard), where you and Fido can enjoy stunning views, and homey touches like afternoon cookies. A complimentary shuttle links to BART too.
Directions 
Barking news! Pets are allowed on BART trains, making car-free adventures with your hound a breeze. To get to the trailhead take a Richmond BART train to North Berkeley. (On Sundays, take a Pittsburg/Bay Point train and transfer to a Richmond train at 12th Street.)
---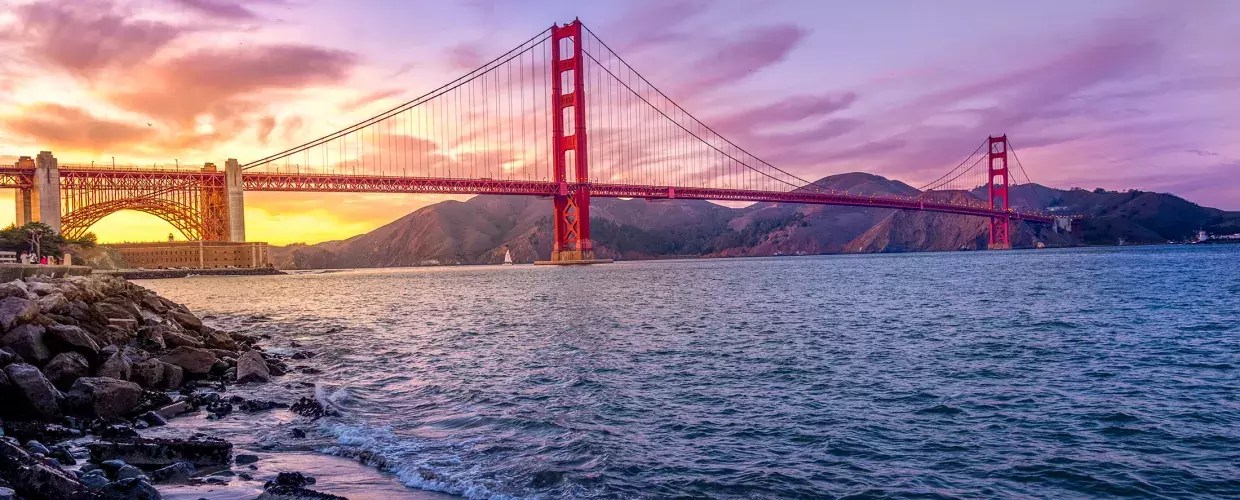 Stay Connected with SF
Sign Up for Our Newsletter
Be the first to know about upcoming events and festivals, new restaurants, special deals, and everything else happening in the City by the Bay.