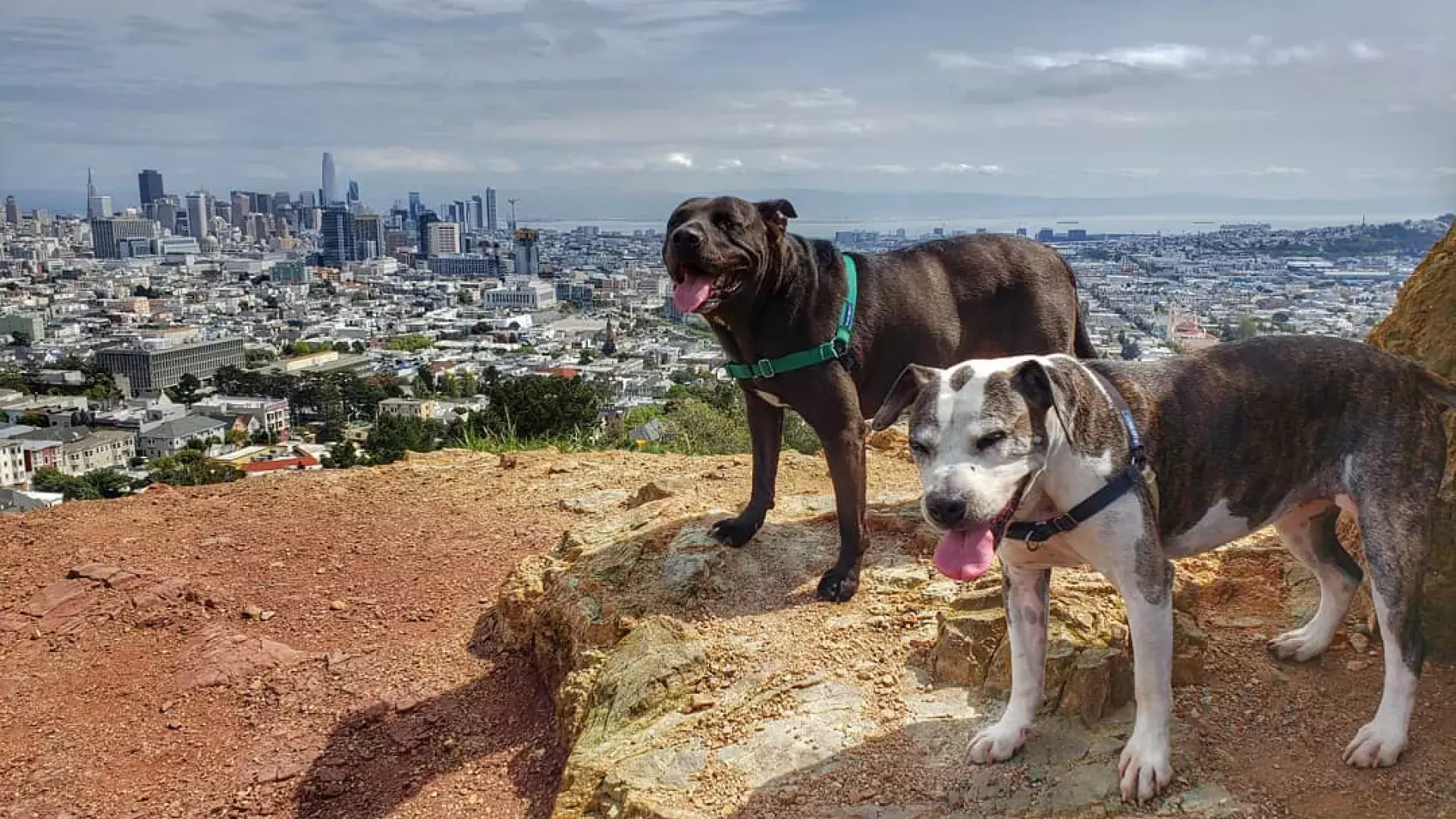 How to Have a Dog-Friendly Stay in San Francisco
San Francisco is a perfect city to visit with your dog. @hellorubydoodle shows how four-legged companions can enjoy San Francisco just as much as you do.
San Francisco is known as a place where everyone is always welcome—and that courtesy extends to our four-legged friends, as well. In fact, a recent study of the country's most pet-friendly cities ranked San Francisco as number one!
With stunning views, steep hills to hike up, beautiful parks where dogs can make their own friends, more outdoor dining opportunities than ever before, and hotels that happily accommodate your pet, even your pup will come away impressed with San Francisco. Most stores allow you to enter with a pup, and dogs have become regular fixtures in the many parklets that have sprung up at San Francisco's bars and restaurants this past year.
A recent study of the country's most pet-friendly cities ranked San Francisco as number one!
The city has an abundance of open spaces for dogs to play, and they are incredibly well cared for. For example, the dog park at Golden Gate Park recently reopened after a $2.4 million renovation! You can also walk around San Francisco knowing that, in every neighborhood, doggie bag dispensers and garbage cans are readily available, meaning you never have to worry about where and when your walking buddy may need to take care of business.
To showcase just how much there is to do for your canine companions in the City by the Bay, we invited Melanie and her mini-Australian labradoodle, Ruby—the dynamic duo behind HelloRubyDoodle—to come for a visit. Check out their weekend itinerary to get inspired for your next trip.
Day 1 / Arrival
A number of San Francisco hotels are pet-friendly, but if you want one that's good for dogs and close to popular attractions, offers stunning views, and features excellent dining options, then you'll want to stay at the Hilton San Francisco Union Square. As centrally located as it is, Hilton Union Square is a great place to get your bearings as you prep for a weekend of fun in San Francisco.
The Hilton San Francisco Union Square is pet-friendly, allowing travelers to check in with up to 2 dogs per room. Many rooms feature balconies, allowing you and your furry friends to get fresh air without ever leaving your room. Dog beds, yummy treats, and water bowls are available in-room. 
While Ruby took a nap, Melanie relaxed at Cityscape, the hotel's stylish bar all the way up on the 46th floor. Guests can choose from a selection of creative cocktails named for San Francisco neighborhoods, wines from nearby Napa and Sonoma, and local favorite craft beers, as well as light bites. 
Day 2 / Iconic Experiences, Pt. 1
When you've got a lot to see and an eager travel companion like Ruby, it's important to start the day with a good breakfast. You can grab breakfast on the go at the hotel, or head to any one of San Francisco's incredible eateries.
Melanie and Ruby started their day with breakfast at Jane On Fillmore. This popular spot serves up delicious coffee, freshly baked loaves of bread, and other excellent choices to start your day. Melanie recommends the egg white panini. Jane On Fillmore offers plenty of outdoor seating perfect for puppies. You're bound to see a wide variety of breeds hanging out along this busy stretch of the neighborhood.
After breakfast, Melanie and Ruby took a walk south along Fillmore Street to Alamo Square Park, home to San Francisco's iconic Painted Ladies. These famous, colorful homes (all private residences) are among the most photographed in the world. From the top of the park's east side, you'll get a terrific view of the park's green grass in the foreground, the Painted Ladies in the center, and the towering San Francisco skyline beyond. That's not all the park has to offer, though. On the opposite side, there's a large off-leash area for dogs to run and roll around in, so even they can enjoy running after the ball (and the view). The park even has water fountains at puppy height, as do many of San Francisco's parks.
Heading back toward the bay, over the hills, and through busy neighborhoods with plenty to see (and smell), Melanie and Ruby found themselves at another iconic San Francisco location: the Palace of Fine Arts. This enormous, classical structure is all that remains from the 1915 Panama-Pacific International Exposition, a global event that put San Francisco back on the map after the devastation of the 1906 earthquake and fire. Its colonnade reaches out to encircle a small lagoon and park, where turtles and a variety of birds can always be found. (It might be best to keep your travel companion on a leash here.)
From there, you and your pup can go explore the nearly 1,500 acres of the Presidio. A former military base that's now part of the expansive Golden Gate National Recreation Area, the Presidio is full of winding trails and open spaces perfect for exploring with a four-legged friend. Many locations allow your dog to be off-leash. The Tennessee Hollow Trail is only 1.5 miles but gets you close to some native wildlife. The California Coastal Trail is a 2.5-mile journey that gives you great views of the Pacific Ocean. The Main Lawn of the Presidio is a great place to bring your furry buddy. You can expect to encounter other pets there. Besides captivating views, the Presidio also has Andy Goldsworthy's remarkable outdoor artworks. "Spire," "Wood Line," "Tree Fall," and "Earth Wall" are all created from natural materials found on site.
You'll have worked up an appetite by this point in the day, so why not exit the Presidio at the Lombard Street gate and explore the Marina? Along Chestnut and Union streets, the two parallel main drags of the neighborhood, you'll find plenty of great places to eat—many with patios and parklets that make dining with dogs easy. Palm House serves Caribbean-inspired creations. Perry's is a San Francisco institution with all the staples: juicy burgers, indulgent sides, and stiff drinks. A16 on Chestnut Street has earned Michelin Guide honors for its Italian fare. Melanie and Ruby chose to stop at Wildseed for some of the best vegan and vegetarian fare the city has to offer. Their Mexican corn cakes and beet poke are some of their most well-reviewed dishes.
Of course, being this close to the water means another San Francisco icon looms nearby: the Golden Gate Bridge. After lunch, Melanie and Ruby headed for Crissy Field, a wide-open expanse of grass and sandy beach that grants visitors gorgeous views of the bridge, the ships that pass under it, and the fog that rolls over it. A popular spot for dog owners— given its flat terrain, access to the beach, and sheer size—your travel buddy is sure to make some new friends here.
For dinner on this second evening, Melanie and Ruby decided to explore the Mission. As the center of Latino culture and cuisine in San Francisco, there are literally dozens of choices along Valencia, Guerrero, and Mission streets, many of them dog-friendly. Melanie decided to try Loló, a bright and welcoming restaurant that serves up the flavors of Jalisco, the part of Mexico that includes Guadalajara. According to Melanie, their avocado tacos are not to be missed!
Day 3 / Iconic Experiences, Pt. 2
For their last day, Melanie and Ruby wanted to visit a few more famous locations in San Francisco. First on their list was Fisherman's Wharf. This neighborhood is home to some of the city's most popular attractions. One hidden gem of the neighborhood is Umbrella Alley. Located along Beach Street, opposite the cable car turnaround, this narrow, pet-friendly alleyway is lined with murals by local artists and features a canopy of colorful umbrellas. It's the perfect photo spot for you or your dog.
Having covered Alamo Square Park and the Presidio, Melanie and Ruby decided to explore some more of San Francisco's open spaces. This time they went as far as they could, exploring Lands End and its trails that lead to the edge of the continent! Within this park, you'll find great views across the Golden Gate to Marin. Be careful, though: it can get very windy here, and some trails are quite steep. Watch your footing and keep your furry friend on the leash.
The Lands End Trail ends at the ruins of the Sutro Baths. These foundations are all that remains of what was once a trendy destination for San Francisco residents: a complex of pools of various sizes, temperatures, and salinity. They were the dream project of entrepreneur and former mayor Adolph Sutro, and they were all the rage at the turn of the 20th century. The city was so much smaller then that the Sutro Baths were serviced by their own little railroad! 
Between Lands End and the Presidio lies Baker Beach, a stretch of sand that most visitors don't know about and locals treasure fiercely. Baker Beach has quite a history, as it was home to the original Burning Man festivals. It's a quiet, scenic, and off-leash dog park, where your canine pal can run off some excess energy before you begin your journey home.
Ready to plan your own Bay Area visit with your pet? Check out more options in the city, like Parc 55 or Hilton San Francisco Financial District. Discover other pet-friendly locations and great places to stay with over 40 Hilton hotels in the Bay Area (check with each hotel for their updated pet policy).
---