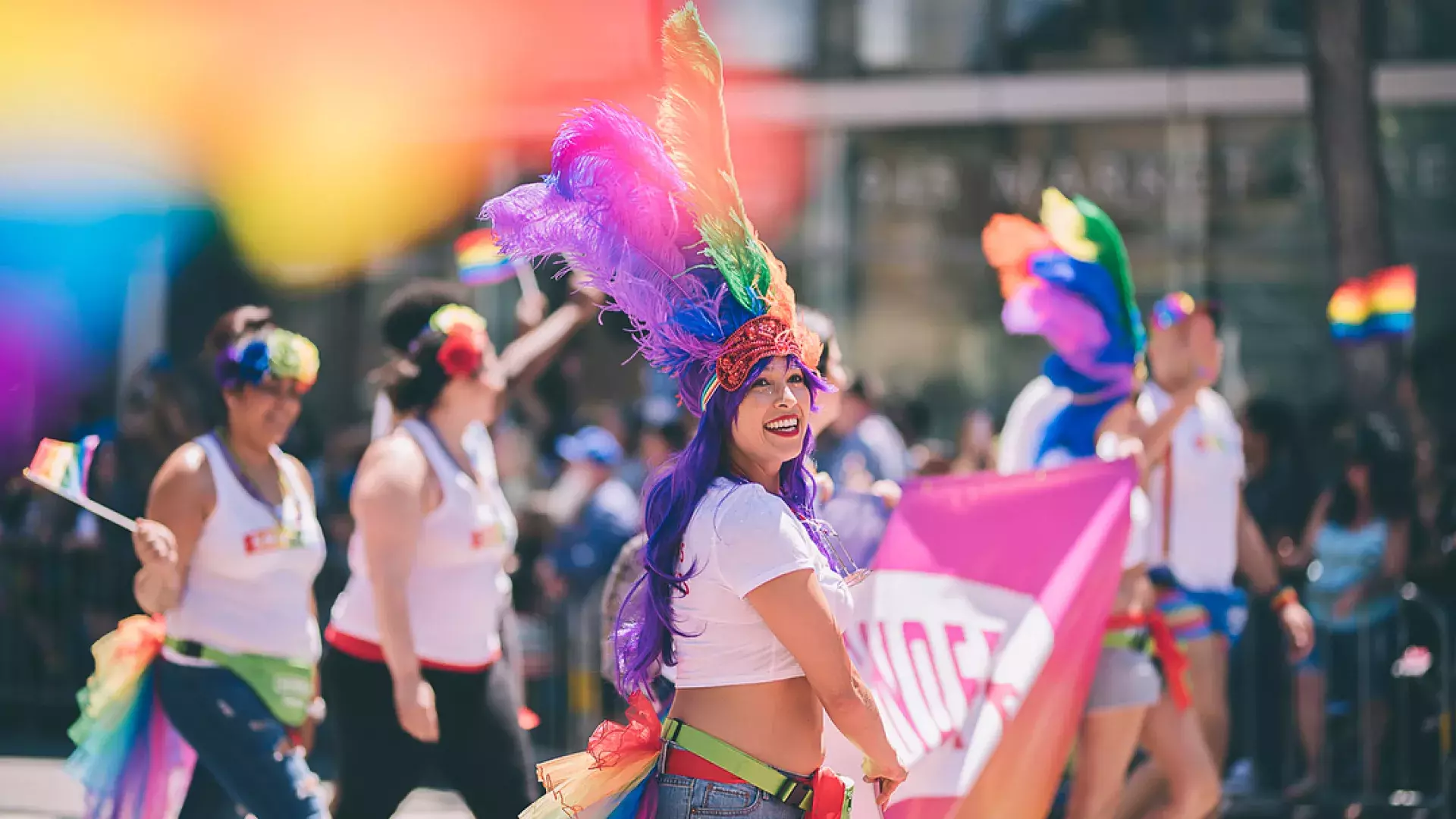 Plan Your Next Trip to San Francisco Around These 10 Fabulous Festivals
Check out these ten "only in San Francisco" events throughout the year.
Why is San Francisco such a great city? Next to its exciting nightlife, world-class dining, and theatrical offerings, there are a ton of totally unique, totally queer events where you'll meet the City by the Bay's most fabulous denizens.
So, mark your calendar, honey. We're putting these events on your radar now so you can arrange your travel plans well in advance.
You won't want to miss these ten "only in San Francisco" events throughout the year.
Hunky Jesus and Foxy Mary Costume Contest
Sunday, April 9, 2023 
Since 1979, The Hunky Jesus and Foxy Mary Costume Contest has encouraged participants to flaunt their irreverent takes on religious iconography. With categories such as "Best Use of Glitter" and "Best Damn Jesus," there's no shortage of eye candy. 
Organized by the Sisters of Perpetual Indulgence, this popular event is held on Easter Sunday in Dolores Park, home of San Francisco's gay beach, the southwest quadrant of the park where you'll find panoramic views of the Bay Bridge and the skyline downtown. In this sea of scantily clad people, there isn't an empty patch of grass in sight. So, grab your picnic blanket and stake your claim early.
Sexiness and sacrilege aside, this event serves a higher calling. The Sisters of Perpetual Indulgence donate a portion of the proceeds to non-profits such as the Bay Area Mexica Queer & Two Spirit (BAMQTS) Collective and Mariposa Storytelling, as well as other local organizations that support marginalized communities. 
To enter this year's contest, all you need to do is show up in costume and join in the fun. No registration is required. If you don't feel like dressing up, don't worry; most people are there to just bask in the sun, cruise the park, and socialize.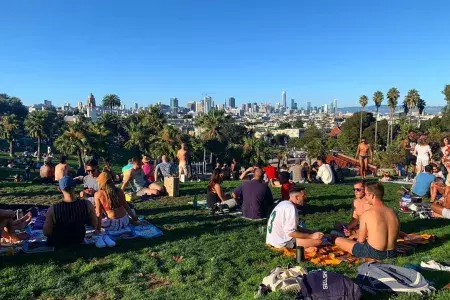 Frameline Film Festival
June 14 through June 24, 2023
Each year, queer cinephiles descend upon San Francisco to see the best in cinema over ten days in June. Since 1977, Frameline Film Festival has created a fun and inviting atmosphere for film buffs to connect with each other and celebrate the diversity of the queer community. The festival features a wide array of films, ranging from feature-length dramas and documentaries to shorts and experimental works. 
The festival is held at the world-renowned Castro Theatre. Built in 1922, this century-old church of cinema creates a magical movie-watching experience with its ornate art-deco interior and iconic Wurlitzer organ. The organ player, who rises from the orchestra pit on a platform, is a sight to behold—and a treat for the ears! Sitting in the theatre's velvet pews, you can feel the history surrounding you, making it a special place for locals and travelers alike.
Following the screenings, audiences are invited to participate in panel discussions and Q&A sessions with the filmmakers. Frameline also hosts glam opening and closing night galas, parties, and receptions that are packed with notables from the film industry.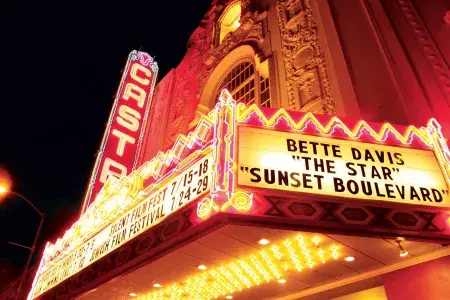 SF Giants Pride Day
Saturday, June 11, 2023 
The Giants support their large queer fan base with Pride Day in June. The event starts off with a special pre-game ceremony that, in the past, featured Drag Race star turned trans politico Honey Mahogany and acapella quartet The Kinsey Sicks singing the national anthem.
The ceremony is followed by a moment of silence and the raising of the rainbow and trans Pride flags over the park. A well-known local queer celeb usually throws out the first pitch. Clad in special Pride edition jerseys, the players then take the field to an ovation from the crowd. There is a party at the stadium after the game. This event is a great chance to mingle with fellow Giants fans.
Whether you are a fan or not, this is a special day. You'll enjoy a view of the pale blue bay from the brick and steel park, considered one of the best in the sport, and watch kayakers vie for home run balls in McCovey Cove. The smell of garlic fries and Italian sausages wafts through the stands. "Take Me Out To The Ballgame" has never had more meaning.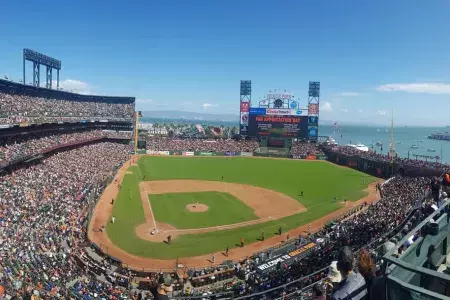 Fresh Meat Festival
June 15-25, 2023 
Since 2002, Fresh Meat Productions has showcased queer performance art by emerging talent in the Bay Area and beyond. Fresh Meat Festival has been a welcoming space for artists that challenge cultural and gender norms, like Sean Dorsey Dance, Shawna Virago, and Ensamble Folclórico Colibrí, among others.
The festival is typically held in theaters across the city, including Z Space in Potrero Hill and ODC in the Mission. These neighborhoods provide visitors opportunities to step off the beaten path and experience San Francisco like a local. 
Make sure to check out the queer-owned music venue/dive bar Thee Parkside while in Potrero Hill. If you find yourself in the Mission, you have to stop by El Rio or San Francisco's newest gay bar Mother.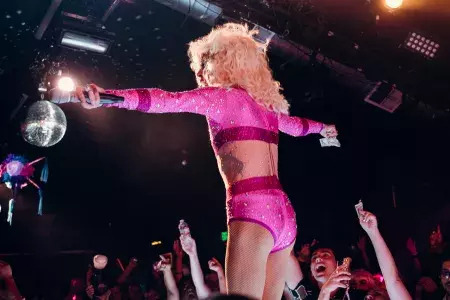 Pride Weekend
June 23-25, 2023 
Taking place the last weekend of June, Pride is the pinnacle of San Francisco's event calendar. 
Pride-goers have a ton of events to choose from throughout the weekend, including the San Francisco Pride Parade, one of the largest anywhere. Occurring the Sunday of Pride weekend, the parade features hundreds of colorful floats created by organizations, corporations, and communities across the Bay Area. 
The parade starts at the Embarcadero near the Ferry Building and ends at Civic Center, where rainbow flags cover City Hall, the birthplace of American marriage equality. Supporters strain to get a look from the sidewalks, and roof decks along the parade route overflow with fans enjoying the view below. 
Before the parade on Sunday, check out the Trans March on Friday, the largest march of its kind in the country. Since 2004, the Trans March aims to "inspire all trans and gender non-conforming people to realize a world where we are safe, loved, and empowered."
Also not to be missed is The San Francisco Dyke March on Saturday, sponsored by the Castro LGBTQ Cultural District. This celebration for womxn-loving womxn starts with a rally at Dolores Park and ends with a motorcycle brigade, organized by Dykes on Bikes, that leads the march to Market Street. As you hear the rev of the engines and the roar of the crowd, you can't help but feel a huge sense of pride for this community.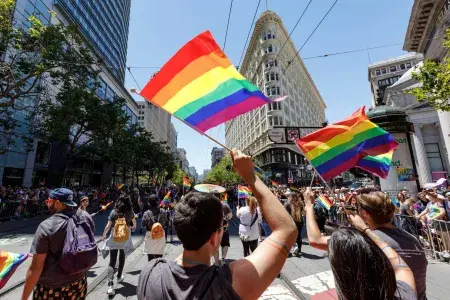 Up Your Alley
Sunday, July 30, 2023 
Up Your Alley, also known as the Dore Alley Fair, has been nicknamed the "little brother" of San Francisco's larger Folsom Street Fair. It retains some of the outsider flair of the original with fewer visitors and more locals. 
The street fair takes over Dore Alley and its surrounding areas in San Francisco's Leather District, home to leather bars such as Powerhouse, SF Eagle, and the Cat Club, as well as popular fetish shops Leather Etc. and Mr. S Leather. The neighborhood is considered the birthplace of modern leather culture in America.
At Up Your Alley, enjoy fetish-themed booths and vendors, showcasing everything from bondage gear to leather wear. There are also stages for live entertainment, DJs, go-go dancers, and performers, as well as designated areas for demonstrations.
Walking around the fairgrounds, you're bound to see many debaucherous dalliances – all consensual, of course.
Outside Lands
August 11-13, 2023 
Outside Lands Music and Arts Festival is one of San Francisco's most coveted tickets of the year, often selling out in a matter of hours. In previous years, the festival has welcomed talents such as Lizzo, Boys Noize, Tame Impala, Tyler the Creator, Angel Olsen, and lesser-known indie acts who are more than ready to be added to your next playlist. This year's festival lineup is packed, featuring performances by Kendrick Lamar, Lana Del Rey, Janelle Monáe, Maggie Rogers, Trixie Mattel, Megan Thee Stallion, and many more.
Since 2008, Outside Lands has grown into one of the largest and most popular music festivals in the U.S., attracting tens of thousands of music lovers to Golden Gate Park each year. The festival centers on Hellman Hollow in the western part of the park, between the  Outer Richmond and Sunset districts. Luckily, there are plenty of Muni buses that will take you from the center of the city directly to the festival entrance.
The festival's name refers to an old nickname for the area west of Van Ness Avenue. Back in the day, that region had very few roads, was covered by sand dunes, and was considered to be outside the habitable part of the city. The area would be unrecognizable to a time traveler from 150 years ago, with its lush greenery carefully cultivated by the park's legions of horticulturalists.
In addition to Outside Lands, the park houses year-round attractions, including the de Young Museum, the California Academy of Sciences, the SkyStar Observation Wheel, an outdoor auditorium, a paddle boat lake, a polo field, and a family of bison. There's never a dull moment inside this beloved San Francisco park.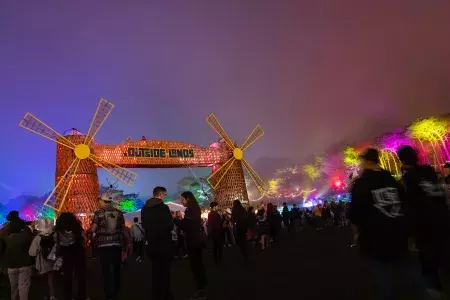 Folsom Street Fair
September 23-24, 2023 
Folsom Street Fair is the largest fetish festival in the world, attracting upwards of 300,000 revelers each year. 
As Folsom Street Fair attendance grows, it brings together not only leather and fetish fans from the local community (and beyond), but also the curious masses who love to people-watch. 
The fair spans Folsom Street, between 8th and 12th streets, though you will be able to find Folsom-adjacent activities all over SoMa and its many leather bars. Drag club Oasis and the SF Eagle, with its sun-filled outdoor patio, are packed this weekend, serving up plenty of opportunities to meet someone new.
Like Up Your Alley, there are hundreds of vendors, booths, food trucks, and performance stages to peruse at Folsom Street Fair. Last year, there was even a cannabis lounge curated by The People's Ecosystem and the queer Burning Man camp Comfort & Joy.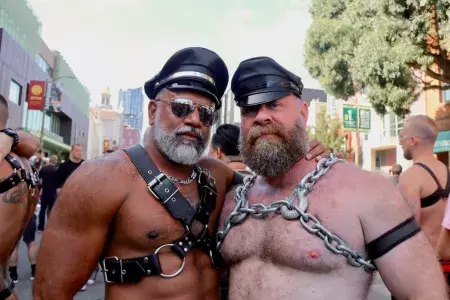 Castro Street Fair
Sunday, October 1, 2023 
Castro Street Fair brings a vibrant street festival to one of San Francisco's most beloved gayborhoods. Founded by Harvey Milk in 1974, the fair is a celebration of the neighborhood's culture, businesses, and history. 
The fair takes place in the heart of San Francisco's Castro District, on Market Street at Castro Street and the surrounding area. Hundreds of local artists and vendors set up stalls where you can find one-of-a-kind souvenirs that scream San Francisco. In previous years, Castro Street Fair has featured performances by The Whoa Nellies!, CHEER SF, and the San Francisco Lesbian Gay Freedom Band.
The fair also serves as a fundraiser that supports numerous local nonprofits and helps maintain the world-famous rainbow flag that flies above Harvey Milk Plaza. Since 1998, Castro Street Fair has donated more than $1.5 million to community non-profits and charitable causes important to the Castro community.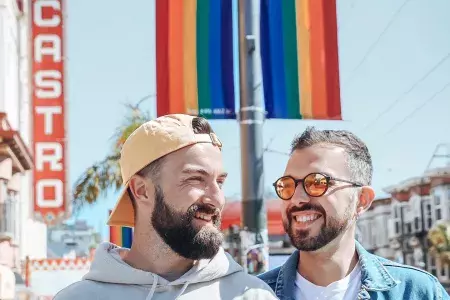 Bearrison Street Fair
Saturday, October 14, 2023
To finish off your year, join the Sisters of Perpetual Indulgence in collaboration with the Bears of San Francisco for the Bearrison Street Fair. Founded in 2021, this relatively new street fair is a celebration of body positivity and community. Taking place in San Francisco's Leather District on Harrison at 11th Street, the fair features live music, vendors, food trucks, a beer garden, and a wrestling ring. 
In previous years, the event hosted live performances by self-identifying bear and pop artist Big Dipper and artists from Swishcraft Music, America's largest LGBTQ+-owned and operated records label.
Bearrison Street Fair is just one of the many events that kick off a full weekend of bear-themed parties, like the tea dance at DNA Lounge, the "Full Queer Beer Bust" at Lone Star Saloon, and the "Daddy Issues" party at SF Eagle. 
---