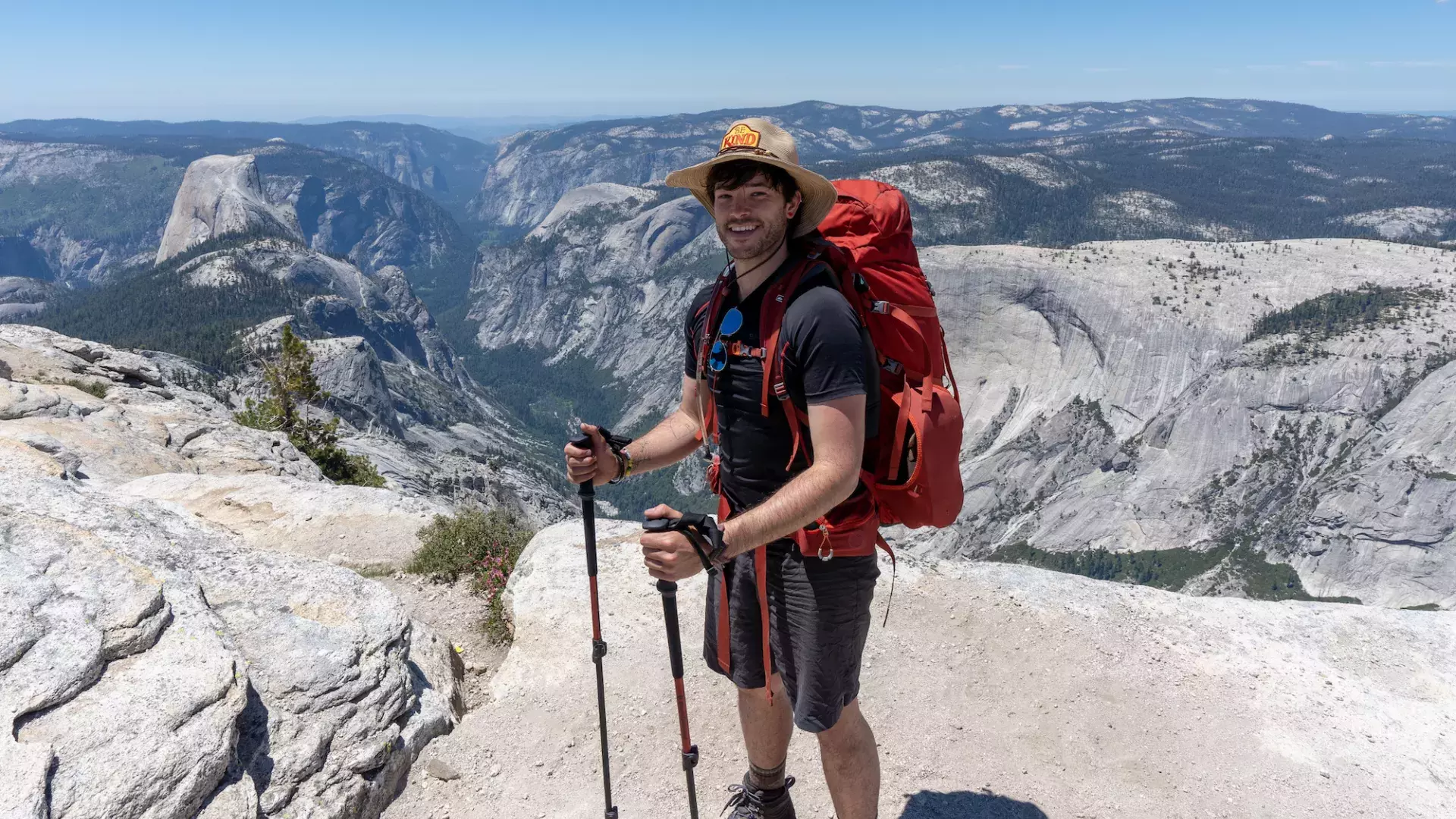 How I See SF:

Scientist & Illustrator Sean Vidal Edgerton

Whether in the lab, on the beach, or at his favorite neighborhood haunts, Sean Vidal Edgerton knows how to connect in the City by the Bay.
If you want to have a truly genuine San Francisco experience, then you have to consult the experts: our friendly locals. Knowledgable, passionate, and always ready with a recommendation for what to do, see, or eat, San Franciscans of all types have been part of our ongoing "How I See San Francisco" series.
Sean Vidal Edgerton works at the California Academy of Sciences as a scientific illustrator, virologist, and whale necropsy assistant. He is also the co-founder of 500 Queer Scientists. We asked Sean how he experiences San Francisco, what he would recommend to visitors, and where someone with so many different talents finds their inspiration.
What does a typical day in San Francisco look like for you?
Every day in San Francisco is vastly different from the next. It all depends on which hats I need to wear that day and what order they come in. As a science illustrator, virologist, whale necropsy assistant, and co-founder of 500 Queer Scientists, there are always multiple projects and deadlines to focus on.
Some days, I am in the Biosafety Level II lab at the Academy, suited up to work with mosquito-borne viruses. Other times, I am writing manuscripts, illustrating newly-discovered or endangered species, relaxing at Yoga Garden SF, or inside the skull of a whale performing a necropsy on a local beach.
Which neighborhood, other than your own, do you like to explore?
My most enjoyable days are spent with my dog, friends, and housemates outside at a park: Alamo Square for the views and nearby restaurants, Golden Gate Park for exploration and solitude, and the Conservatory of Flowers to soak up the sun with the perfect company. North Beach is also one of my favorite neighborhoods. In a small city with a big personality, there is something so comforting about walking into a locally-owned cafe, restaurant, or bar with an atmosphere as welcoming as it is intimate.
Where do you indulge your artistic side in San Francisco?
I draw inspiration from science, nature, and art—and every day, San Francisco offers something new (if you look hard enough).
Some of my favorite places are the back halls and collection rooms of the California Academy of Sciences, which house more than 46 million specimens; Golden Gate Park; the de Young Museum; the Conservatory of Flowers; San Francisco Botanical Gardens; the Presidio, and Ocean and Baker beaches. I often wander the city, in awe of the diversity of architectural forms, wondering which historical monuments or Victorian houses I should illustrate next.
Outside San Francisco, my friends and I try to go camping and backpacking as often as weather and timing will allow. I recommend exploring Muir Woods, Steep Ravine, Stinson Beach, Point Reyes National Seashore, and Kirby Cove. Last but not least, Yosemite National Park, only a three-hour drive from San Francisco, is my second home and will always be one of my biggest influences as an artist and naturalist. If you've never been, I highly recommend visiting. It will never disappoint.
Other than the California Academy of Sciences, which is your favorite museum in San Francisco?
Some of my favorite museums of the scientific and natural history varieties are the San Francisco Botanical Gardens, the Conservatory of Flowers, Aquarium of the Bay, and the Exploratorium. If you're feeling more artistic, then my favorites are definitely the de Young Museum and the Legion of Honor.
If you're looking for a museum as unique as it is stimulating, I recommend the Musée Mécanique in Fisherman's Wharf and Specs' Twelve Adler Museum Cafe (and bar), hidden in an alley in North Beach. Go with good company (and attitudes) and you're sure to have a memorable experience.
You're a naturalist and a scientific illustrator. Where do you go in San Francisco to connect with nature?
There seem to be endless options to connect with nature in the San Francisco Bay Area. A walk along the Batteries to Bluffs Trail is one of my most beautiful and scenic hikes in San Francisco, in my opinion. Spend some time on Baker Beach or take a walk through the Presidio. If you have time, make your way along Crissy Field to the sea lions at PIER 39.
It is quite easy to get lost in and discover new parts of Golden Gate Park. If you're overwhelmed by crowds, always remember that there are countless hidden gems throughout Golden Gate Park and the Presidio for peace and solitude.
You co-founded the group 500 Queer Scientists, creating a network of LGBTQ people working in STEM fields. What do you think are the best aspects of San Francisco's LGBTQ community?
What I love and appreciate about the LGBTQ community—and of San Francisco overall—is that there is a welcoming, nurturing haven for you no matter who you are and how you identify. It may not easily be found at first, but I firmly believe in the power of good people with good intentions. If you have trouble finding a community or home with which you safely identify, make your own.
This is exactly how 500 Queer Scientists was originally founded. Lauren Esposito, Curator of Arachnology at the California Academy of Sciences, and I did not know of any local organizations that could easily allow us to meet and network with fellow family in STEM. We were and are fortunate enough to have the Academy help us make our dream a reality. We developed a website, social media presence, and hundreds of profiles of queer scientists from all over the world, representing fields of science and topics of research as diverse as the members themselves. I am more proud than ever to call more than a thousand LGBTQ academics from all over the world my role models.
That is what I love about the LGBTQ+ community in San Francisco: you can make yourself and your identity visible, and demand respect for your community. If you have dreams for progressive action, social equality, and environmental stewardship, what better city to live in than San Francisco?
What's your favorite annual event that happens in San Francisco?
In April, check out the Hunky Jesus Contest in Dolores Park on Easter. In May, everyone should experience Bay to Breakers, whether participating or witnessing how insanely celebratory San Francisco can become. In June and October, check out PRIDE and Zombie Drag Nightlife events at the California Academy of Sciences. Also this June, buy tickets for the Bouquets to Arts exhibit at the de Young Museum, a week-long show of floral displays influenced by works of art. In July, check out the Flower Pianos at the San Francisco Botanical Gardens. In December, check out the annual Fungus Fair at the County Fair Building, hosted by the Mycological Society of San Francisco (MSSF).
Where and what would you choose for your last meal in San Francisco?
The first part of my last meal would be anything on the menu (plus margaritas) at Puerto Alegre in the Mission. The second part would be the frozen hot chocolate or dark hot chocolate served at Dandelion Chocolate a few blocks away. The night would not be complete without a drink at Trax from the one and only Javi, a fellow neighbor in the Haight, one of the best people I know in the city, and the bartender that brings out the community and makes you feel right at home upon walking in.
Which restaurant is still on your list to dine at in San Francisco?
I would have to say Arguello, a bar and restaurant located in the historic Presidio Officers' Club, in the Presidio. The decor, menu, fire pit, and patio add up to a desirable combination.
Where do you like to view sunrise and sunset?
My favorite view for sunrise is around the many campsites on Angel Island. You have the chance to see the Bay Area wake up and come alive from the comfort of your own tent, campsite, or lookout points. When I am in the city, the Sunrise Meditation and Yoga class at Yoga Garden SF is my favorite sunrise ritual. Though you can't view the sunrise from within the studio, the large windows slowly allow the warm natural light of the sunrise to trickle in toward the end of class. As for the sunset, my favorite location is Baker Beach, for the views of the Golden Gate Bridge, and Ocean Beach, if you can snag one of the fire pits.
What's one part of San Francisco that you wish visitors knew about?
The views of the city from right across the bridges. Whether from the Berkeley hills, Sausalito, or the Marin Headlands, the views are stunning and unforgettable. If you do take a day trip across the Golden Gate Bridge, go visit Hawk Hill, the Marine Mammal Center, Rodeo Beach, or stroll through downtown Sausalito. If you're feeling adventurous, take the Blue & Gold ferry to Angel Island. Hike to the top for the best view of the San Francisco Bay Area, complete with natural silence and very few crowds.
If you have time, check out a yoga class at Yoga Garden SF, a yoga studio housed in an old Victorian building along Divisadero St. The instructors are highly experienced practitioners and educators. The classes can be as physically demanding or relaxing, highly educational, and immensely therapeutic. There is a reason everyone leaves the studio smiling and feeling rejuvenated.
What should every visitor to San Francisco do at least once?
I highly recommend walking across the Golden Gate Bridge and back. Seeing it from afar or driving across it is nothing compared with being able to stand on this immense architectural landmark. If you can experience the return trip while the iconic San Francisco fog rolls in, then you won't regret it—unless you forgot your layers. You were warned!
Any final advice for visitors coming to San Francisco?
Bring layers and good shoes. Strike up a conversation with a stranger if you have any questions or simply want to connect with someone. Everyone has an interesting story to tell. Embrace the diversity of people and lifestyles San Francisco and the Bay Area has to offer. Leave any preconceived notions or assumptions of what one might expect and learn to soak in all that the city is willing to offer you.
You can learn more about Sean and view some of his artwork here and here.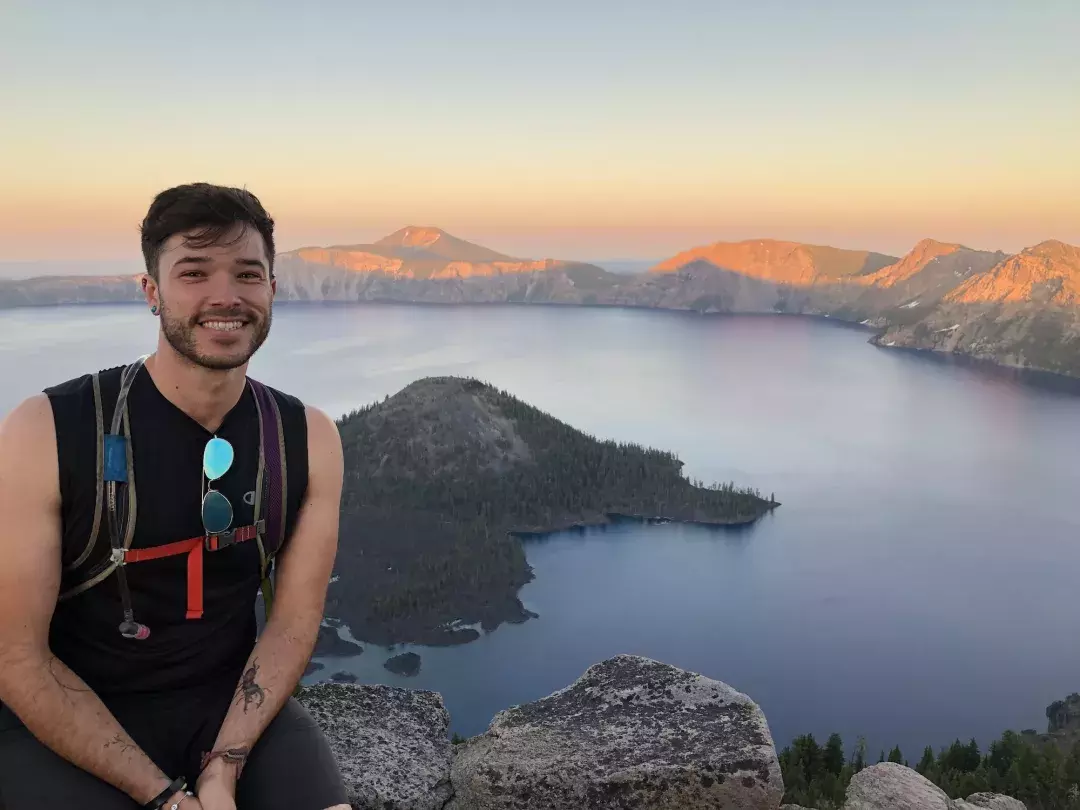 ---