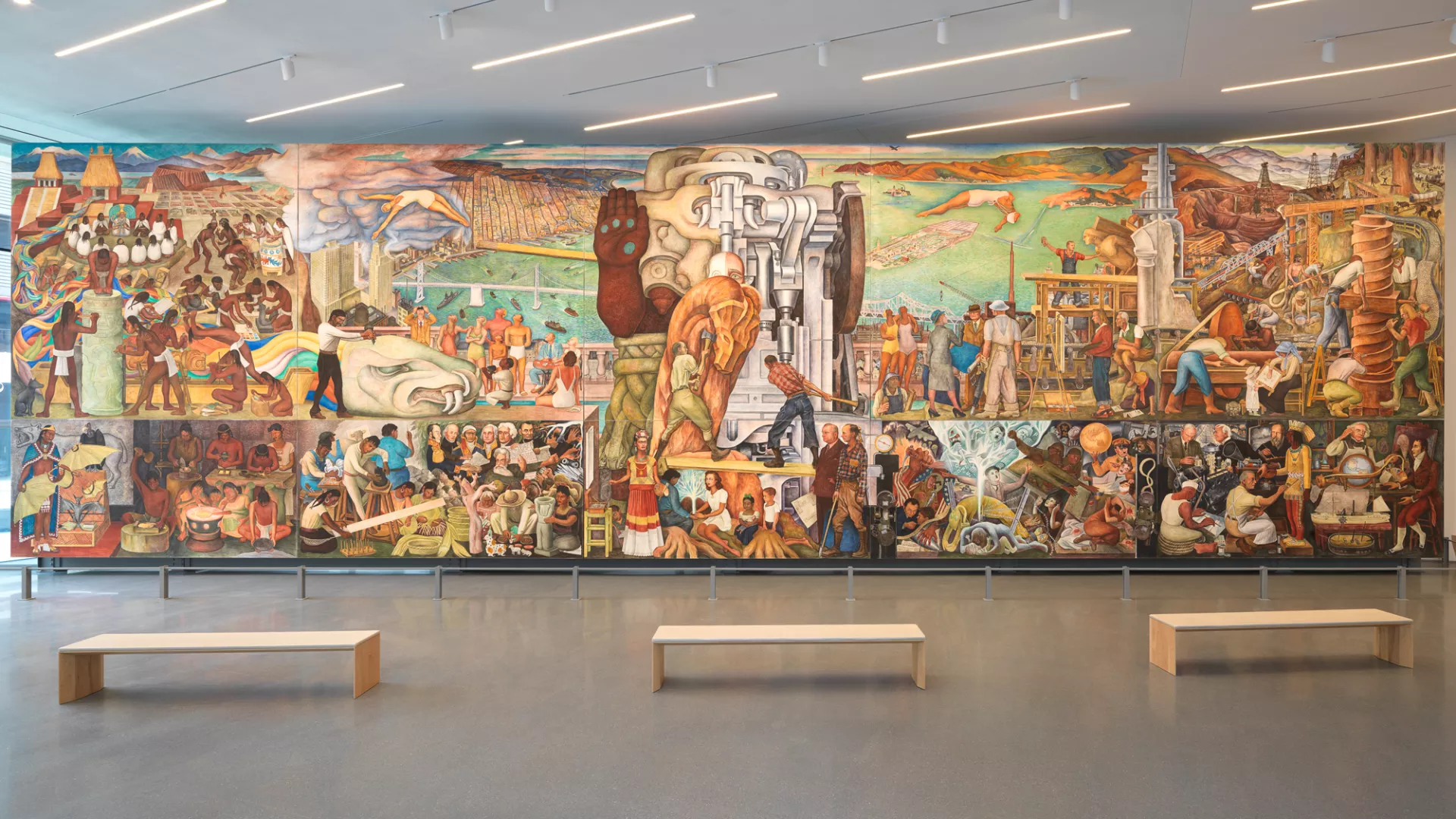 See Diego Rivera's America

at SFMOMA

The San Francisco Museum of Modern Art (SFMOMA) is debuting Diego Rivera's America, the most in-depth examination of the artist's work in over two decades.
The exhibition features over 150 pieces of Rivera's work, including paintings, frescoes, and drawings. This is your opportunity to get up close and personal with the influential artist and see pieces that have never been displayed to the public before. 
Diego Rivera 101
Diego Rivera and His Famous Wife
Rivera met Frida Kahlo while she was an art student in Mexico. While he was married at the time, Rivera subsequently divorced his wife and married Kahlo in 1929. After a brief period of divorce, they remarried right here in San Francisco in 1940. Both Rivera and Kahlo have a strong tie to San Francisco, which you can see in the exhibition, with works illustrating the famous couple and their friends here in San Francisco. In addition to Rivera's work, Diego Rivera's America includes select pieces from Kahlo's expansive collection of paintings. 
SFMOMA & Rivera
Rivera's long history in San Francisco makes SFMOMA an ideal place for one of the largest collections of his work. This includes iconic and much-loved masterpieces like Flower Carrier (1935) and Symbolic Landscape (1940). With over 70 pieces already on display at the museum, Diego Rivera's America builds upon this with pieces from museums in Mexico, the US and the UK. In addition, many pieces have been borrowed from private collections, some of which have never been seen by the public. 
Muralism in San Francisco
Diego Rivera's America displays many of his murals, one of which was created right here in San Francisco.  Pan American Unity is 22 feet high by 74 feet wide, comprised of 10 panels, and was painted live in front of an audience at the Golden Gate International Exposition on Treasure Island. Rivera helped create a culture of muralism in San Francisco that illustrates the needed social and political change in both the city and throughout the world. SFMOMA has created a walking tour of the Mission District where these murals can be found. Hear local writers Olivia Peña and Josiah Luis Alderete share their perspectives, as well as the artists themselves. 
Art as a Weapon for Change 
Rivera viewed art as an ideal way to facilitate change and achieve greater social equality and justice. He focused mostly on everyday people, using them to help reimagine Mexican national identity in a rapidly globalizing world. He conceived of a better America focused on unity instead of division. He believed the U.S. and Mexico shared a much larger connection rooted in a rich indigenous past smothered by colonial violence. 
Visit SFMOMA
Diego Rivera's America is on display now through January 2, 2023.
Purchase Tickets
A ticket is needed for both SFMOMA and Diego Rivera's America. Be sure to book in advance to receive a discount on your tickets! 
Hours
Monday–Tuesday: 10 a.m.–5 p.m.
Wednesday: Closed
Thursday: 1–8 p.m.
Friday–Sunday: 10 a.m.–5 p.m.
Getting There
151 Third Street 
San Francisco, CA 94103
Parking is available at the SFMOMA garage located next to the museum. Access via BART or MUNI is simple. SFMOMA is just a few blocks from Montgomery St. Station.
---