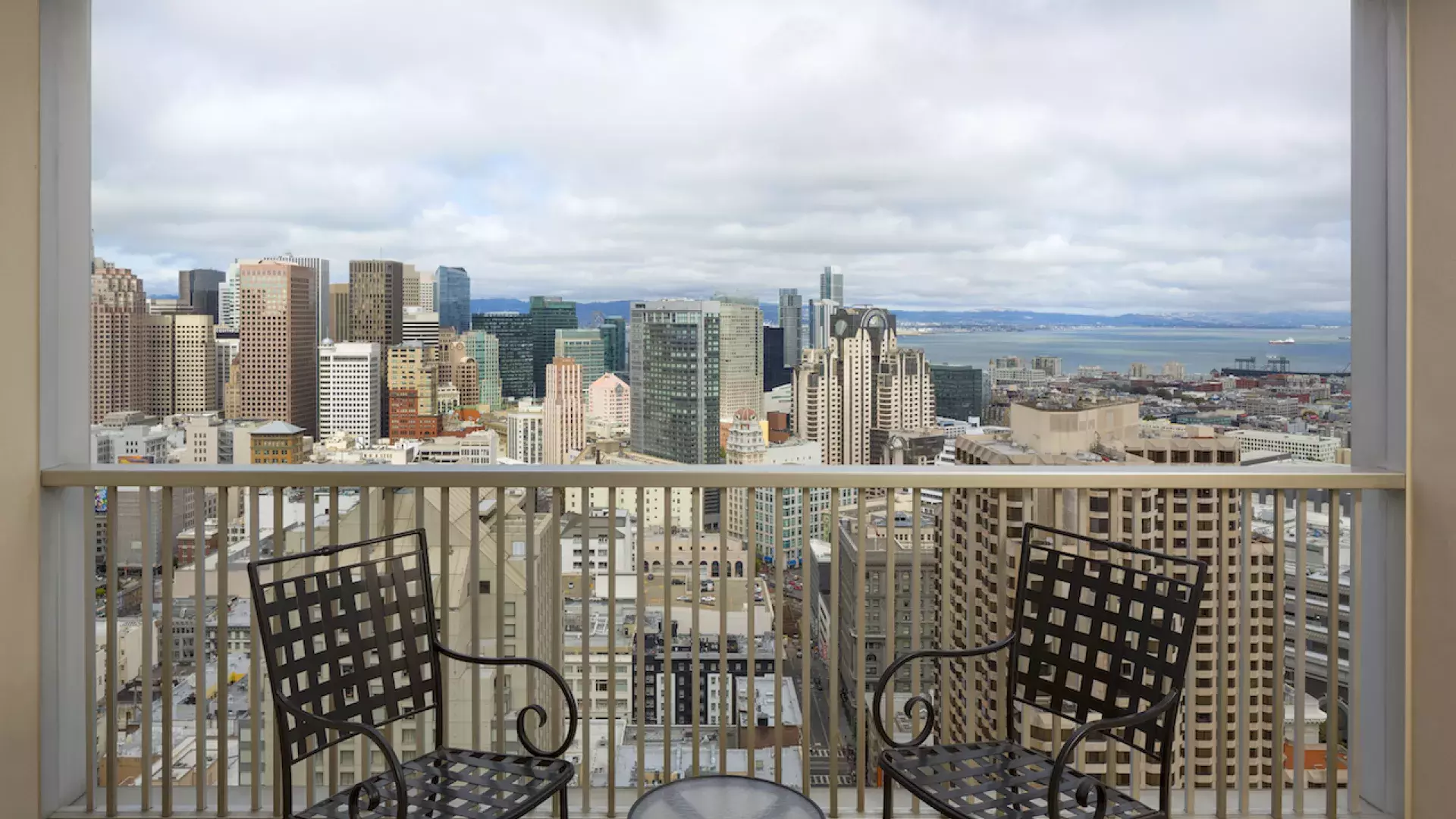 Take in San Francisco From These Hotel Rooms With a View
Immerse yourself in San Francisco at these hotel rooms with breathtaking views of downtown SF, the Golden Gate Bridge, and local parks.
A hotel room is more than just a place to stay; it's a window into the city you're visiting. Some hotel windows (or balconies) have Instagram-worthy views of San Francisco and the surrounding Bay Area. Book one of these hotels to guarantee your view of an iconic city on your next trip to SF. 
Hilton San Francisco Union Square
333 O'Farrell St.
Hilton San Francisco Union Square is a hotel for people who like options. With 1,919 rooms and 46 floors, you have limitless room categories, most of which have unobstructed views in all directions. Wake up with coffee on your private balcony while enjoying the sunrise over San Francisco. Don't forget to visit Cityscape Lounge on the 46th floor and enjoy 365° views of SF with a drink in hand. 
Recommended Room Categories 
Skyline View
Balcony Skyline View
Corner 1-Bedroom suite with balcony
Intercontinental Mark Hopkins
999 California St.
Perched high atop Nob Hill, the Mark Hopkins' unique location above San Francisco provides unparalleled 365° views. Nearly all rooms have panoramic views, but you can book the type of view you want. Choose from the iconic sights of the Golden Gate Bridge or downtown San Francisco. If you're celebrating something special or want to splurge, book one of their suites with large balconies or sunrooms, both with expansive San Francisco views. 
Recommended room categories
City Scape View
Golden Gate Bridge View
1-Bedroom Suite with Sunroom
Mark Hopkins Suite with Terrace 
Fours Seasons Hotel San Francisco at the Embarcadero
222 Sansome St.
A newer addition to San Francisco and the Four Seasons portfolio, this hotel is housed on the top floors of San Francisco's fifth-tallest skyscraper. This urban retreat is a luxury oasis in the sky, offering some of the best views in San Francisco. Two towers rise from the top of the building, connected by a walkway with floor-to-ceiling windows offering a unique vantage point above the city. Rooms and suites face downtown SF or the Golden Gate Bridge. Some specialty suites even have large terraces to stretch out on after a long day exploring San Francisco.
Recommended Room Categories
Superior Skyline View
Superior Bay View
Premium Bridge View
Terrace Suites 
1 Hotel San Francisco
8 Mission St.
This sustainable luxury brand made its San Francisco debut in 2022 with glowing reviews. Its distinctive style and ideal location have made this one of San Francisco's best new hotels. Sitting along the Embarcadero, San Francisco's waterfront promenade, the 1 Hotel is perfect for easy access to the water and many local attractions. Many of their rooms and suites take advantage of this and provide unobstructed water and San Francisco Ferry Building views. 
Recommended Room Categories
Bay Bridge View
Waterfront View
Ferry House Suite
Panoramic Waterfront Suite
Terrace Studio Suite
Fairmont San Francisco
 950 Mason St.
This classic San Francisco hotel is known for its over-the-top holiday displays and uniquely immersive tiki bar, The Tonga Room. But its location on top of Nob Hill also makes it notable for its sweeping views from its guest rooms and luxury suites. The Fairmont might also hold the title for most over-the-top hotel suites in San Francisco. Their Penthouse Suite is 6,000 square feet of luxury with a two-story library, full kitchen, billiards room, and expansive outdoor terrace. 
Recommended Room Categories
Signature Room
Fairmont Exterior Room
Balcony Suite
Signature Golden Gate Suites
Lodge at the Presidio
105 Montgomery St.
Escape the hustle and bustle of city life and find refuge deep within the Presidio. This unique San Francisco hotel is perfect for any traveler seeking outdoor adventures or a peaceful escape. Step out of your hotel and find yourself surrounded by Golden Gate Bridge views, wooded coastal hiking trails, golf courses, beaches, scenic overlooks, and cultural institutions. The list goes on! 
Recommended Room Categories
View Room
Junior King Suite
Beacon Grand
450 Powell St.
This reimagined San Francisco icon breathes new life into the local hotel scene with stylish design, thoughtful culinary experiences, and sentimental nods to the hotel's history and location. Their rich blue wall paneling, ornate plaster ceilings, and sumptuous furnishings make this hotel a must for your next trip to SF. Enjoy views from your room of Powell Street, with the classic Cable Cars rolling by.
Recommended Room Categories
Grand Guest Rooms 
Junior Suites
---