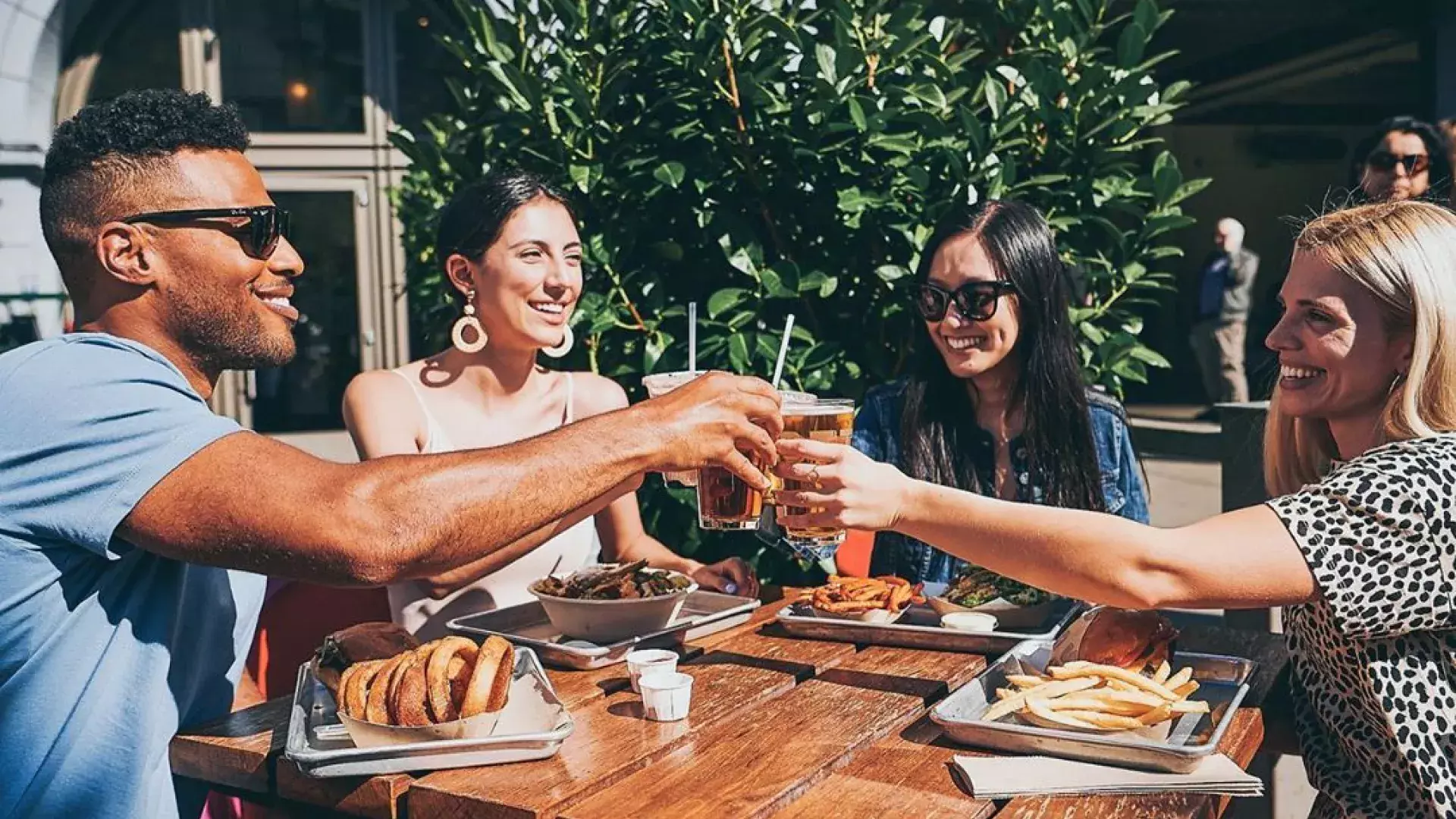 Where To Eat And Drink Around The Moscone Center
The Moscone Center is a world-class meeting and event space and there are plenty of exciting places to eat and drink in the surrounding neighborhood. 
Whether you're in town for business or a local looking for your new favorite place, these restaurants and bars near The Moscone Center are ready to serve you.
Great Places to Eat Near The Moscone Center
Alexander's Steakhouse
448 Brannan St.
If you love steak, make sure to visit Alexander's Steakhouse. This popular restaurant is perfect for a fancy night on the town. Alexander's Steakhouse is known for having a distinct Japanese influence, which is seen in their world-class Wagyu beef.
RESERVE A TABLE AT ALEXANDER'S STEAKHOUSE
Amber India Restaurant
25 Yerba Buena Ln.
This upscale Indian restaurant has a diverse, high-end menu of modern and regional Indian dishes, plus a lunch buffet, all in a polished space. Amber India is an especially popular restaurant for big groups.
RESERVE A TABLE AT AMBER INDIA RESTAURANT
Fogo De Chao
201 Third St.
Whether you're looking for a nice dinner or want to host a private event, Fogo De Chao can accommodate. Fogo De Chao has large reception rooms, smaller rooms, and even private tables near the main dining area, if the energy and action of the restaurant is your preference. The restaurant also offers a considerable amount of A/V equipment, perfect for presentations or celebratory events. Fogo De Chao is also well-known for providing a wide variety of culinary options for guests. Whether you or your guests are vegetarian, vegan, gluten-free or just enjoy a medium-rare steak, Fogo De Chao is ready.
RESERVE A TABLE AT FOGO DE CHAO
The Grove on Mission
690 Mission St.
Many call The Grove "San Francisco's Living Room" because of its thoughtfully crafted comfort food, sociable crowd, and cozy ambiance that closely resembles a grove. When you step foot inside, you'll be greeted with five trees from the floor to the ceiling, three of which are from the Grand Canyon. In addition to its unique design, this independent and family-owned and operated establishment is known for its exceptional American comfort food.
Henry's Hunan Restaurant
110 Natoma St.
If you're in the mood for delicious Chinese cuisine, stop by Henry's Hunan Restaurant. They feature a variety of specialties prepared with the highest quality ingredients, which are inspired by the distinctive cuisine of the Hunan Province in China.
International Smoke
301 Mission St.
Inspired by Ayesha Curry and Michel Mina's heritage and travels, International Smoke incorporates spices and quality products from different cultures around the world.
RESERVE A TABLE AT INTERNATIONAL SMOKE
Joyride Pizza
730 Howard St.
"Remember the feeling of pure joy from your very first bite of pizza?" That question started it all for the owners of Joyride Pizza. Get a classic slice of Detroit-style pizza that is made to share from local ingredients that is filled with joy. The also have fresh pastas, salads and cocktails and beer. They are perfect for overlooking the Yerba Buena Gardens.
Luce
888 Howard St.
This Michelin-starred restaurant is definitely a treat for your taste buds. Luce offers all-day a la carte dining, as well as a tasting menu with wine pairings from an impressive 350-label collection of wines.
Lucky Strike San Francisco
200 King St.
Lucky Strike is one of the more unique dining and entertainment options near The Moscone Center. As the name suggests, it is a restaurant with several bowling lanes. Lucky Strike is a great place to spend time before an event. It's also a great way to unwind after a long day.
Mourad
140 New Montgomery St.
With a substantial menu and a full-service bar, Mourad is a popular spot for both lunch and dinner. Their banquet and reception areas can host large events as well, with each area designated for as many as 300 individuals.
Oren's Hummus
71 3rd St.
If you're looking for authentic Israeli, Mediterranean and Middle Eastern cuisine, look no further than Oren's Hummus. Their delicious hummus dishes and freshly made pita bread are the stars of the menu.
Sanraku Japanese Restaurant
Metreon 101 Fourth St.
Sanraku was one of the first restaurants to specialize in first-class Japanese cuisine. After almost 30 years, Sanraku has grown to include several locations in the city and at San Francisco International Airport. One location is across the street from Moscone Center in Metreon.
Tropiseuno
75 Yerba Buena Ln.
If you're looking for some of the best Mexican food in San Francisco, be sure to visit Tropiseuno. Offering a laid-back atmosphere with top-notch service, Tropiseuno is fun and casual dining. Make sure to explore their tequila menu!
Great Places to Drink Near The Moscone Center
111 Minna Gallery
111 Minna St.
111 Minna Gallery is an eclectic space. It can transform from an art gallery, to a bar and even a dance club. When they aren't hosting private events, be sure to pop in to enjoy a public happy hour. Check their calendar for a full list of events.
Novela
662 Mission St.
If you love books, you absolutely must make it to Novela during your visit. Located in the heart of Yerba Buena, Novela serves up unique and delicious cocktails in an environment that feels like an upscale study.
The Press Club
20 Yerba Buena Ln.
For wine lovers, Press Club is perhaps the most important stop on a visit to the neighborhood. Featuring wine from several Napa Valley wineries, as well as numerous other varietals, Press Club is a great place to enjoy some classic and difficult-to-find wines.
SPiN
690 Folsom St.
Unwind after a day of sightseeing or business with a game of ping pong and a cocktail or two. SPiN San Francisco, off of Folsom Street, is just the place to do that. Eat, drink, pong, repeat! That's their mantra and that's something all of us can get on board with.
The View
55 Fourth St.
As the name suggests, The View offers truly breathtaking sights. Housed on the 39th floor of the Marriott Marquis, The View offers a perspective on San Francisco that's difficult to find anywhere else. That, combined with their fantastic cocktails, makes it a must on any San Francisco Bar list.
---